I waited an entire year between hanging the grasscloth wallpaper in my dining room and hanging anything on the walls. When you have rogue nailholes on a painted wall you can just do a quick hole patch and a spot of paint and no one will ever be the wiser. But wallpaper is a different story. Holes in wallpaper are there for good unless you remove large sections of the paper and redo with new paper…and who is going to do that? (Right. Nobody.) So I waited a year, until I was absolutely certain of what I wanted to hang, and that special something that finally made me sure enough to tap a nail through the grasscloth was this DIY juju hat feather wall hanging.
There is a lot of bold color in this room with the rug and the dining chairs so I knew I wanted something rather neutral for the walls but I still wanted a statement piece. I have admired real juju hats for awhile now but for the size I wanted on that big open wall I was looking at big bucks for an authentic one. A real juju hat sticks out from the wall a bit more than the one I made and has an intricate woven base, but for the cost savings and same basic look, I'll take the DIY version for sure. I absolutely LOVE the one-of-a-kind nature, the neutral color variations, and the visual texture of the feathers.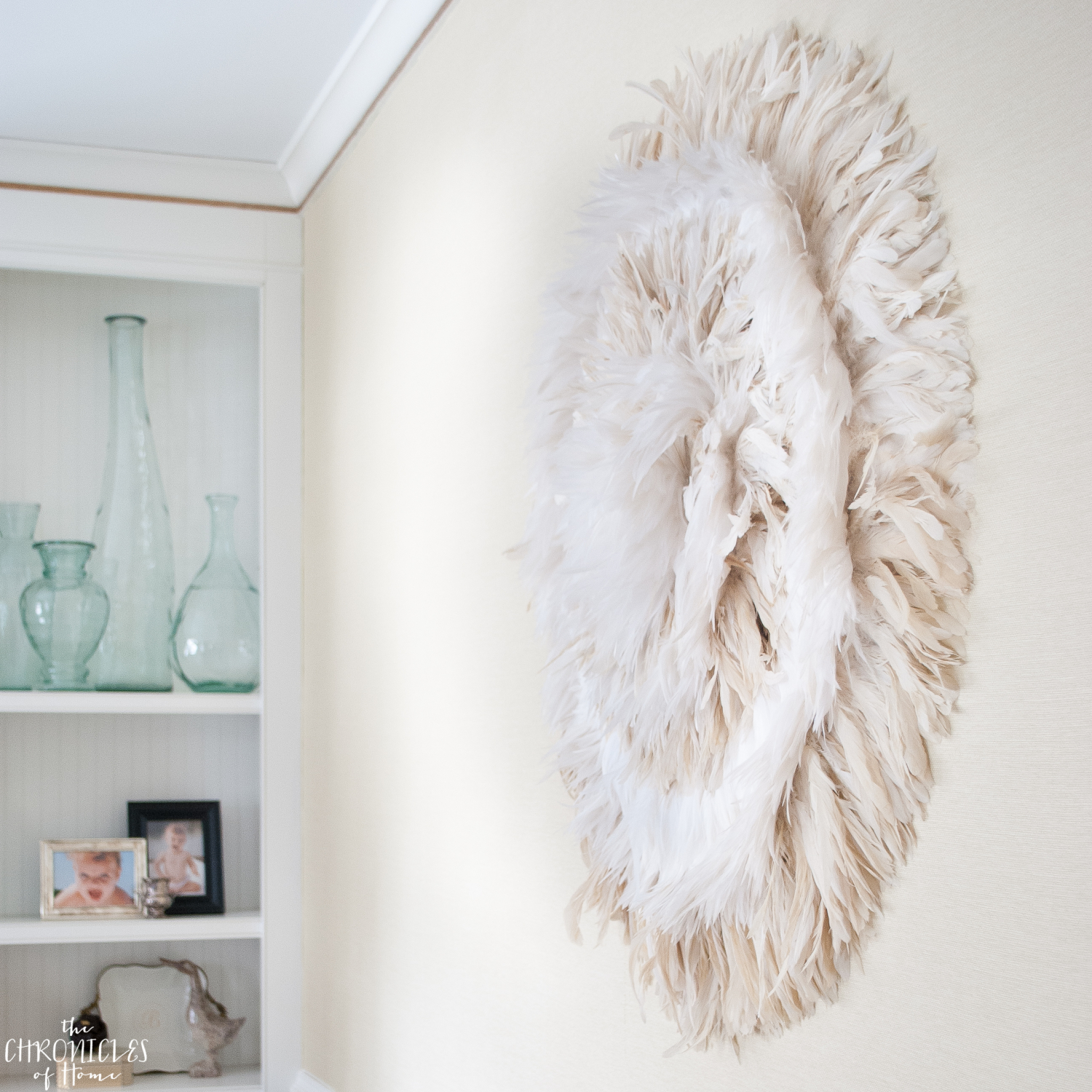 I will caution you – the feathers for this project get a little pricey but if you love the look of juju hats, have a great spot for a statement piece, and want to control the look with different colors or a specific size, this is a worthwhile project to take on, and will still save you money over most authentic ones available for purchase. And it's very, very easy to make. If you aren't inclined to make one, I did find a few on Etsy that are pretty close to the cost of making one. They are smaller than the one I made, and just one color, but still really beautiful. You can click through the lookbook below to see them in more detail and click on an image if you'd like to be taken to the purchase page.

Here's what you need to make a large DIY juju hat like mine, with a finished diameter of about 38″.
Start by tying the string around the sharpened end of the pencil. After it's tied, trim any extra to give you 13″ of string from the end of the string to where it meets the pencil.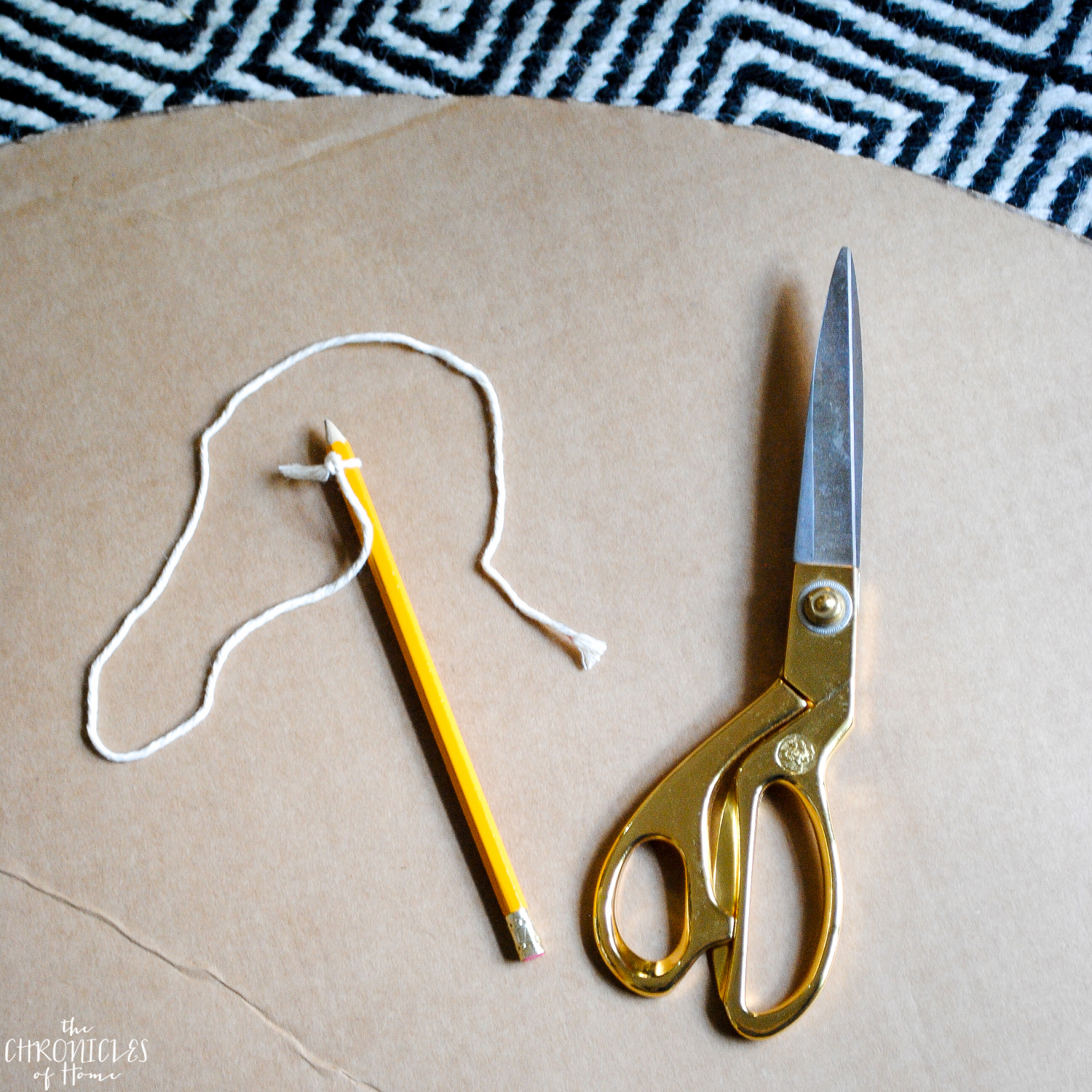 Use your little handmade compass to draw a large circle on the cardboard, and cut it out. The circle should measure 26″ in diameter.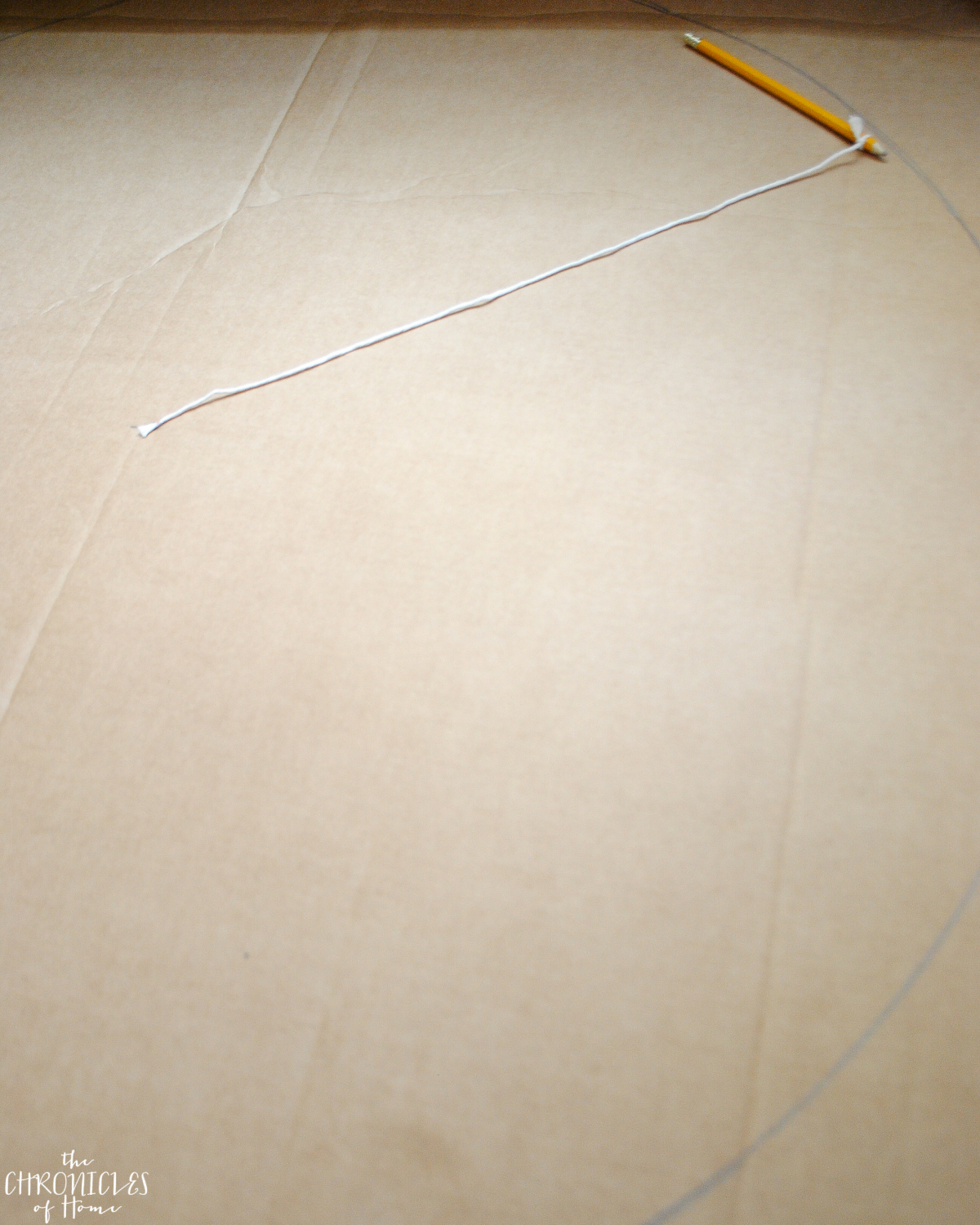 Sketch a line 1″ in from the outside edge of the cardboard circle to act as a guide for feather placement. Working in about 12″ sections, spread a line of hot glue and press the strung feathers into the glue so the quill end follows the inset line you sketched. I started with the coque tail feathers along the outer edge.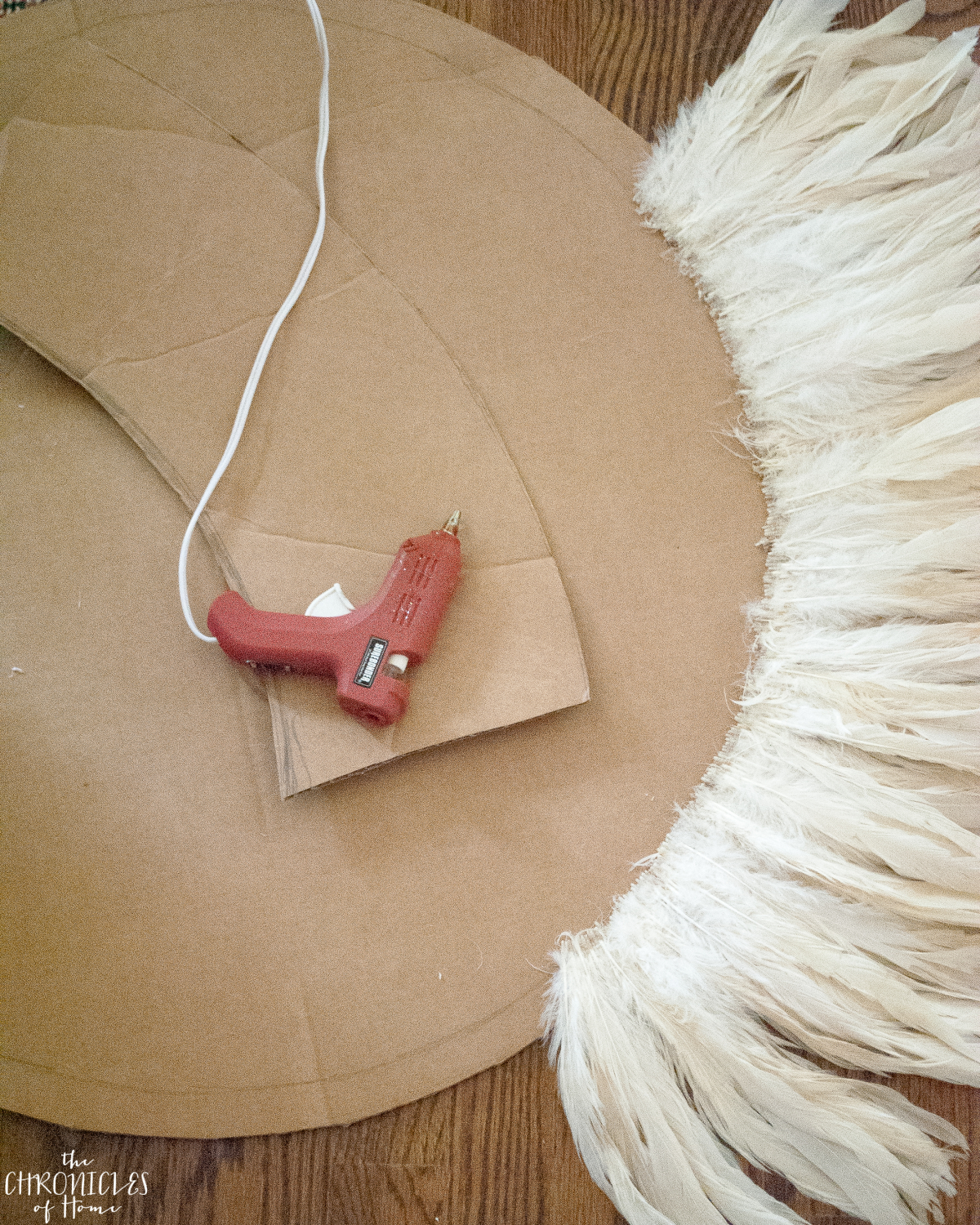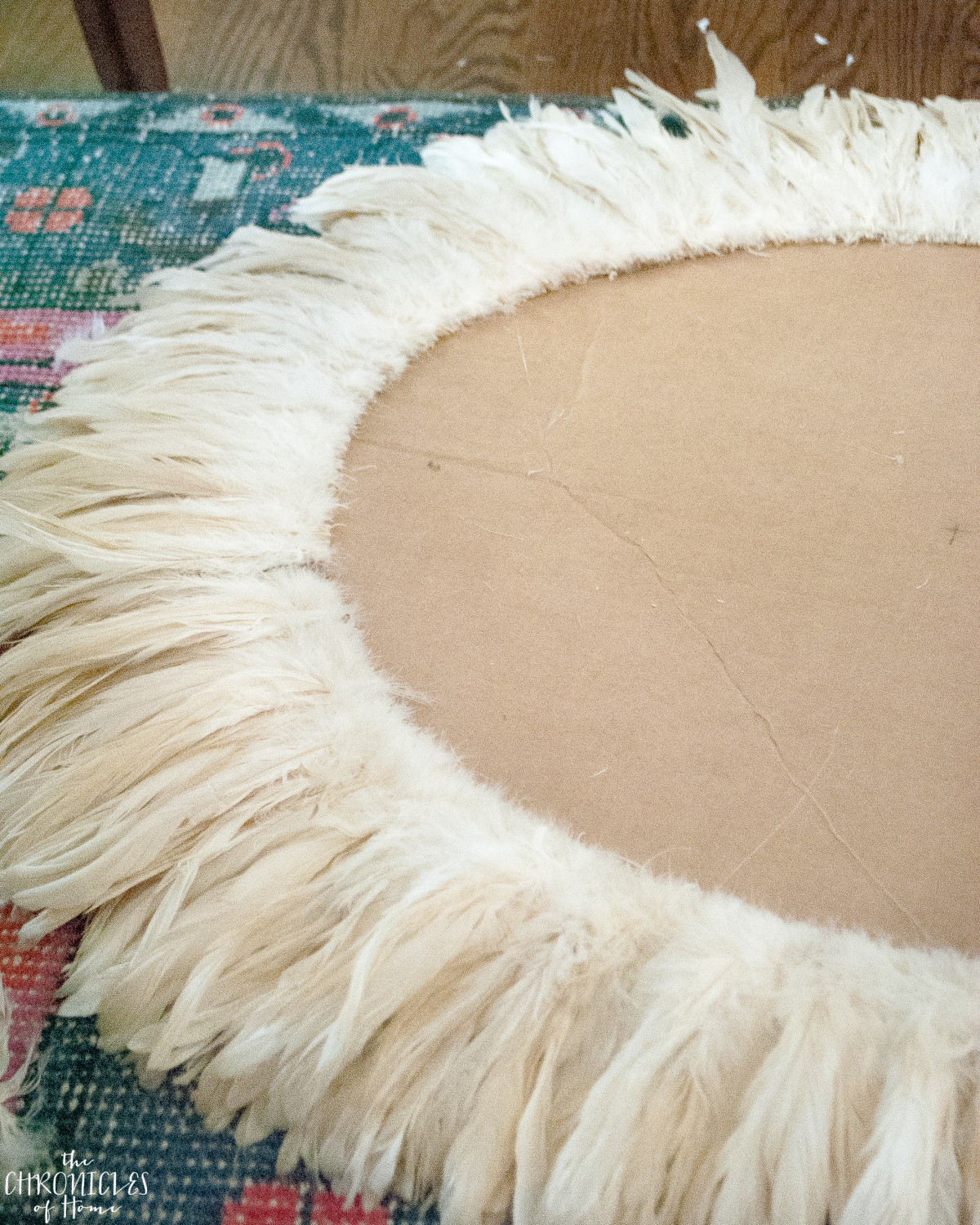 From here, you just repeat the process in smaller circles, placing each new row so the other edges of the new feathers overlap the quills of the adjacent feathers. The feathers have a natural curve to them and I alternated the direction in which they curved to give the juju hat more dimension. I ordered my feathers like this:
Coque tail feathers, curved down
Rooster saddle feathers, curved up
Rooster neck hackle feathers, curved down
Coque tail feathers, curved down
Rooster saddle feathers, curved up
Coque tail feathers, curved up
Center tuft of rooster neck hackle feather (wrap quills around each other until until you have a nice full tuft and glue in in the center).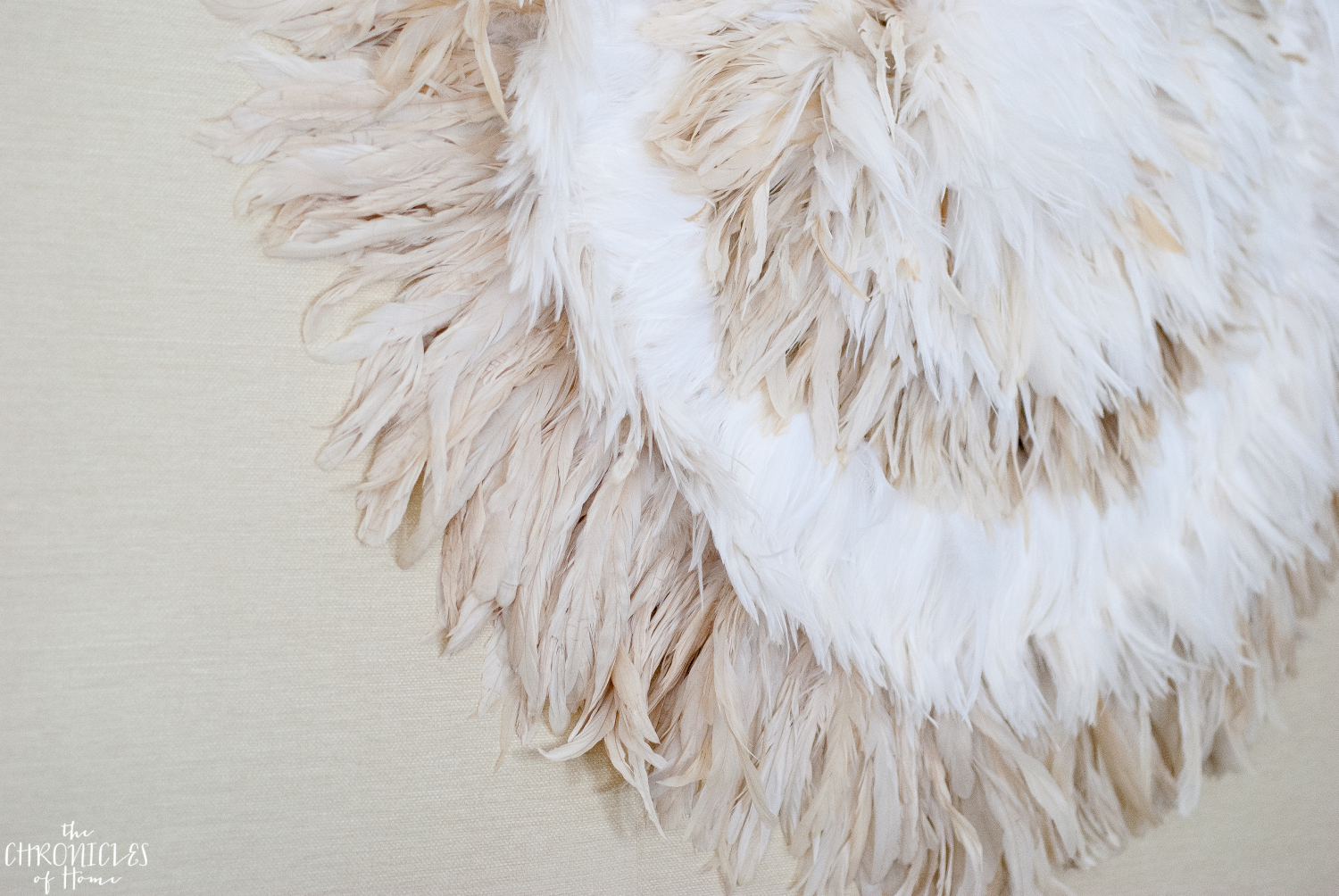 To hang I punched some holes in the cardboard backing and tied clear hanging cord across from hole to hole. And then finally took the plunge and hammered a nail through the grasscloth wallpaper!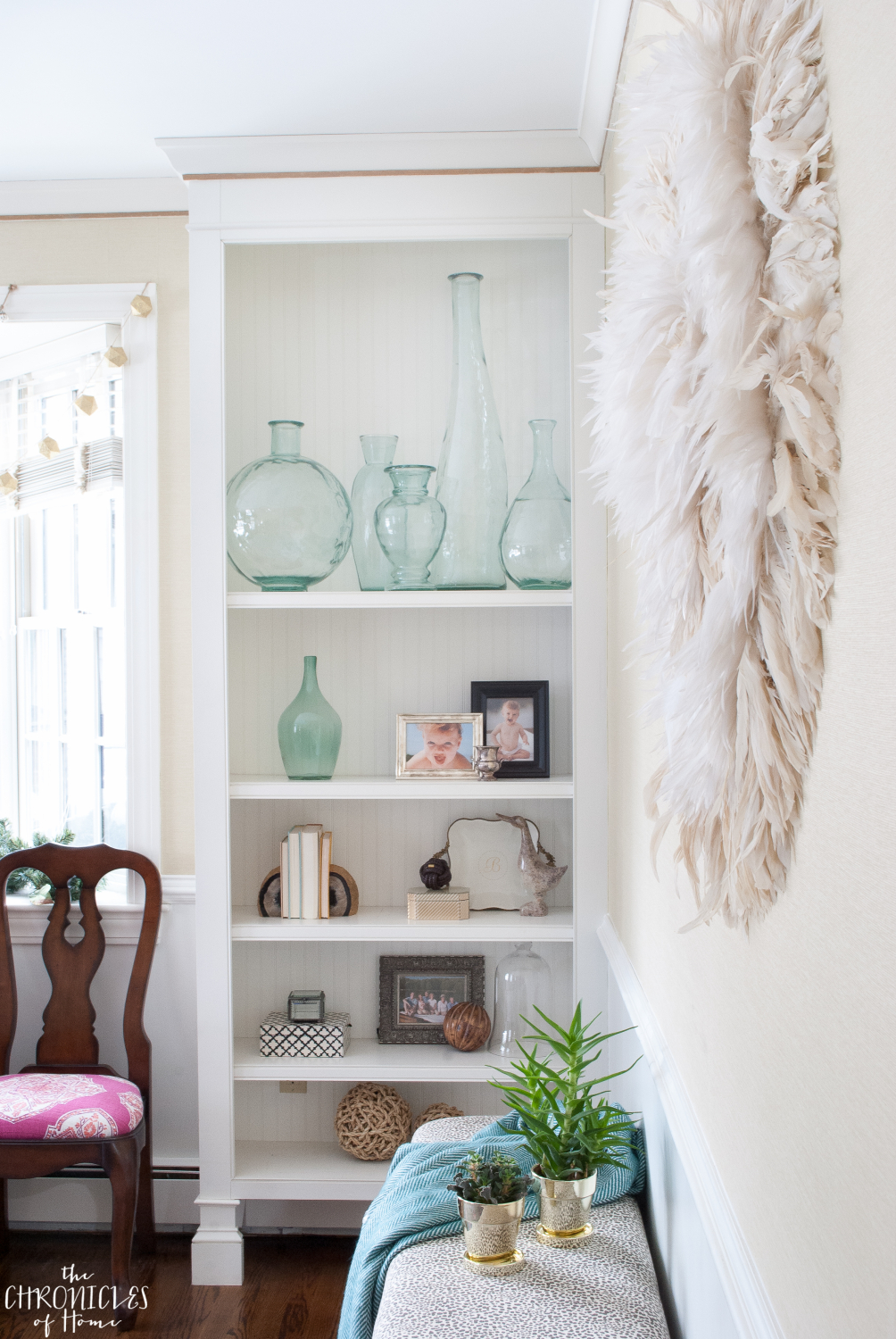 I really love this project – super easy to make and just a gorgeous, really interesting, and unique wall hanging. I have to stop myself from petting it when I pass through the dining room.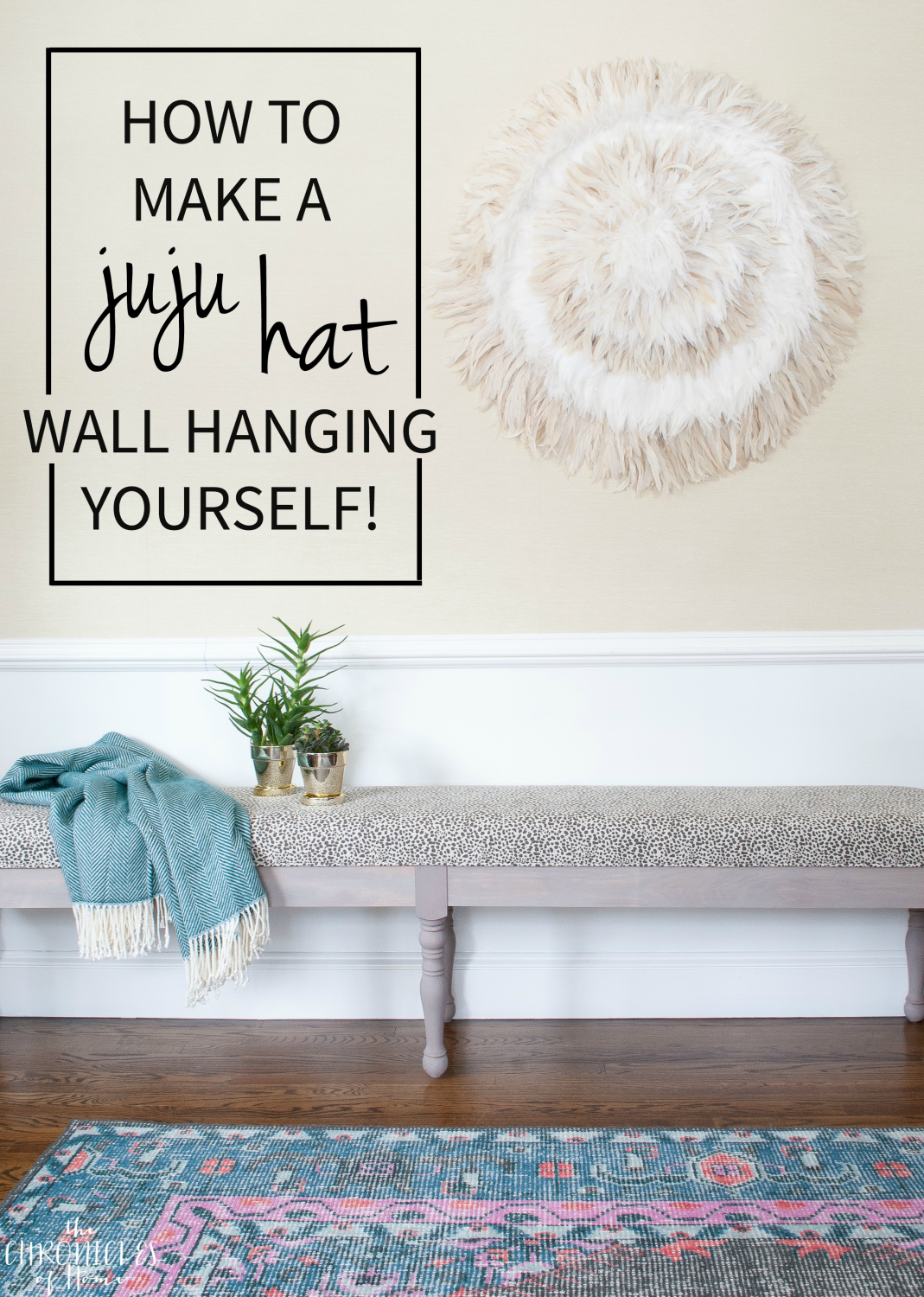 Thanks so much for stopping by today to check this latest DIY project out. Would you hang feathers on your wall?? I think my husband thought I was nuts but he rather likes it now that it's done :)