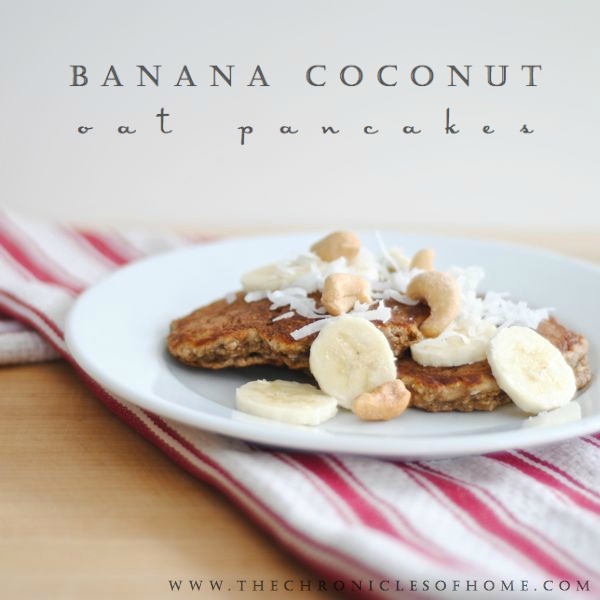 Fridays are the one weekday when my daughters and I don't have to rush out of the house in the morning and I love making pancakes for breakfast.

 

There's something I find so comforting and relaxing about flipping pancakes on a chilly morning and then sitting around in our pajamas and leisurely eating them.

 
I often make multigrain pancakes but lately I've been trying out other options so we have some choices on our Friday pancake mornings.

 

The flavor of these flourless pancakes, made with ground oats, mashed bananas, and coconut, are reminiscent of banana bread.

 

They're a bit more dense than a flour and buttermilk pancake but still nice and tender.
I love that we get all the goodness of oatmeal with fruit in a tidy little breakfast package, also perfect for a snack on the go.  My family doesn't follow a gluten free diet but good news for those of you who do – if you're careful to use uncontaminated oats (I understand Gluten Free Oats and Gifts of Nature are known to be safe) these pancakes are gluten free.  They're also completely dairy free.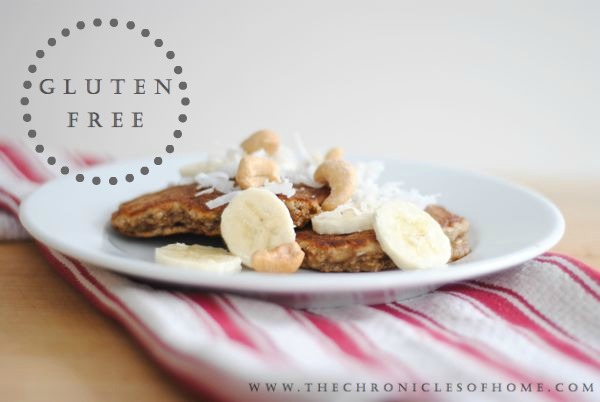 My favorite way to top these pancakes is with a few slices of banana, a sprinkle of coconut, and a scattering of salted cashews.

 

The pancakes themselves are so sweet from the mashed banana that I don't usually add any maple syrup on top.

 

I think a dollop of creamy, mellow mascarpone cheese would also be a delicious addition to the toppings.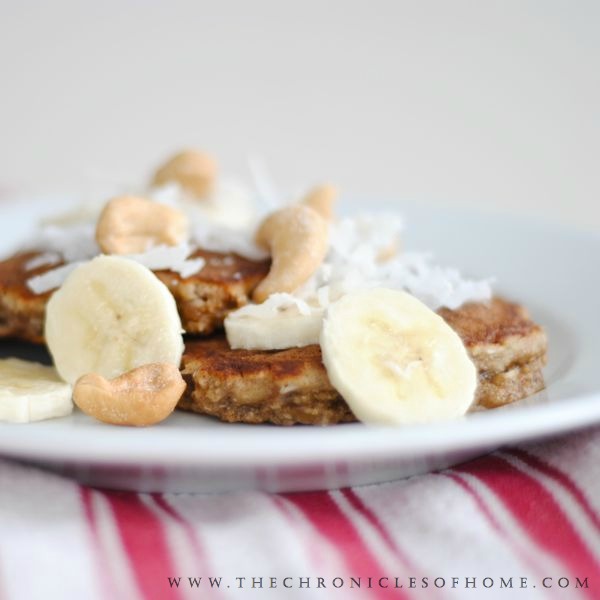 Banana Coconut Oat Pancakes
2 large or 3 medium bananas, mashed
Heat a nonstick skillet over medium heat.
Whisk mashed banana, oil, lemon juice, and sugar in a medium bowl until well blended.
In another medium bowl whisk oat flour, baking soda, salt, cinnamon, nutmeg, and coconut.
Pour dry ingredients over wet and fold gently with a rubber spatula just until dry ingredients are thoroughly moistened.
Spread a little butter or oil onto hot skillet. 

Ladle batter in circles and cook until little bubbles form and underside is golden.  Flip and cook a few minutes longer until cooked through.
Serve with additional banana slices, coconut, and salted cashews.
*To make oat flour, put old fashioned oats in a food processor and process until very finely ground.
Click here for a printable recipe.