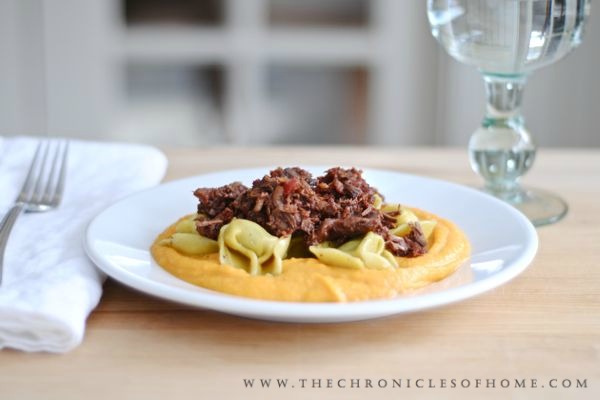 I love this dish as a casual meal with just my family and it's especially fantastic as a make-ahead dinner party entree.  It's deceptively simple, too, and requires little more than putting beef in a pot, roasting some squash, and boiling frozen tortellini.  Well, a little more than that, but not much, I promise.
The flavors of the three layers are all quite different but you get a bit of sweet, a bit of savory, and a bit of salty and they all come together in just the right balance.  It may seem like an odd pairing, but you'll have to trust me.  It's really, really good.  My husband and little girls all gobbled it up last week when we had it for dinner.
My favorite tortellini to use are Rising Moon Port & Porcini Mushroom, which I get frozen at Whole Foods.  I like them to be soft for this dish so usually boil them a few minutes longer than suggested.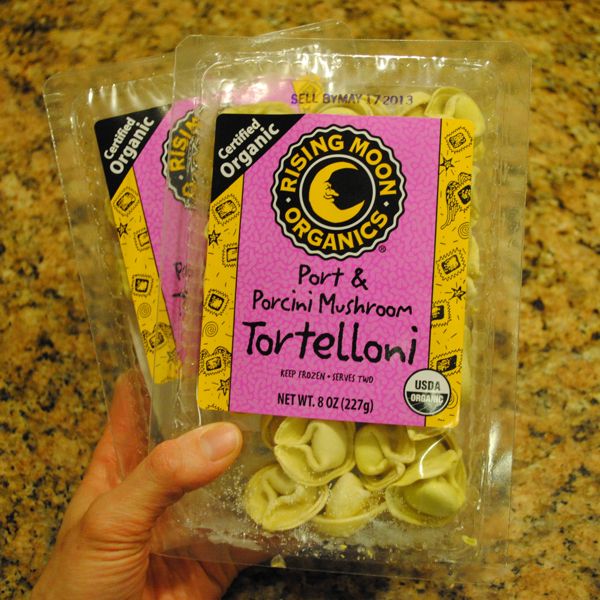 If you decide to make this for guests, you can make the squash puree and braise the beef a day ahead, refrigerate them, then have them gently warming in separate pots on the stove about 30 minutes prior to serving.  All you'll have to do before plating is boil the tortellini.  Sounds pretty easy, right?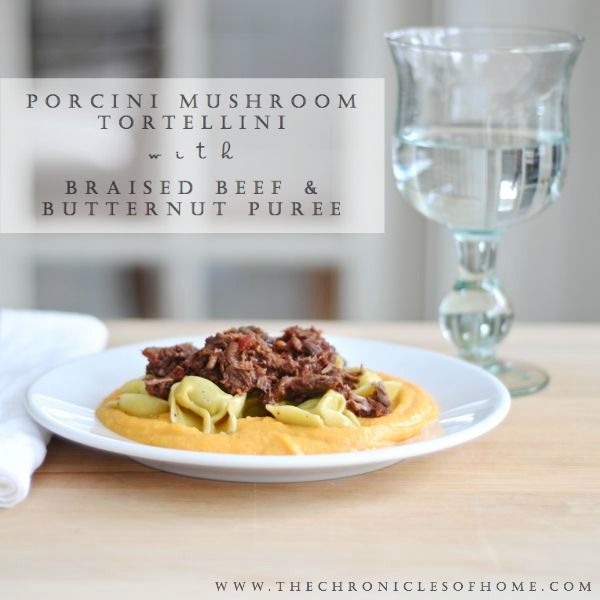 Porcini Mushroom Tortellini with Braised Beef and Butternut Puree
Ingredients – serves 4
1/2 lb. beef chuck
1/2 c. red wine
1/2 c. beef broth
8 oz. can tomato sauce
1/2 c. onion, chopped
3 garlic cloves, minced
1 1/4 lbs. butternut squash, peeled and cut into 1″ cubes
1 tbsp. maple syrup
2 tbsp. olive oil
2 tbsp. cream
2 8-oz. pkgs. high-quality frozen mushroom ravioli
Preheat oven to 350º.
Cut beef into 1″ cubes and season with salt and pepper.  Put in Dutch oven with wine, broth, tomato sauce, onion, and garlic.  Stir to combine.  Roast about 90 minutes, until beef shreds when pressed with a fork.
Toss squash, maple syrup, and olive oil on a baking sheet.  Season with salt and pepper.  Roast in oven about 30 minutes (can go in at the same time as the beef), until squash is very tender.  Put in food processor with cream and puree until completely smooth.
Meanwhile, bring a large pot of water to boil, add a generous amount of salt, and boil tortellini according to package directions (add a few minutes if you like the tortellini softer).  Drain and toss with a bit of extra-virgin olive oil and some salt and pepper.
To plate, divide the squash puree among four plates, top with tortellini, and then beef.
*If making ahead of time, you may want to add a little water to the beef when reheating to keep it from getting too dry.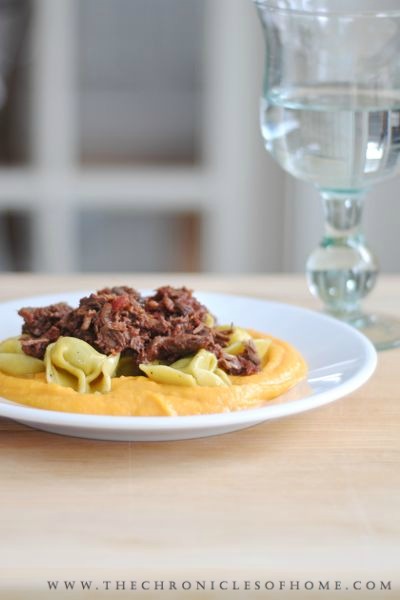 Click
here
for a printable recipe.