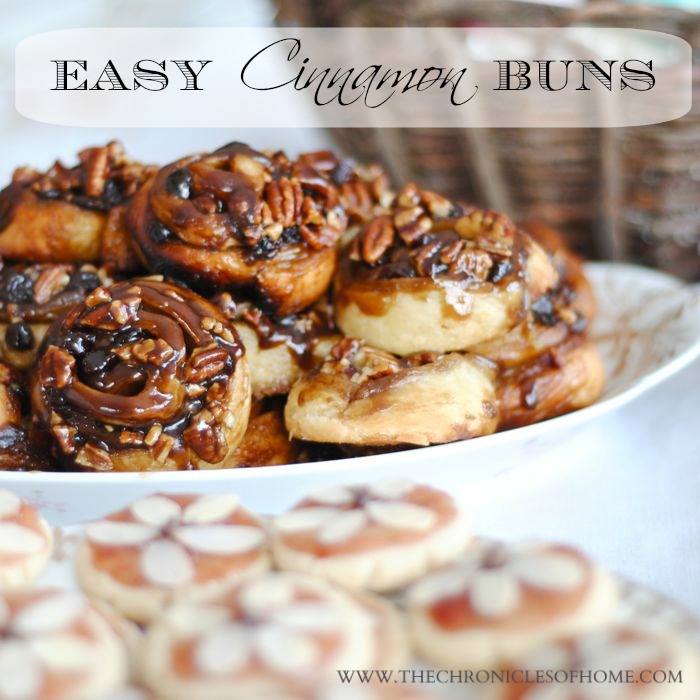 I showed you some teaser shots of the food we served at my niece's baby shower last week and today I'm sharing the recipe for the easiest cinnamon buns.  They smell DIVINE when they're baking and give you a flaky, chewy, melt-in-your-mouth bun that yields a lot of punch for so little effort.
My heart still belongs to traditional cinnamon buns made with yeast but when you need them quick or have a lot of other things to prepare, these quick and easy sticky buns are a great shortcut option.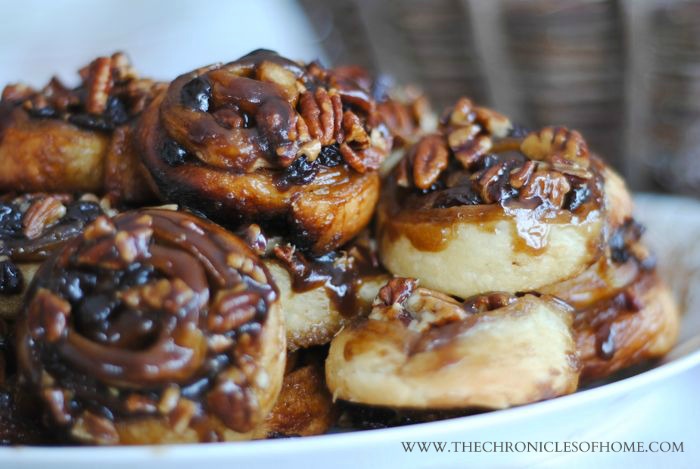 Easy Cinnamon Buns
Ingredients
6 tbsp. unsalted butter at room temperature
3 tbsp. dark brown sugar
1 package (16-17 oz.) frozen puff pastry, defrosted in the fridge (I used an all natural one from Whole Foods)
2 tbsp. unsalted butter, melted
2/3 c. dark brown sugar
3 tsp. cinnamon
1/2 c. pecans, chopped
1 c. raisins
Preheat the oven to 400º.
Use an electric mixer to combine the 6 tbsp. butter and 3 tbsp. brown sugar.  Divide among 12 muffin cups (1/2 tbsp. in each cup).
Place puff pastry on a floured surface and roll out to about a 9×13 rectangle.  Brush the surface with the melted butter.  Sprinkle evenly with the brown sugar, cinnamon, raisins, and pecans.
Staring at one end of the shorter side, roll snugly until you have a log.  Slice each end off and discard (there won't be as much filling at the ends).  Use a serrated knife and slice into 12 even rolls and place each into one of the muffin cups.
Bake for 25 minutes buns are golden brown on top.  Let cool just a minute or two, then invert onto parchment or wax paper.
Click here for a printable recipe.
The idea for these came from the Barefoot Contessa but I adapted her recipe just a bit.