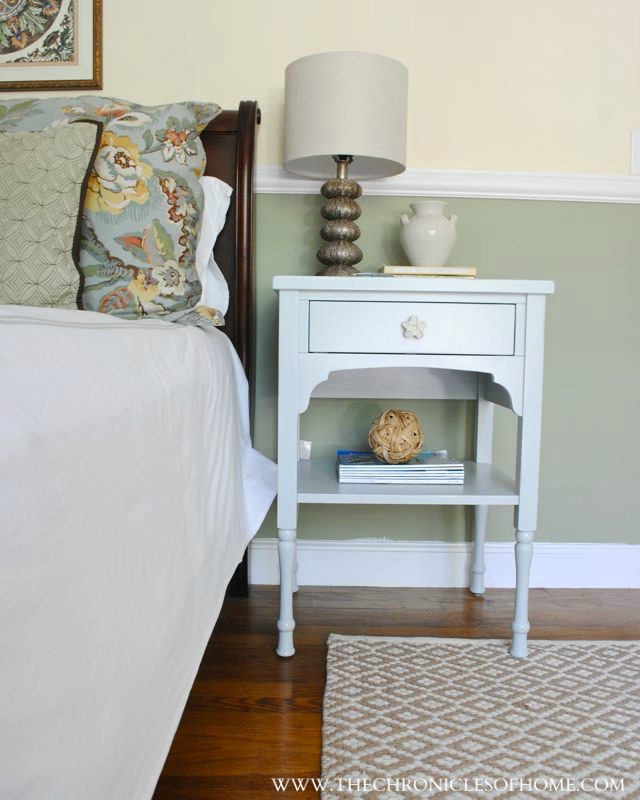 My parents have a cedar hope chest at the foot of their bed that has been in that exact spot for…I'm not sure exactly, maybe 30 years? One day when I was a child and in the throes of an enthusiastic art project that apparently required a hard-tipped pen, I added some deep, deep gouges to the top of the chest.
They're still there.
So when I walked into our guest room a few months ago and saw this, I could hardly get mad.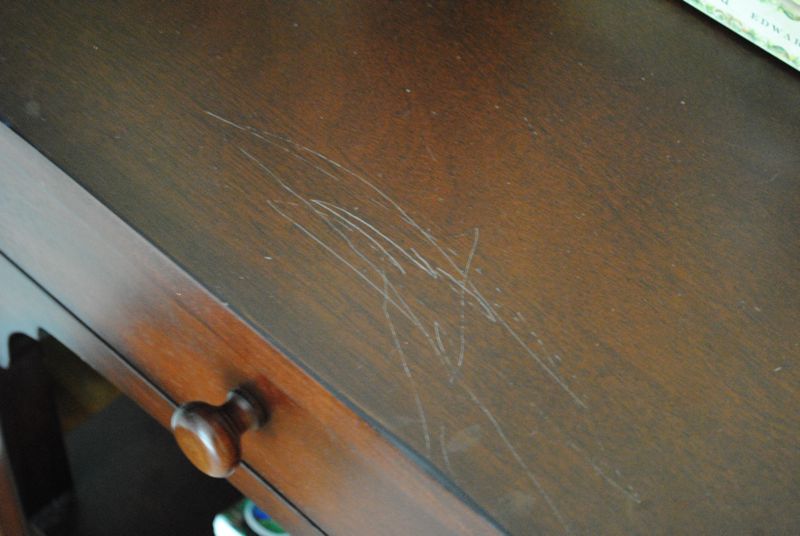 That's the nightstand in the guest room.
As luck would have it, I was invited to sample some new paint by Devine Color a while back and had chosen a really lovely pale grey with the slightest blue undertones called Beluga. My original plan was to paint the guest room walls with it but I ran out of time getting our house ready for sale so this damaged nightstand was the perfect backup use for the paint.
The process was really simple.
I used a pad sander to sand the top only super smooth and erase the gouges.
I used my paint sprayer to coat the whole piece in Kilz Bulls Eye Primer.
Once the primer had dried I used the sprayer to apply a thin coat of Devine Beluga.
Once that coat had dried I did a second one.
I finished it all over with a sprayer-applied top coat of Minwax Water Based Polyacrylic in semi-gloss.
I replaced the original plain wooden knob with one I had bought at Anthropologie years ago and just recently took off our old changing table.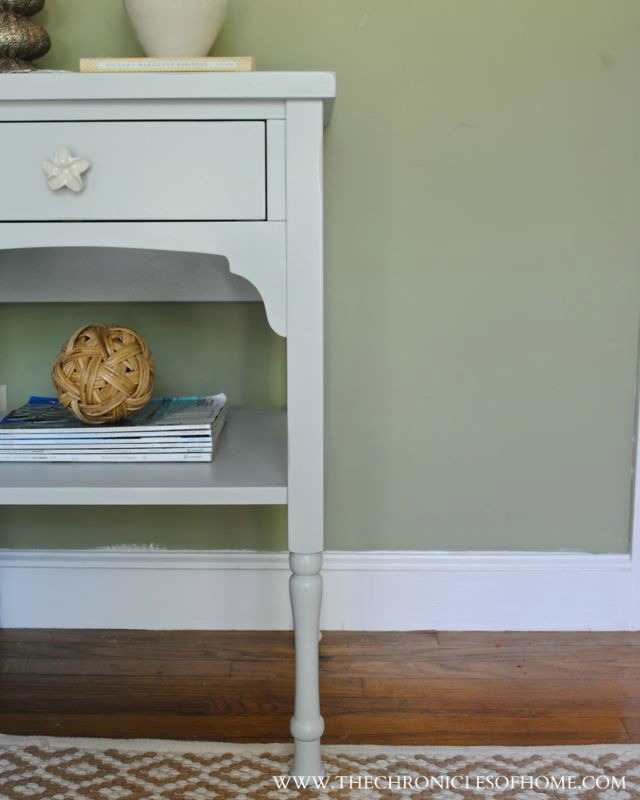 I really love this color – it picks up the blue in the Euro shams on the bed just enough to tone down all the green in this room.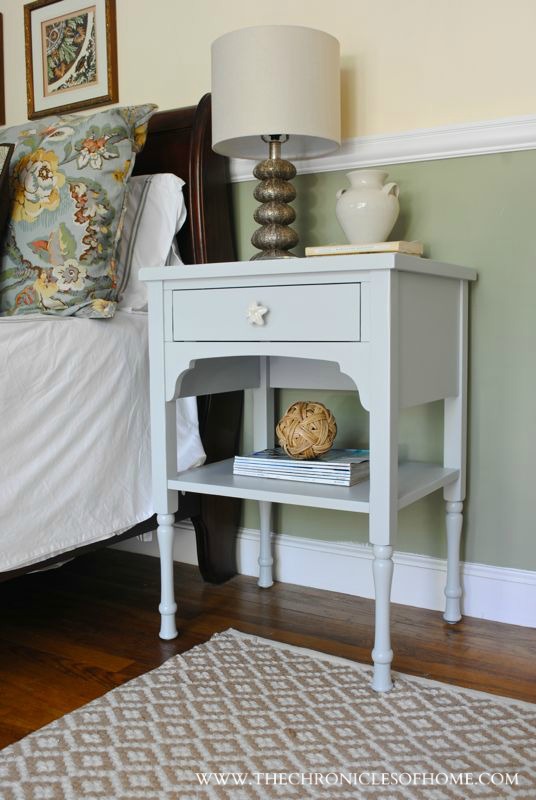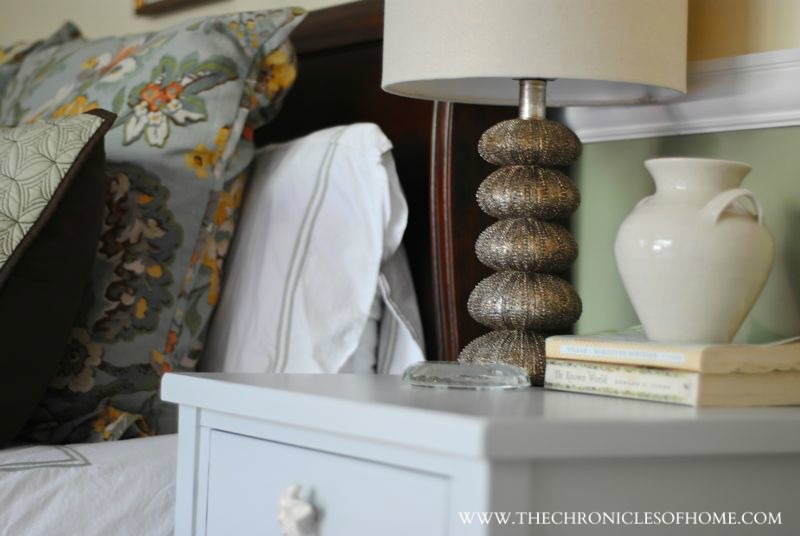 I really would have liked to paint the walls with this color, too! Though I probably wouldn't have used the same color on the nightstand then and I do like how it broke up the matchy look going on before. I've slowly been coming out of my matchy phase the past few years and here's another break-up under my belt.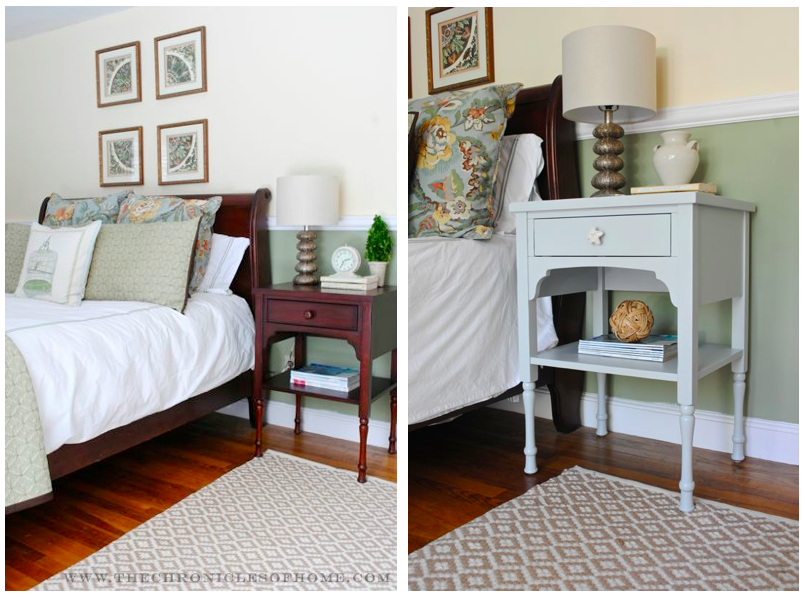 Are you a matchy type or are you digging the broken set look?