Well hey there! I am slowwwwwwly lifting my head up and returning to the real world. Still a busy few weeks ahead but I barely came up for air last week. I have been covered in glitter and lacquer and wood splinter cuts and faux pine needles all in preparation for my Home Depot Style Challenge submission deadline yesterday.
And then you won't believe what happened.
Saturday I was putting the finishing touches on one of my two big DIY projects for the Style Challenge, that I had spent days working on, and had it hanging from the open garage door. I went inside to get a drink, feeling good about wrapping things up, and then….CRASH!
Literally. The garage door had fallen down on top of the project and smashed it. I had such a mix of panic and anger and sadness going through me I didn't even know what to do.
Luckily, Whitney, the lovely lady behind the Style Challenges, gave me a deadline extension so I can redo it. Thus saving me a complete nervous breakdown. She just earned some angel wings in my eyes.
So I will still be plugging away this week, as well as getting started on some of the work in the dining room for the Fall in Love room makeover.
I've also been giving some more thought to the furniture arrangements in our living and family rooms, because I can't seem to just focus on one thing at a time, and also prompted by the amazing spool chairs of my dreams I stumbled across at Home Goods over the weekend (you can stay up to date on these little bits by following me on Instagram).
So, obviously, I am now thinking about where these dreamy spool chairs will fit into the grand scheme and I have drooled over English roll arm sofas for awhile now. Perfect fit for the family room – beautiful, comfortable, classic.
Both the beauty and the curse of a newish house with lots of still-empty rooms is figuring out how it will all go together.
But here's the thing about English roll arm sofas. They are expensive. Like, usually, very. But guess what I came across last night. You'll never guess.
You can buy an English roll arm sofa frame HERE for $364. THREE HUNDRED AND SIXTY FOUR DOLLARS.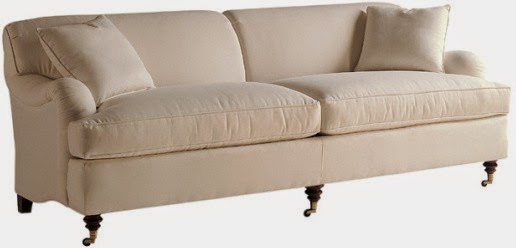 Even with the foam, padding, fabric, and upholstery odds and ends this would be thousands less than buying a finished sofa retail.
Sooooooo…I don't know. I have a feeling this idea is going to buzz around in my head for awhile. I sure can see this beauty in my family room and the upholstery sort of feels like a cinch. No stripping of old fabric! Just a frame ready to dress. Beautiful.
A bit of a rambling post today, but that's where I am right now. See you back here later this week!