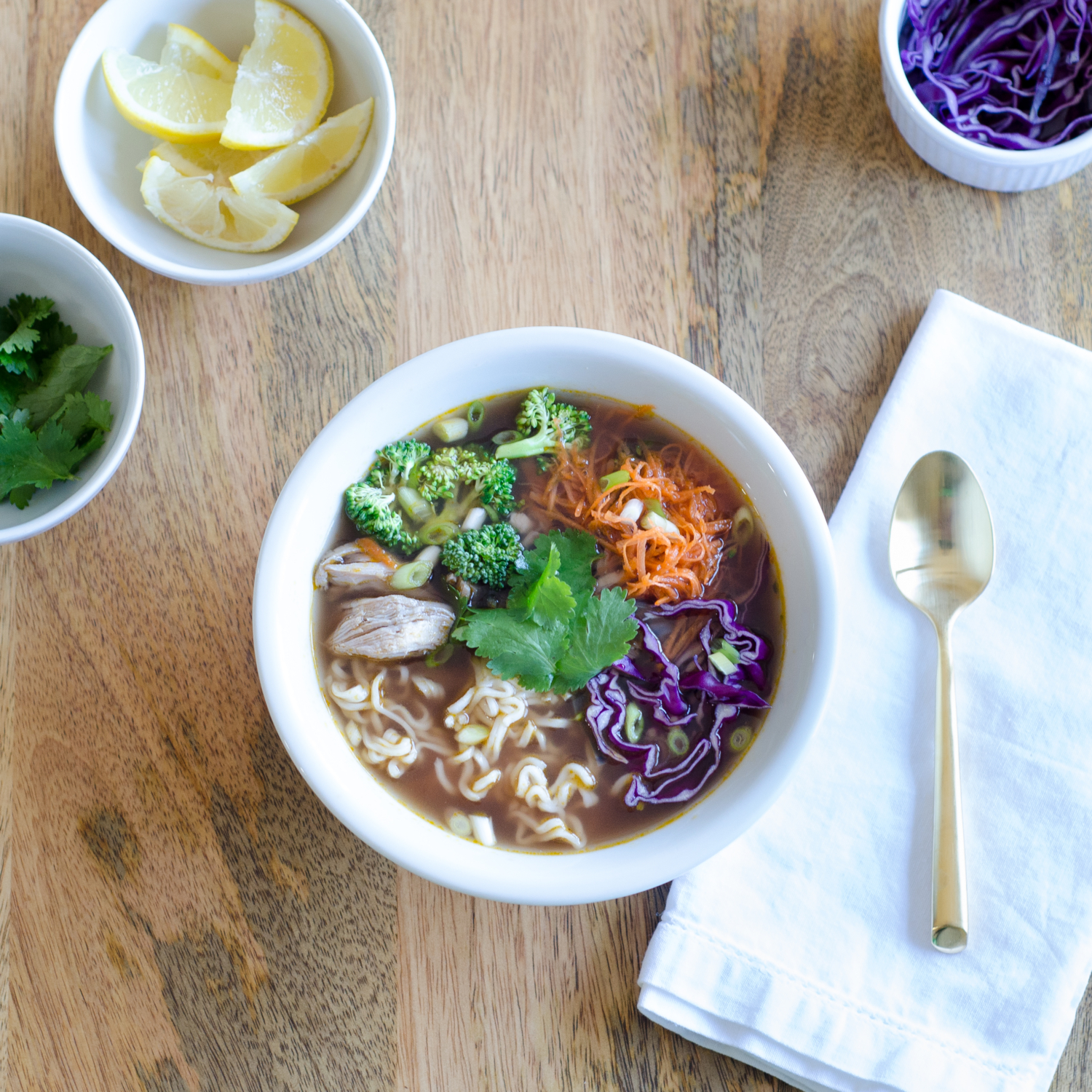 Honestly, for a twenty minute soup, this asian broth bowl has no business tasting as great as it does. There is so much complexity and flavor you'd think the broth had been simmering away for days. But nope. Twenty minutes. Maaaaaybe twenty-five if you're a slow chopper. Still, that is pretty great for a weeknight meal and it satisfies all cravings you might be having for an amazingly rich and satisfying ramen bowl. I'm already planning to make this again with the addition of some bok choy at the end (which, for the record, I think is one of the most underrated leafy green vegetables out there) and possibly a soft-boiled egg. My daughters slurped these homemade ramen bowls up for dinner last night and my eight year old asked for the leftovers in her lunch today. So I'd say that's a definite win.
Now let's talk for a minute about how to make this a Whole30 soup recipe or Paleo broth bowl. In the recipe below I've indicated what ingredients you should use to make the soup completely Whole30 compliant or Paleo. If you're not on one of those diets, no sweat, do whatever you want! The only ingredient in the soup that is so-so on Whole30 is the sesame oil, which is supposed to be used in moderation on the diet. This recipe calls for only a teaspoon of sesame oil so you can decide if you're comfortable with that. If you're not, just leave it out and possibly add a tablespoon of almond butter for a little hint of nutty flavor.
If you are doing Whole30 or are Paleo, you'll want to use either kelp noodles or zucchini noodles instead of traditional ramen noodles, or you can just omit the noodles entirely. The broth has so much flavor you won't even miss them! My husband is following a modified Whole30 right now so I cooked the ramen noodles (because that's what I had on hand that night!) and added them into my daughters' and my bowls so he could eat the soup without them. Easy peasy and everyone's happy.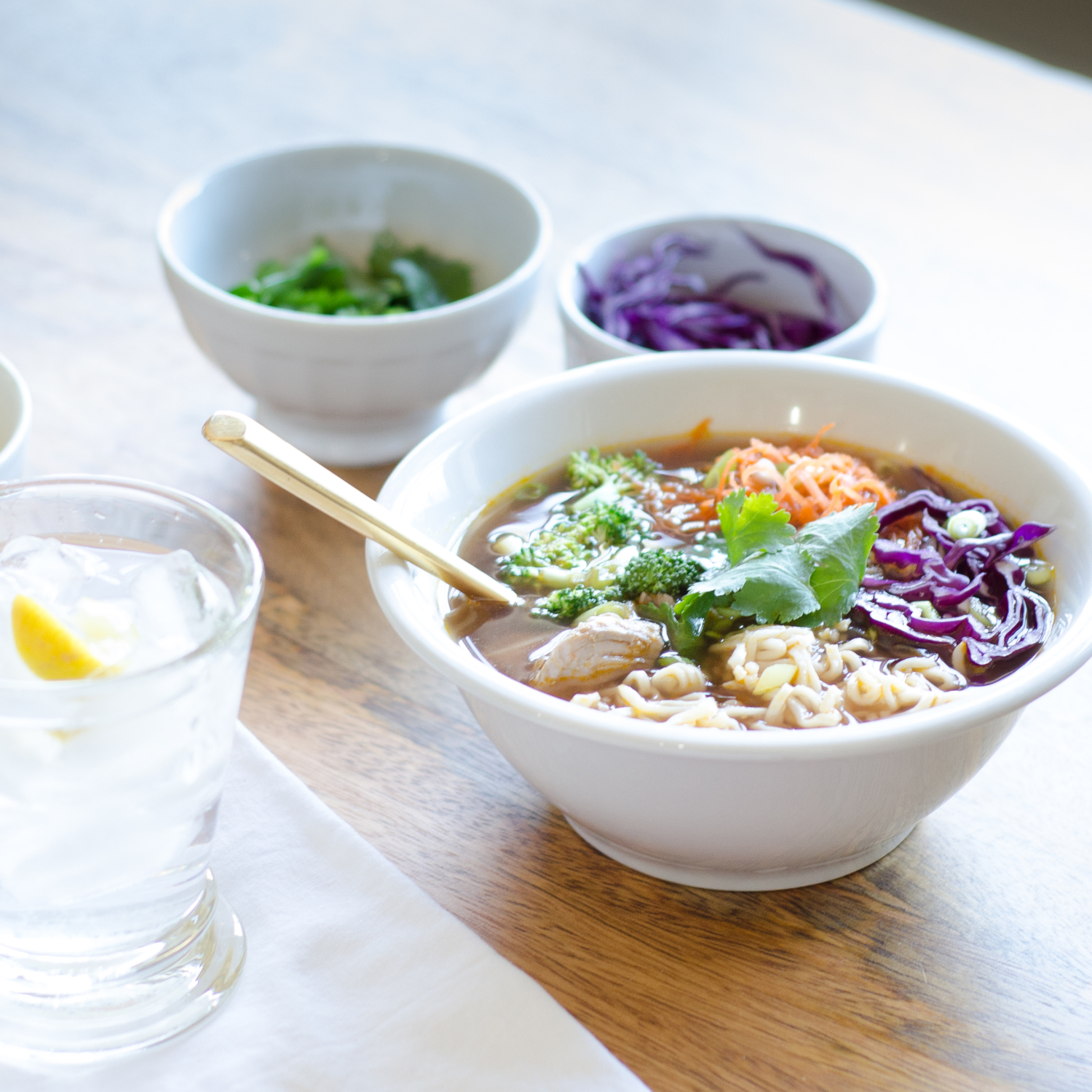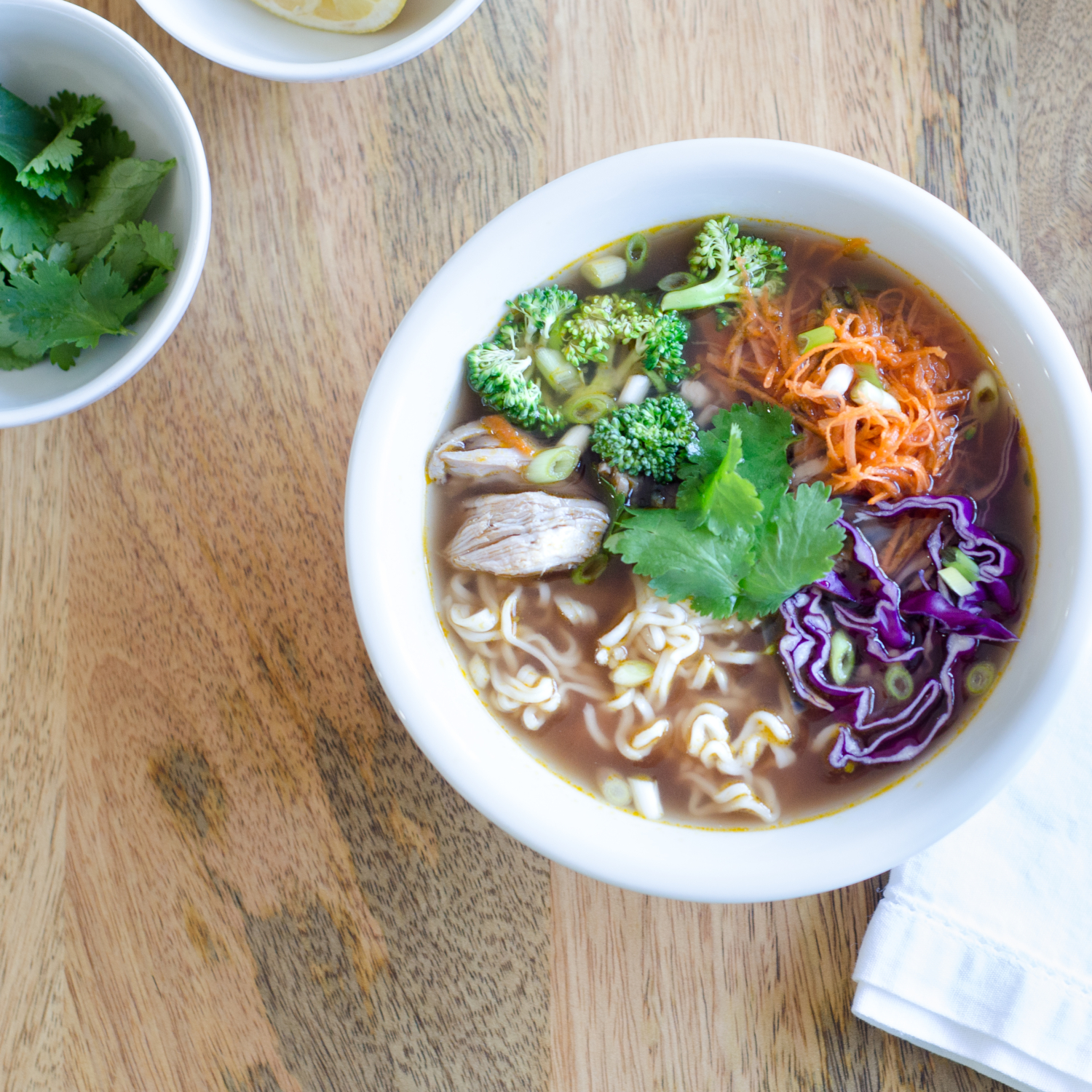 Twenty-Minute Asian Broth Bowls (Whole30 and Paleo Friendly!)
A richly delicious, asian broth bowl soup loaded with veggies and chicken. Ramen noodles are optional to make the soup Whole30 or Paleo!
Recipe type:
Lunch, Dinner
Cuisine:
Asian, Chinese, Whole30, Paleo
Ingredients
1 lb. boneless skinless chicken breasts
3 tbsp. olive oil, divided
2 c. cremini mushrooms, sliced
5 cloves garlic, minced
1 tsp. fresh ginger, minced
8 c. chicken stock
1 tbsp. tomato paste
1 tbsp. fish sauce or anchovy paste for Whole30
1 tbsp. soy sauce or coconut aminos for Whole30
1 tsp. sesame oil
1 large carrot, finely grated (about ½ c.)
1½ c. broccoli, cut into small florets
1½ c. red or green cabbage, shredded
8-12 oz. plain ramen noodles or kelp noodles/zucchini noodles for Whole30
Scallions, sliced (optional)
Cilantro, chopped (optional)
Instructions
Preheat the oven to 400º. Cut the chicken breasts in half width-wise so they are half the thickness and will cook more quickly. Place on a sheet pan, drizzle with 1 tbsp. of olive oil, sprinkle with salt and pepper, and roast until cooked through, about 15 minutes.
Cook the ramen or kelp noodles according the the package directions and drain in a colander. If using zucchini noodles, add during the last step (see below).
Meanwhile, heat the remaining 2 tbsp. of olive oil over medium heat. Add the mushrooms and cook until starting to soften, 5 minutes. Add the garlic and ginger and cook for 1 minute.
Add the chicken stock, tomato paste, fish sauce/anchovy paste, soy sauce/coconut aminos, and sesame oil and bring to a boil. Shred the cooked chicken then add it to the soup with the carrots, broccoli, and cabbage (and zucchini noodles if you're using them). Remove from the heat and let the soup sit for a few minutes - the vegetable will soften a bit in the hot soup but they taste best when they have a bit of crunch left. Add the cooked ramen or kelp noodles if you are using them.
Spoon the soup into bowls and top with scallions and cilantro if desired.