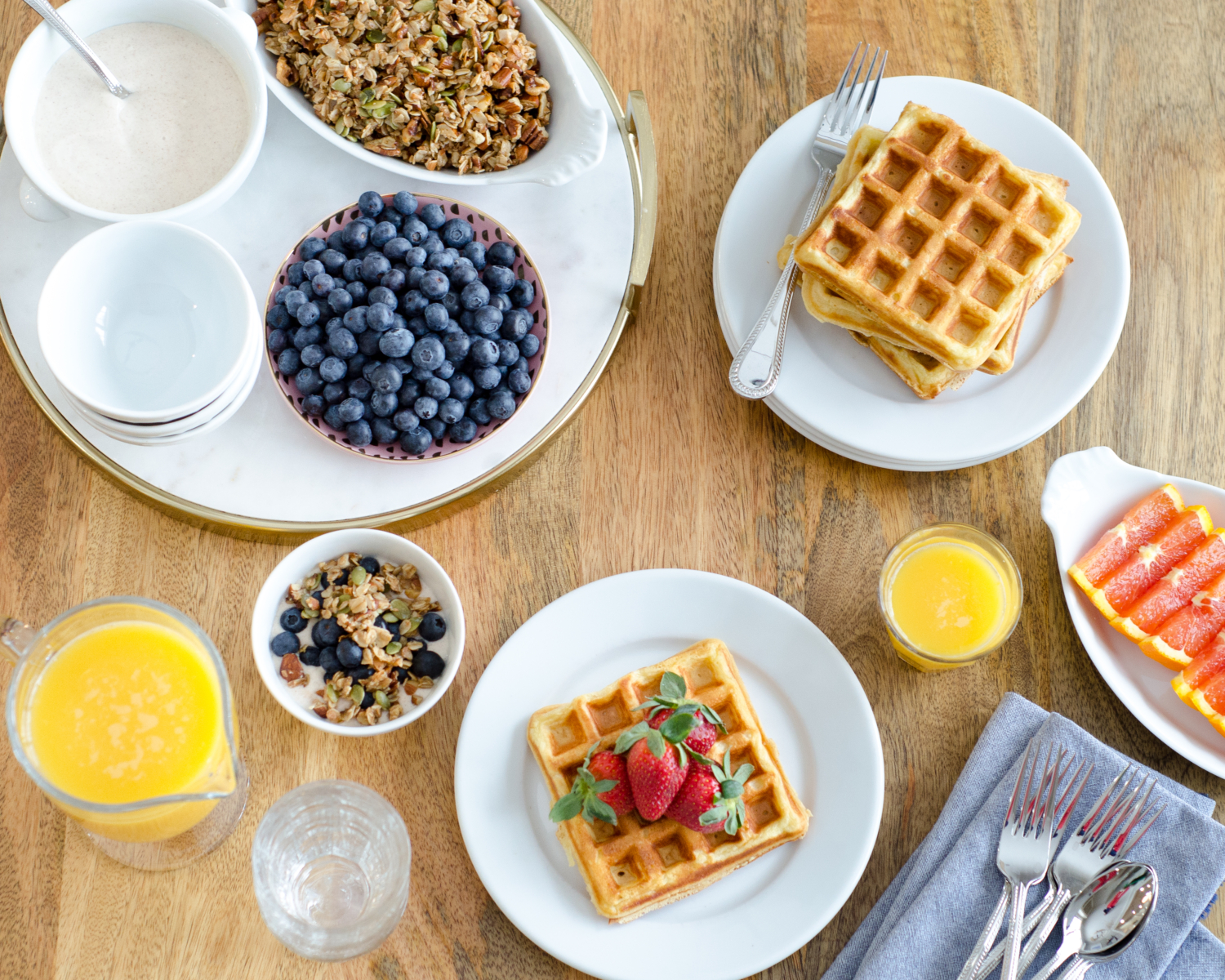 I am going to tell you something shocking. In my ten years as a pretty hands-on home cook, recipe-developer, and waffle iron owner, I have never had a waffle recipe that I loved, let alone a Belgian waffle recipe. Every now and then I would pull my waffle iron out, blow the dust off, and attempt to make a batch, usually with sort-of-fine but pretty lackluster results. So back into the dark recesses of a cabinet my waffle iron would go until I was struck with the motivation to give it another go. But waffles were never a regular weekend star of my breakfast table and after awhile I just stopped trying. They disappeared from my breakfast repertoire entirely and my poor children were moving through a waffle-less childhood.
Then recently I had a Belgian waffle for breakfast at a hotel where I was staying and I thought, "Come on. You can do this!" So I rolled up my sleeves, did some research, and started testing recipes. I tried recipes with yeast, without yeast, with whipped egg whites, with just plain eggs, recipes that let the yeast rise overnight, and recipes that were ready to cook in minutes. And, you guys, I found it. THE ONE. The best, truly easiest Belgian waffle recipe you can make at home. Eight big, gorgeous, fluffy, insanely delicious Belgian waffles ready start to finish in less than fifteen minutes (if you have the right waffle iron, read on for my recommendation).
I knew the second I tasted these waffles that finally I had found it. They're dense but not heavy, soft and a bit pleasantly chewy on the inside, lightly crispy on the outside, vanilla-scented, basically the Belgian waffle recipe of my dreams. No whipping of egg whites, no yeast or rising required, which is a relief because really who has time to whip egg whites or let batter rise when you have hungry people chirping for waffles in the morning?!
If we're getting reallllly technical perhaps this is not a 100% authentic Belgian waffle recipe, which as I understand it, does have yeast. But I promise you, you will not even be able to tell the difference between these waffles and Belgian waffles you can get anywhere else. Well except for the fact that I think they're even better.
Now, about waffle irons. I just upgraded mine for the first time in ten years and let me tell you, I wish I had bought this waffle iron years ago. Waffles release with dreamy ease from the nonstick plates, the deep grooves make a nice, thick waffle, and perhaps best of all, it makes four big waffles all at one time. So instead of standing by the waffle iron for half an hour cooking one waffle at a time while hungry breakfast eaters nip at your heels and you sweat over a hot iron, this iron will get you through an entire batch of waffles in about two passes. Brilliant. I can't recommend it highly enough.
Now about those dreamy waffles…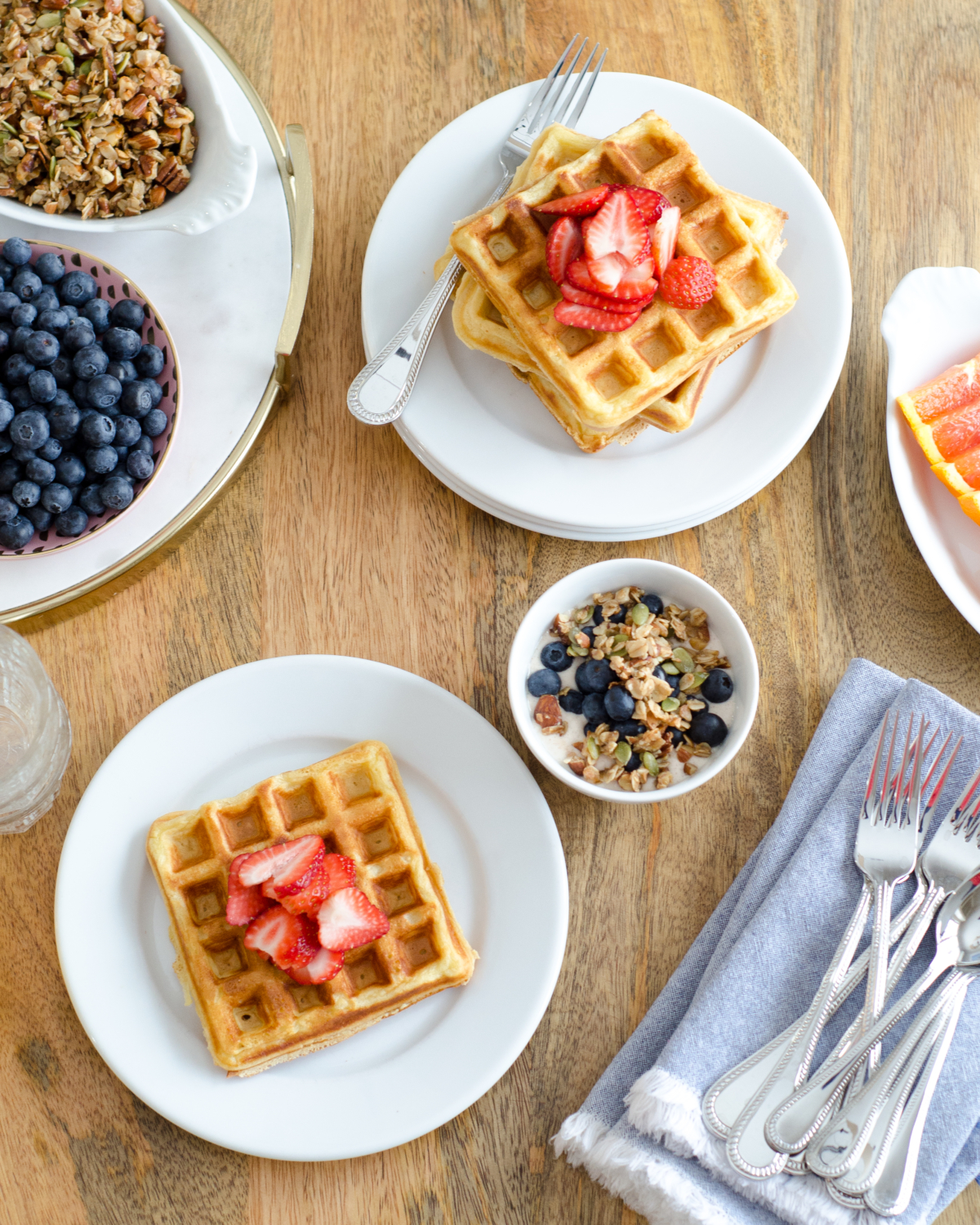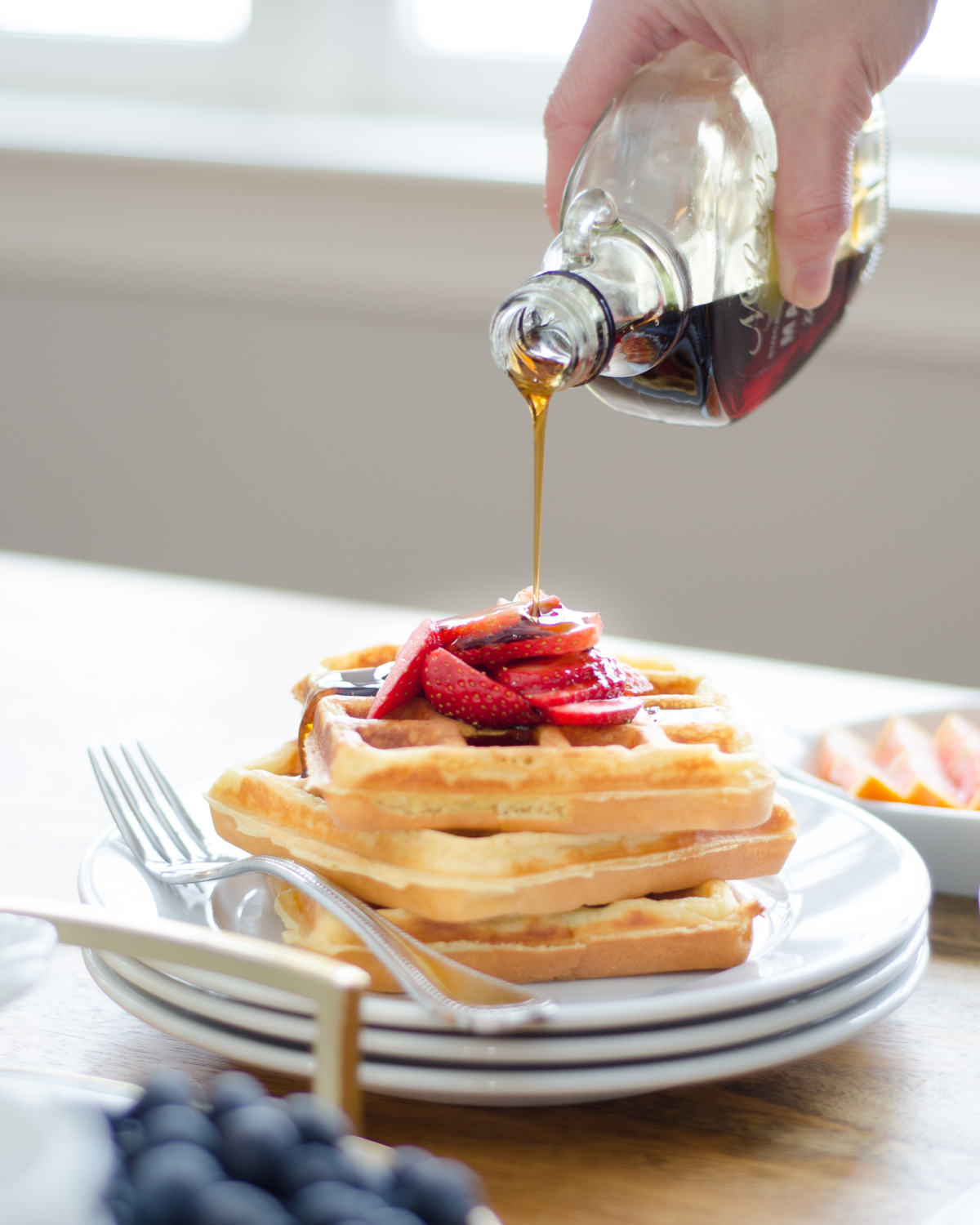 The BEST Easy Belgian Waffle Recipe
An easy Belgian waffle recipe that yields perfect waffles every time.
Ingredients
2 eggs
1¾ c. milk
½ c. grapeseed oil
1½ tsp. vanilla
1¾ c. flour
¼ cup cornstarch
2 tbsp. sugar
1 tbsp. baking powder
¼ tsp. salt
Instructions
Preheat your waffle iron.
Whisk eggs, milk, oil, and vanilla in a medium bowl. Add flour, cornstarch, sugar, baking powder, and salt and whisk until the batter is smooth.
Pour the batter into the waffle iron so it just coats the plates. Close and cook until the waffles are golden brown on the outside and cooked through.