A veggie sandwich is something I always order when I see it on a menu but almost never make for myself at home. Until now. Because I have come up with the ultimate veggie sandwich recipe. It's so good and so easy you will have no excuse not to make this for yourself. It's loaded with so many veggies and their amazing vitamins and minerals too you can pat yourself on the back for eating something super good for you that also just happens to be amazingly delicious. High fives all around.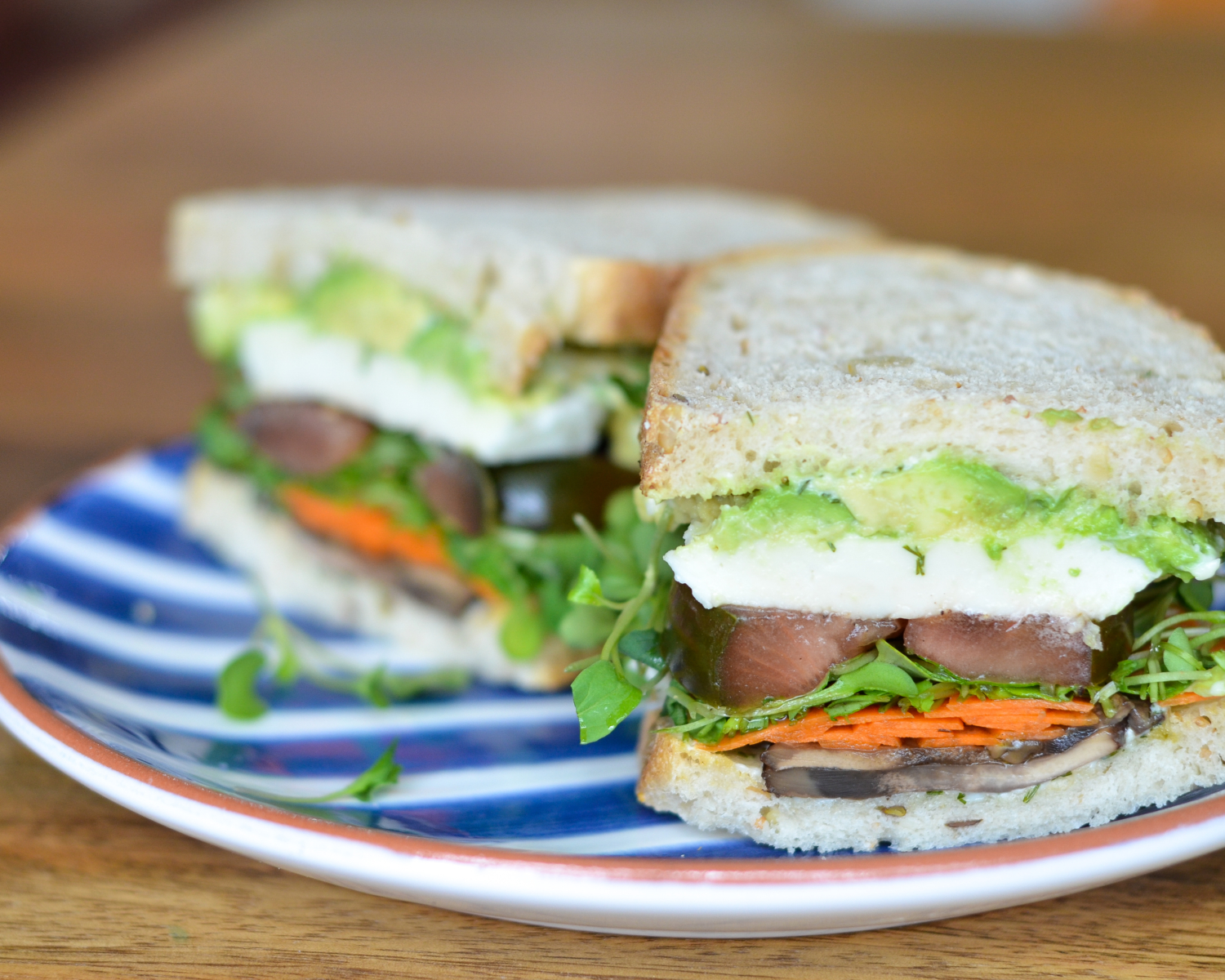 Blue and white plates, similar to mine:
one / two / three / four / five / six / seven / eight

I started off the new year resolved to eat better lunches. I had gotten into a rut of rummaging aimlessly, scarfing down maybe a cheese stick and a granola bar, and spending the rest of the afternoon starving. Meanwhile I packed lunches full of protein and veggies and fruit for my daughters every morning. But for me, zero vegetables most days for lunch, maybe a smidge of protein…I knew I could do better than that and that I deserved better than that.
This veggie sandwich recipe has become one of my favorite things to make for myself for lunch at home. It takes barely more than assembly, though I do cook my mushrooms because I just like them better that way. I also think they take on sort of a meaty flavor when cooked, which I really love in this sandwich. Besides the layers of delicious veggies, there are two things that I think really make this sandwich exceptional – great bread and the dill mayo. I use a multigrain and seed bread from Whole Foods but any hearty yet soft artisanal bread will be excellent. The dill mayo is just a bit of chopped fresh dill stirred into regular old mayonnaise, but wowowow does it add an amazing flavor layer to this veggie sandwich. If you don't like dill, substitute any flavorful herb you like – I think basil or tarragon would also be great.
Just how look how easy it is layer this bad boy up and feed yourself an awesome lunch.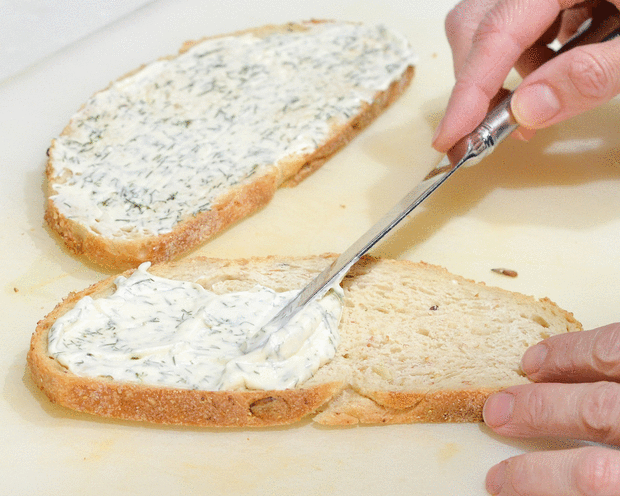 And, just sayin', I would totally eat this for dinner too, though my husband said he was "starving" after I made these for dinner recently. I, for the record, was not starving, I was totally full and think this veggie sandwich makes a fab dinner as well as a killer lunch. Just make sure you pick up the ingredients on your next grocery trip and next time you are standing in front of the fridge wondering what to eat for lunch, well, here's your answer.

The Ultimate Veggie Sandwich Recipe
A veggie sandwich recipe so hearty and flavorful you won't even think twice about the fact that there's no meat inside.
Ingredients
Multigrain bread, very fresh or lightly toasted (the better your bread, the better your sandwich!)
½ c. mayonnaise
2 tsp. chopped fresh dill
2 tbsp. olive oil
8 oz. cremini mushrooms, sliced
1 carrot, sliced into long strips with a vegetable peeler
1 c. arugula sprouts (or any sprouts or lettuce greens)
1 small tomato, sliced and seeded (I prefer brown or heirloom tomatoes)
8 fresh mozzarella ball, sliced
one avocado, sliced
Instructions
In a small bowl, stir the mayonnaise and dill to combine.
Heat the olive oil in a small frying pan over medium heat. Add the mushrooms and saute until tender, about 7 minutes. Season with salt and pepper to taste.
Meanwhile, begin assembling your sandwiches by spreading the dill mayo onto four slices of bread. Layer the carrot, sprouts, tomato, and mozzarella on top of two of the bread slices. Add the mushrooms when they have finished cooking. Lay the avocado slices on top of the two remaining slices of bread and smash slightly with a fork so the avocado isn't as likely to slip out while eating. Season with salt and pepper to taste.
Lay the two slices of bread with avocado on top of the two slices with layered veggies to make the sandwiches.