I'll happily eat caprese (tomato, mozzarella, and basil) inspired recipes any time of year but there is just something about its simplicity and light, fresh flavor that makes it feel extra at home in summer. I have a twist on the classic today in this stuffed endive appetizer idea, which can be thrown together in no time and is perfect for your upcoming Fourth of July party or any summer entertaining you have ahead of you.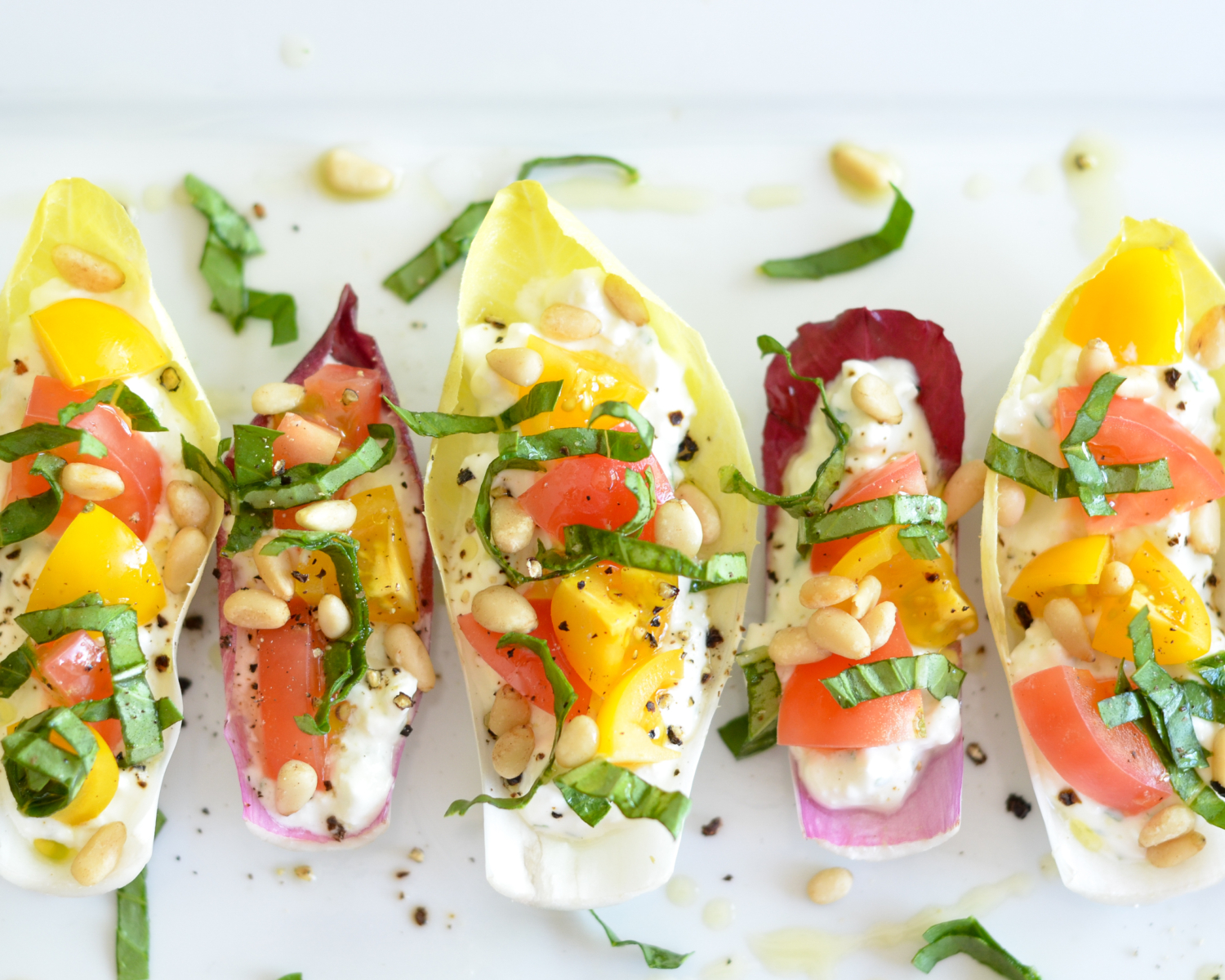 The twist here is that instead of the usual mozzarella, these caprese stuffed endive leaves use Hood Cottage Cheese with Chive. I've been trying to add more protein into my diet and Hood Cottage Cheese packs a big punch in the protein department with around 10g per serving – the Cottage Cheese with Chive actually weighs in at a whopping 14g of protein per serving. And its salty, creamy, lightly onion-y flavor is so great in place of mozzarella in this stuffed endive recipe. Hood Cottage Cheese is an easy way to eat healthy without sacrificing amazing flavor. I love their plain cottage cheese but Hood makes ten different flavor varieties as well (both savory and sweet) that are perfect for everything from breakfast to snacks to appetizers and have a richer, more flavorful taste than regular cottage cheese. You can find a store locator to see where it's carried near you HERE.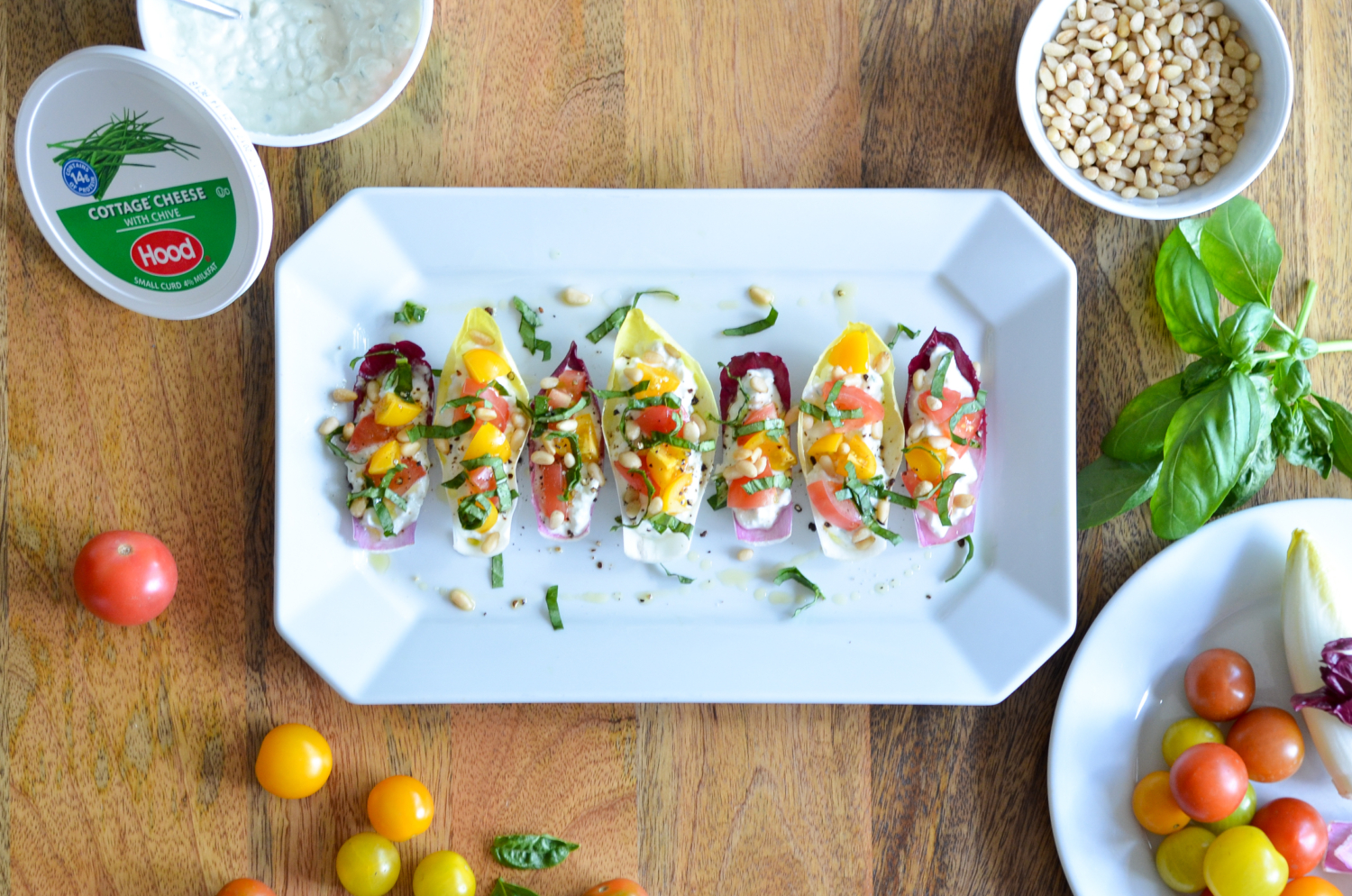 These stuffed endive leaves are so easy to make, you don't even need to save them for parties. They'd be great as a protein-rich afternoon snack and are a simple and delicious way to get some added protein into your life. Protein helps you feel full longer and build muscle which in turn keeps your metabolism running strong so…pretty win-win, I'd say. I'll eat Hood Cottage Cheese straight out of a bowl but know that's a little hard core for some of you, so trust me on this when I tell you it tastes extra amazing all topped with juicy tomatoes, fresh basil, and toasted pine nuts. Soooo good. I finished photographing these the other day and my daughters were basically just out of camera range waiting for me to give them the okay to dive in. And then there was lots of, "Yummmmm. Oh my gosh this is soooo good!" And that's from a six year old and an eight year old.
And can we talk about the gorgeousness of this finished product? I think stuffed endive leaves are such a delicately pretty appetizer in general but the bright tomatoes and green basil against the creamy white Hood Cottage Cheese with Chive is positively beautiful. I guarantee if you show up with a plate of these caprese stuffed endive leaves people will be ooohing and aaahing and will probably think you slaaaaaaaved over this. And you can just smile to yourself knowing that you brought something super pretty and super healthy that was super easy to make. The best kind of summer appetizer – fresh, easy, and leaves you lots of time for enjoying things other than cooking!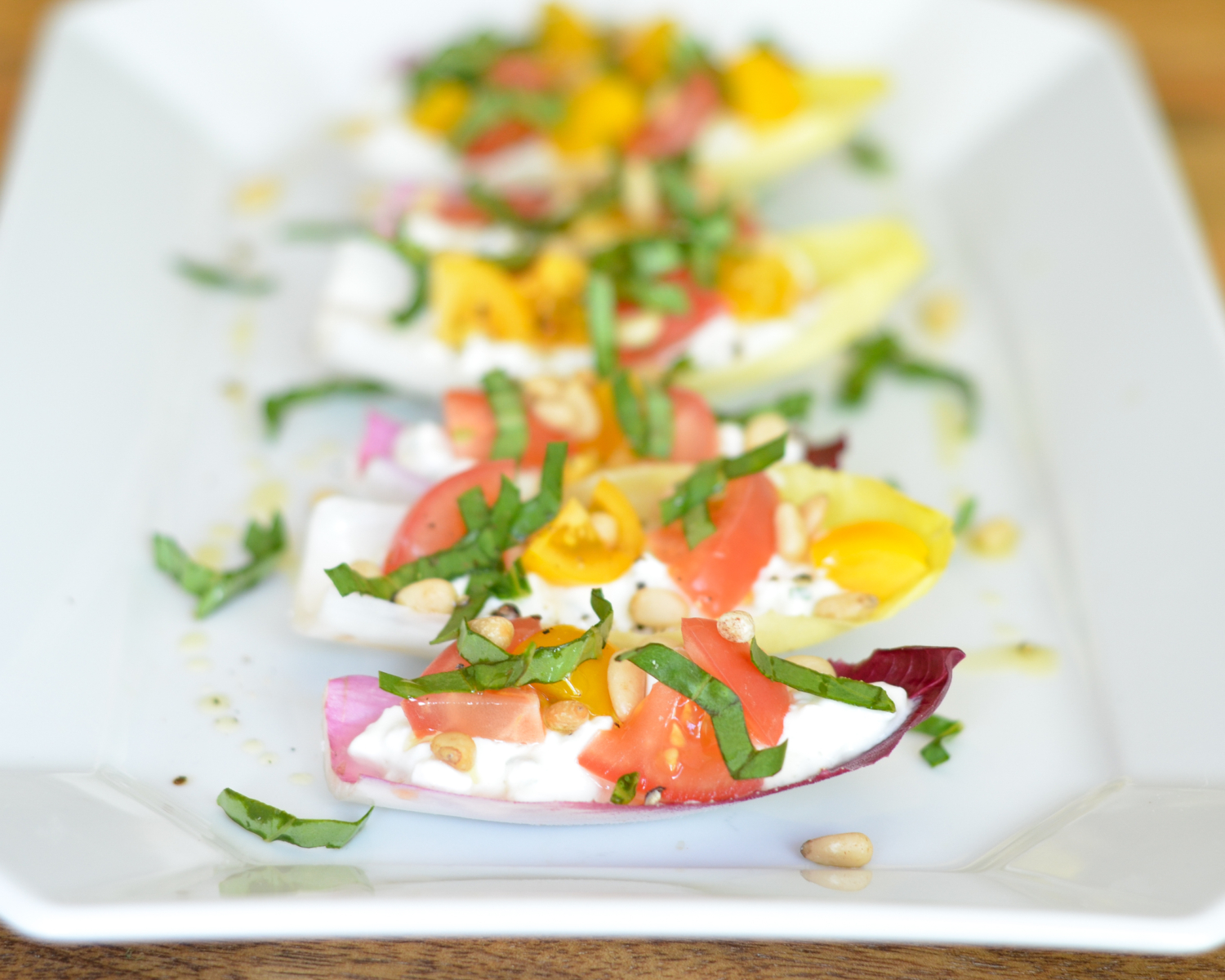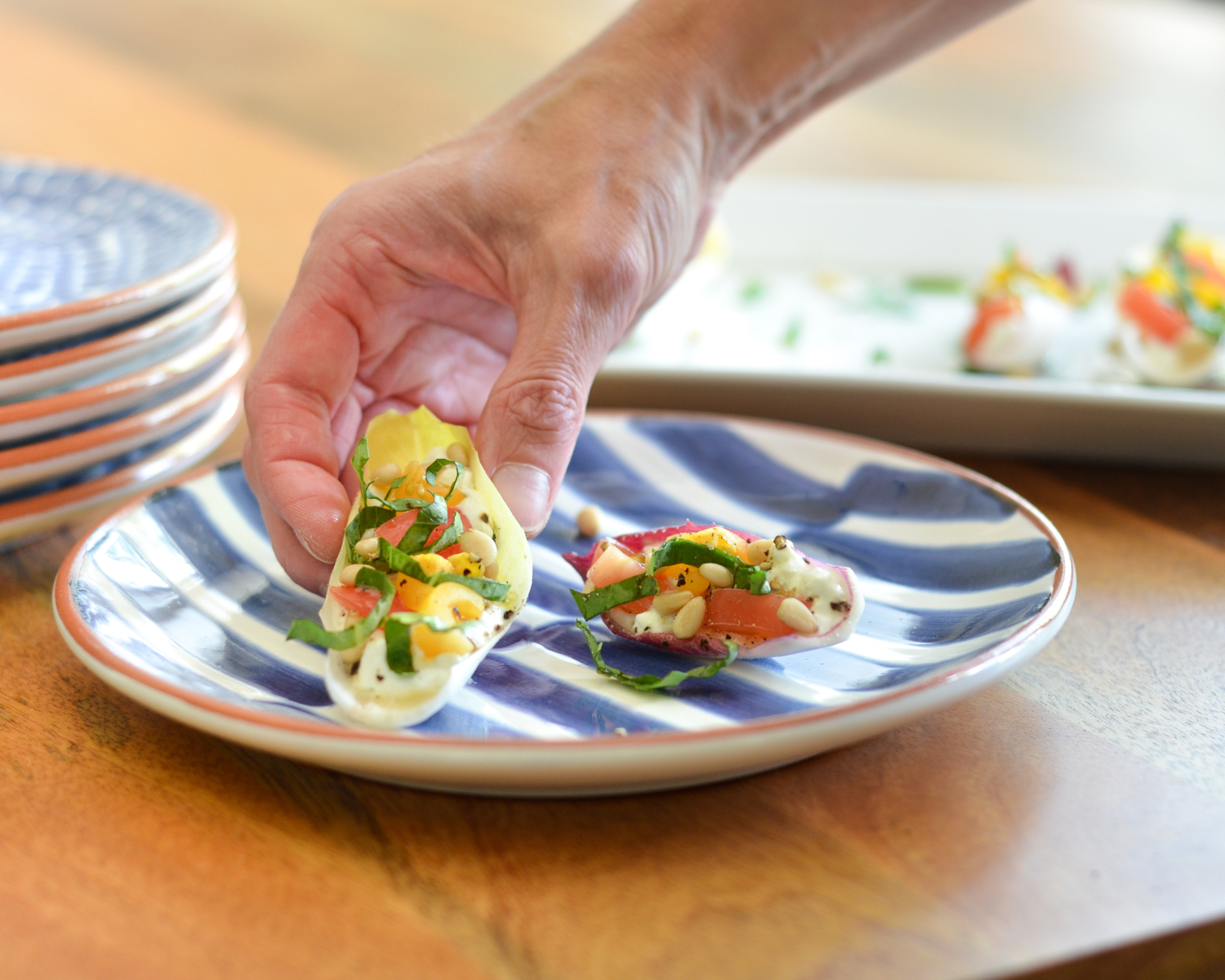 Caprese Stuffed Endive Recipe
A simple, fresh, beautiful appetizer perfect for summer parties.
Ingredients
Endive heads
Hood Cottage Cheese with Chive
Grape tomatoes, quartered
Fresh basil, chopped
Toasted pine nuts
Extra-virgin olive oil
Salt and pepper
Instructions
Carefully separate the endive leaves and lay on a plate curved side up. Fill each endive leaf about half full with the Hood Cottage Cheese with Chive. Top with chopped tomatoes. Sprinkle with basil and pine nuts, drizzle with olive oil, and top with salt and pepper to taste. Serve immediately or keep refrigerated until you'r ready to serve.