Thank you to Hayneedle for partnering with me on finishing this patio with a fountain project. Hayneedle provided me with the fountain, outdoor benches, and garden stools you see featured here. I chose the items myself and all opinions expressed about them are my own and are sincere. Thank you for supporting the retailers that choose to partner with me! I only ever share retailers and products I truly stand behind and use myself.
I haven't talked a ton here on the blog about our outdoor projects, other than the Trex deck we built over the past couple of years. We had plans for the backyard but didn't think we'd get going on them for awhile. But then the deck wound up kicking everything into high gear when we realized it made sense to start the paver patios we'd envisioned on either side of the deck before we attached the stairs, so the deck stairs had the sturdy pavers to land on. And that realization meant the deck sat with no stairs for over a year while we got to work on those patios. I haven't shared the first patio yet – it has a built-in gas firepit but I'm still working on finishing the rest of the space. We just finished the second patio with a fountain in the center over the last couple of weeks and it really exceeded ALL of my expectations. I just love the whole space so much and think it's such a beautiful addition to our outdoor living area.
Here's a look at how the backyard looked a few years ago. If you look at the circled area, you can just see the roof over our screened porch peeking out but the massive hedge of yews was so overgrown you could barely walk around that side of the house.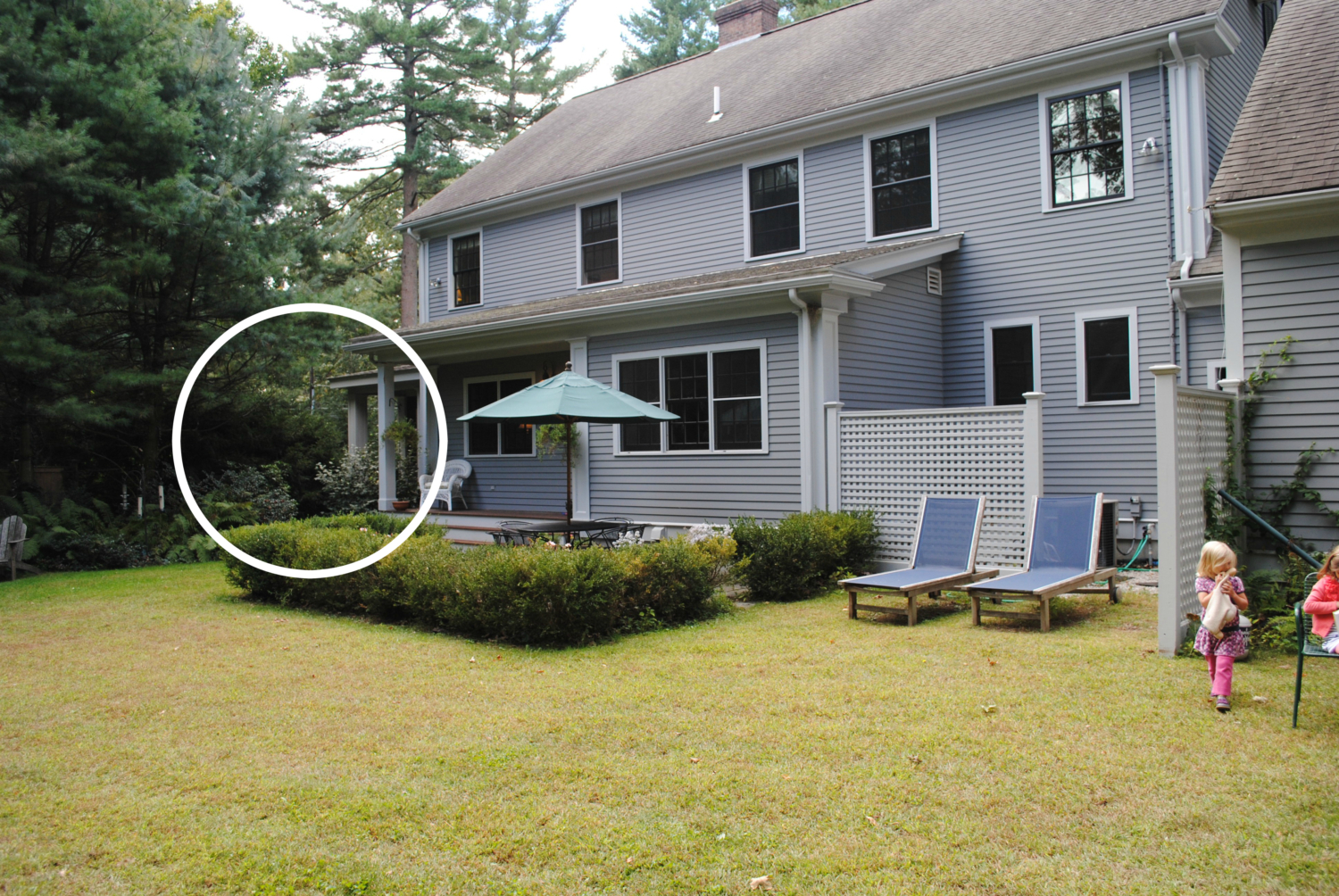 We hired a tree company to remove a few white pines along that side and all of the yews and it opened that side of our property up tremendously. I couldn't even believe how much bigger our yard looked. There was a really pretty flower garden around that corner – so many peony plants I could hardly pick them fast enough, it was heaven – but Scott didn't love the freeform look of it and said it was tricky to mow the grass around the beds so ultimately he talked me into excavating the entire side in preparation for a paver patio. And now that it's finished, it's just so pretty I can't believe I ever felt so-so about the idea. This is how the space looks now, including the new deck.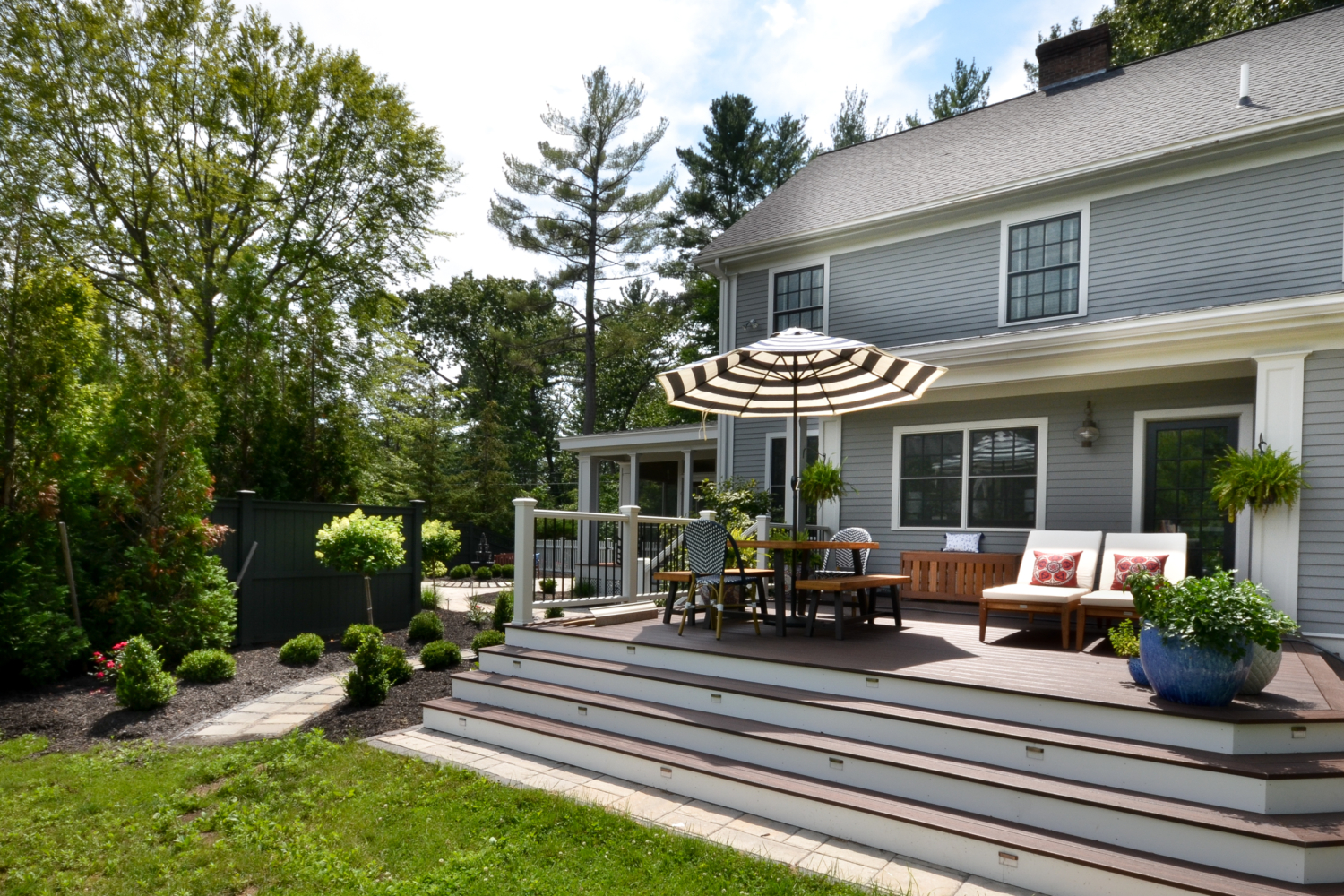 Dining set (similar)
Woven wicker end chairs (similar)
Striped patio umbrella
Chaise lounge chairs (similar)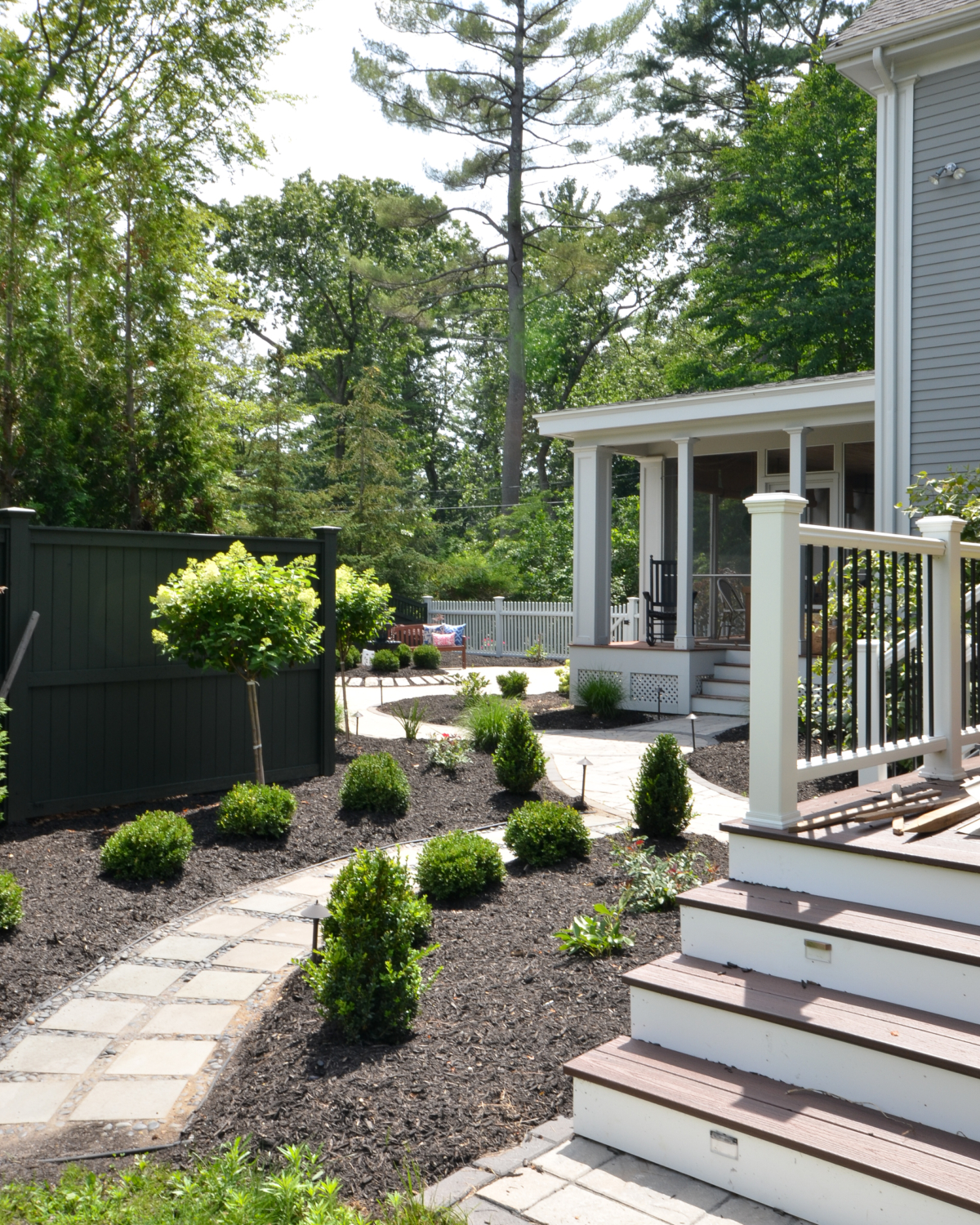 The thing that Scott wanted most for this patio was a water feature. He's been talking about a water feature for a full decade now, since we were in our last house. As plans for the patio came together this much-longed-for water feature took shape in his head as a patio with a fountain, and my reaction was basically, "Are you joking? A fountain??" I thought it would look too fussy and frilly and just out of place as part of our very traditional New England colonial house.
I was very, very wrong.
I can't tell you how glad I am that he talked me into the fountain because now I love it in every way. It's the perfect centerpiece of the patio and I love the way it looks but I also love the sound of it more than I ever thought I would. It's so relaxing to hear water bubbling softly no matter where you are in the yard, and on nice days when I have doors and windows open in the house I can hear it in the house too and I just love it. I can't quite picture this space as anything but a patio with a fountain now.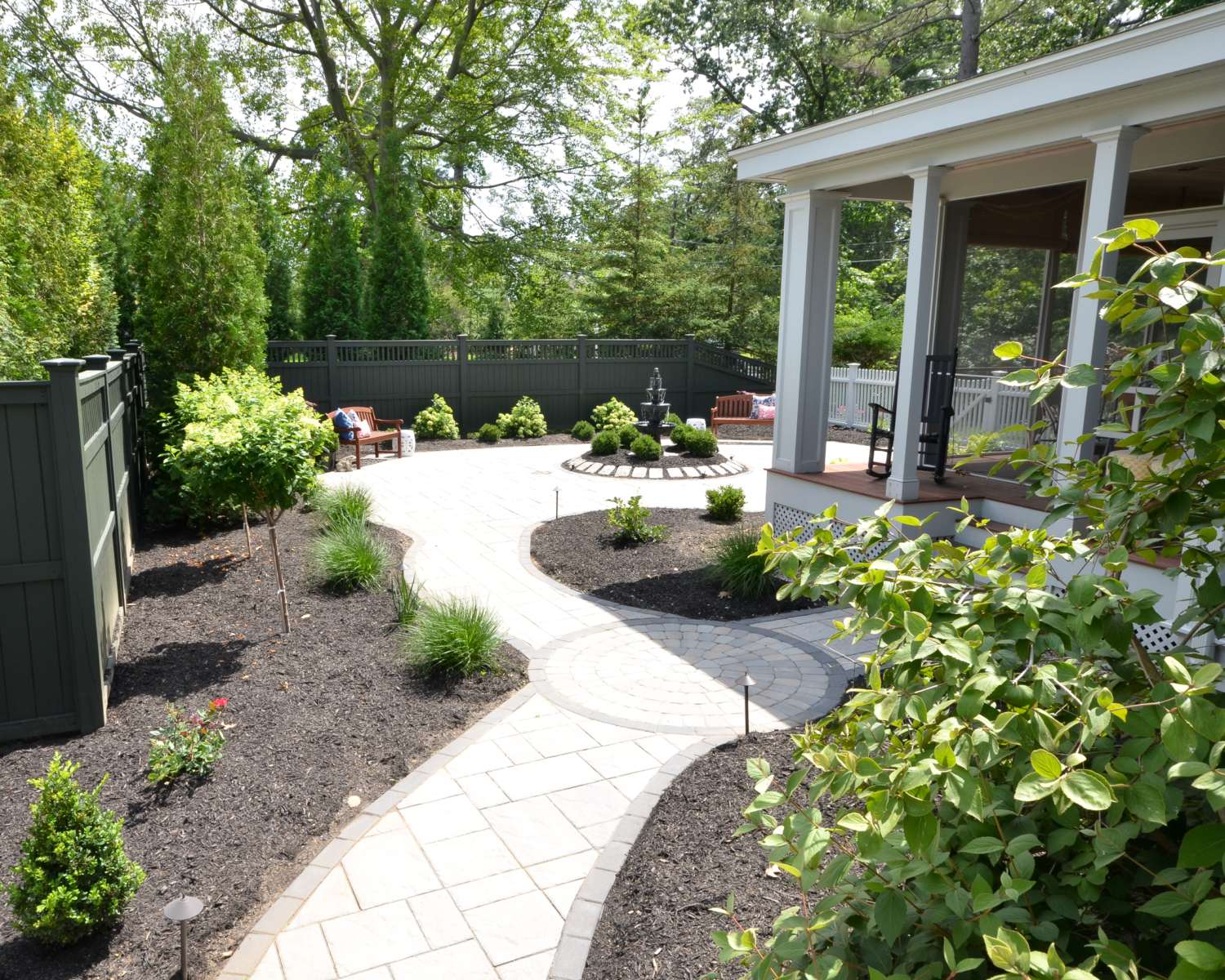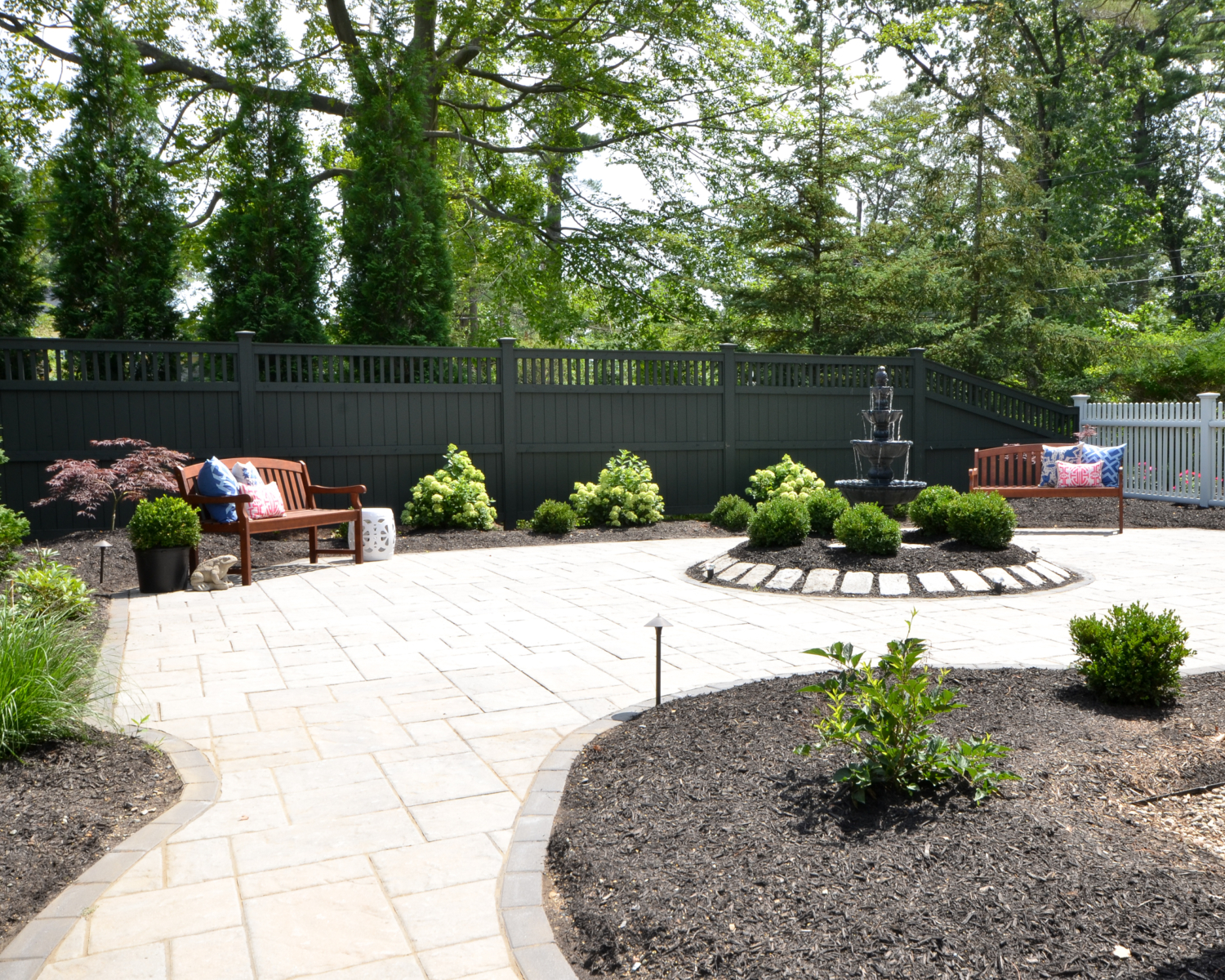 Fountain
Outdoor benches
Garden stools
Blue pillow (similar, similar, similar, similar, similar)
Blue and beige embroidered pillow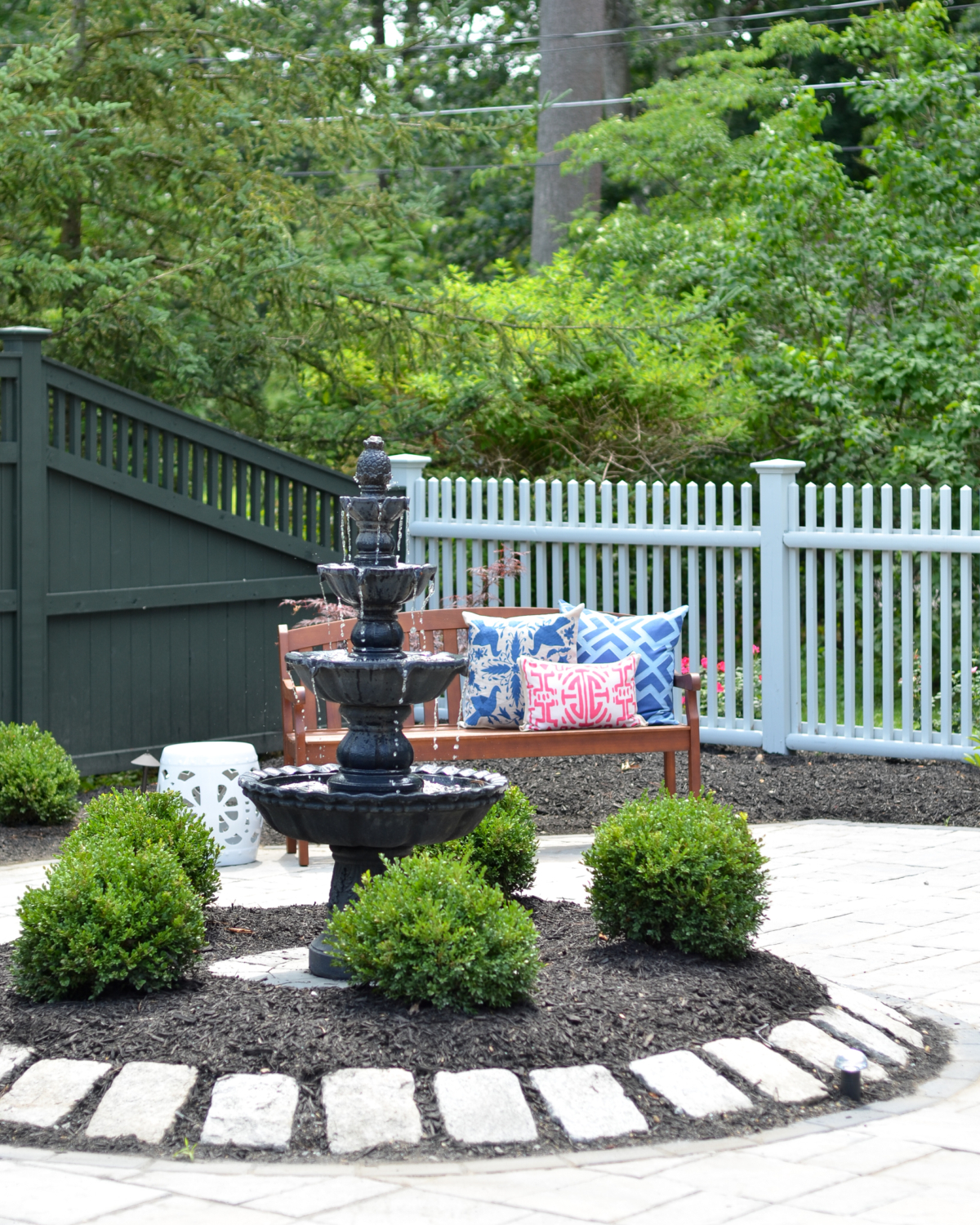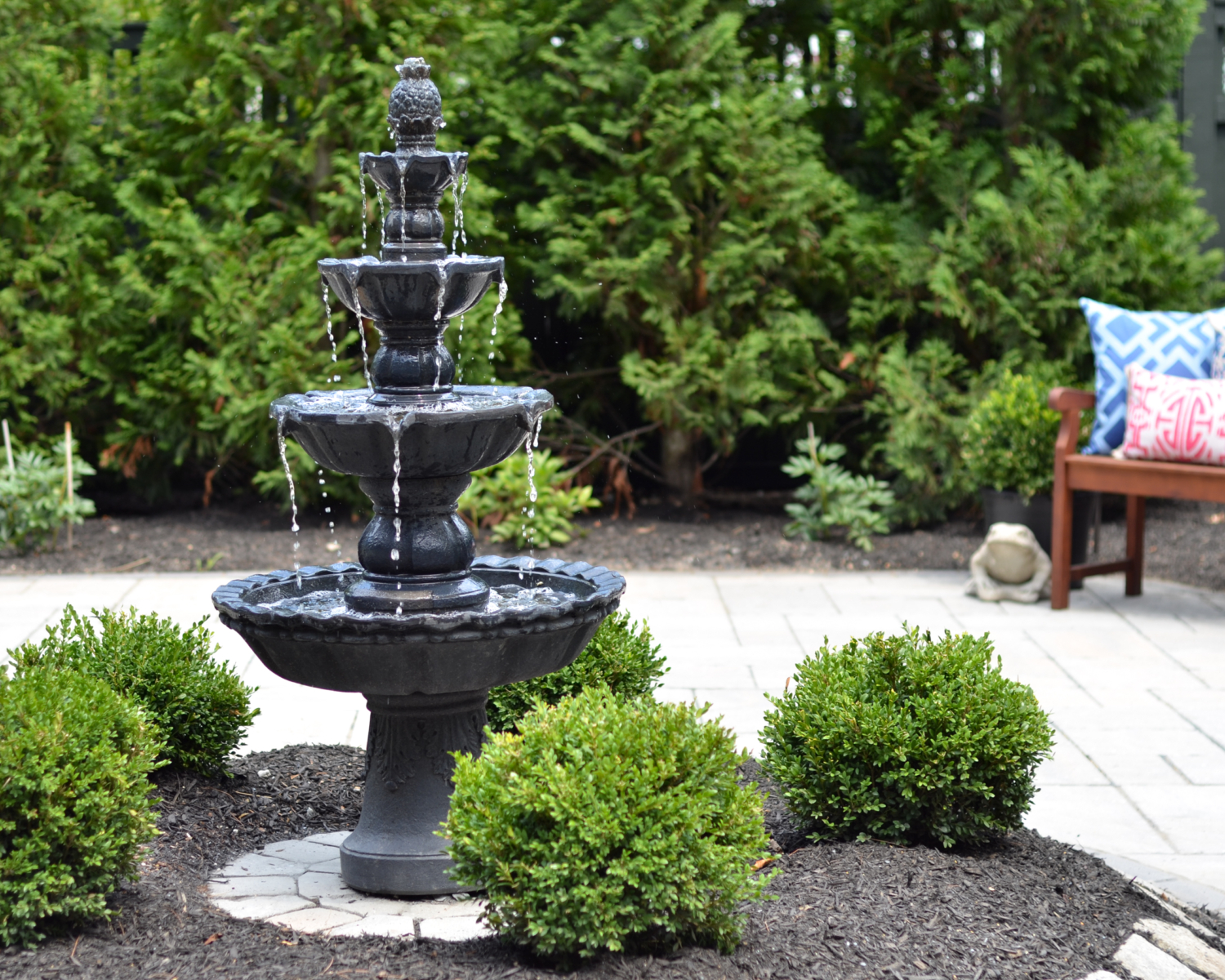 Once Scott had talked me into moving forward with this space as a patio with a fountain, we started looking for options and, let me tell you, you can drop a lot of money on a fountain if you want to. Like thousands and thousands of dollars. We were having a hard time swallowing that kind of cost and almost on a whim I went to Hayneedle to see if they had any fountain options and wouldn't you know…they had tons of fountain options at a huge range of price points, from very budget friendly to expensive. Truly, something for every budget and taste.
I spent some time sifting through all of the choices and we decided on the Sunnydaze Four-Tier Pineapple Fountain for several reasons. First, it was the height and color we wanted. At 52″ high it's tall enough to have presence and feel significant but not so big that it feels over the top or showy. We liked the idea of black to contrast with all the gray in the patio pavers. The fountain is made of fiberglass so it's heavy enough (50 pounds) to be sturdy but not as heavy as some of the stone options. It comes with a recirculating electric pump so there's no plumbing required. You just fill it with water, plug it in, and it works. Scott had laid some pipes underneath the pavers to allow for this but in a yard or flower bed, you'd just have to dig a little trench for the cord. Super easy. And the adorable pineapple on top? Yes, please.
Let's ogle the fountain a little more now, okay?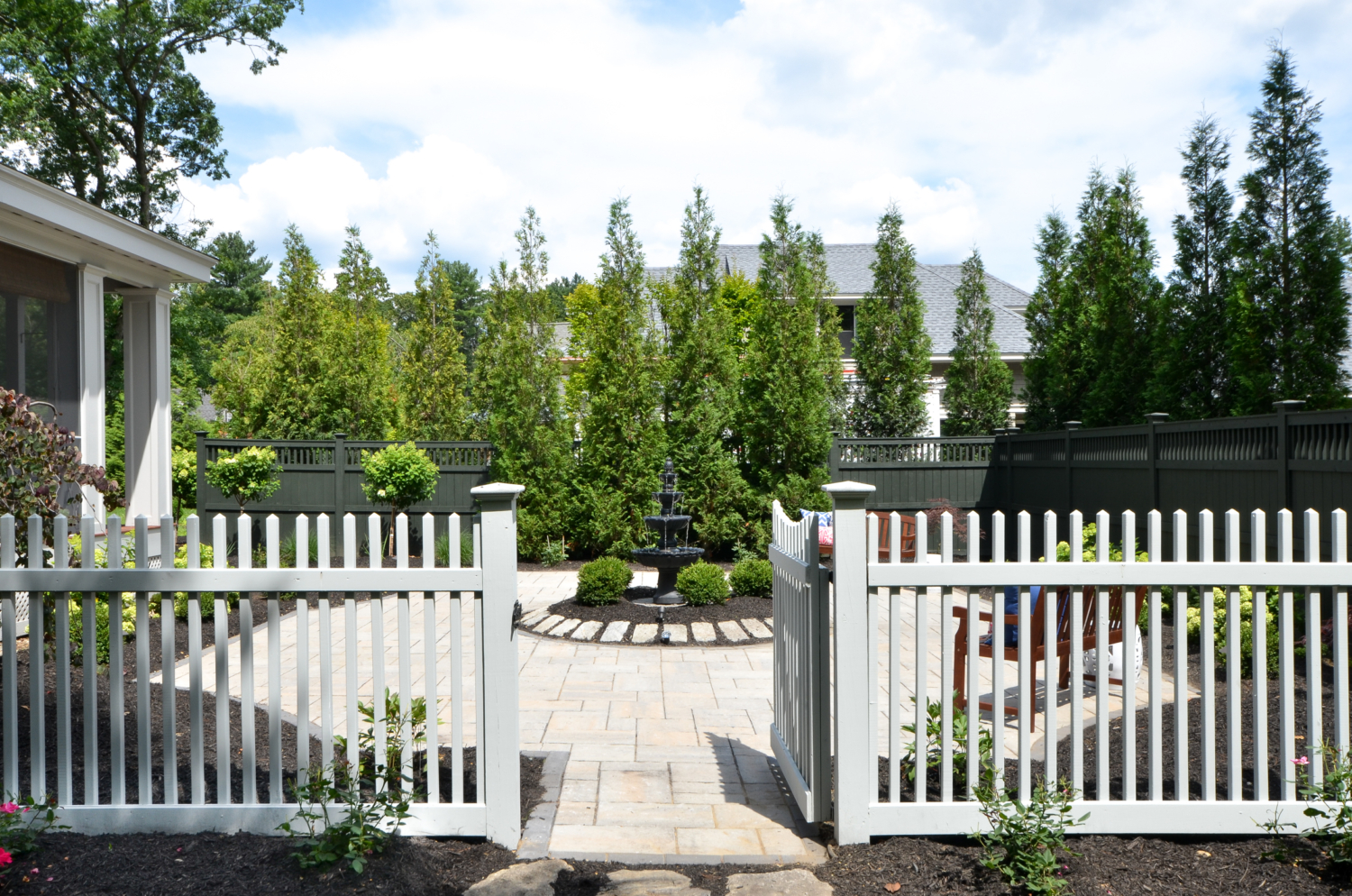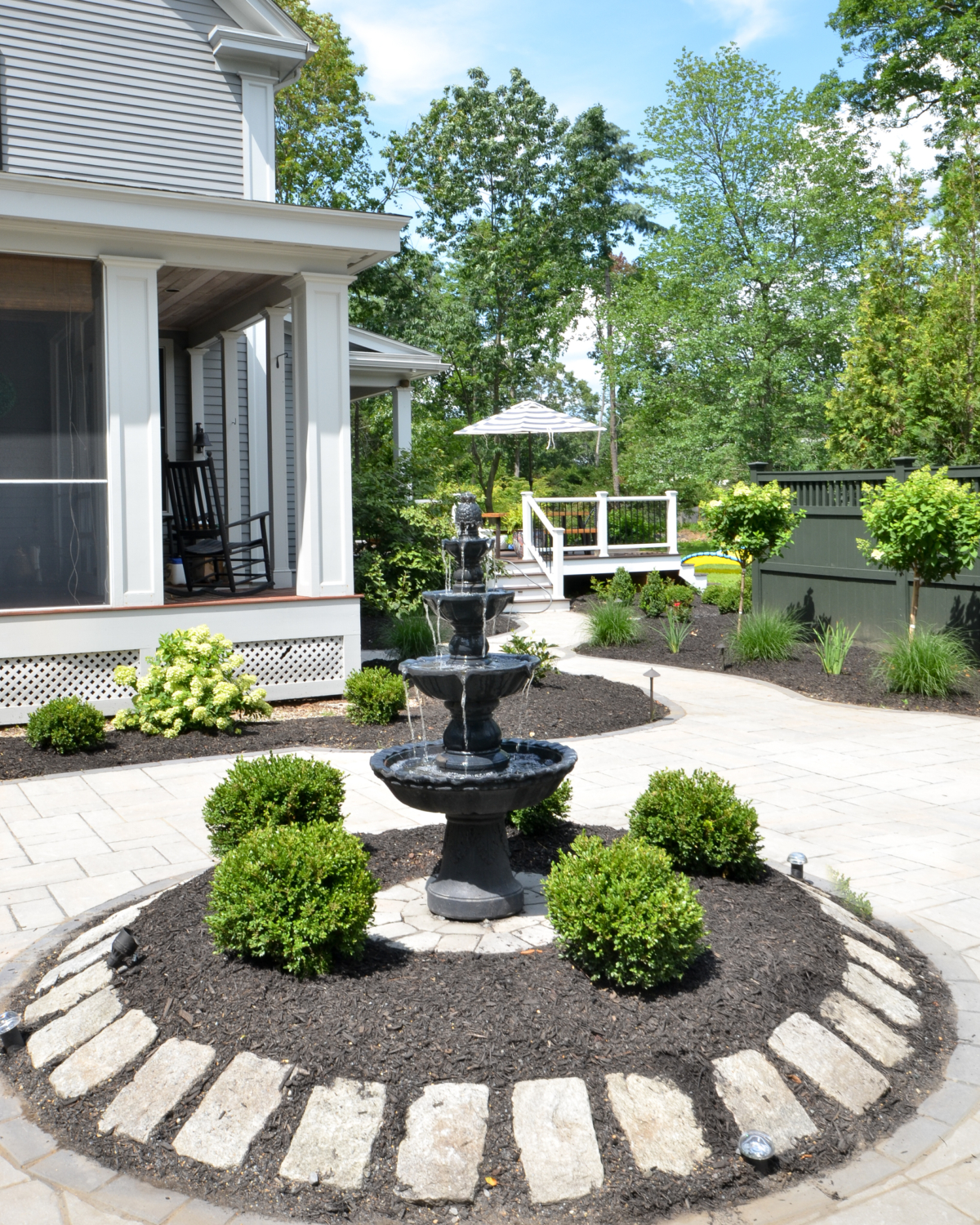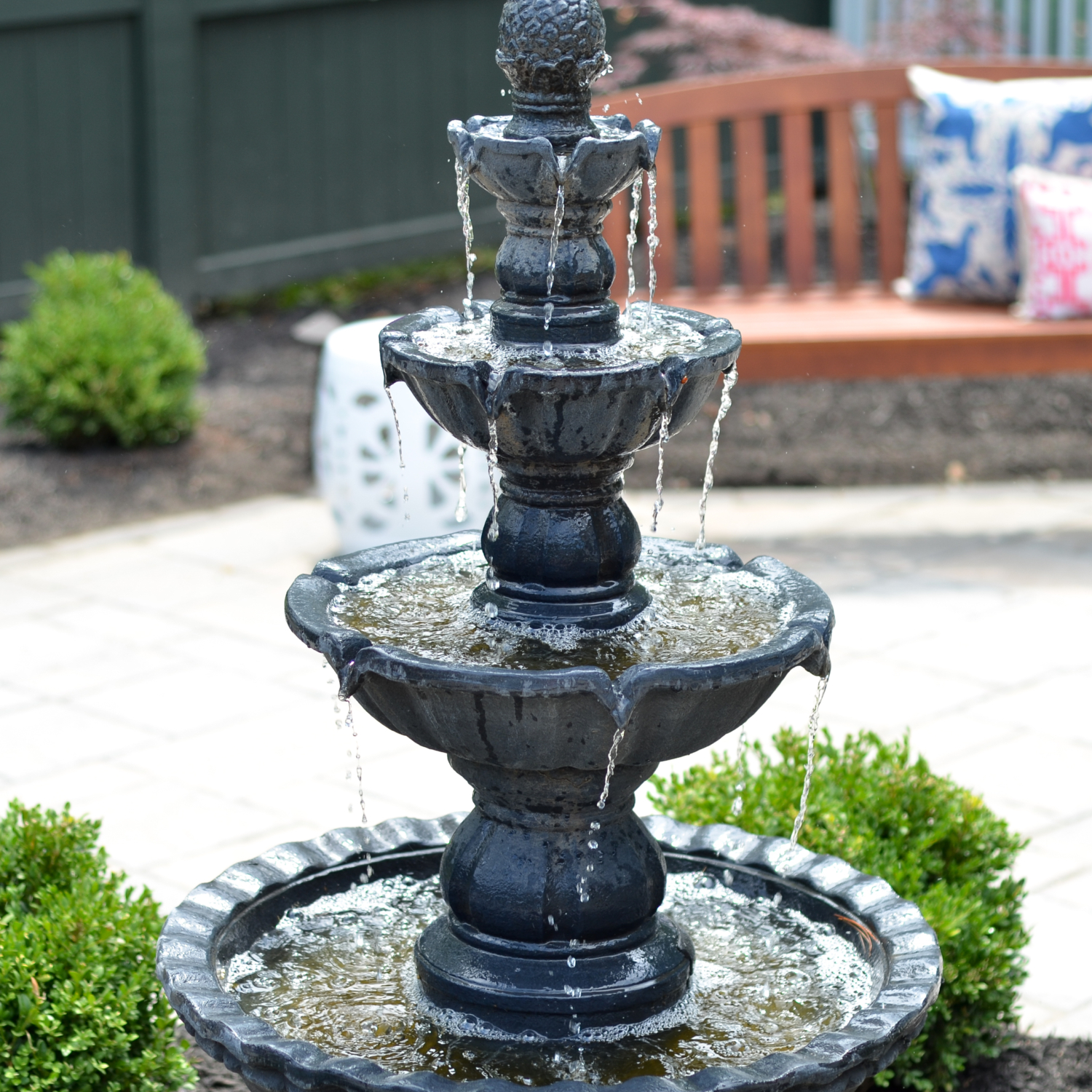 I got a little trigger happy with my camera button and the fountain in my view but it just looks so pretty with the water trickling down the tiers. Did you notice the benches in some of the photos too? I do think the fountain is kind of the star of the show here but we wanted to add a couple of benches to the patio too. We won't need a lot of seating here but I did want to add some benches both so there's somewhere to sit and to add a little charm. While I was on Hayneedle's site looking at fountains I also did a search for outdoor benches and found so many options in both resin and outdoor woods. I ultimately decided on a pair of these curved back acacia wood benches. They come in both 4′ and 5′ widths and I love that the curves add some visual interest but that they are still very simple and classic.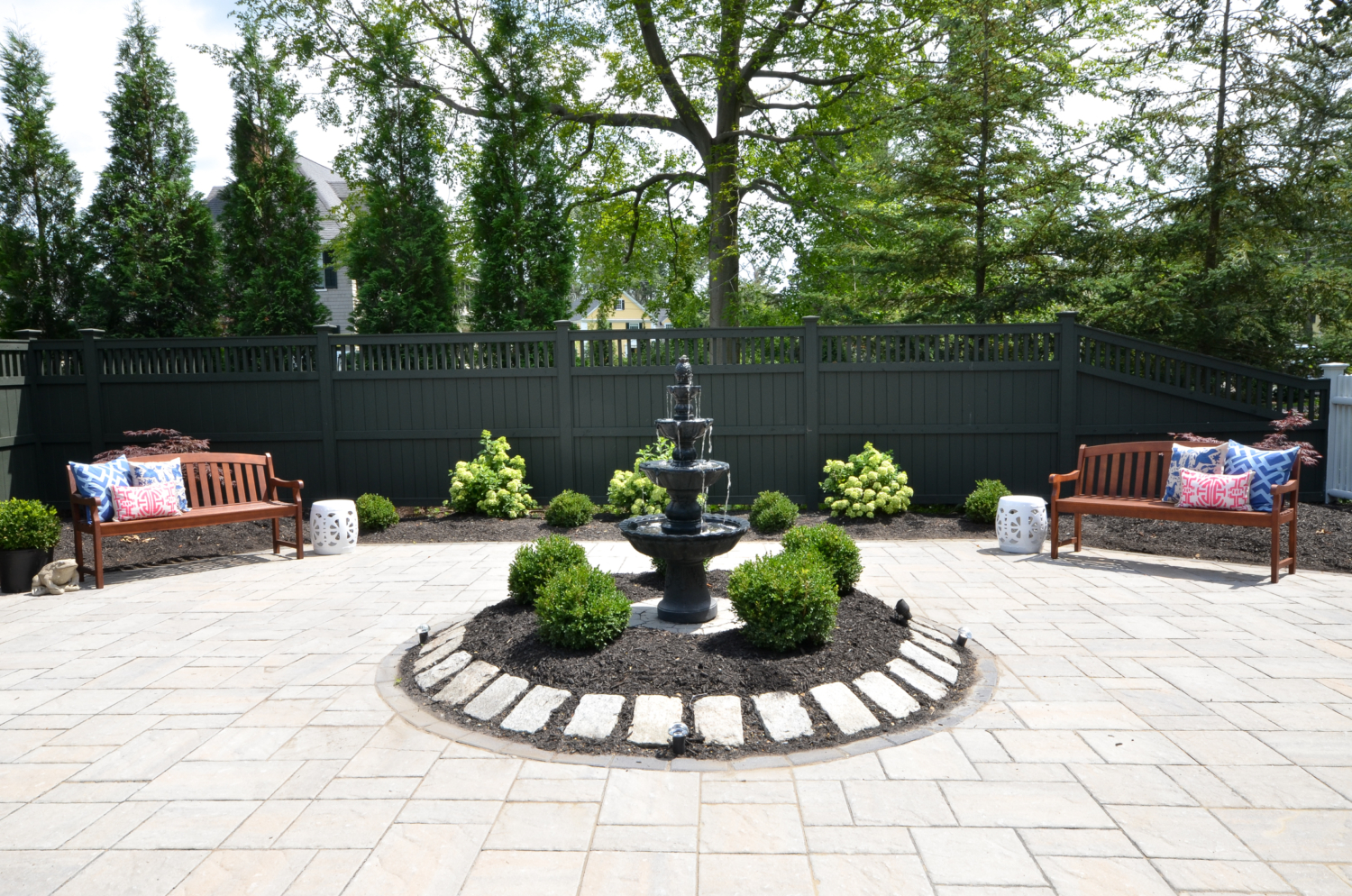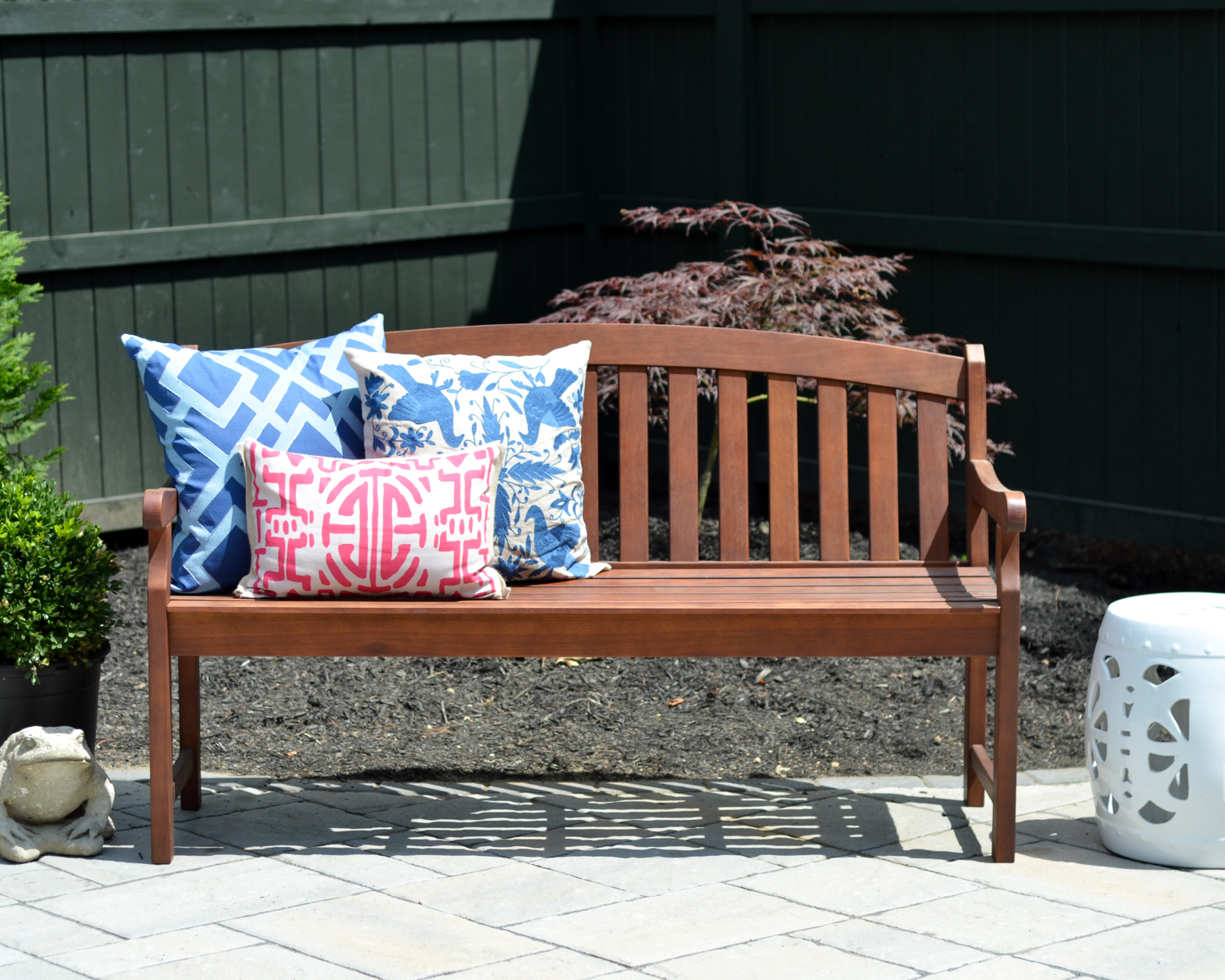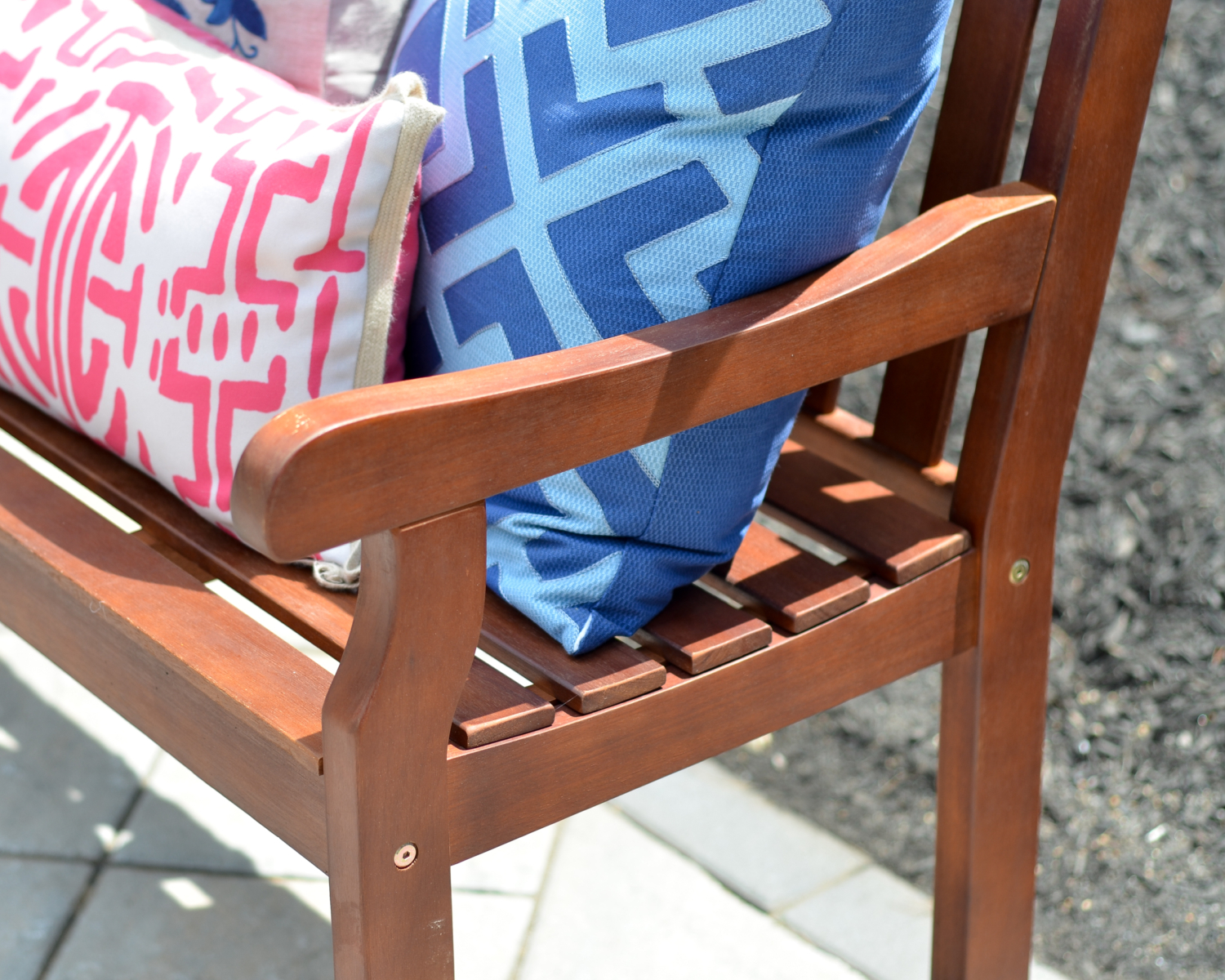 I also grabbed a pair of white garden stools for next to the benches. Isn't the stencil-ish pattern on them so pretty? Garden stools might just be the most versatile piece of accent furniture in existence. You can use them inside, outside, as tables, footrests, and seating. I love a hard-working, multi-tasking piece of furniture!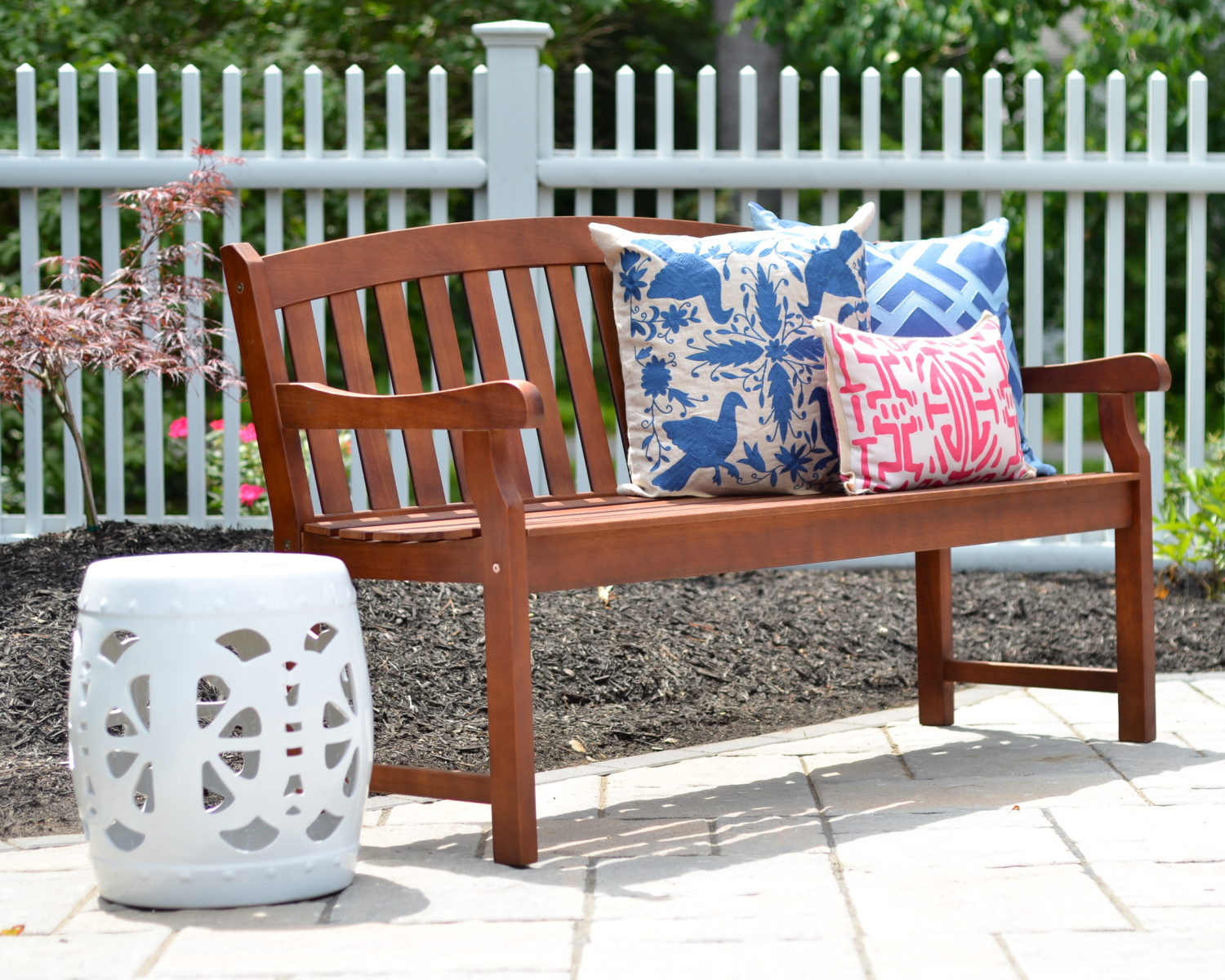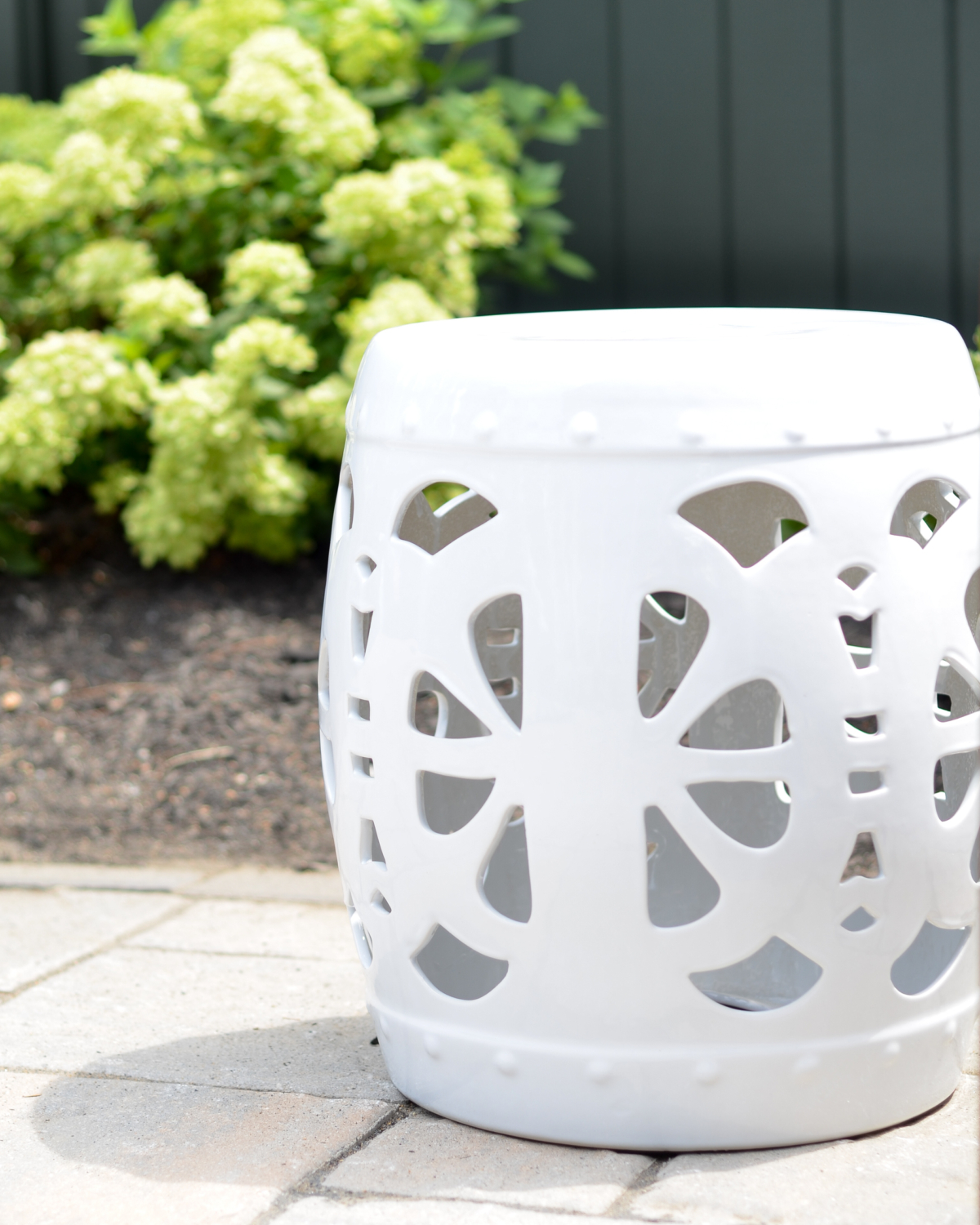 So have I managed to convince you of the merits of an outdoor fountain as a visual and auditory accent to your space? Or are you like Scott and just already knew that they're awesome?? This patio with a fountain project is one I am so glad he convinced me to move forward with. And I'm so glad we still have some summer months left this year to enjoy it all now that it's finished!