I have another DELISH recipe for you today that just happens to be both Whole 30 and Paleo – thai chicken bowls. They're nutty and gingery and crunchy and ever-so-slightly sweet, basically all things amazing about Thai food. It's kind of salad-y but really substantial and crunchy and perfectly satisfying as a meal. This here is no delicate side salad. Sometimes dinner salads can feel out of season in fall and winter but this is so hearty and filling I think it's just as much at home in the cooler months as it is in spring or summer.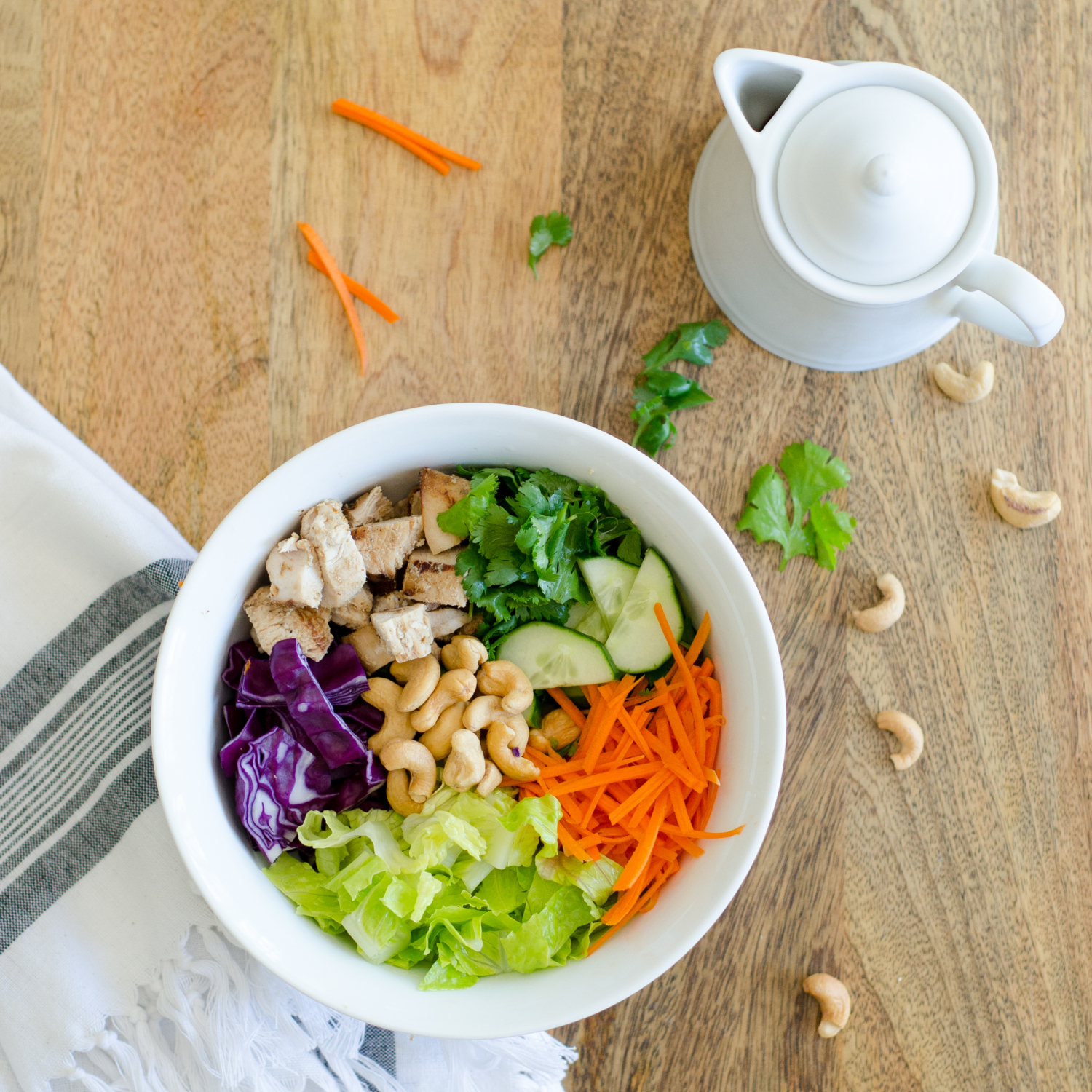 These thai chicken bowls were inspired by thai lettuce wraps, which are pretty healthy too but do usually have some sugar and use peanuts and peanut butter, none of which are allowed on Whole 30 or Paleo diets. I'm actually not Paleo or Whole 30 but I like meals that are heavy in veggies and protein and low in sugar so I wind up cooking mostly Whole 30 a lot of the time. I could have made these into lettuce wraps too but I'm a big fan of bowls – just toss all your ingredients in and no worrying about the fillings overflowing out of your wrap. Thai lettuce wraps in a bowl, all drizzled with creamy, nutty, gingery dressing – sounds pretty perfect to me.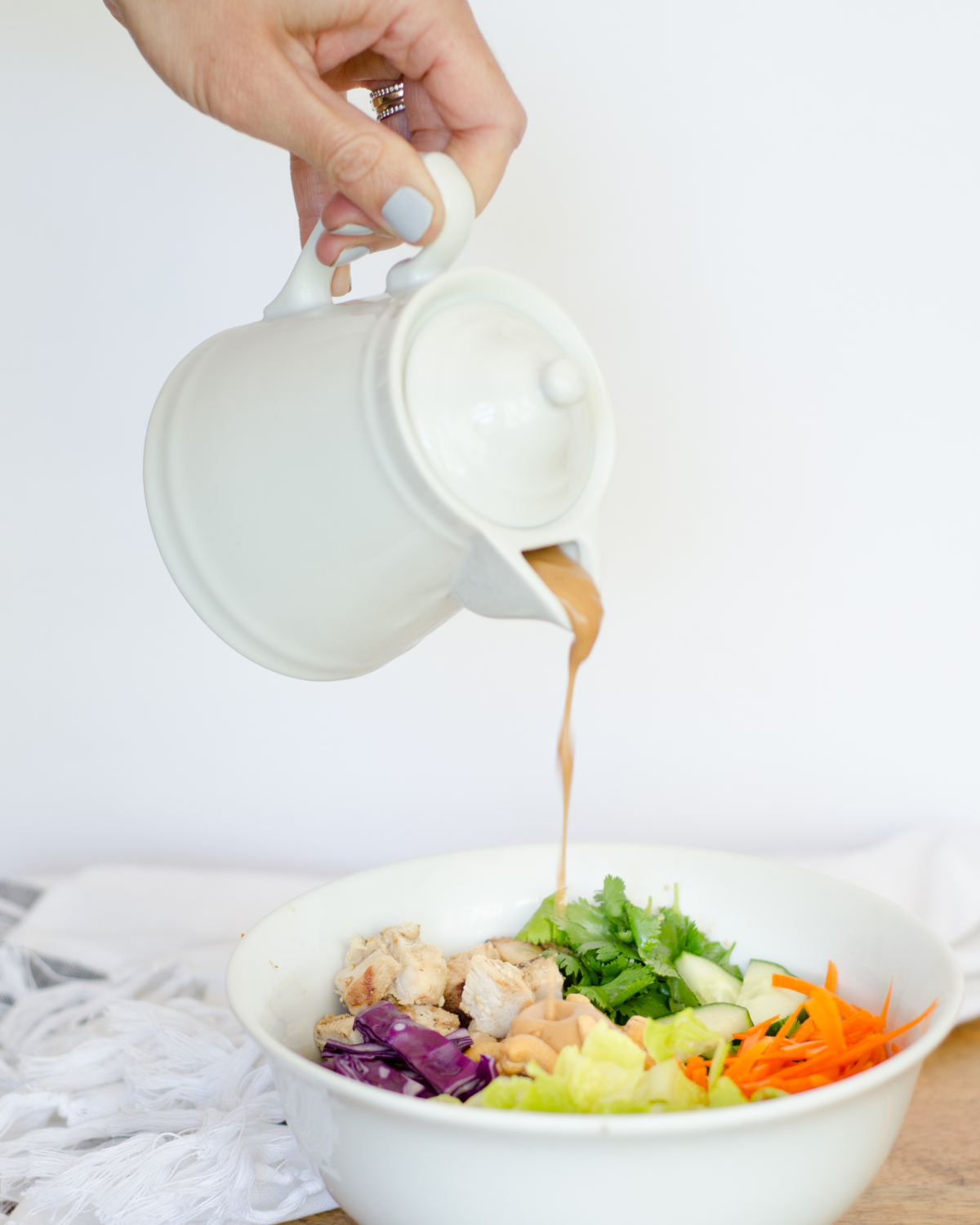 And those colors. Can we talk about the gorgeous rainbow colors of these thai chicken bowls?? It practically screams at you, "Eat me!! I'm delicious!!!!!" But in a friendly screaming way, not an aggressive screaming way. You should really listen, this one was a HIT with my whole family. My daughter just looked over my shoulder while I was editing photos and said, "Oh! I loved that dinner!" So go ahead…make yourself an insanely delicious, insanely good-for-you meal. This one will be on repeat for me for sure.
Here's a short video showing you how easily it all goes together!
Thai Chicken Bowls (Paleo and Whole 30 Recipe)
Super delicious thai chicken bowls - like thai lettuce wraps in a bowl - that are both Paleo and Whole 30!
Ingredients
MARINADE
3 dates
⅓ c. coconut aminos (or soy sauce for non-Whole 30)
1 tbsp. fresh ginger, peeled
2 shallots, peeled
1 tbsp. rice vinegar
4 chicken breasts, sliced into strips
DRESSING
¼ c. cashew butter (or peanut butter for non-Whole 30)
¼ c. avocado oil
¼ c. water
2 tbsp. rice vinegar
1 tbsp. coconut aminos (or soy sauce for non-Whole 30)
1 lime, juiced
1 tbsp. ginger, minced
1 tbsp. shallot, minced
SALAD
½ head red cabbage, thinly sliced
1 romaine heart, cut into bite-sized pieces
3 carrots, shredded
1 English cucumber, sliced
½ c. roasted cashews
1 c. cilantro, chopped
Instructions
Place the dates, ⅓ c. coconut aminos, 1 tbsp. of ginger, 2 shallots, and 1 tbsp. rice vinegar in a blender and blend on high until very smooth. Place the chicken in a shallow dish and pour the marinade over. Toss to coat all of the chicken then cover and let marinate for two hours.
Remove the chicken from the marinade and cook on a grill or in a 400º oven for about 20 minutes, until no longer pink inside.
Meanwhile, put the cashew butter, avocado oil, water, 2 tbsp. rice vinegar, 1 tbsp. coconut aminos, lime juice, 1 tbsp. ginger, and 1 tbsp. shallot in a medium bowl. Season with salt and pepper and whisk until smooth.
Place the cabbage, romaine, carrots, cucumber, cashews, and cilantro in a large bowl. Drizzle with the dressing and serve.