Thanksgiving will be here in just a few weeks and whether you're hosting or just bringing a dish or two to the feast, you might be starting to think about what to make in addition to the turkey. I have a Thanksgiving side dish idea for you today and it is so easy it almost doesn't have any business being part of the Thanksgiving feast. But then it does because a few simple sides are important to keep things moving smoothly!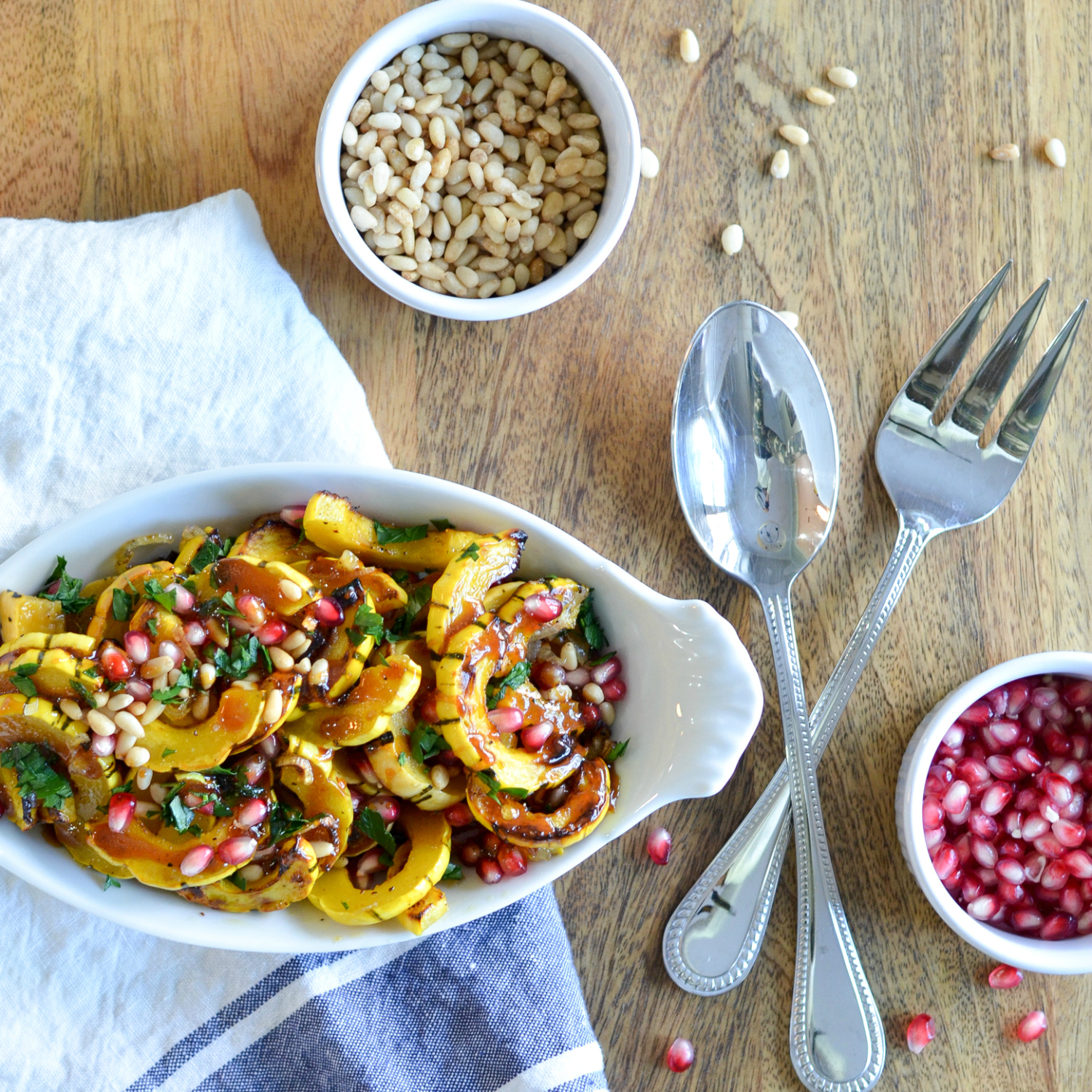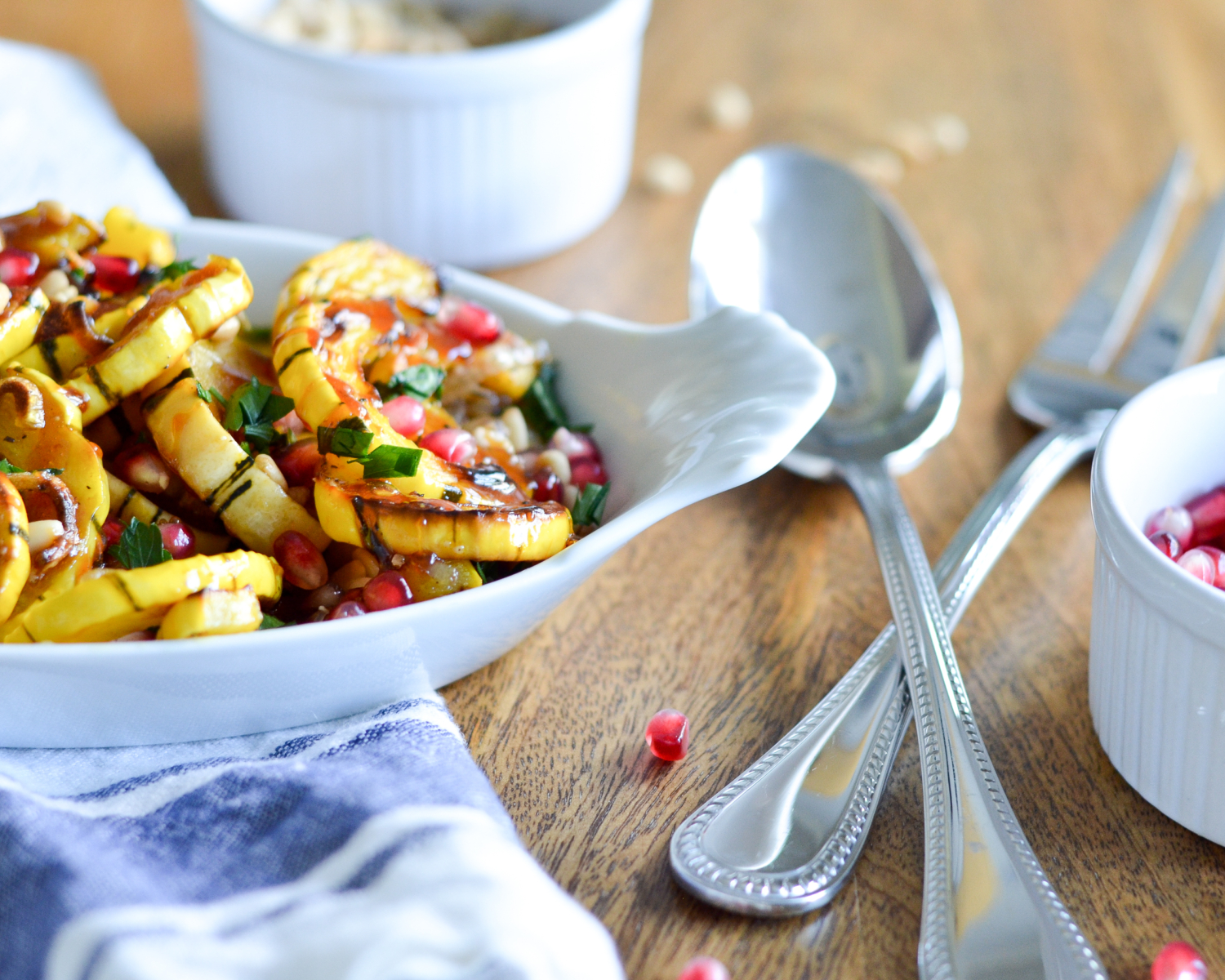 Here are a few reasons why this roasted, glazed delicata squash with pomegranates and pine nuts is absolutely perfect as a Thanksgiving side dish:
You don't have to peel the squash. If you've ever struggled through the peeling of a butternut or acorn squash, you know that this is a huge perk.
It can be served at room temperature. So you can roast the squash a few hours before the meal and then just throw the toppings on before serving.
It's gorgeous.
It's healthy. And we could probably all use a little healthy added into the feast, yes?
The whole thing is ready in about 30 minutes.
The sweet-tart flavor of the pomegranates and honey-vinegar glaze are a brilliant complement to the typically rich flavors of the Thanksgiving meal.
I also make this roasted delicata squash as an everyday dinner side, not just a Thanksgiving side dish. I love it plain like it this recipe and also with arugula or romaine lettuce as a light salad. It has a way of making squash lovers out of people who usually feel kind of meh about squash. Slicing the squash thin and roasting at a high temperature gives the squash a slightly crispy, chewy, caramelized edge that is just so good. The pomegranates and pine nuts are perfectly juicy and nutty, and the glaze… It almost couldn't be simpler – just a quick reduction of apple cider vinegar and raw honey but ohhhhh wowwww is it good with all those other wonderful things already going on here. And, as if you needed another reason to make this, it's paleo. And vegetarian.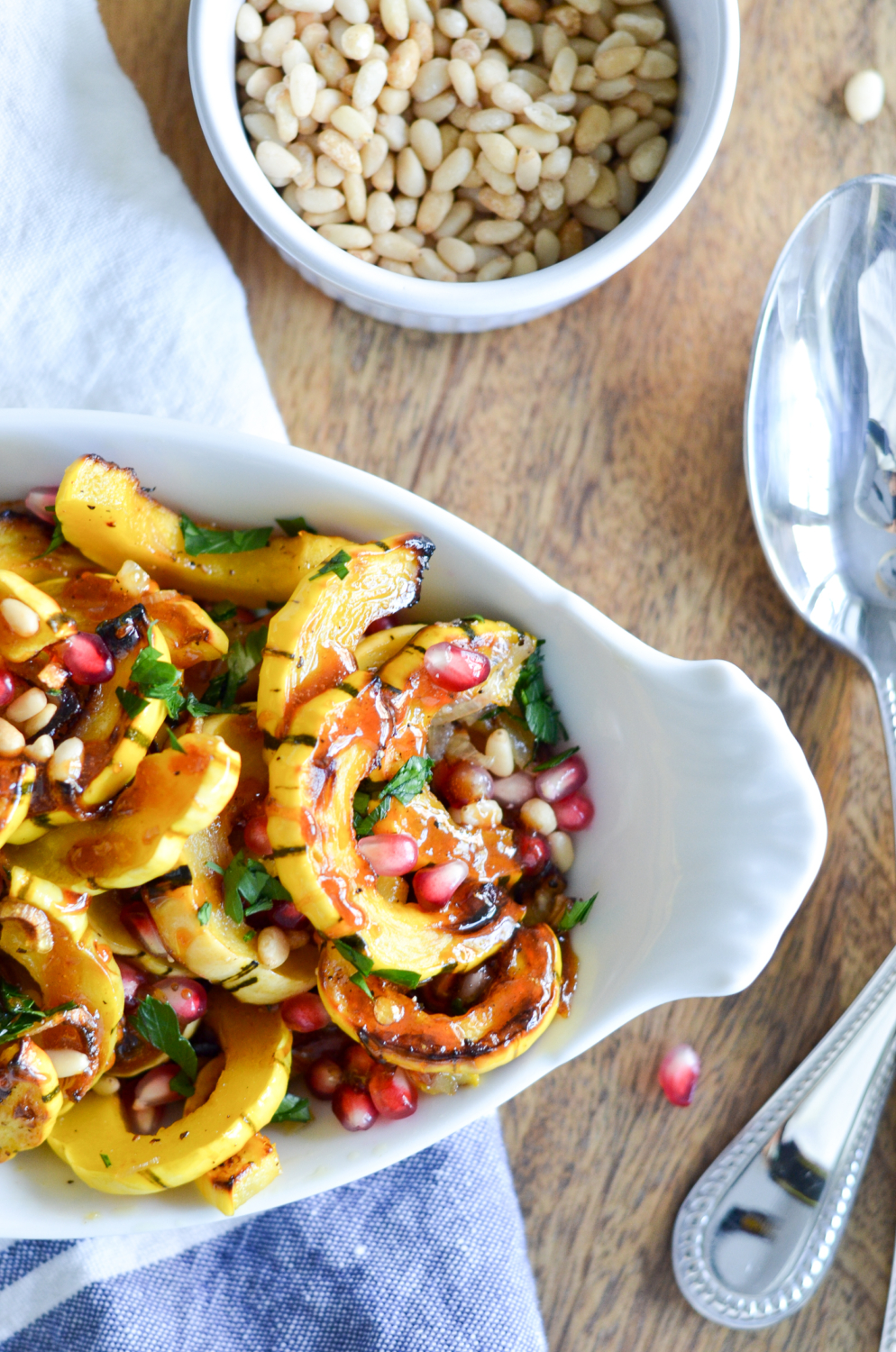 I made a quick video so you can see it all come together.
So basically, you should make this. It's super easy, and super delicious, and if you happen to be looking for an easy, sorta showstopper Thanksgiving side dish that's an updated classic, this is it. Happy feasting.

Roasted Delicata Squash
Super simple roasted delicata squash topped with pomegranates, pine nuts, and an irresistible sweet-tart glaze. Perfect as a Thanksgiving side dish or any night of the week. Paleo and vegetarian.
Ingredients
2.5 lbs. delicata squash
2 large shallots
¼ c. olive oil
½ tsp. salt
¼ tsp. pepper
¼ c. raw honey
¼ c. apple cider vinegar
½ c. pomegranate seeds
¼ c. toasted pine nuts
2 tbsp. fresh parsley, chopped
Instructions
Preheat the oven to 475º.
Cut the ends off the delicata squash then cut in half lengthwise. Scrape out the seeds. Place cut side down and slice into ¼" thick slices. Cut the shallots in half, peel, and cut into medium-thick slices.
Place the squash and shallots on a parchment-lined baking sheet. Add the olive oil, salt, and pepper and toss to coat. Make sure the squash is in a relatively single layer on the baking sheet for the best caramelization. Place in the oven and roast for 20-25 minutes, tossing occasionally, until the squash is deep golden at the edges.
Meanwhile, put the honey and apple cider vinegar in a small saucepan and bring to a boil. Let simmer for about 5 minutes until the mixture is reduced by about half and has thickened.
Spoon the squash into a serving dish and top with the glaze, pomegranate seeds, pine nuts, and fresh parsely.