We've had a string of sicknesses over here this past month – the flu, head colds, laryngitis, sore throats – which pretty much disproves the old adage, "An apple a day keeps the doctor away." Because from about October-June we eat a lot of apples in this house. And while I certainly have my favorite varieties, I'm always game to try new ones. So when I was asked to sample some Autumn Glory apples and come up with a recipe including them (the gorgeous and delicious roasted sweet potatoes and apples recipe you'll find below) I gave a very enthusiastic, "Yes, please."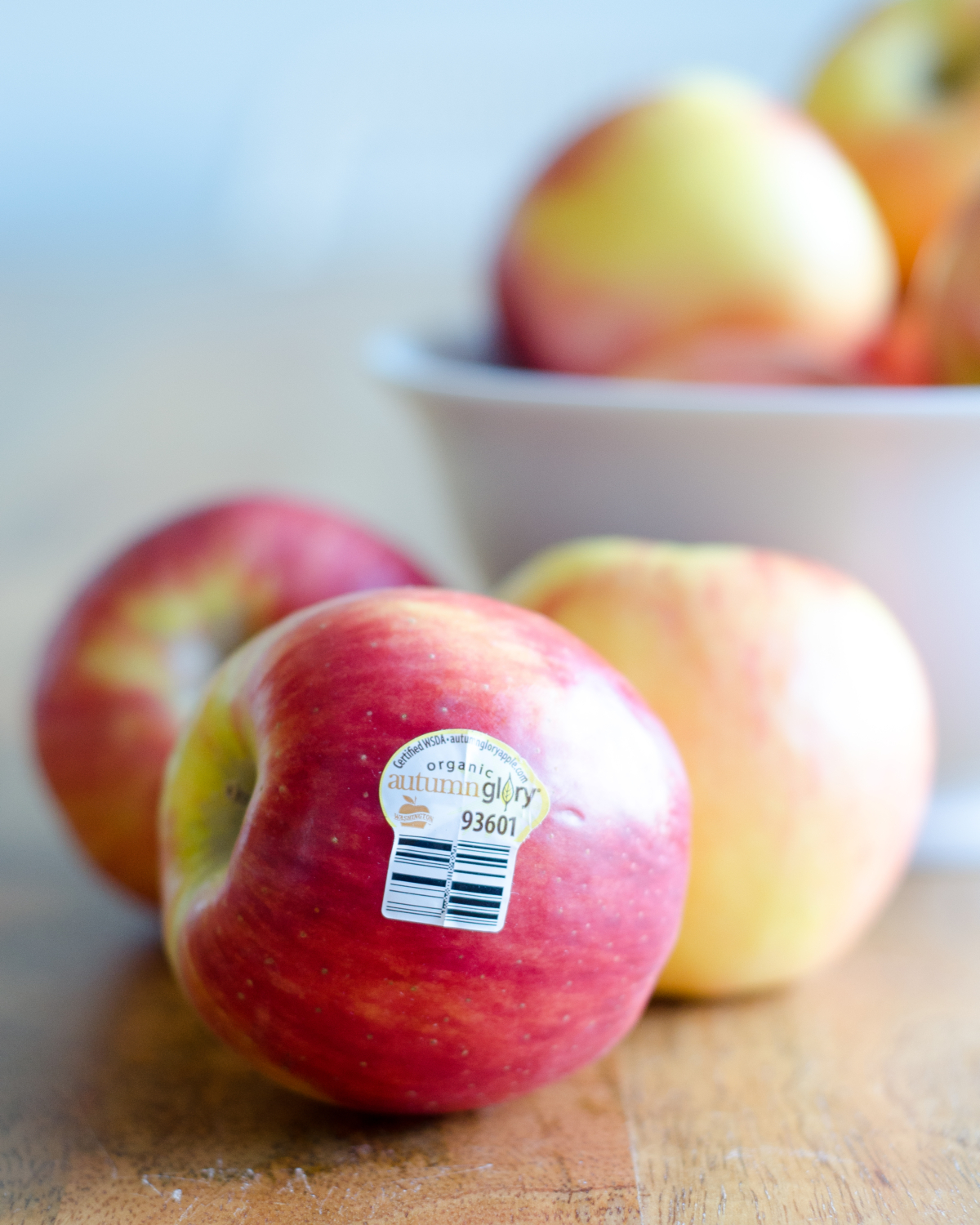 You should have seen my girls when a big box full of apples showed up at our door – pure joy. We sliced right into an Autumn Glory apple and it was just the kind of apple I like best – crisp, juicy flesh with that slightly floral taste apples are known for. Plus the Autumn Glory had subtle cinnamon and caramel flavors as well…how amazing does that sound?! Yep. Delicious.
Since that first taste we've eaten them sliced with peanut butter or almond butter, plain, chopped up on top of oatmeal, baked into a breakfast oven pancake and I have loved every single use of them. One of my favorite ways to use the Autumn Glory Apples though was as a dinner side dish –roasted sweet potatoes and apples – sweet potatoes, Autumn Glory apples, red onions, sage, and just a hint of cardamom. I think it's easy to forget how great apples are in savory dishes. Even I usually think of sweet things when I think of apples but they are sooooo great paired with veggies and meat too.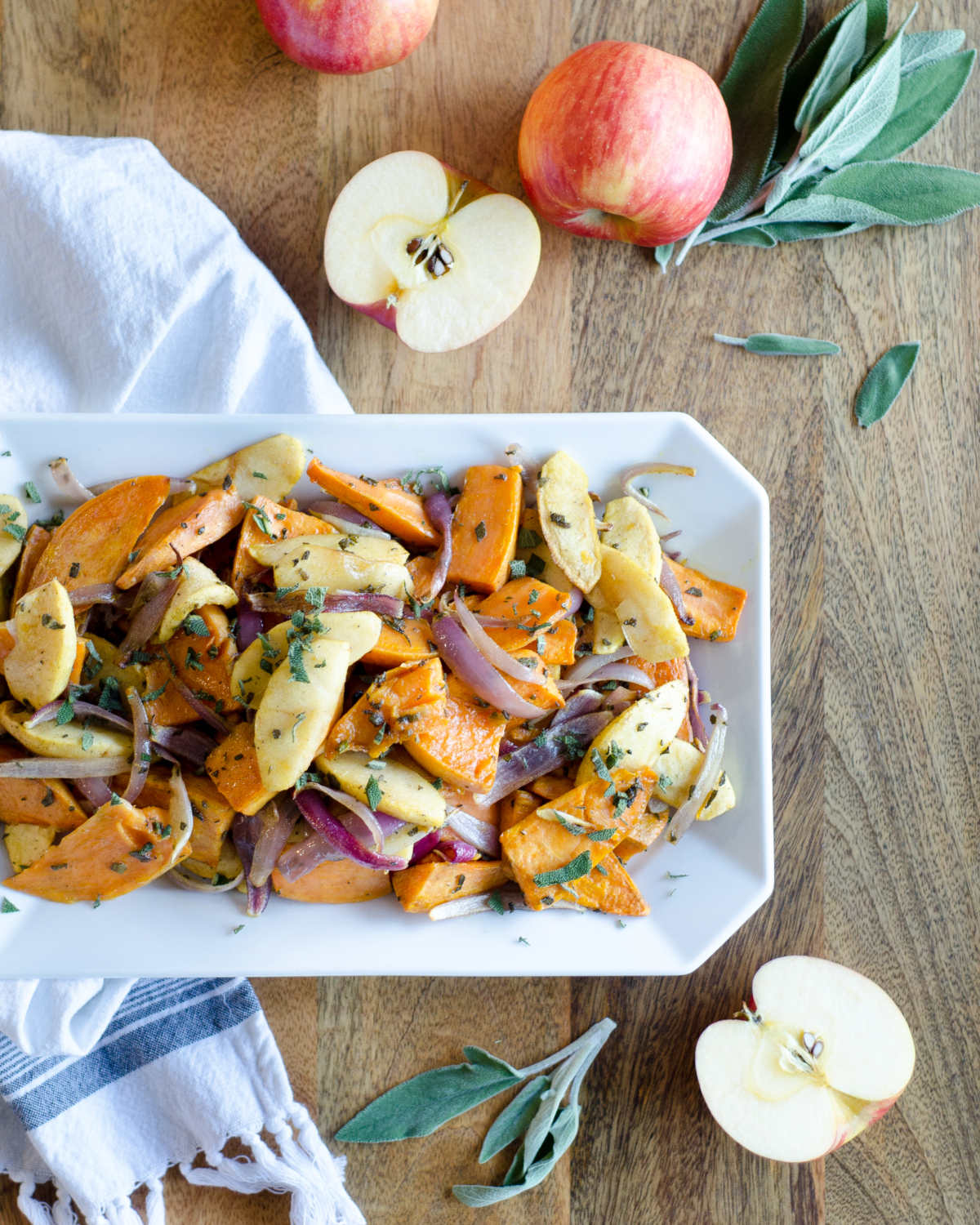 I especially love Autumn Glory apples with sweet potatoes since sweet potatoes have that underlying sweet flavor too. And the combination of creamy sweet potatoes and juicy apples is just YUM. Throw in a little sweet-spicy onion and the rich earthiness of sage and you have yourself one delicious side dish. Great with fish, pork tenderloin, roast chicken, grilled sausages – you name it!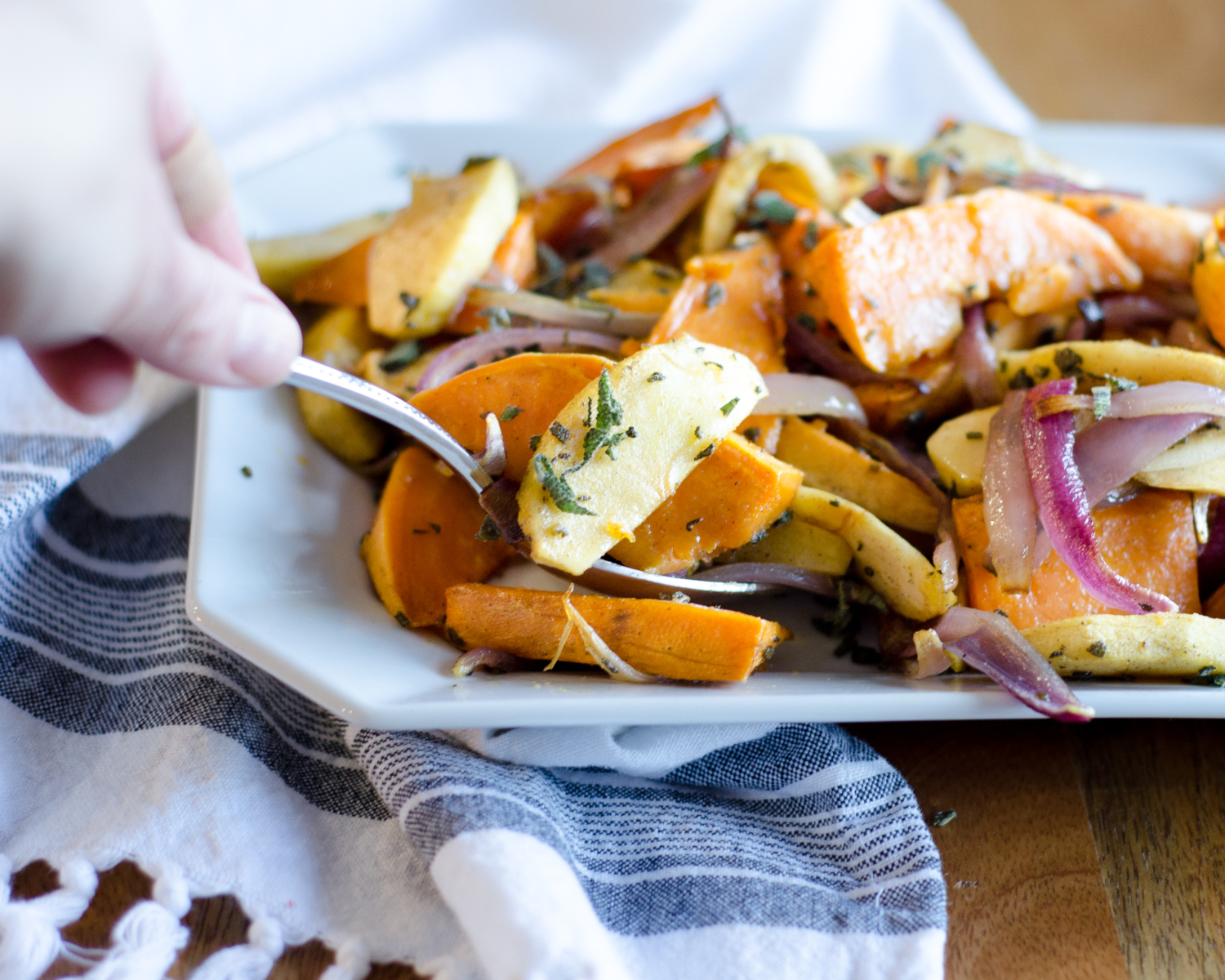 Plus it is so easy to make. Just toss all the ingredients together in a bowl and roast in the oven. And if I'm being completely honest, sometimes I skip the bowl and toss everything together right on the baking sheet to save on dishes.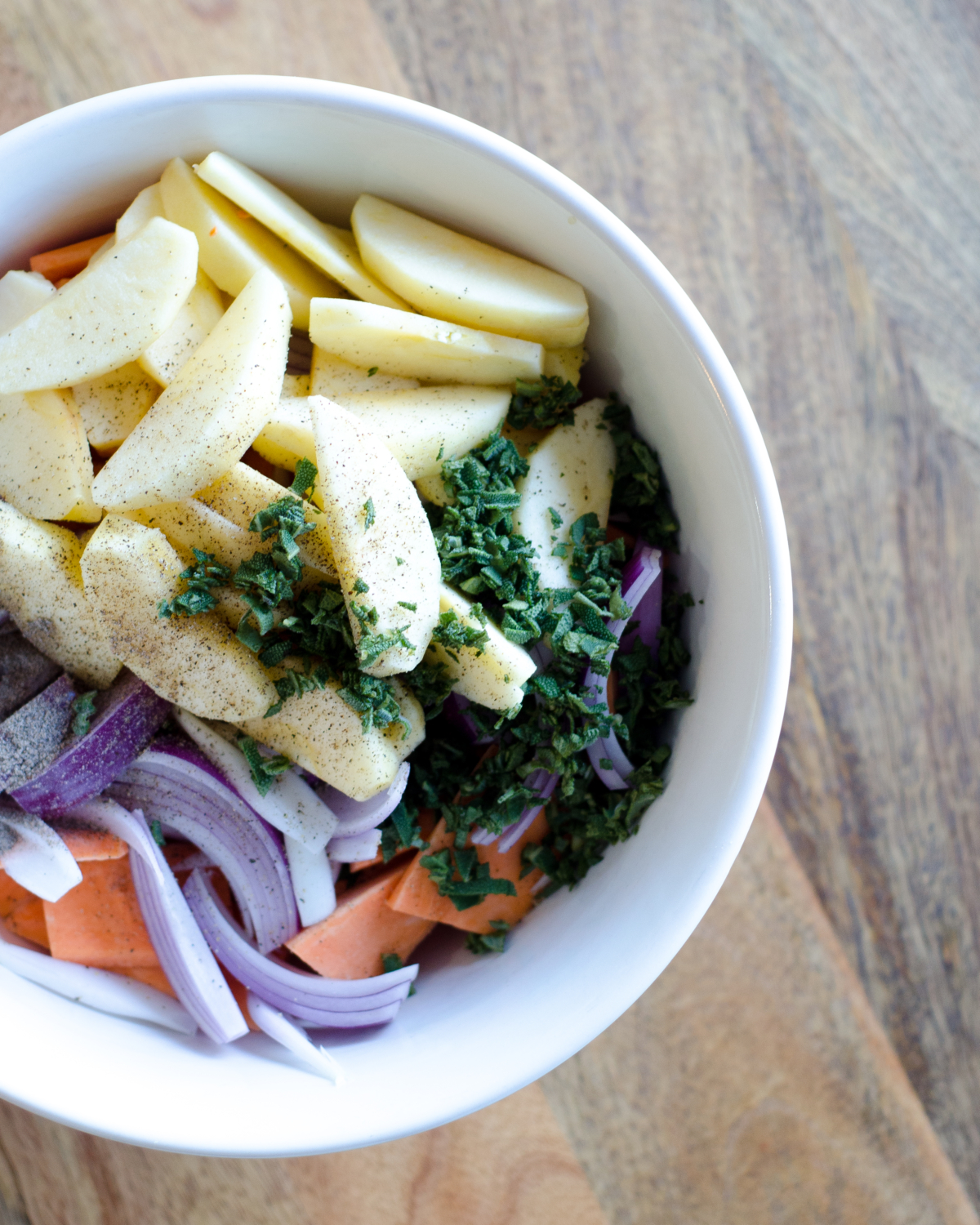 Roasted sweet potatoes and apples is one of those brilliant dishes you can pretty much throw together, pop in the oven, and forget about for a little while. And then you open the oven to a beautiful tangle of perfectly roasted veggies and fruit and can get right down to the business of eating this deliciousness.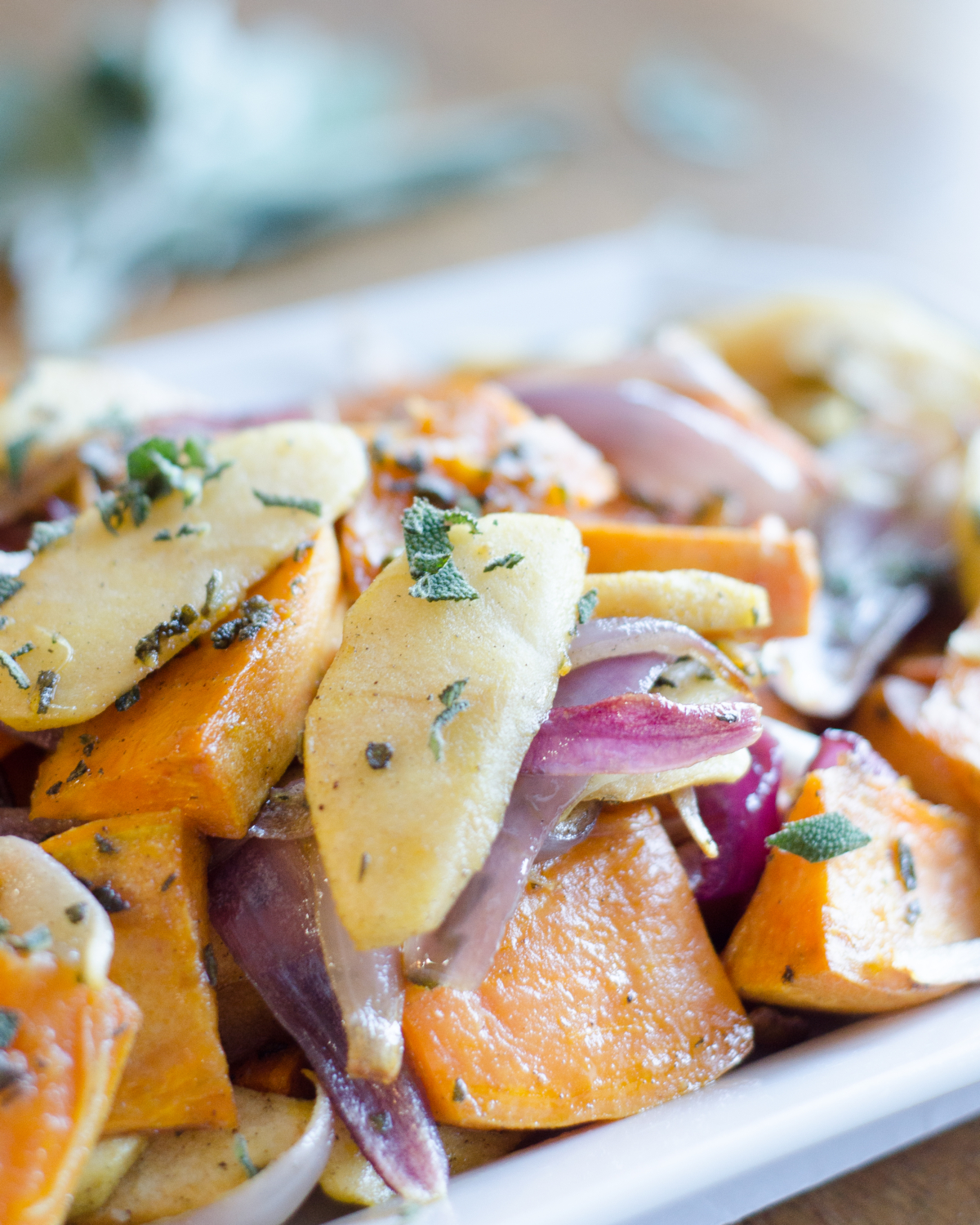 Autumn Glory apples have joined the top ranks of my favorite apple varieties for sure. I love the flavor and the versatility – keep an eye out for them on your next grocery shopping trip! And if you've never tried apples in a savory application, give my roasted sweet potatoes and apples recipe a try. It's so easy and so good!

Roasted Sweet Potatoes and Apples
An easy and delicious side dish combining sweet potatoes, Autumn Glory apples, red onion, sage, and cardamom.
Ingredients
2 Autumn Glory apples, peeled, cored, and cut into sixteen wedges each
2 medium sweet potatoes, peeled and cut into wedges (similar in size to the apples)
1 red onion, peeled with ends removed and cut into wedges
¼ c. extra virgin olive oil
¼ c. fresh sage, minced
½ tsp. cardamom
1½ tsp. kosher salt
fresh ground pepper to taste
Instructions
Preheat oven to 400º.
Toss all of the ingredients in a large bowl and then spread evenly on a baking sheet lined with parchment paper to prevent sticking.
Roast in the oven for one hour, until the sweet potatoes are very tender and the apples are cooked but still slightly firm.
Serve warm.