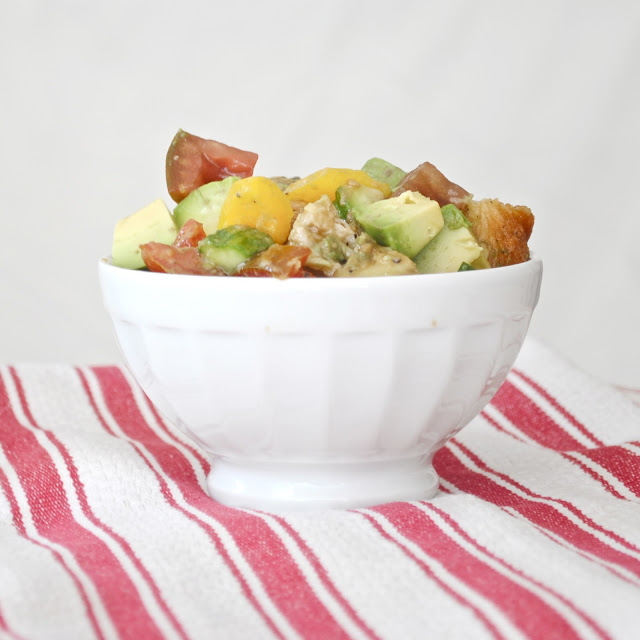 Bread and salad are a winning combination when served side-by-side, so it stands to reason that mixing them all together would be a perfect marriage.  But I've always found panzanella salads to be a bit lacking – soggy bread, over-dressed vegetables, nothing special, really.  I'd see recipes from time to time but always breezed over them thinking it just wasn't my thing.  Then my mom made this version last summer and I ate practically to the point of sickness.  It was so good.  Turns out, panzanella is totally my thing.
The key – and this is a tip borrowed from the Barefoot Contessa – is to toast the bread chunks in a pan in a generous amount of olive oil and salt before any salad dressing hits it.  The bread comes out golden, crispy, salty, and stays nice and toothy even after sitting in dressing for a good long while.  I remember saying to my mom last summer, "Seriously?  There's nothing but olive oil and salt on this bread?  Why is it so good??"
This panzanella is a study in contrasts – it's hearty and filling but still light and fresh.  Seems like an oxymoron, doesn't it?  Hearty and light?  Try it and you"ll understand.  The abundance of vegetables keeps it feeling summery and light but the toasted bread chunks make it a meal.  I often serve this with chicken breasts I've marinated in yogurt (recipe to come soon!) but it could absolutely stand alone as a vegetarian entree.
To some extent, even though I've made this salad a lot since my mom introduced me to its splendor last summer, it still baffles me.  I don't quite understand how such humble ingredients transform into this mouthwatering salad.  It's nothing more than bread, olive oil, vegetables, and the simplest of vinaigrettes.  But I don't have to get it.  And neither do you.  Just go round up some veggies and bread, even stale will do, and about 20 minutes later I bet you'll be thinking, "Wow.  So good."
Panzanella
1 loaf ciabatta bread, cut into 1″ chunks
3/4 c. extra-virgin olive oil, divided
1 yellow pepper, cut into 1/2″ chunks
1 seedless cucumber, cut into 1/2″ quarters (cut lengthwise, then lengthwise again, then into slices)
1 pint grape tomatoes, halved (use any fresh tomato you like!)
2 avocados, cut into 1/2″ chunks
2 tbsp. balsamic vinegar
1 tbsp. dijon mustard
Heat 1/4 c. olive oil in a large frying pan over medium heat.  When hot, add the bread chunks and drizzle another 1/4 c. olive oil over the top.  Sprinkle generously with kosher salt, about 1 tbsp.  Toss in the pan occasionally until the bread is golden and crispy.  Remove from the heat.
Meanwhile place all the vegetables in a large bowl.  Whisk remaining 1/4 c. olive oil, balsamic vinegar, and dijon until combined.
Add slightly cooled bread to the vegetables and toss well to coat with dressing.  Season with salt and pepper.
*You can add more olive oil to the bread in the pan or to the tossed salad if desired.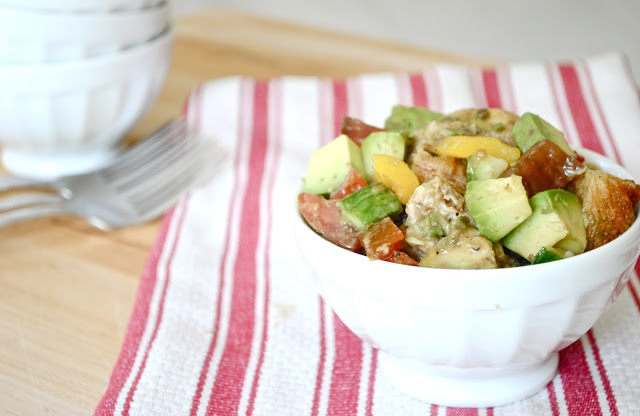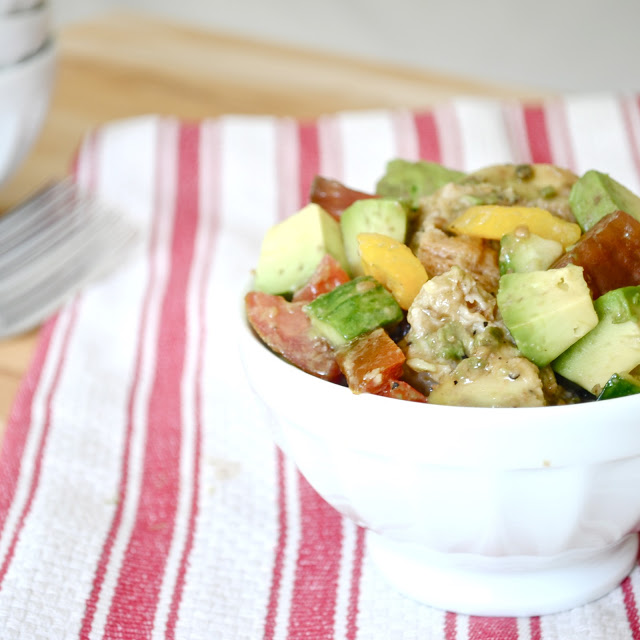 Click here for printable recipe.
Unrelated to this gorgeous salad, I wanted to be sure those of you who have become regular readers know that you can sign up receive an e-mail notification when I've posted something new.  You'll get the whole post delivered via e-mail, which you can read right there, or use it to click over to the actual blog.  It will be all the same content but the blog looks a little prettier :)  It saves you from having to check back multiple times to see when I've updated.
You can sign up in two ways: click the RSS icon

in the top right above my photograph and then click "Get The Chronicles of Home delivered by email."  You'll be asked to enter your e-mail address.  You can also type your e-mail address into the box along the right side, below my photo and description, under "Follow By E-mail."  Either way, you'll be alerted when there's something new to read over here!