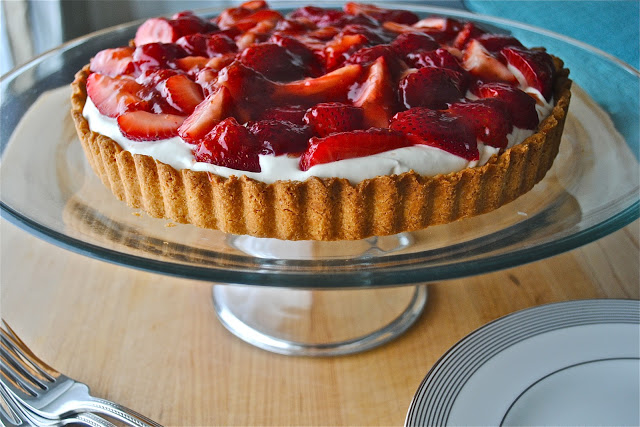 This strawberry tart looks rather majestic all piled high with glossy strawberries on a footed cake plate.  But it is actually so easy to make.  It's nothing more than a food-processor tart crust, pre-baked, and then filled with a super simple mascarpone and cream filling and topped with fresh strawberries.  You brush the strawberries with a little jam to get that beautiful shine.  Its taste is reminiscent of strawberry shortcake, which I've mentioned before is one of my most favorite desserts, so this appeals to me for obvious reasons.  I'd recommend making this when you have enough people to gobble up most of it the same day it's made.  It's still okay the next day but the strawberries start to get a little watery, so it really best showcases all that's wonderful about summer strawberries the same day it's made.
Strawberry Mascarpone Tart
Ingredients
For crust:
1 1/4 c. flour
1/2 c. powdered sugar
1/4 tsp. salt
1/2 c. unsalted butter, cold, cut into small pieces
2 egg yolks
1 tbsp cream
For filling:
1 c. mascarpone cheese
3/4 c. cream
1/4 c. powdered sugar
1 tsp. vanilla
For topping:
1 lb. strawberries, hulled and quartered
3 tbsp. strawberry jam
Preheat oven to 400.
For crust, pulse flour, powdered sugar, and salt once or twice in food processor to blend.  Add butter and pulse until mixture resembles coarse meal.  Whisk egg yolks and cream in a small bowl to blend then add to processor with motor running and process until mixture just starts to come together.  Pour into a tart pan with removable bottom and press gently, making sure dough goes up the sides.  Line the crust with nonstick foil (nonstick side down!) and fill with pie weights or dried beans.  Bake 15 minutes.  Remove from oven and lower heat to 350.  Remove the foil and pie weights and return crust to oven for about 10 minutes, or until the crust is golden and set.  Let cool.
 For cream, beat all ingredients with electric mixer until stiff peaks form.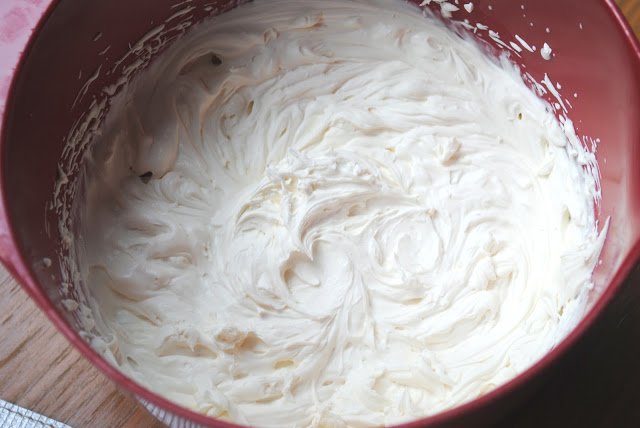 Spread the filling into the cooled crust.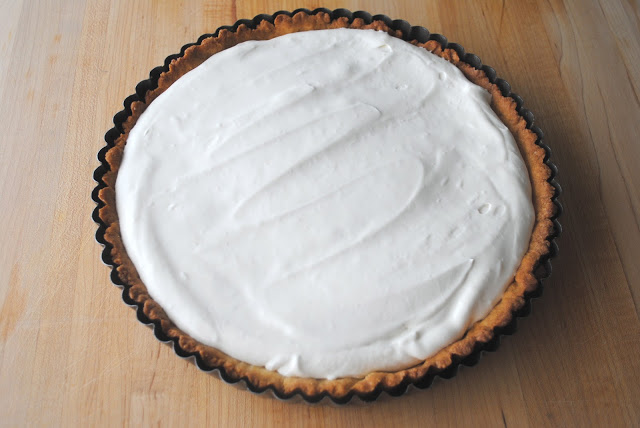 Remove the crust from the tart pan and place on a cake stand or plate.  Scatter the strawberries across the top and brush with jam.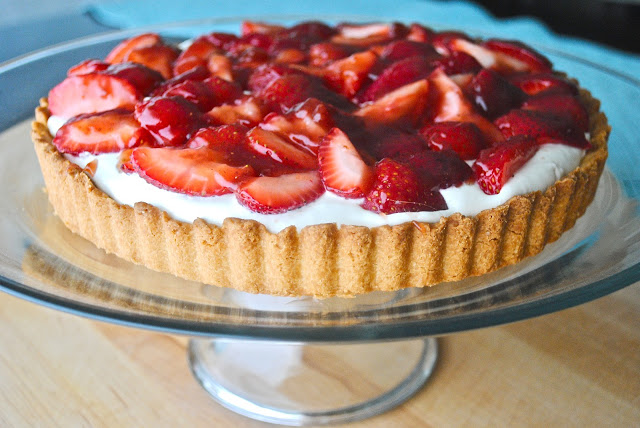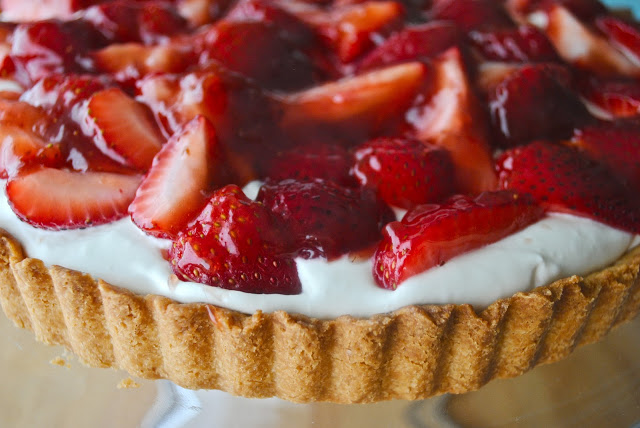 I made this when we had some longtime friends over for dinner recently and my friend, Stacey, made this amazing fresh strawberry and rhubarb pie.  So we had a little strawberry-tasting party.  I will never turn down double desserts.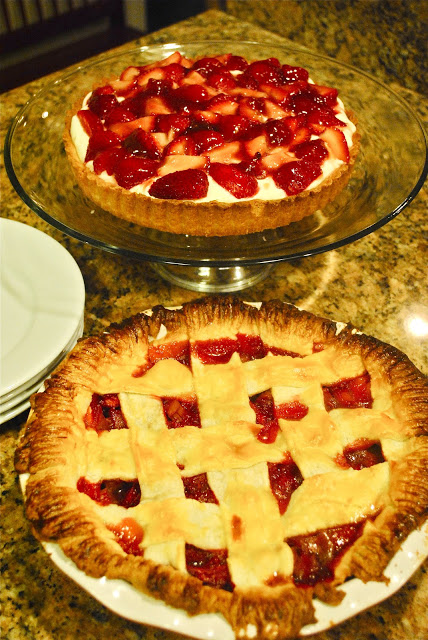 And totally unplanned, Ada and their youngest daughter, Sadie, had matching strawberry pajamas on that night.  How's that for a theme coming together?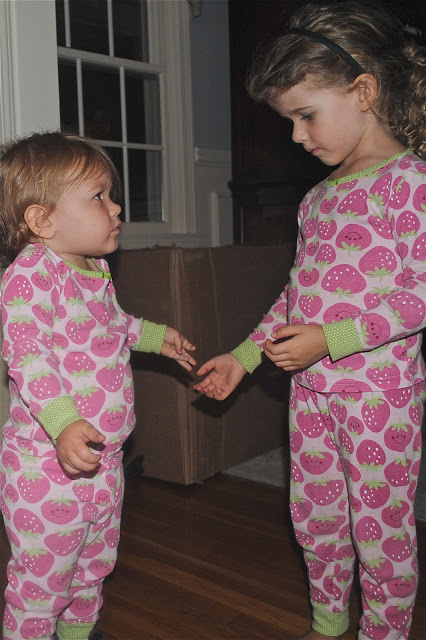 Click here for printable recipe.