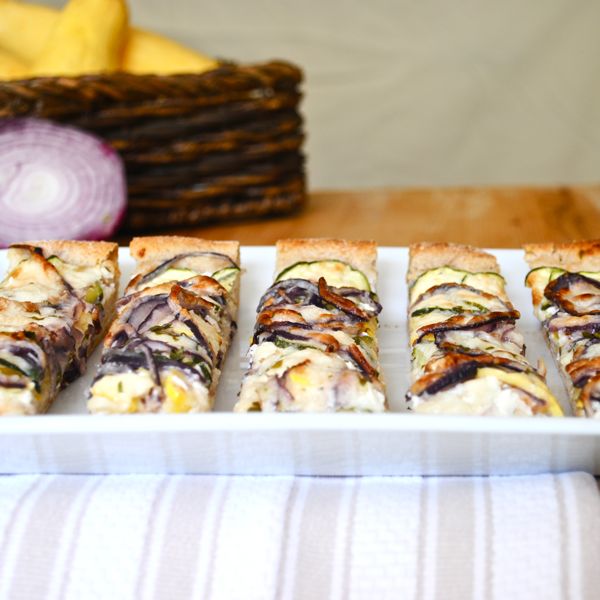 I first made this flatbread five or six years ago and it's arguably my favorite use for summer zucchini (though I do like those
fritters
too!).  Up until recently, however, I only ever made it as an appetizer.  You can buy all-natural crescent roll dough, roll it out flat, and layer with the ingredients to make a really quick and really delicious summer party appetizer.  And I will absolutely still make it this way, but since we usually eat vegetarian a couple nights a week, I thought I'd give it a try as dinner.
I made my own whole wheat pizza dough – if you have a stand mixer it is so, so easy.  You pretty much throw all the ingredients in, hover nearby for about 10 minutes while it runs, adding spoonfuls of flour if the dough starts looking sticky, cover it with a towel and walk away for a couple hours.  But you should absolutely buy a ball of pre-made dough from your local pizza shop or food store if yeast-doughs frighten you.
My 20-month old seems to have developed an aversion to cooked zucchini lately and steadfastly picked every shred of it off of her plate and handed it to me saying, "yucky."  Super.  She ate this exact dish a week prior when I made it as an appetizer so for now I'll chalk it up to an off night.  I disagree with her "yucky" edict and believe you will too.  This flatbread is cheesy, fresh, colorful and, honestly, who doesn't need another great zucchini recipe in their summer repertoire?
Zucchini and Red Onion Flatbread
ball of pizza dough, homemade or purchased
10 oz. herbed cheese, such as Boursin or Alouette
2 medium zucchini
2 small yellow squash
small red onion
1/2 c. grated parmesan cheese
3 tbsp. chopped fresh parsley
Preheat oven to 500º.
Use a mandolin or sharp knife to slice zucchini, yellow squash, and red onion into very thin rounds.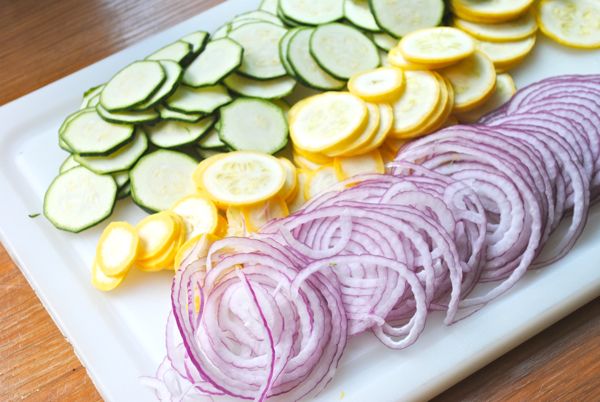 Roll out pizza dough to slightly larger than a sheet pan and press gently onto bottom up sides of pan.  Spread herbed cheese to cover the bottom of the dough (soften in microwave if too firm).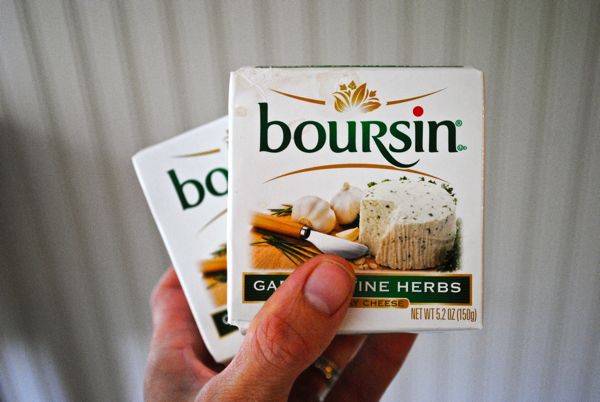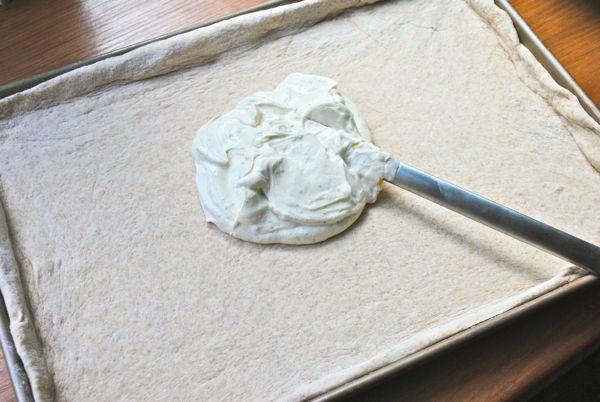 Layer zucchini and yellow squash in alternating rows until the flatbread is covered.  Scatter the onions on top and sprinkle with parsley and parmesan.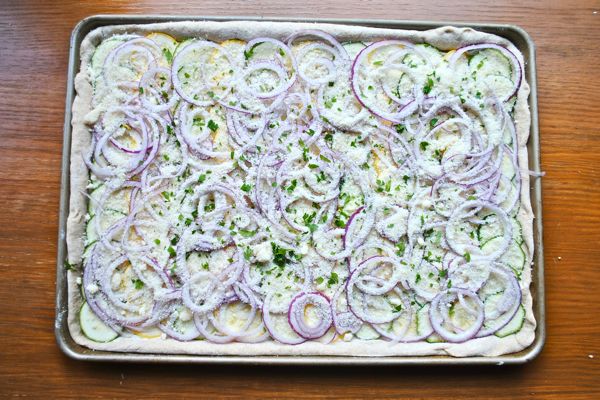 Bake about 15 minutes, until crust is golden and firm and the cheese has started to brown just a bit.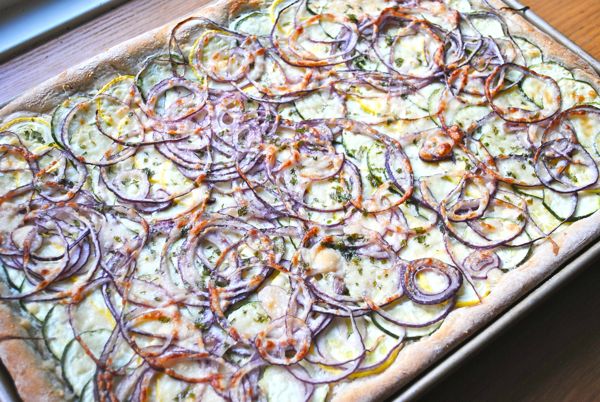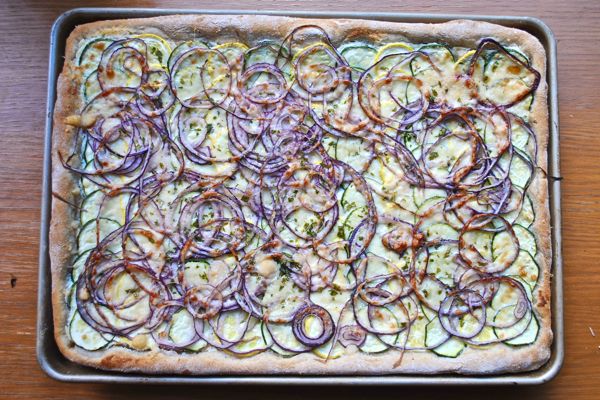 Let cool slightly then cut and serve.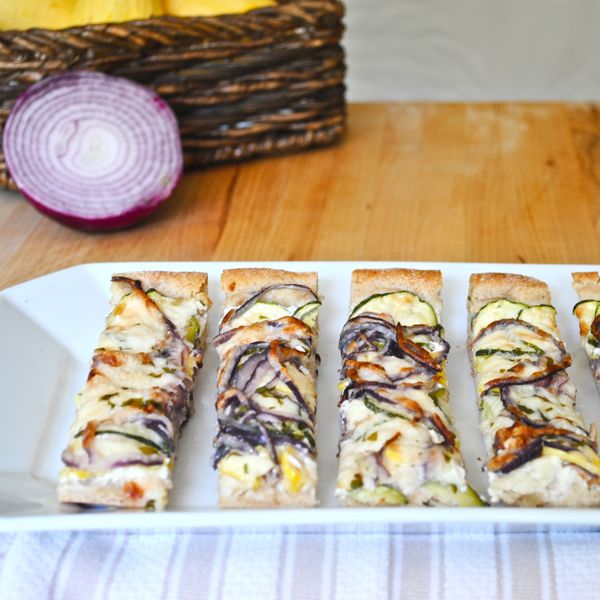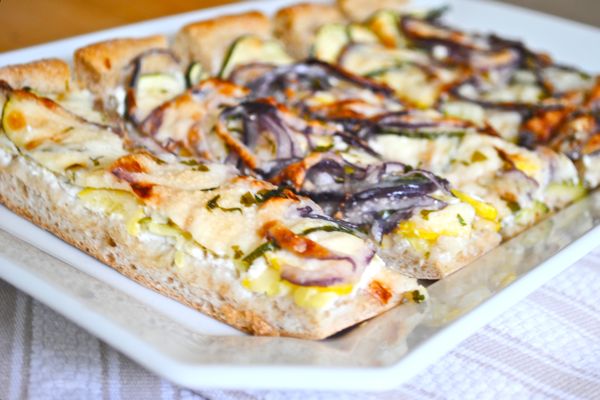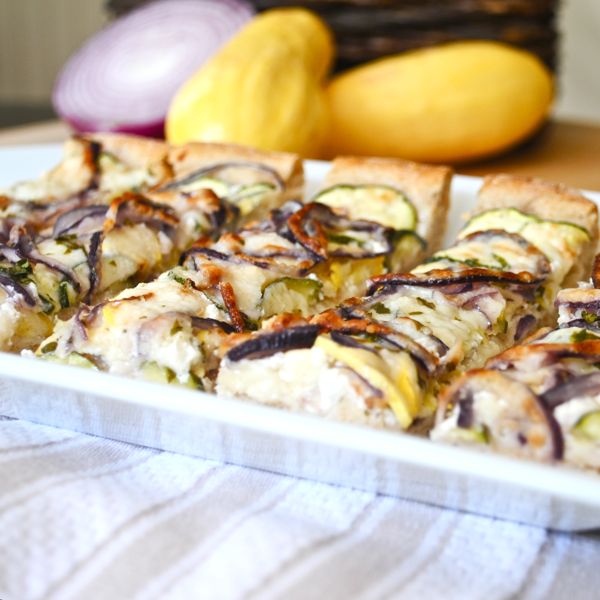 Click
here
for printable recipe.
Adapted from recipe
here
.