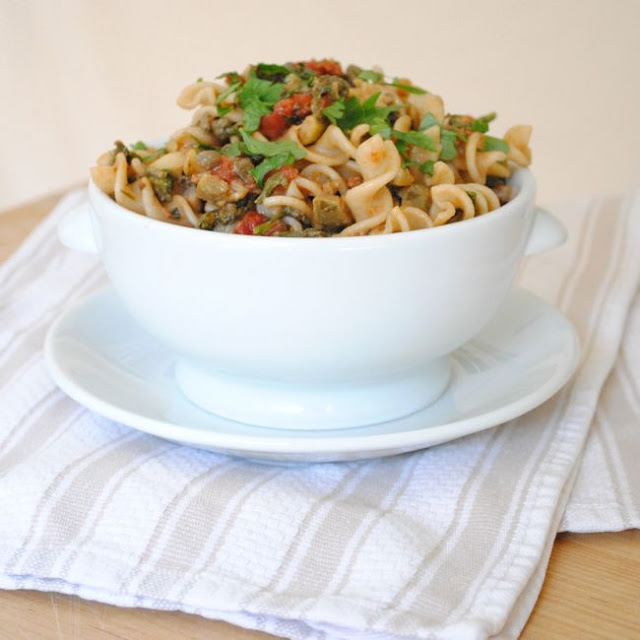 I have a collection of staple pasta recipes that I can make with mostly pantry items and go together in 15-30 minutes.  Here's another one that's been in the rotation for a few years now.  Pasta puttanesca is nothing new, but I love the spin Ellie Krieger puts on it by adding arugula.  It doesn't get much simpler than a one-pot meal, and on weeknights I'm all about simple.
I know anchovies are a taboo for some but I'll caution you not to omit the anchovy paste (smashing up canned anchovies works just as well if you have trouble fining paste).  I accidentally omitted it once and while the dish still tasted fine, it was absolutely missing that special something.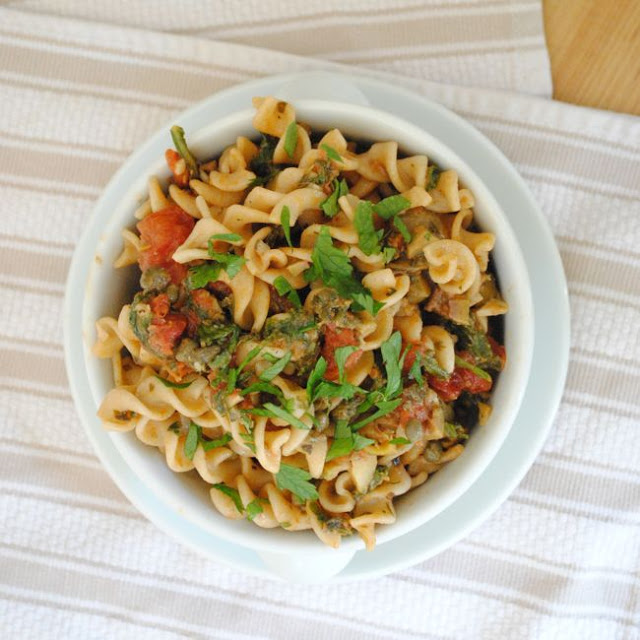 Have you heard of "umami?"  Some consider it a basic taste along with sweet, salty, sour, and bitter.  It basically means "savory."  I usually think of it as that something special about a food or dish that makes it extraordinary and leaves you thinking, "What is that? (in a good way).  For this pasta puttanesca, the anchovy paste is what gives it umami.  You don't actually taste the anchovies, but without them the dish is a bit flat.  Maybe I'm only saying that because I've had it both ways and it is so much better with the anchovy paste…but regardless, it is one magic little ingredient.  So don't be afraid!
I follow Ellie Krieger's recipe almost exactly.  You can click here to go to the page from where I printed the recipe.  The only changes I make are using fusilli, because it's easier for my little girls to eat than spaghetti, and doubling the amount of green olives because we're a household of olive enthusiasts over here.  My 3 1/2 year old can put down an alarming quantity of them if left alone with an open container.  My favorite to use are lemon and garlic marinated green olives I buy at Whole Foods.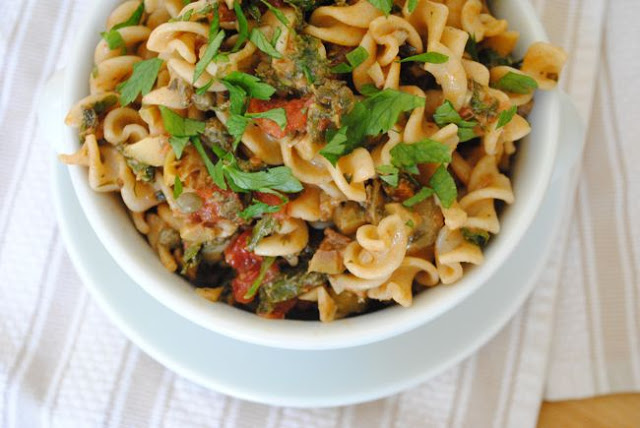 Hope you enjoy, and have a happy start to the week!