Seems a lot of bloggers are listing their plans for upcoming projects, and I'm no exception! Maybe it makes us feel more beholden to complete them once we hit the "publish" button and our goals are out there for all to see.
Regardless, my mind is buzzing with plans and after a fun and relaxing week in Pennsylvania with my family over Christmas, I'm ready to get working again! Here are some of the things I'm hoping to tackle this year.
Reupholster our sofa.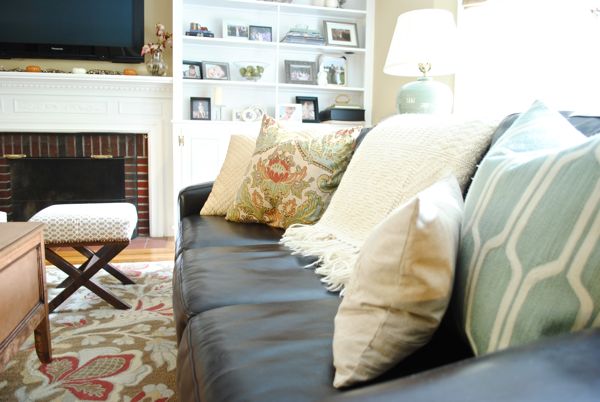 I've had a love-hate relationship with the leather since we bought it six and a half years ago – love because it wipes clean like a dream when anything has spilled on it; hate because it's chilly in the winter, hot in the summer, and so slippery the pillows never, ever stay on it. The major motivation to do it now is that the center cushion has a huge tear in the leather, about 8″ wide. As far as fabrics I plan to do either an ivory velvet or some other soft neutral fabric with a subtle crosshatch pattern. Still deciding.
Refresh and organize our home office.
There's a reason I don't really have any photos of our home office here on the blog. It's in need of some major attention. The biggest piece is organizing the built-in bookshelves which are cluttered with piles of books, papers, picture frames, craft and woodworking supplies, fabric remnants, and more. I'll also do some kind of wall treatment, most likely a faux wainscoting treatment.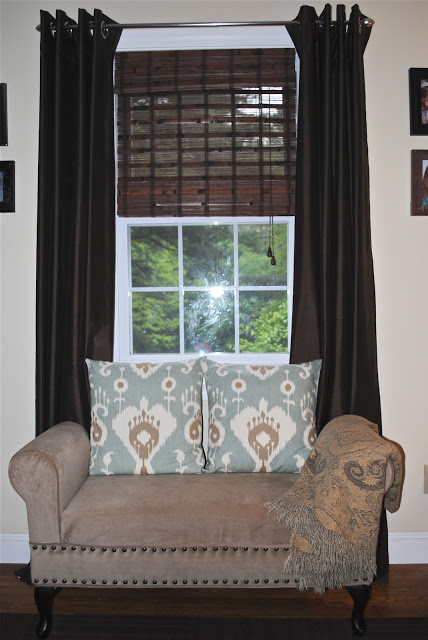 I'm thinking about reupholstering this little bench and doing something to lighten the curtains a bit as well.
Paint the guest room walls and reupholster settee.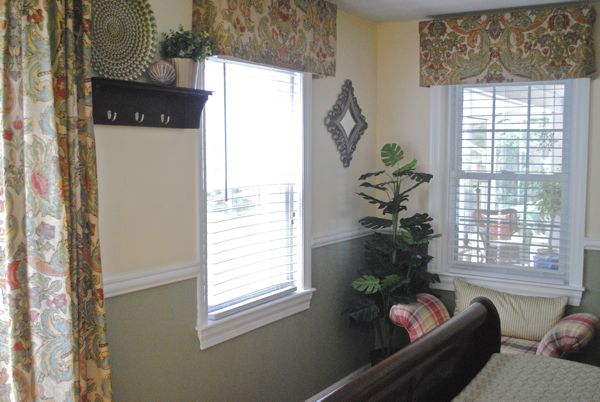 I'd like to paint a vertical stripe pattern below the chair rail, probably in the cream color that's above the chair rail and something a shade or two lighter. I also want to strip the fabric from the plaid settee under the window and reupholster it. I'm not sure what fabric I'll use for that yet.
Paint kitchen cabinets.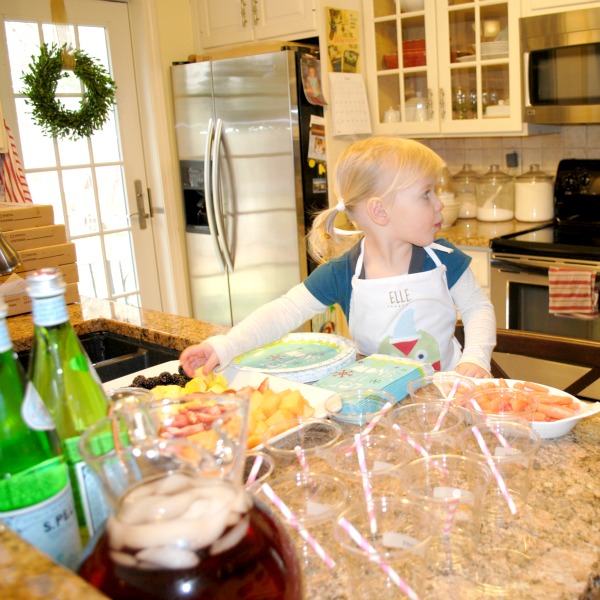 I painted our kitchen cabinets antique white about four years ago. I still love the color but made a big rookie mistake and painted them in a matte finish. With the moisture from cooking and constant handling they're showing some wear and don't wipe clean as easily as they should. It's not going to be a fun job nor a super high-impact one, but I want to go over all the cabinet doors again with a kitchen-grade semi-gloss in the same antique white to refresh them.
Replace the downstairs flat interior doors with paneled ones.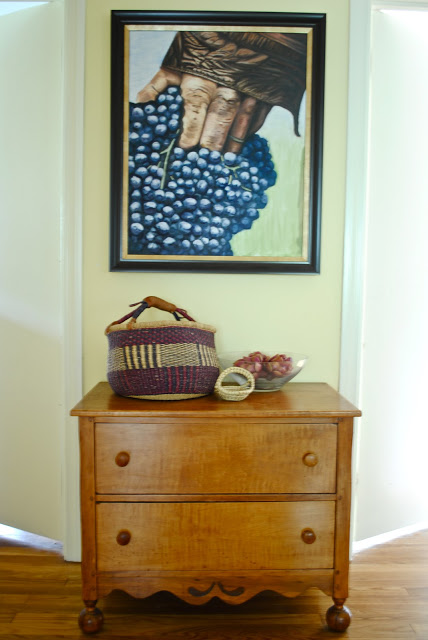 We replaced the interior upstairs doors with paneled ones about four years ago and have been wanting to do the same for the downstairs doors ever since. All of the doors are hollow, flat, old, cheap, and cracking around the edges. Along the same lines as the kitchen cabinets, I expect this will be a tedious project but so worth it for the fresh detail it will add to our downstairs.
Refinish the kitchen table.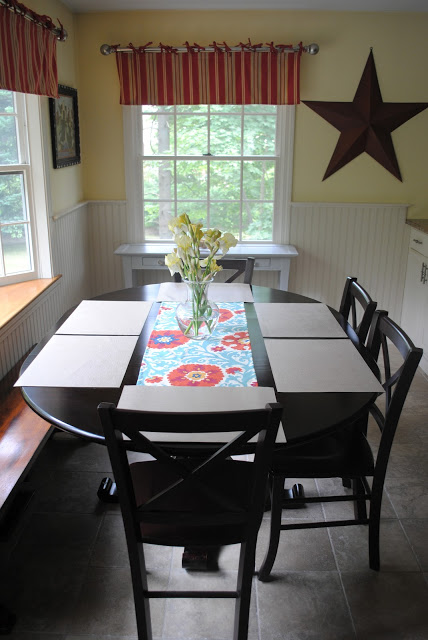 This is a project I've been toying with for awhile. The top of our kitchen table is scratched and has heat marks all over it. The glossy finish shows every smudge and spill. I've been unsure of the direction I want to take but think I want to sand down the top of the table, stain it something much lighter than what's there now, and seal it in a rustic, un-glossy finish. As for the pedestal base, I think I'm going to go with a painted base, possibly in a very pale blue.
Rebuild the stairway banister and replace the runner.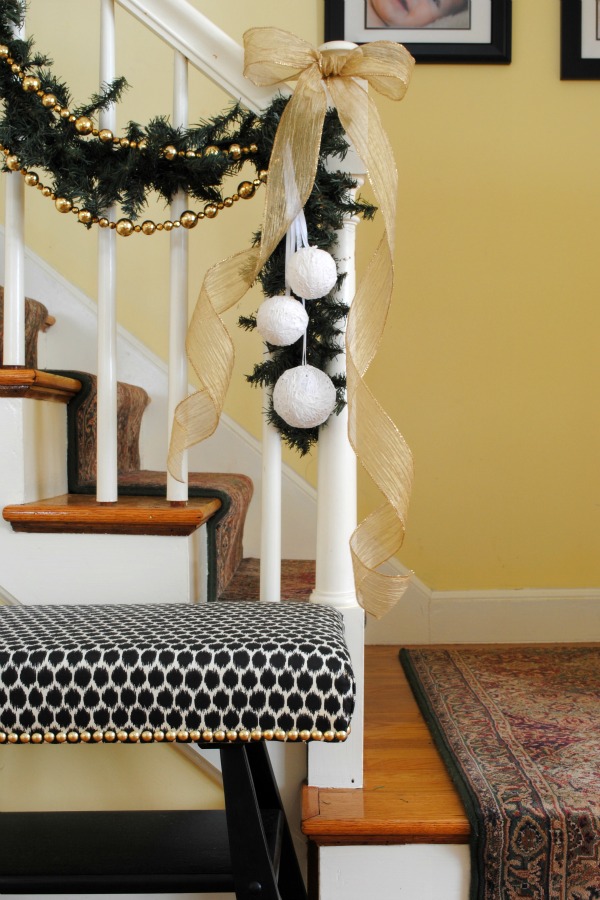 Our banister is a bit wobbly so part of this project is safety, but mostly I just want a different look. The stairs are directly across from the front door and I'd like something a bit more architectural in such a high visibility spot. I also really dislike the carpet runner. My first choice would be to strip the runner off and leave the wood bare but I'm not sure what the wood underneath looks like. If a runner is needed, I'll at least redo it in something more neutral.
Start offering custom X-leg benches on Etsy.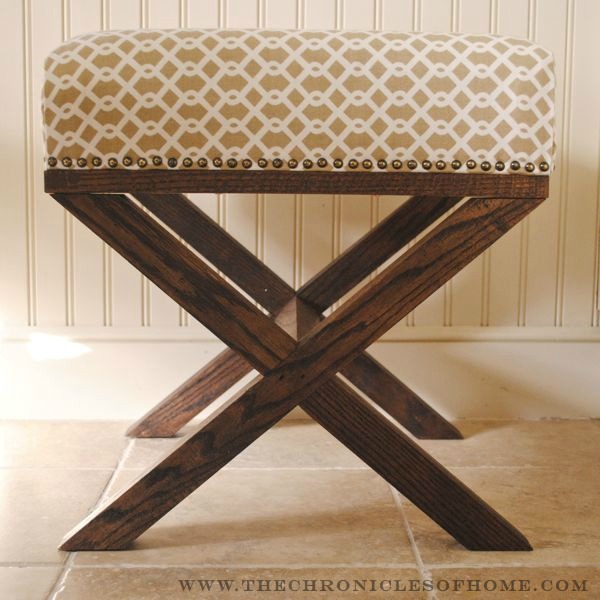 These x-benches have been, by far, my most popular post since I started writing this blog in May. While I have a tutorial on how to build them yourself, I know that there are a lot of people out there who just aren't comfortable with the tools needed to build this or don't have the time to do it. I'm going to start offering these as custom items in my Etsy shop, where I can work with buyers to upholster in a fabric they like and finish the legs in a stained or painted finish.
There are lots and lots of smaller projects I have in mind too but you would be reading (and I'd be writing) until 2014 if I tried to list them all here now!
Do you have any big projects you're hoping to take on this year?