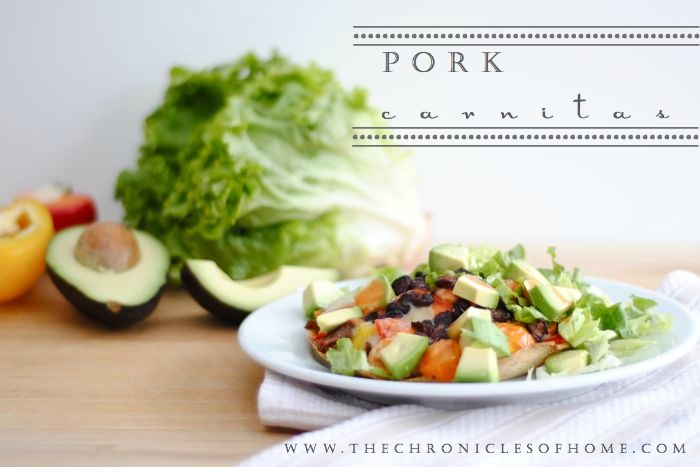 To be perfectly upfront with you, I'm not entirely sure what a "carnita" is.  I know it's Mexican and I think it has something to do with shredded meat but from there I can't say 100% that I'm correct calling these carnitas.  But I will tell you this for 100% certain – they are deeelicious!
I like Mexican food but, let's be honest, it's not always the healthiest choice.  I used one of my favorite slow-cooking cuts of meat here, a pork shoulder, which is a bit fatty, but when it sits in the slow cooker for many hours you're very easily able to separate the fat from the meat and the meat that is left is tender and juicy and succulent.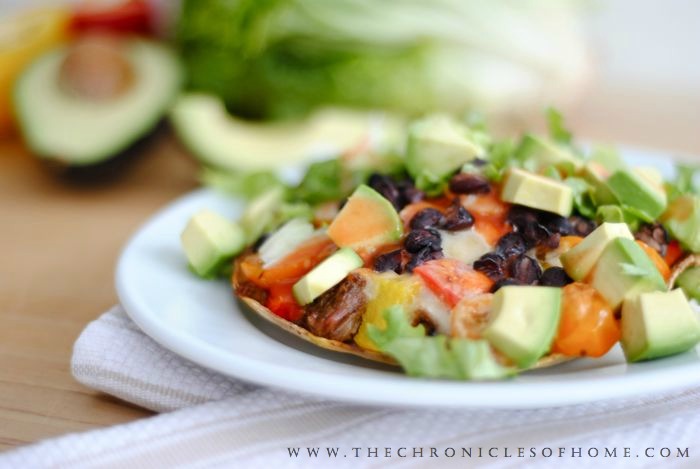 I treated these a bit like a taco salad or an open faced nacho/burrito hybrid.  And what does one call a taco/salad/nacho/burrito hybrid?  Carnitas!
They're loaded with veggies and lots of flavor from the meat and will satisfy any Mex craving you have without weighing you down.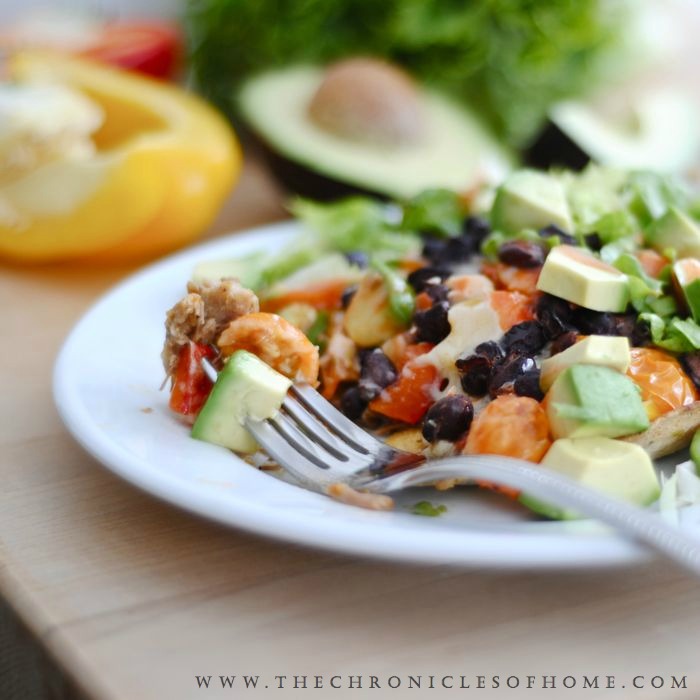 Pork Carnitas
4 lb. pork shoulder
12 oz. lager beer (I used Yuengling, Budweiser would also be a good choice)
4 garlic cloves, minced
3 tsp. kosher salt
corn tortillas
1 can black beans, drained and rinsed
1 red pepper, peeled, seeded and diced
1 yellow pepper, peeled, seeded and diced
1 c. grape tomatoes, halved
1 c. shredded sharp cheddar cheese
2 avocados, peeled, seeded, and diced
2 c. shredded lettuce
hot sauce
Combine pork, beer, 1 c. water, garlic, and salt in a slow cooker and cook on high for 4 hours or low for 8 hours.  Remove meat to a cutting board and shred, separating the meat from the fat.  Throw the fat away and put the meat in a large saucepan.  Pour the liquid from the crock pot into a gravy separator and pour the broth into the pan with the pork and discard any fat on top.  Boil on high until all the liquid has evaporated, about 20 minutes.
Preheat oven broiler.
On a baking sheet, arrange corn tortillas.  Top each with pork, black beans, red and yellow peppers, tomatoes, and cheddar.  Place under the broiler for a few minutes until the cheese has melted.  Remove from oven and top with avocado, lettuce, and hot sauce to taste.