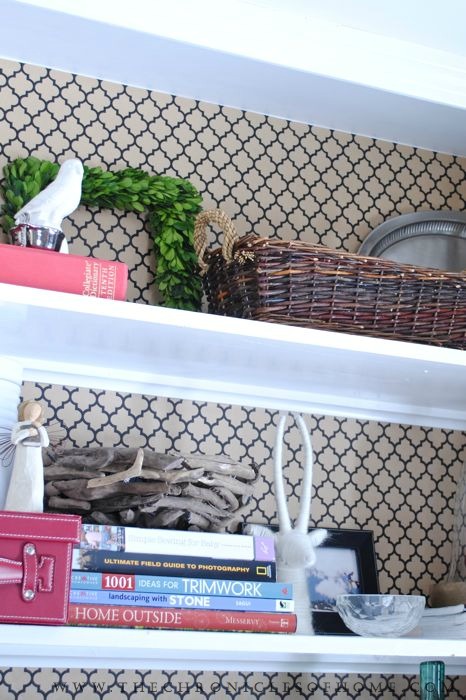 Yep, you read that right. $2. Mind you, I had to travel all the way to Florida to get the paper for this little update (I live in Massachusetts) but before you think I have lost my mind I just happened to be in FL for vacation and did not actually fly all the way there for Target dollar bin paper.
I saw this exact paper used as backing for built-ins on Pam's blog about a month ago.
I immediately pinned the image and was at Target that very day scouring the dollar bins for the paper she used. Sadly, not a roll in sight. I went home and searched wallpapers and other wrapping paper sources but couldn't find anything close. Actually, that's not entirely true. I could get a roll of similar wallpaper on Spoonflower but it was $60 a roll, and when compared to the ONE DOLLAR A ROLL I knew Pam had paid I just couldn't bring myself to shell out.
Fast forward to our Florida vacation a few weeks ago and while checking my Instagram feed (click here to follow me) I saw that Carmel had scored the exact same paper at her local Target. She is the sweetest thing ever and even offered to mail me a roll when I mentioned my sad, quatrefoil paper-less existence, but on a last ditch effort I swung by a Target near my in-laws' house on the very day we were leaving FL and, cue the angels singing, there was a bin full of quatrefoil paper just sitting here waiting for a good home.
I feverishly bought 6 rolls and very carefully transported them back to Boston in my carry on bag.
And here, at last, they are on my office built-ins.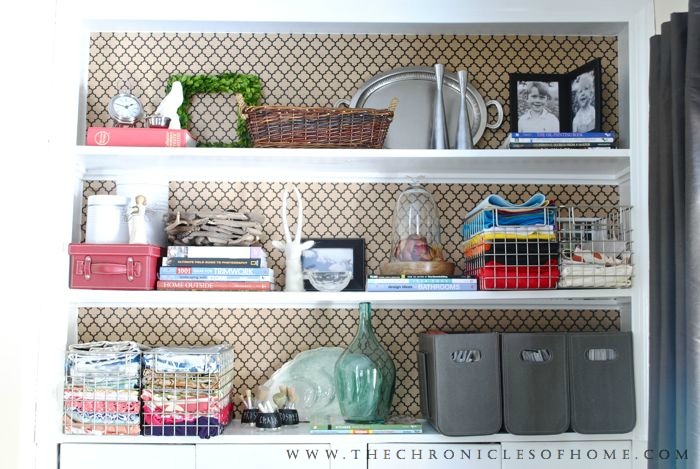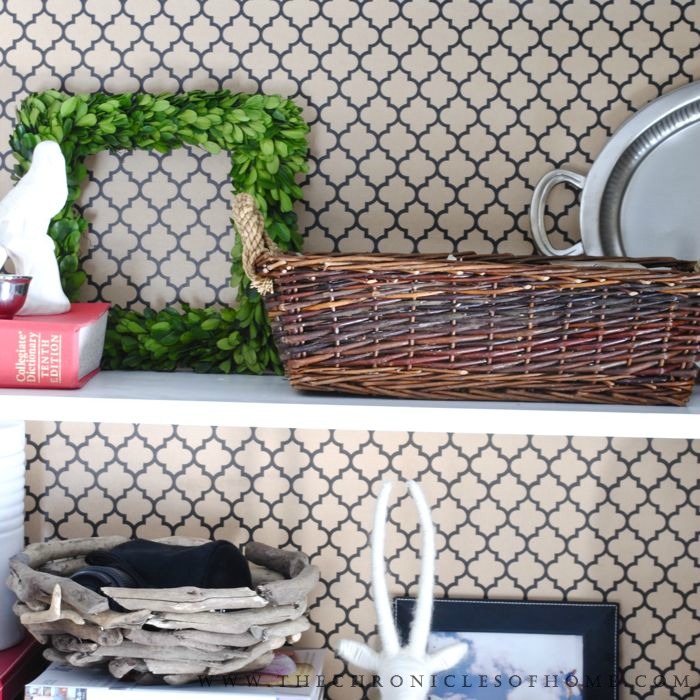 I followed a pretty simple process for putting the paper up. I stuck strips of double sided scrapbooking tape along the top edge of the shelf back, where the top of the paper would go.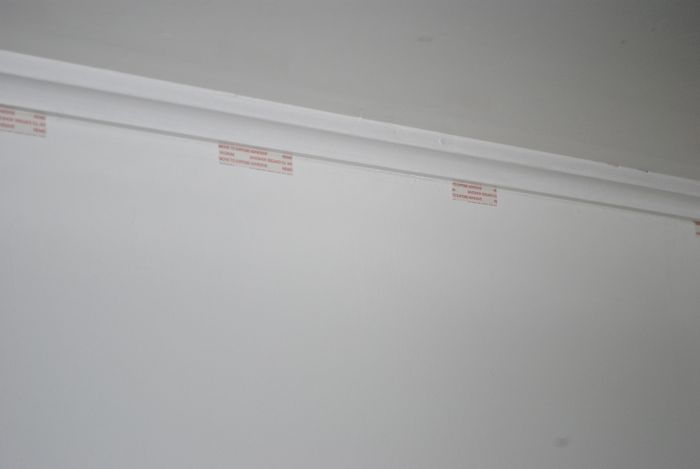 I cut a strip of paper slightly longer than what I needed, then peeled off the paper backing on the tape, and carefully lined up the top edge of the paper with the top edge of the shelf and smoothed and pressed it into place. For the other edges I used a straight edge (anything will do, I used a paint stirring stick!) and a sharp razor blade to cut the edges precisely. Then I lifted the paper from the bottom, gave a light spray on the wall with spray adhesive, and smoothed and pressed the paper into place.
A quick afternoon's work and I love the outcome. How about a before and after shot?

Thanks to Pam for the great inspiration! Are you running to Target yet to score your very own $1 quatrefoil paper??
One piece left in the rebirth of these built-ins…I'll soon be "Shaking" things up a little. And that's a hint :)
Linking up to Home Stories A to Z, Liz Marie Blog, Crafty Scrappy Happy, and…