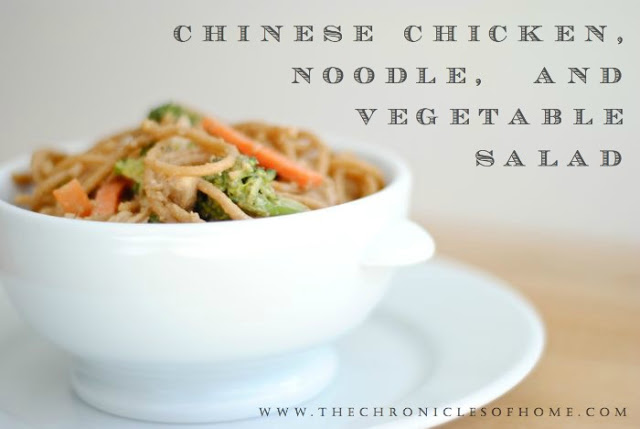 This dish came about one night recently when I had some produce that needed to be used up in the fridge and I sat there thinking, "What can I cook that has broccoli, snow peas, and peppers in it?…"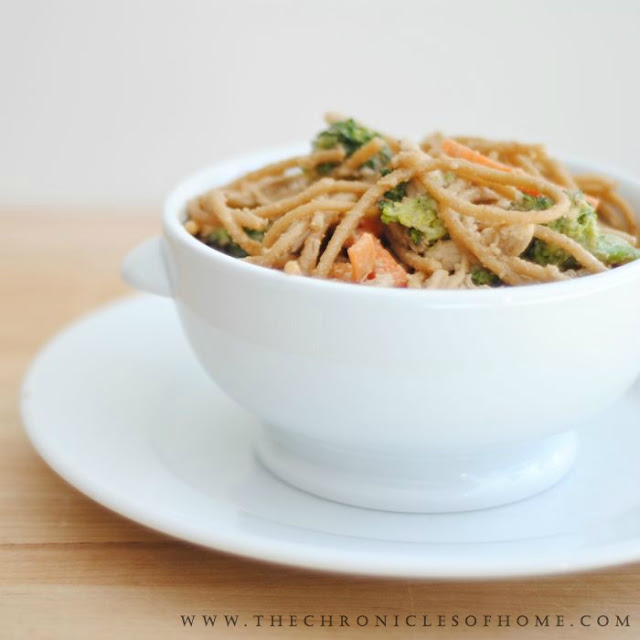 Something Chinese-inspired came to mind but you won't find any MSG-laced, fatty, fried fare here.  This is a healthier take on Chinese takeout night!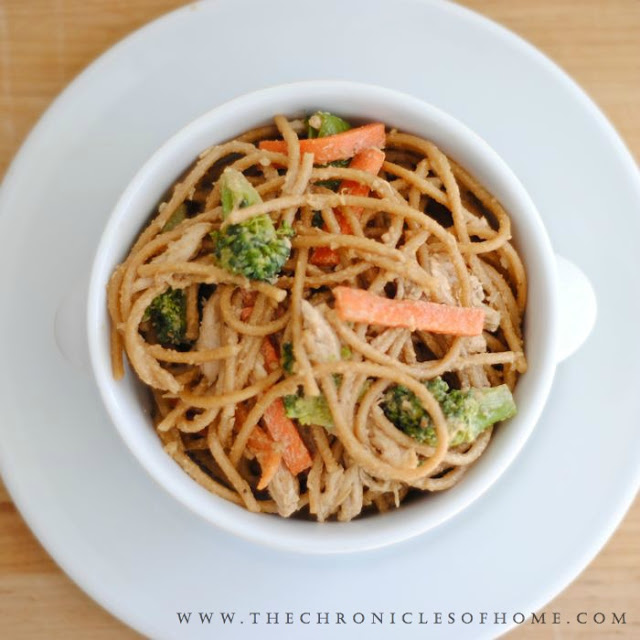 There are so many deep, rich, sweet, savory, and mildly spicy flavors here, you'll forget you're practically eating a salad.  I added carrots into the veggie mix, some lean roasted chicken breasts, and whole wheat spaghetti to really make it a meal.  The big bonus?  The leftovers are fantastic cold, right out of the fridge.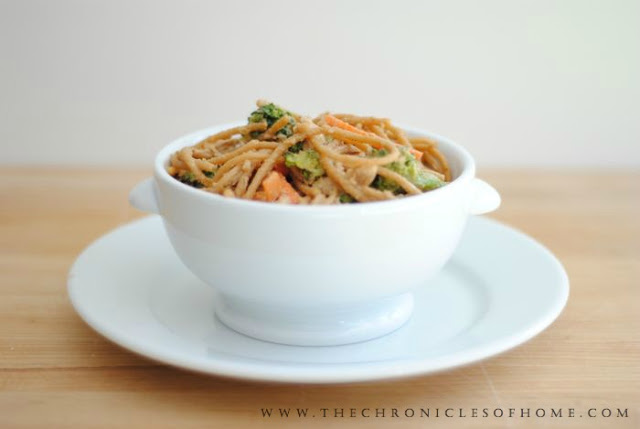 Chinese Chicken, Noodle, and Vegetable Salad
Ingredients
1 lb. whole wheat spaghetti
2 boneless skinless chicken breasts, trimmed of fat
1 tbsp. olive oil
2 c. broccoli, cut into bite sized pieces
2 c. snow peas, strings removed
red bell pepper, seeded and cut into strips
3 carrots, peeled, cut into matchsticks
1/2 c. grapeseed oil
2 tbsp. rice wine vinegar
3 tbsp. low-sodium soy sauce
1 1/2 tbsp. dark sesame oil
2 tsp. honey
1 garlic clove, minced
1/2 tsp. grated fresh ginger
1/4 c. smooth natural peanut butter
Preheat oven to 400º.
Cook spaghetti according to package directions.
Rub olive oil over chicken breasts and sprinkle with salt and pepper.  Roast about 20 minutes, until cooked through.  Let cool until you can handle them and then use two forks to shred the meat.
Meanwhile, bring about an inch of water to boil in a saucepan with a lid.  Put broccoli and snow peas in a steamer basket, set in the pot, and steam with the lid on about 5 minutes, until the veggies are just tender but still bright green.
Whisk grapeseed oil, rice wine vinegar, soy sauce, sesame oil, honey, garlic, ginger, and peanut butter until smooth.
Toss spaghetti, chicken, broccoli, snow peas, carrots, peppers, and dressing in a large bowl so all ingredients are coated with the dressing.  Serve warm, at room temperature, or cold.
Click here for a printable recipe.