I've had a growing unrest brewing over my closet these past few months. Little by little, day by day, it was taking over. Or rather, the cluttered mess was taking over. I'd walk in to get dressed in the morning and just stand and stare, feeling totally uninspired and totally lost as to what to put on. And this was not due to a lack of clothes, because I have a lot of clothes, and I'm not bragging…I'm actually a little embarrassed over the quantity after this little organization exercise, actually. But more on that later… Clearly, it was time for some purging and closet organization.
In the process of doing this, I realized a few things that helped me pare down and put things back together in an organized way, so I'll share these little tidbits with you along the way (you'll find them in italics throughout). And the best part is I didn't spend a penny. No fancy organizing systems here, I didn't even spring for new, matching hangers – just some simple steps you can take to rein in the mess and keep yourself organized going forward.
Here's where I started…messy piles…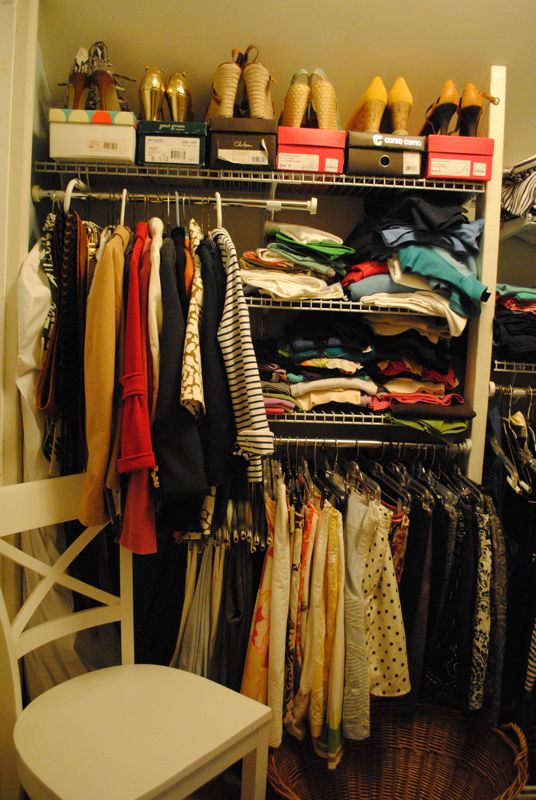 …clothes crammed in…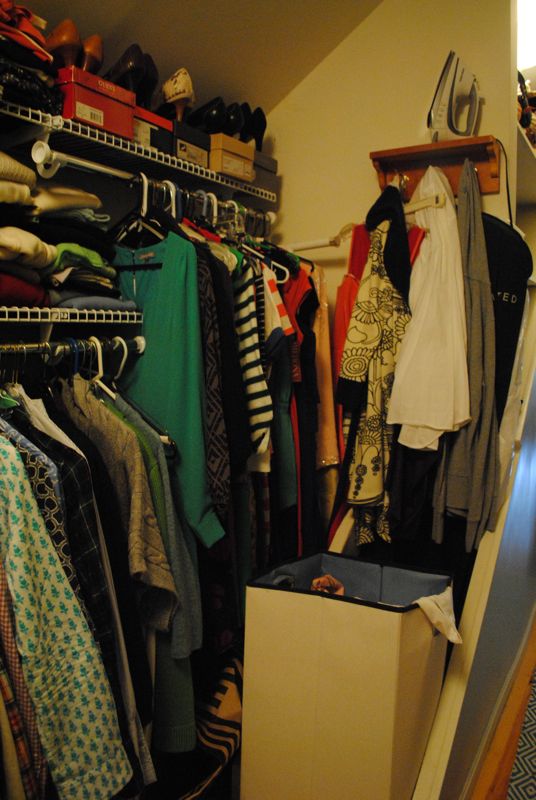 …and more of the same.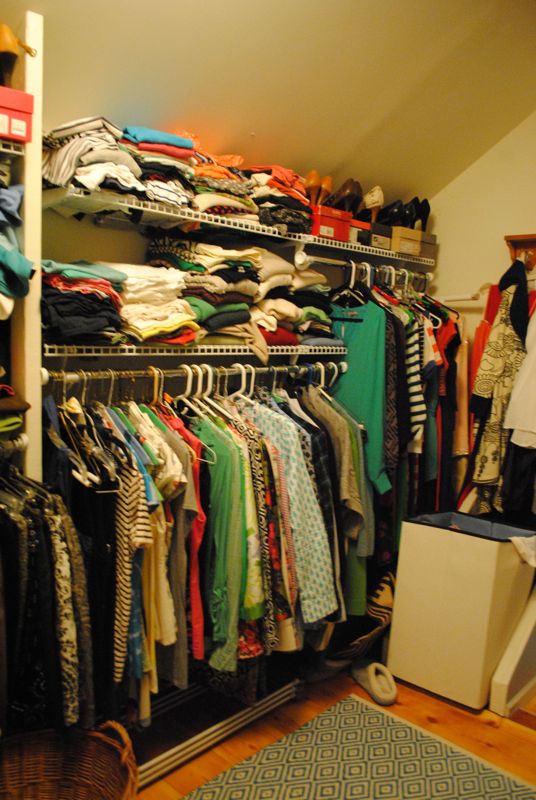 First things first, I knew I had a major purge coming. I took every single item out of my closet, armful by armful, and I sorted into piles: donate, consign, list on EBay, trash. And here is my tip #1 – be ruthless. If you haven't worn it in a year, say goodbye.
Here's a peek at my piles forming.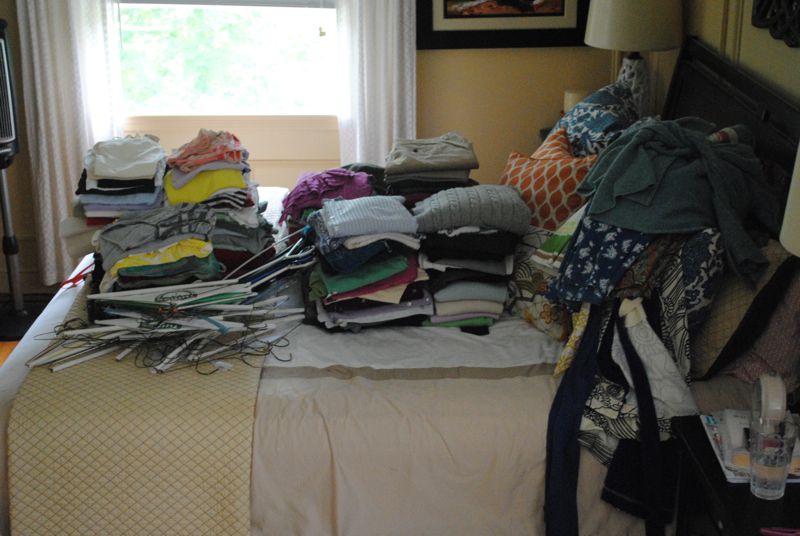 This isn't even close to the final amount purged, and right about here I started feeling pretty sheepish and a little icky inside. How had I acquired so much?? It made me feel like the consummate consumer, and not at all good. I wanted to set some goals for myself and started thinking about "need" and "want." I do not need any more clothes. I will definitely want more clothes, though. So what I have vowed, for now, is that I won't buy a single item of clothing, shoes, accessories for the next 4 months. Instead, I'll keep a little folder of things I spot and like and when December rolls around, if there are still things in that file that I love, I'll tell Santa. And if not, then maybe I'll take the fast a little farther. Baby steps…
Back to the task at hand. Once I'd weeded through every last thing in my closet, I started putting them back, giving thought to how I dress and how it would be easiest for me to see what I have and find what I'm looking for.
Next tip – organize your clothes by genre. I hung dresses together, skirts together, shirts together, and jackets together. Within those, I hung in little subcategories, too.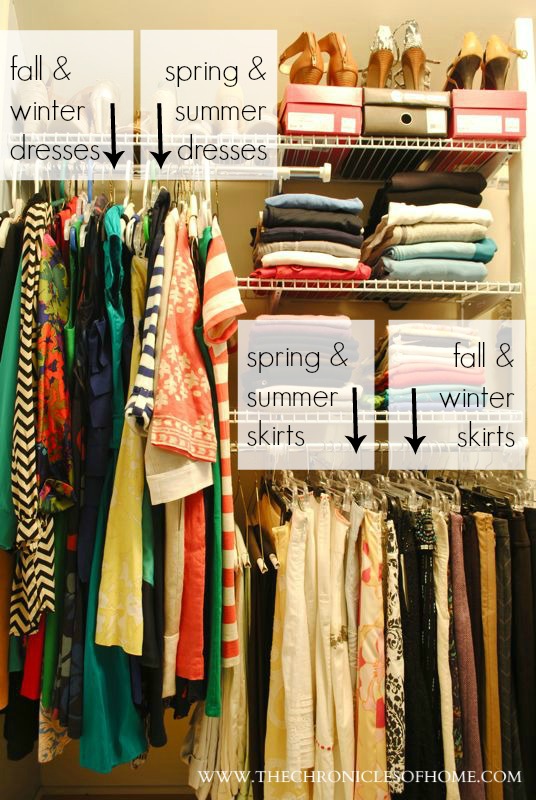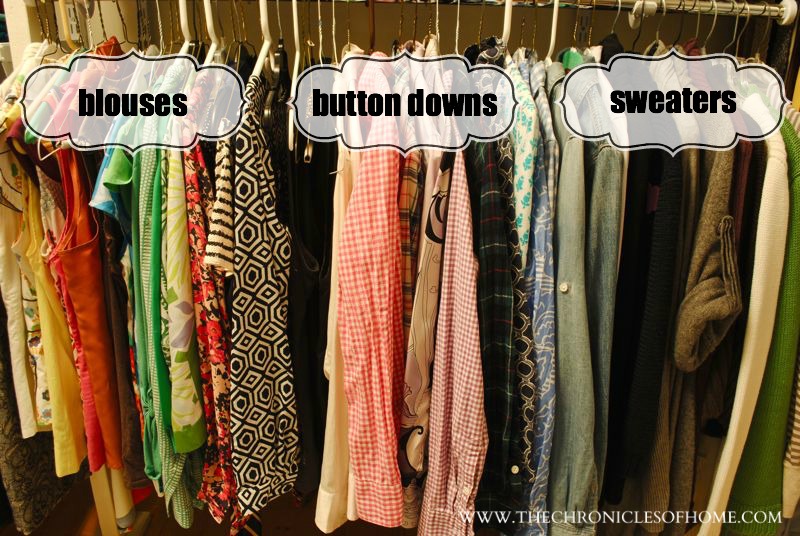 I also organized hanging shirts and folded items by color and/or pattern- whites together, blues together, stripes together, and so on.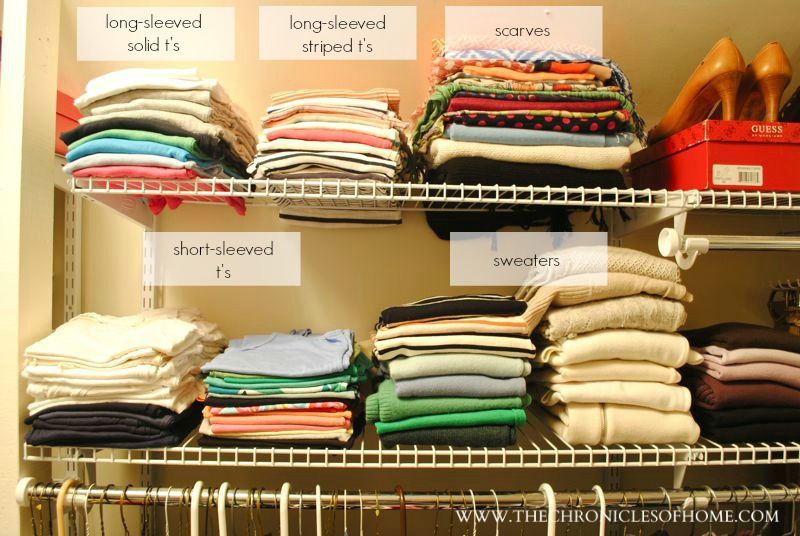 I also found that keeping all folded clothes with the folded edge facing out kept the piles looking neater and helped me tell quickly what I was looking at.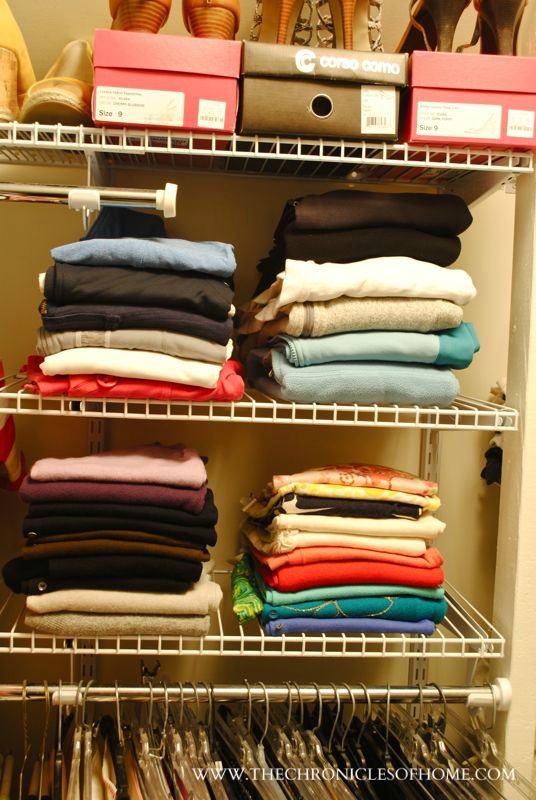 Some shoes I keep in boxes, some not in boxes, and aligning the shoes not in boxes with one shoe facing front and the match facing back takes up less space than facing them all the same way.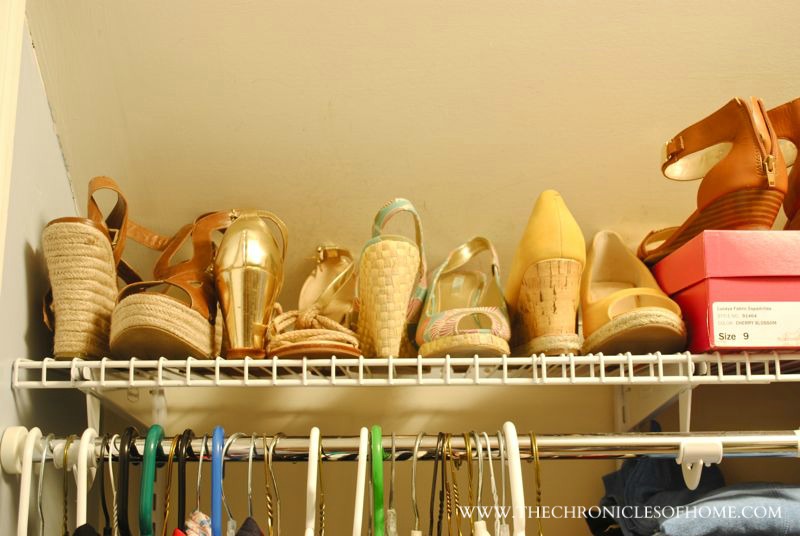 I use a tie rack to keep all my belts organized.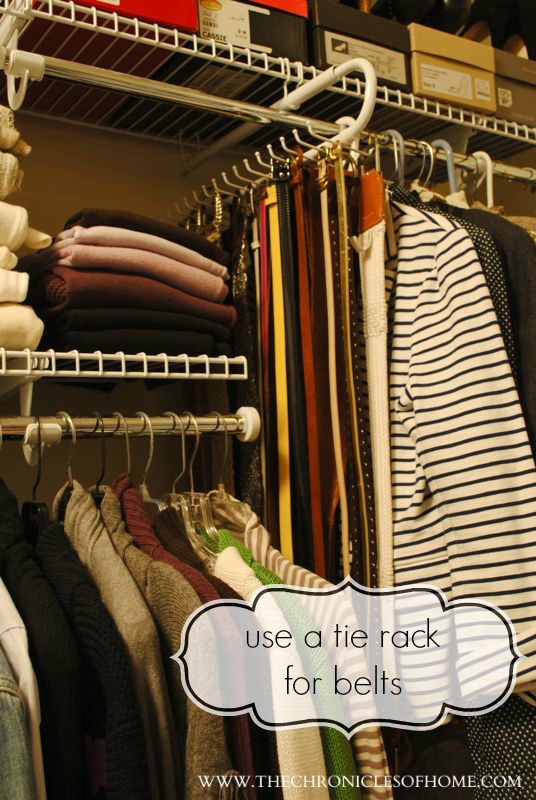 It telescopes out so I can easily see and get to what I want.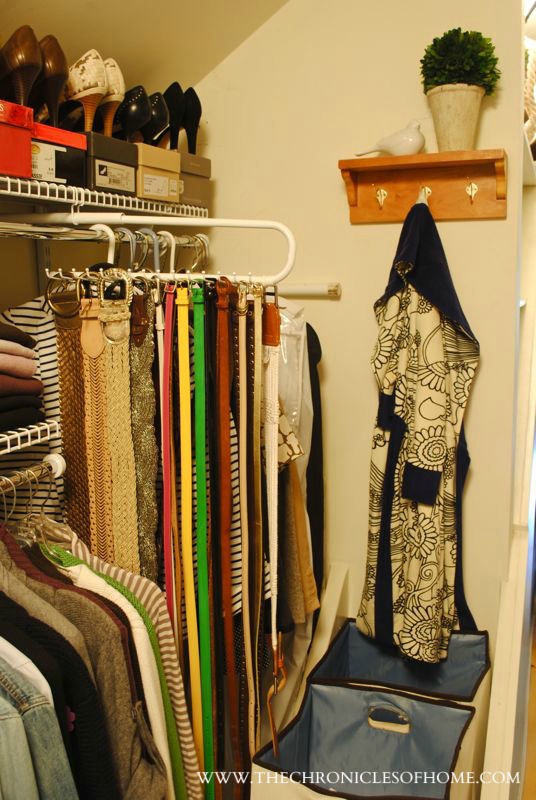 So, after much purging, and a little bit of soul searching about my clothes consuming habits, I had everything put back together and looking so much better.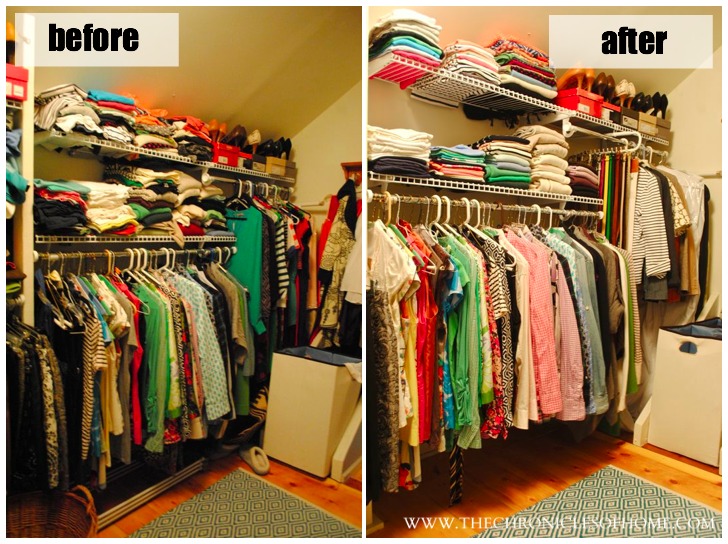 What does your closet look like? Are you an organizer or a pile-it-all-in-there type? Do you think I'm brilliant or a freak for organizing my sweaters by color?? Actually…don't answer that one.
Looking for some other simple, inexpensive organization ideas? Check out how I used shoe boxes to organize dresser drawers, a coat closet that works every inch, and 15-minute kitchen drawer organization.

* * * * * * *