I've been stalled on updating my two and a half year old's room for a few months now. Most recently – and by "recently," I mean January – I made some colorful throw pillows for her bed in punchy shades of orange, pink, and coral.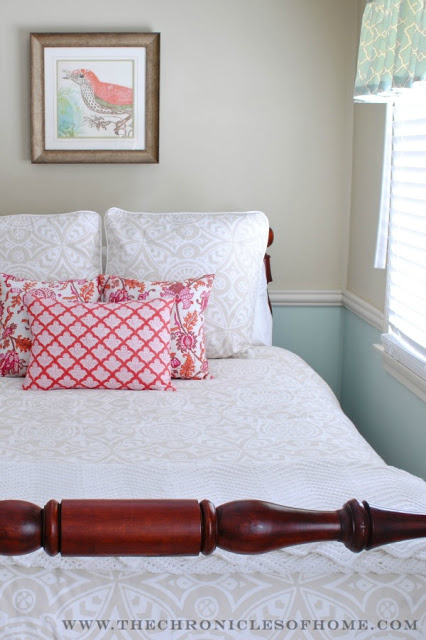 And then…crickets.
I knew I wanted to bring some bolder colors in to take the room from baby nursery to a girl's room that could grow with Ellie. But I had such a mish-mosh of furniture I wanted to use, I didn't know how to pull it all together – an antique cannonball bed, a stained wood nightstand, my childhood dresser. I couldn't settle on anything that really worked in my head.
Thank goodness for Pinterest. I happened across this image just last night.
How adorable is this room?? That sweet-faced little girl even looks a lot like my Ellie. I think it's meant to be.
Ellie's bed is an antique cannonball bed that I don't want to paint right now, but I'd been considering painting my old dresser just the shade of coral on the nightstands above. In fact, I recently bought these shoes and instantly thought, "Yes! That is the color I want for Ellie's dresser!"
Seeing that coral with the navy in the Pinterest image just totally solidified the picture for me. It's just the look I was going for without really knowing that's what I was going for. You know?
I have a new paint sprayer to test out so I suspect you might find me surrounded by plastic sheeting next week with paint in my hair. It's been a slow summer for me on the projects front and I'm excited to feel Ellie's room coming together a little more.
Well…at least in my head.
Hope you have a great weekend!