Well we've just spent our first full week in the new house and it has been BUSY. There are still boxes absolutely everywhere but the projects have started anyway and I suppose we'll just chip away at the boxes day-by-day.
I feel like I have so much to share with you already – if I happen to get some photos snapped this week I'll give you peeks at some of what has been happening around here.
Two especially gorgeous additions arrived last week: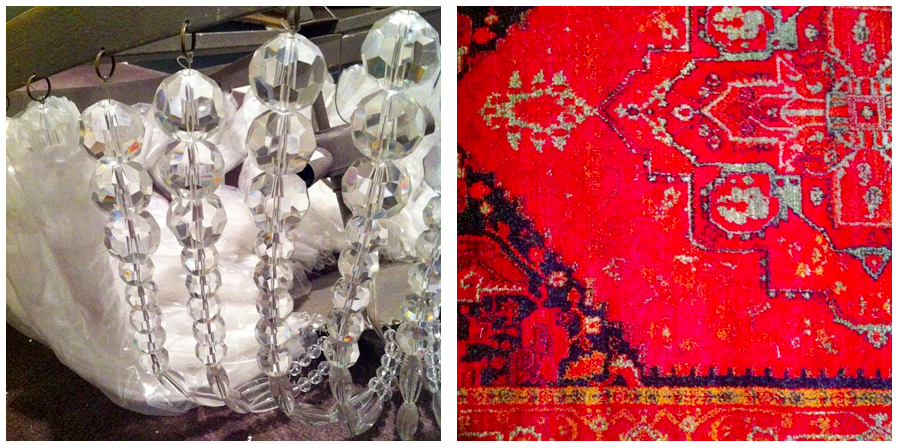 But you'll have to wait juuuuust a little longer to see these beauties fully!
One project I hadn't thought would be a priority so soon but kind of threw itself on the front burner is the powder room. There's not much to it right now – super dark walls, no mirror, and a hauntingly unflattering recessed light.
buy bupropion online
celexa no prescription
Eventually I'd love to retile the floor, update the toilet to a bright white one, and perhaps switch from the vanity there now to a pedestal sink, but those bigger changes will have to wait while we put money and energy toward other more pressing projects.
Instead, I'm planning a little facelift.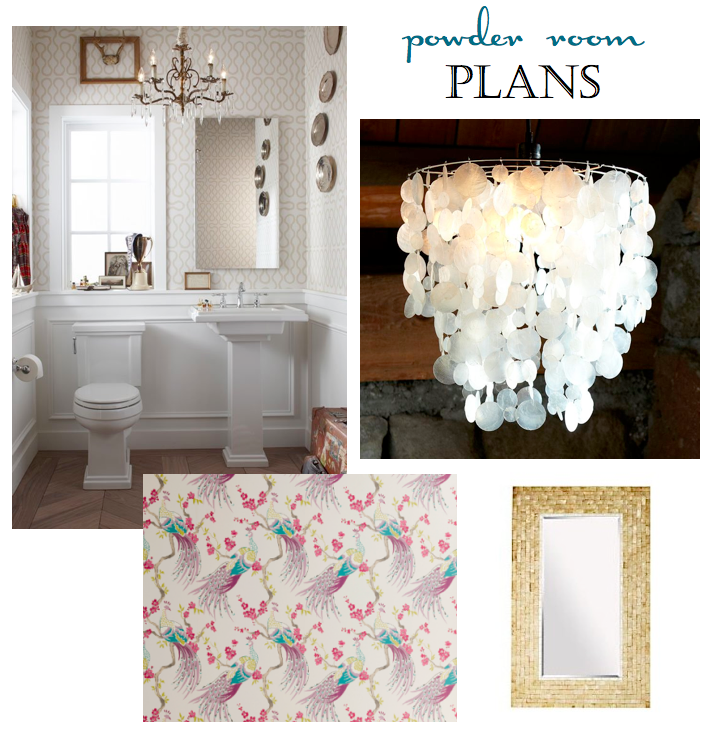 I want to add a chair rail and some delicate raised moulding to the bottom of the walls, like the image above.
I came across the peacock wallpaper on Julia's blog and tracked it down as Clarke and Clarke's Indira wallpaper. I love the colors and just the pure fun of it. I think a powder room is the perfect place for a punchy, whimsical print like this, and think I'll use this or something similar above the chair rail.
The capiz pendant from West Elm is here already but hasn't been installed yet because it doesn't exactly tell you on the website that you need to buy their hardwire kit separately and I didn't realize I needed it until I set out to install it last week and realized I was missing some pretty necessary parts. But it will soon, hopefully, be gracing the powder room ceiling. And I love it. It was one of my inspirations for the faux capiz pendant I made for Ada's room last year.
I also found a gold mirror at Home Goods last week that has an iridescent, shell-like finish on it similar to the one above. I was afraid it was going to look like a beach-theme-gone-bad with the shell pendant and the shell mirror, but holding them together, they kind of bring out the other's shine. (You see my trick for hanging mirrors and pictures with those little double hooks on the back here!)
So there you have the plans. I hope I'll have the facelift completed within the next few weeks. Can't wait to share the steps with you along the way!
* * * * * * *
I'm thrilled to be working with Haagen-Dazs as a DIY brand advocate on their "
Moment for Me
" campaign. The campaign is all about recognizing and appreciating little moments we grab for ourselves in our busy lives. They provided me with a gift card to West Elm, which I used to purchase the capiz pendant. I'm so grateful to be able to focus on a fun little house project in the midst of all the dirt and stress of a move. Being able to work on a pretty bathroom makeover is truly a "moment for me" right now!
All opinions are my own. This is not a sponsored post.
buy Lipitor online
Buy plus Viagra