Not sure you've been keeping track, but it's been almost six months since my last recipe post.
This is obviously not because I've stopped eating or cooking, but I've been so consumed with settling into our new house that my focus these past several months has been more on home matters than food.
I just wasn't feeling that inspired to come up with new recipes to share here.
But guess what?  I'm feeling inspired again :)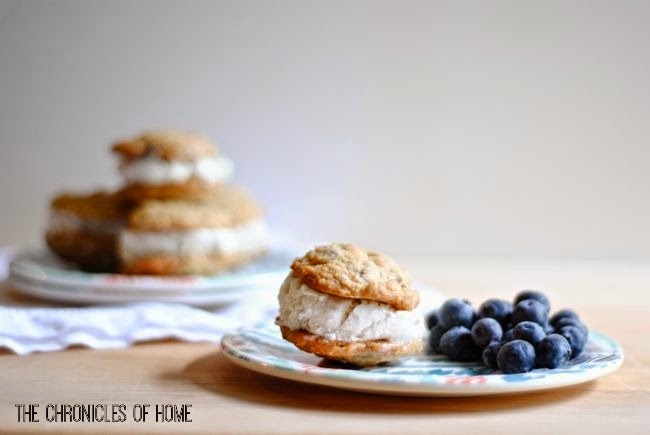 I've never made cookie ice cream sandwiches and had them not be a hit.  They're just one of those things that everyone seems to love.
For this version, I made a classic chocolate chip cookie with a little twist.  Instead of just semi-sweet chocolate chips, I also added white and milk chocolate chips.  Plus my two favorite chocolate chip cookie add-ins – pecans and coconut.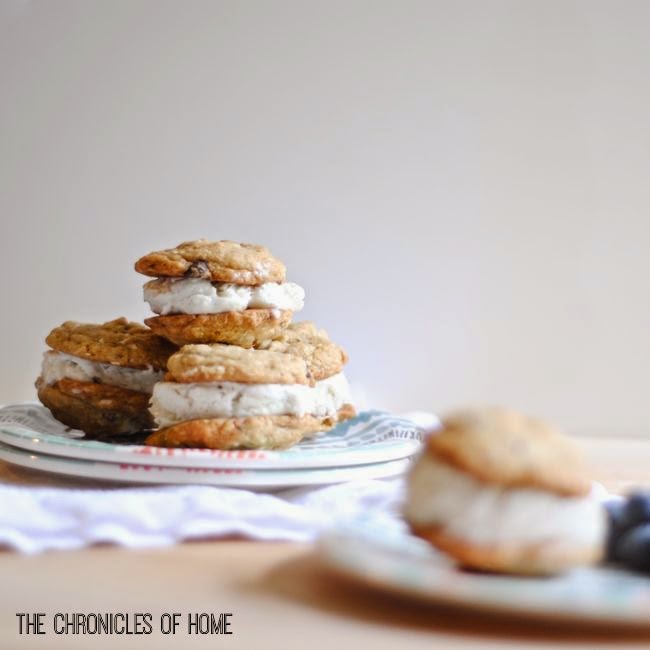 These keep sealed in the freezer for weeks, so make them ahead and try them for your next summer dinner party.  They're a surefire hit!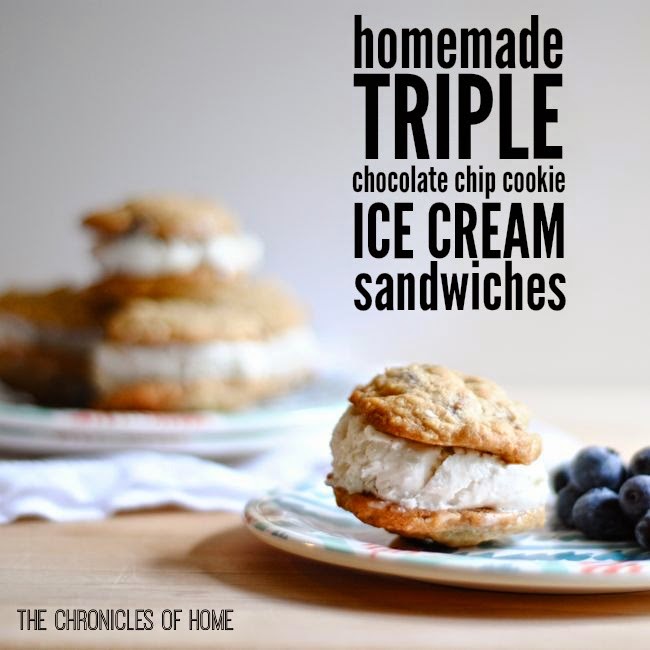 Triple Chocolate Chip Cookie Ice Cream Sandwiches – makes 15-17 sandwiches
Ingredients
1 1/4 c. all purpose flour
1 tsp. baking soda
1 tsp. kosher salt
1/2 c. cold unsalted butter
1/2 c. dark brown sugar
6 tbsp. granulated sugar
1 egg
1 tsp. vanilla extract
1/2 c. shredded unsweetened coconut
1/2 c. chopped pecans
1/2 c. semisweet chocolate chips
1/4 c. milk chocolate chips
1/4 c. white chocolate chips
vanilla ice cream (my favorite is Breyers Natural Vanilla)
Preheat oven to 350º.  Line two baking sheets with parchment.
In a medium bowl, mix flour, baking soda, and salt.
Place the butter and both sugars in the bowl of a mixer (or large bowl to use with a hand mixer).  Beat on medium for a couple minutes until smooth.  Add the egg and vanilla and mix until combined, scraping down the sides to ensure even mixing.
Add the dry ingredients and mix just until the dough starts to come together.  Add the coconut, pecans, and chocolate chips and stir until evenly mixed.  Don't overmix or you'll risk the cookies being tough.
Drop tablespoonfuls of dough onto the baking sheets, spacing 1-2 inches apart.  (This mini ice cream scoop is my favorite tool for quickly scooping cookie dough onto baking sheets!) Bake about 10-13 minutes until the edges are lightly browned.  Let cool for a few minutes on the baking sheets then transfer to cooling racks.
When completely cool, spoon vanilla ice cream on top of the flat side of one cookie, then press a second cookie on the top to make a sandwich.  Wrap in freezer paper or place in a resealable bag or container to store in the freezer.
*affiliate links used