Do you all have a punch list? A running list of small projects that you want to get done but they always seem to get pushed down in priority?
I sure do. Most things on it would take 10-30 minutes but it takes me ages to actually just do them.
One of those sad, neglected projects was the painting of the exterior door that leads from our garage into our mudroom. It was looking pretty banged up and the purpley mauve color was just odd with the rest of our house, which is grey, white, and black on the outside.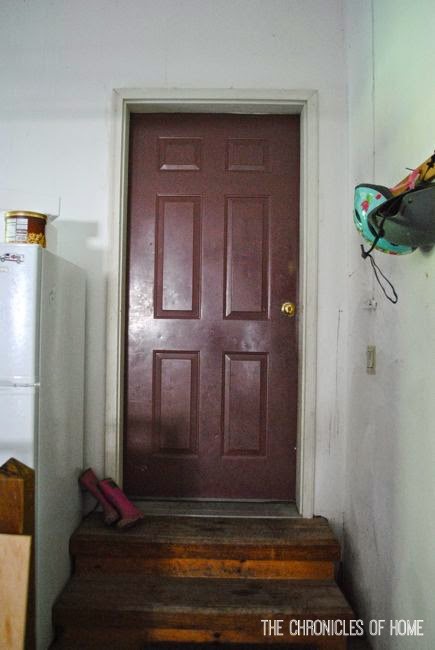 I really love the look of black doors and windows, and happily our new house has lots of them. Freshening this door with a coat of black paint was a no-brainer, and I chose Glidden® paint Onyx Black in exterior semi-gloss. I mentioned this on Instagram yesterday, but a fresh coat of black paint is one of the highest-impact small changes you can make to your house. It's so easy, but so powerful. I know it, and yet still always feel a little awed at the statement it makes when I paint something black.
Glidden paint offers a simplified palette, which made the color choice so easy – no standing in the aisle holding four different blacks up to the light trying to discern shades of green or blue or purple. There was one black, and it's the perfect true, pure black.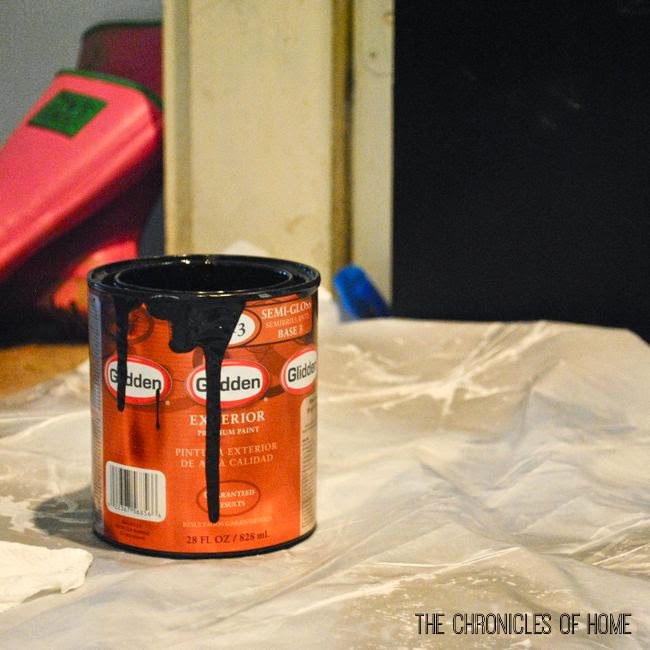 Now for that "paint a door in 30 minutes part." I have painted a lot of paneled doors in my life as a homeowner. The quickest way I've found to do the job is to use a combination of paint brush and small foam roller. I've broken it down into five easy steps for you. Follow these steps and you'll have one side of the door finished in about 30 minutes. Keep in mind you'll want to let the first coat of paint dry overnight, so this is 30 minutes of active time!
STEP ONE – Paint the recessed panels and around the doorknob with a paint brush. Watch for drips.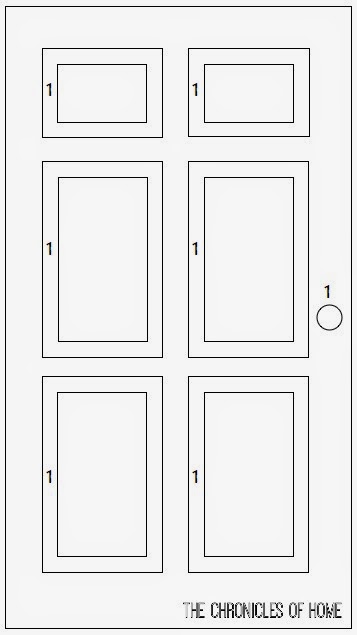 STEP TWO – Use a foam roller to roll paint on the centers of each panel.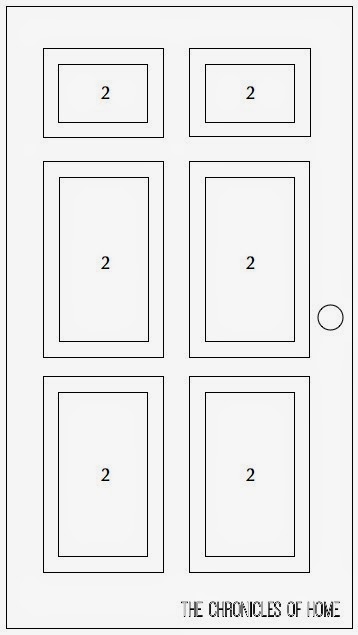 STEP THREE – Use the roller to roll paint down the center section of the door.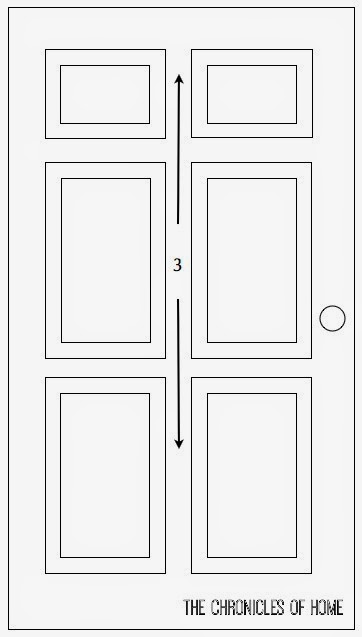 STEP FOUR – Use the roller to roll paint across the four horizontal sections above, below, and between the panels.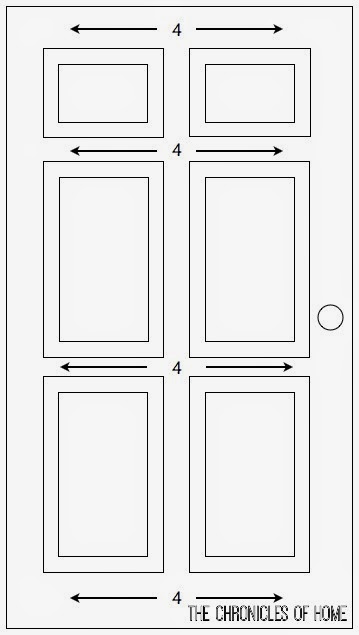 STEP FIVE – Use the roller to roll paint down the left and right vertical sections of the door.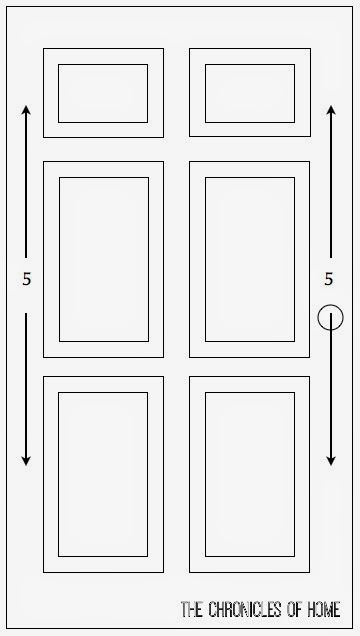 Let this coat of paint dry overnight, then repeat a second time.
We use this door a ton, going in and out of the garage to get to our cars, to get things out of the second fridge we keep there, or for me to work on projects in the warmer months.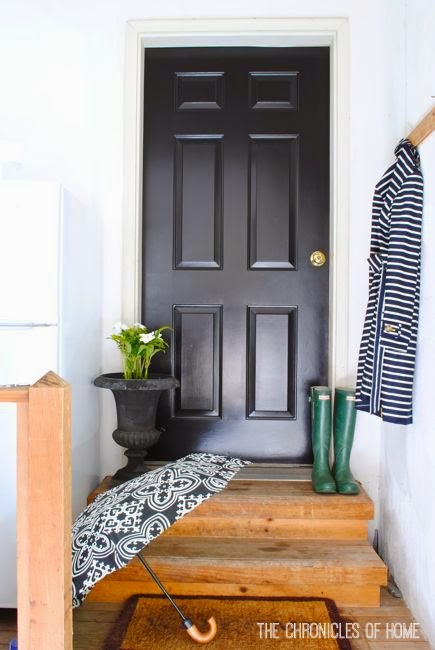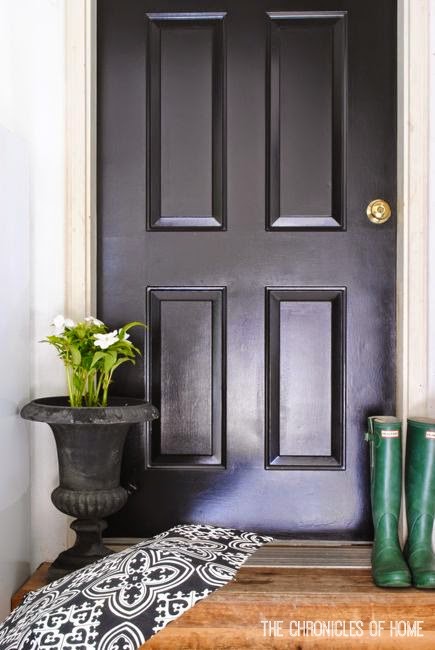 I can't tell you how great it feels to have a fresh, shiny door staring back at me now instead of the dingy mauve beast looking at me before!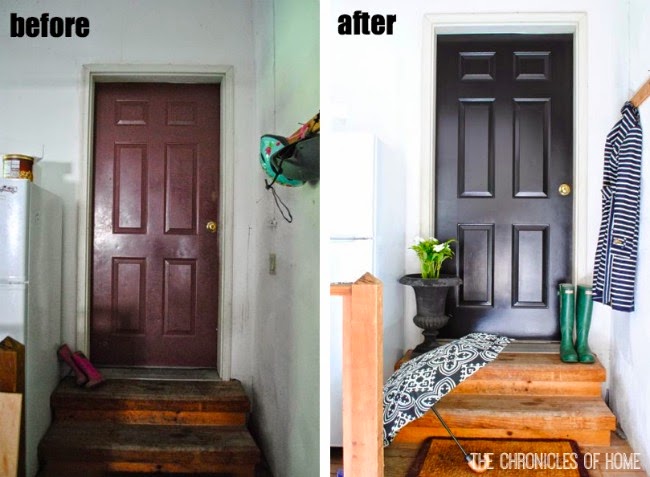 Disclosure: This post was sponsored by Glidden paint through their partnership with POPSUGAR Select.  While I was compensated to write a post about Glidden paint, all opinions are my own.