I should have deemed this "Giveaway Week," because yesterday I shared 23 custom-made free Christmas printables, today I have a super fun giveaway to tell you about, and tomorrow I'll be hosting a third one.
But let's talk about today's giveaway – it's a pretty fun one.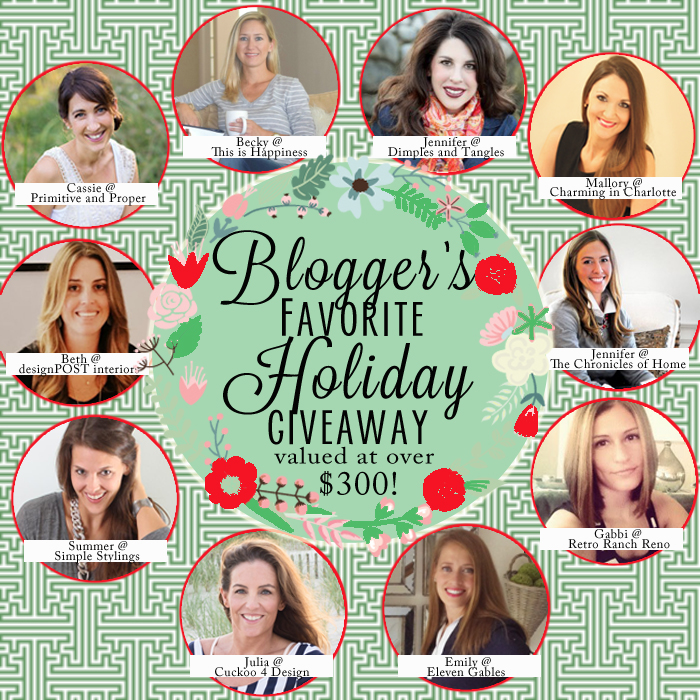 Mallory from Charming in Charlotte rounded up 10 bloggers (including herself) and asked us all to choose something we currently love, think would make a great gift, or an old favorite. Which we each did and are giving away to one of you! You can enter by using the Rafflecopter at the end of the post, and the winner will get ten fun packages delivered right to their doorstep.
I have to be honest, you guys – I wish I could enter. My heart skips a beat when there are packages at the door, but ten of them? With such fun things inside?! It's probably best I can't enter, I might be at risk of heart failure.
Read on for all the details on the contents of this giveaway, and remember to enter at the end!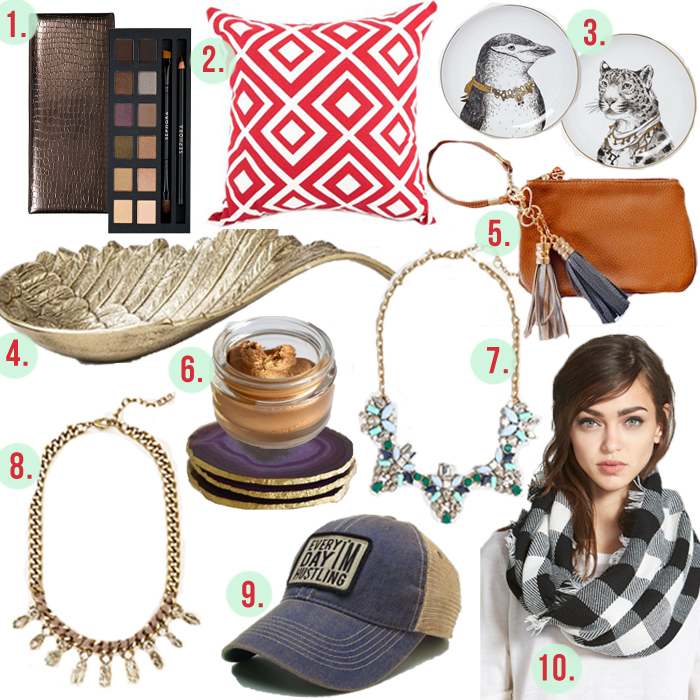 Sephora Collection Palette in Nude:

The Holiday's are the perfect time to step up your makeup game and this Sephora eyeshadow palette is my go to for Holiday parties. The colors last and are warm and perfect for winter tones. I also think that it makes the perfect stocking stuffer or gift for your girlfriend. -Mallory,

Charming in Charlotte
Geometric Pillow Cover + Your Monogram and 6 Diamond Oranments

: At Christmas, I'm all about adding little bits of sparkle around the house. I've had a set of these oversized diamond ornaments for a few years, and when I recently came across more at a local store, I thought you might like some too! They really stand out and shine with the lights on the tree. Also, I love a good monogrammed pillow, and one in a designer look-alike fabric for Christmas is even better! This is for the covers only, and I will monogram the center with the winner's initials of choice.

– Jennifer,

Dimples and Tangles

As most of my followers already know, I love including animals into my decor and I just adore the animal plates by Rachel Kozlowski for West Elm. To me they are the perfect combination of quirky chic animal decor and I have an entire wall full of them in our kitchen (which you can see

HERE

). There are some

colored

and

neutral plates. I like them all and they make me happy when I look at them.

– Julia, Cuckoo 4 Design

Nate Berkus Metal Wing Bowl: I am a sucker for all things Nate Berkus and this angel wing bowl is no exception! It's such a unique and affordable piece and the gold seals this deal. It will be an amazing conversation piece on your holiday entry table or for serving treats at Christmas dinner! -Summer, Simple Stylings
Suzanne Wristlet

and

Tassels

: I love this wristlet because it is the perfect size for a kid-free night out. I spend so much time lugging lunch boxes, diaper bags, jackets, sippy cups, and whatever else is thrown in my hands that I love to go out with as little as possible. It has enough room to hold the essentials: lipstick, my phone, and a credit card and it can be dressed up or down depending on the occasion. I added the tassels because, let's face it, everything is better with tassels!I grabbed couple of these for Christmas gifts and I love that I could play around with color combinations so they will perfectly fit the recipient! – Beth,

designPOST interiors
King Gold Gilding Wax: I

am giving away a jar of Gedeo King Gold Gilding Wax and a set of Threshold agate coasters for the lucky winner. I will run a DIY on the coasters and send the supplies for the winner to DIY their own coasters.

-Emily, Eleven Gables
J. Crew Crystal & Gem Cluster Necklace:

I love heels and a dress as much as anyone, but my favorite way to dress lately for the everyday is in classic, casual silhouettes with a bit of sparkle to add some interest. This necklace is currently on heavy rotation in my wardrobe! It's as perfect for a

Tuesday

afternoon as it is for a Saturday night. – Jennifer,

The Chronicles of Home
Marquise Crystal Statement Necklace:

The minute you brought up a favorite things giveaway, I immediately thought of jewelry. I have what some may call a "slight obsession"…especially when it comes to statement necklaces. They are such versatile pieces. They can be the finishing touch for a dressy outfit or add an unexpected pop to casual attire. To me, they are a must-have for any girl!

– Gabbi,

Retro Ranch Reno
Everyday I'm Hustlin' Hat:

I chose this because it's on my own wish list! I love the trucker style of this hat, and love to wear hats! I also love the sentiment and I think it's one we can all relate to, especially around the Holidays! – Cassie,

Primitive and Proper
Steve Madden Buffalo Plaid Infinity Scarf: One of my favorite gifts to give is a chic scarf. With all the pretty designs, sizes, materials, and colors it makes it easy to find one to fit everyone's style. I love how adding a scarf to a simple outfit makes a huge statement and adds an instant pop of color. It's a fun, classy, versatile accessory that makes a great gift!

– Becky,

This is Happiness
I hope you love this collection as much as I do, and if you win, well, it's up to you whether you keep all the goodies for yourself or share the love and gift some of it to your friends and family! It's our way of saying thank you for being such wonderful, supportive readers. Now enter!! And don't forget to come back tomorrow for my last giveaway of the week!