This post is sponsored by The Home Depot.

There are three things I can reeaaaally geek out about.
National parks
Vintage furniture
Household and DIY tools
Today I'm talking about two of those things.  My love for national parks will have to wait for another time :)
One of the challenges of doing so many DIY projects around the house as well as the upholstery and refinishing projects I do for local clients is the MESS that is pretty much a constant state of affairs around my house.  I try not to leave too much of a wake behind me but it doesn't usually make sense to completely clean up when I'm going right back at the same project the next day.
However.  I have two young daughters and need to be aware of safety.  So while I might not put everything away at the end of each day, I do take the air out of nailers and staplers so they can't shoot a stray accidental weapon through the air and I clean the floor of nails and staples.
Here's my first geek-out moment.  That cleaning of the floor just got SO much simpler.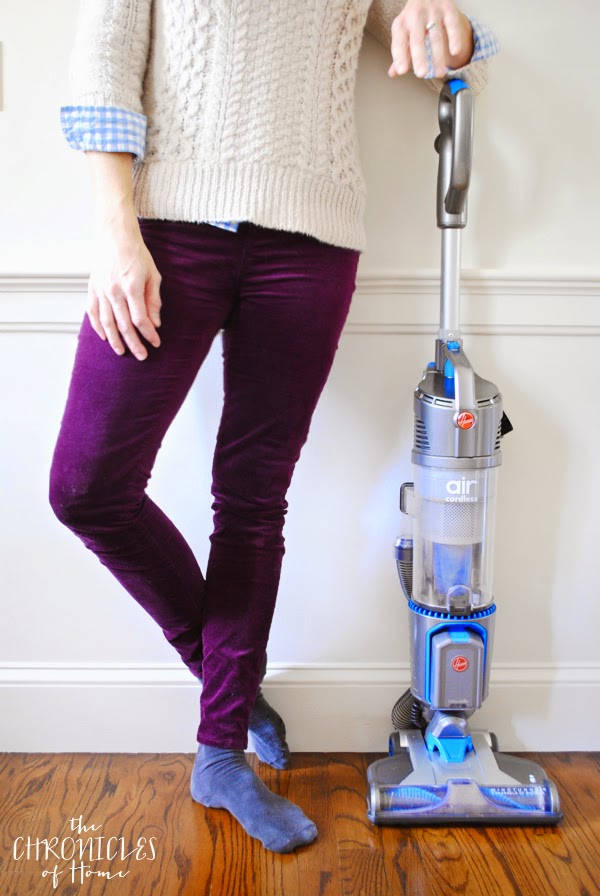 As chance would have it, the vacuum I got as a wedding shower gift eight years ago hasn't been working so well for me lately.  Several bells and whistles have broken and the suction is…ehhhhhhh…  So I was perhaps extra enthusiastic about taking the new
Hoover Air Cordless Series 3.0 Bagless Upright Vacuum
for a spin around my house and put it to the test while working on a piano bench reupholstery job for a friend.
Here's what the piano bench looked like when I got it.
My friend chose a much more contemporary blue leopard fabric that just instantly updated the look of the bench.  I'm not giving a tutorial on this today – I wrote about
reupholstering a piano bench
a couple years ago, with the only change being I added some cambric cloth to the back of this one.
But here's my second geek-out moment.  While I was recovering the bench I realized that the bottoms of the legs had little brass feet, but they were so tarnished they looked the same color as the wood.  A little bit of brass polish and some elbow grease and they were positively gleaming.
These are the kinds of little details that I love so much about vintage furniture.  Reupholstered, of course.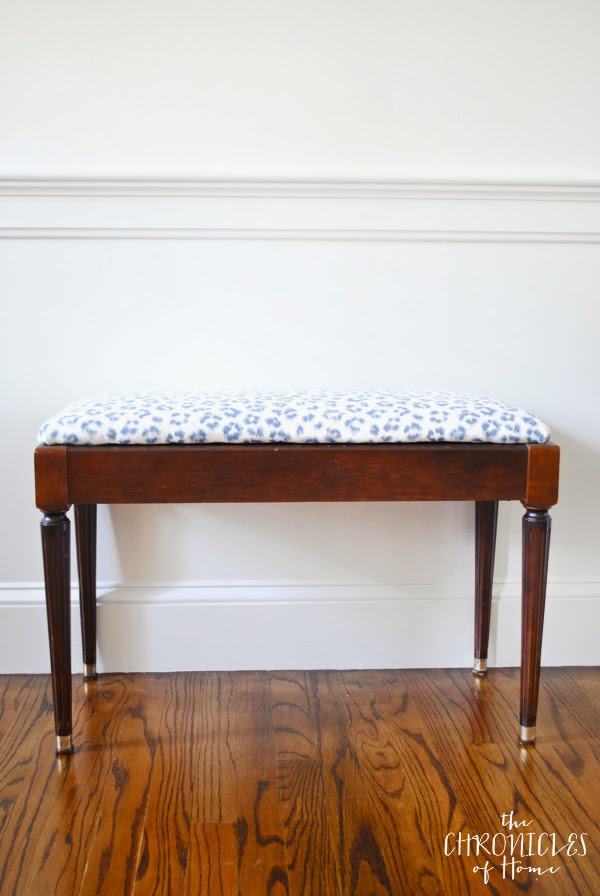 Just look at the before and after.  Those feet.  I die.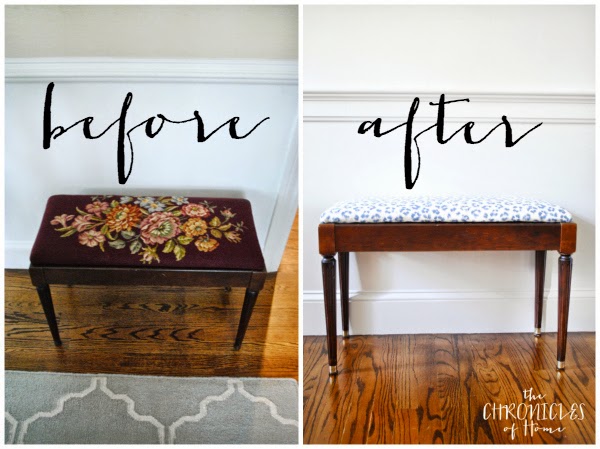 But back to the mess of actually doing the work.  I worked on the piano bench in an empty space in my family room and was left with a floor full of threads, wood bits, staples, and vaguely rusty upholstery tacks.  Definitely don't want to step on those.
The Hoover Air Cordless is, as evidenced by the name, cordless.  No cords.  Not one.  It comes with two rechargeable LithiumLife™ batteries that provide an average of 50 minutes of fade-free power, meaning the power of the vacuum doesn't dwindle as the battery wears down.  I popped one of the batteries on the vacuum and turned it on.
I can't say I expected it not to work like it was supposed to, but it picked up every speck on the floor just effortlessly.  Despite its petite size and weight (9.9 pounds) it really works like any big, heavy vacuum I've ever tried, and even better.  It steers like a dream, won't lose suction, and have I mentioned it's cordless?  Can you tell I love that feature?
No more tripping over cords, no more pulling the cord out of the wall while you're vacuuming, no more searching for a plug when you're cleaning the stairs.  They're small conveniences but they're big conveniences too.  I feel like my vacuuming life has just been immensely improved for the better.
I also took the vacuum for a spin on the carpet and experienced the same performance, in fact, I was sort of appalled at how much dirt, dust, and debris I could see in the canister.  Despite it's light weight, this vacuum is no…lightweight.
Can you tell I'm smitten?
You guys…it gets better…
Home Depot is giving a Hoover Air Cordless away to one of you!  I told you yesterday, this is a big week for giveaways here on the blog!  You can enter using the Rafflecopter below:
Are you ready to clean your house in a whole new way??  Because I sure am.
While this might read like a very sponsor-y sponsored post, I would only ever share products with you that I truly love.  My opinions are always sincere and my own.  Always.


I acknowledge that The Home Depot is partnering with me to participate in this Hoover Air Cordless program (the "Program"). As a part of the Program, I am receiving compensation in the form of products and services, for the purpose of promoting The Home Depot. All expressed opinions and experiences are my own words. My post complies with the Word Of Mouth Marketing Association (WOMMA) Ethics Code and applicable Federal Trade Commission guidelines.