Hi all! I've really shut it down the past week as far as my computer and phone go and it's funny how that can make me feel at once a little adrift and also so totally refreshed. I'm looking forward to revving the blog back up in 2015 but have also really enjoyed saying "yes" every single time my daughters asked me to play with them and spending time with extended family around the holidays.
This week will still be a little quiet around here but I'm starting to think about projects in 2015 and prioritizing how I'll start to work through them and wanted to tell you about one particular big one on the horizon.

In 2015 we'll be moving some of our focus to the outdoors and we're looking into a deck builder! I'm so excited to be partnering with Trex on this project as I've long admired their product for its gorgeous looks and amazing low maintenance and durability.
Our backyard has so much potential – we knew it from the first time we laid eyes on it about a year ago – but it needs a little TLC. The yard is large and level with a fenced garden in one corner. We plan to keep the garden but push it a bit farther back and build a new fence around it.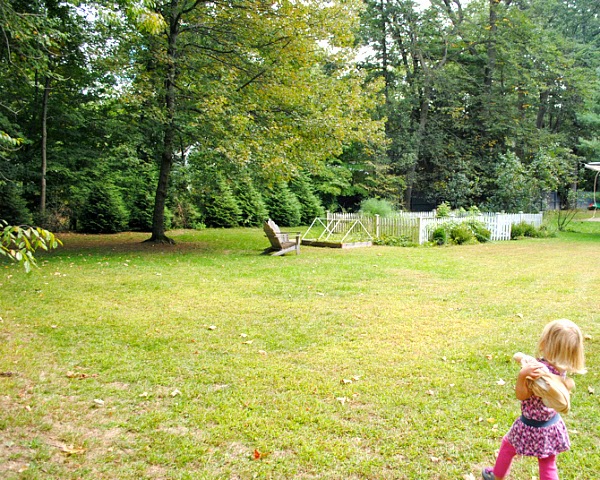 The back of the house has a landing area with steps down to the yard off the back door and a small patio surrounded by a boxwood hedge. This is where we'll be focusing our attention in 2015.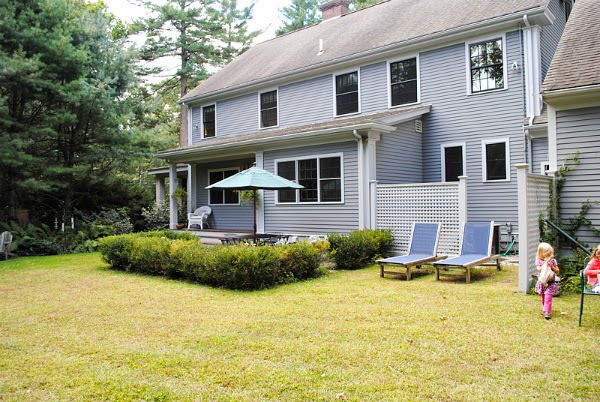 That landing area will be removed entirely and in its place will go a Trex deck with built-in flower boxes, a railing on one side, and wide stairs out to the yard and down to the side where we plan to build (probably in 2016) a larger paver patio than what's there now with a built-in fire pit.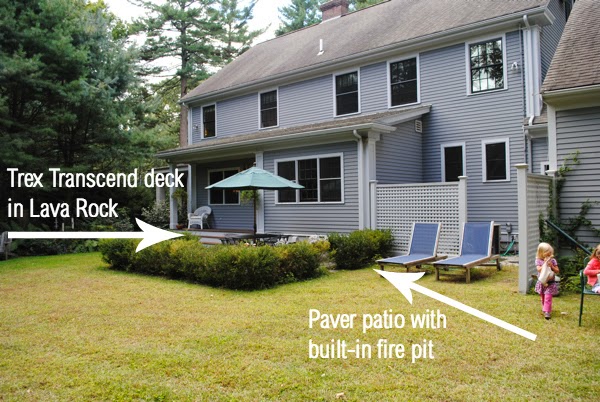 I designed the general layout of the deck and oriented it so it would feel very open to the yard and to the paver patio that we'll build later. I wanted to be sure that the entire outdoor living space would feel connected when all the work is done. We worked with a local lumber yard to help us with a rough mock-up of what the new deck will look like.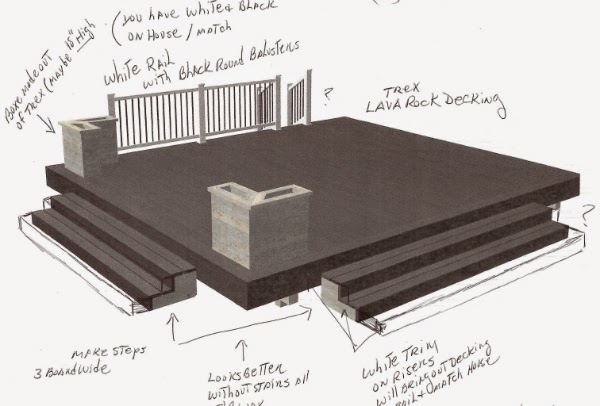 I'll plant herbs in the flower boxes and we're planning to put our outdoor table and chairs on the deck to use it as an outdoor dining room. We won't be able to get started on everything until sometime in April of this year when the ground has thawed, but Scott and I are so excited to get working on this and start prettifying the backyard!
Trex offers a "good, better, best" decking line-up, with three distinct high-performance decking collections that allow consumers to choose the ideal product to meet their outdoor living needs. We'll be working with their "best" line, Trex Transcend, in the Lava Rock color.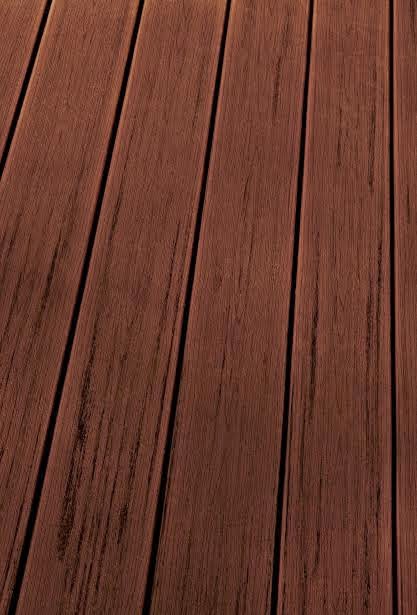 The Trex Transcend collection is designed to outperform wood, composite, and PVC for decades. Each deck board has a natural, wood-like grain pattern with a satin finish that feels comfortable underfoot. Engineered with an exclusive low-sheen, high-traffic formulation, Trex Transcend decking resists fading, staining, scratching and mold, and will not rot, warp, crack or splinter. Upkeep is hassle-free and requires no sanding, staining or painting.
Unlike wood – which requires regular maintenance involving lots of time, materials and labor – Trex
decking
n
eeds
only
an occasional soap-and-water cleaning to stay looking and performing like new for decades to come.
Trex Transcend decking is offered in eight colors inspired by the outdoors, from earthy classics with deep wood grains to tropical colors that feature subtle shading, natural variations and the distinctive striations of tropical hardwoods – without the environmental impact. In fact, Trex decking is
manufactured of 95 percent recycled content – including reclaimed wood, sawdust and household plastics, such as newspaper sleeves, cereal box liners and sandwich bags.
The entire Transcend decking collection is backed by a 25-year Limited Fade and Stain Warranty that is unprecedented in the industry.
You can follow Trex on Facebook, Twitter, and Pinterest to stay up date on their latest products and innovations. I can't wait to take you along for the ride on our first deck build with these amazing products!
Disclosure: Trex is providing me with materials and one day of on-site help but I designed the deck myself and will be performing all of the labor to build it. As always, I only share products I sincerely recommend and all opinions expressed are my own. Thank you for supporting the companies that make this blog sustainable!