Oh my gosh, you guys.  Did you read the title of this post?  It's an epic day here at The Chronicles of Home – I have completed, and now published, my very first video tutorial!  You can actually WATCH me reupholster a dining room chair seat.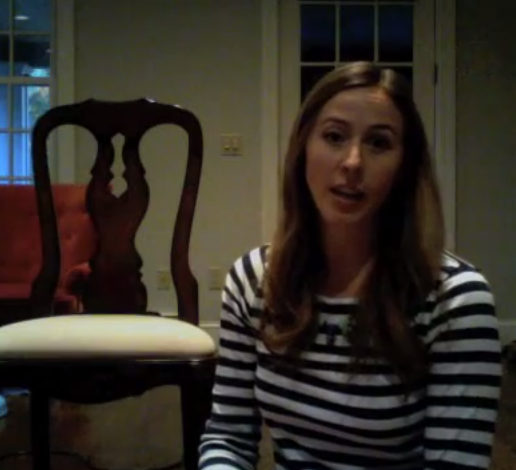 It is a very exciting video.
Actually, it's not, but if you're the kind of person who likes to watch how something is done, then I hope this will be helpful.
You can also hear what I sound like, Yankee-ish accent and all.
If you prefer the photo and text kind of tutorial, I actually have one for you on how to reupholster dining room chairs HERE.
A quick run-down of the materials you need to do this job:
fabric (mine is Malta Mulberry by Lacefield Designs)
sharp scissors
a staple gun (I prefer a pneumatic one with an air compressor but an electric one works fine too)
screwdriver or allen wrench
tack puller
The absolute
right
 way to do this job is to use the tack puller to help you remove the original fabric, and then replace the black cambric cloth under the chair seat once you've got the new fabric on (details on this in
my original tutorial
).
I rarely do this but I decided to go right over my old fabric for this job.  The original fabric wasn't old or stinky and it was nice and smooth so it was a fine base for my new fabric.  This also let me bang out eight chairs in an afternoon, and it's hard to resist that kind of turnaround time!
I've already shown you the finished chairs in my
dining room "reveal"
back in November, and, wow, did this reupholstery job have big impact.  I am still utterly in love with the fabric (
Malta Mulberry
 by 
Lacefield Designs
).  It's such a fun punch of color and I really adore the pattern.
Sooooo…here you go!  Be kind.
Do I sound like you thought I would?!

– – – – – – –