Mmmmm…yum yum yum yum yum. That's pretty much how I feel when I'm eating these coconut raspberry lemon bars. They resemble classic lemon squares, but the flavor additions of raspberry and coconut really take them over the top.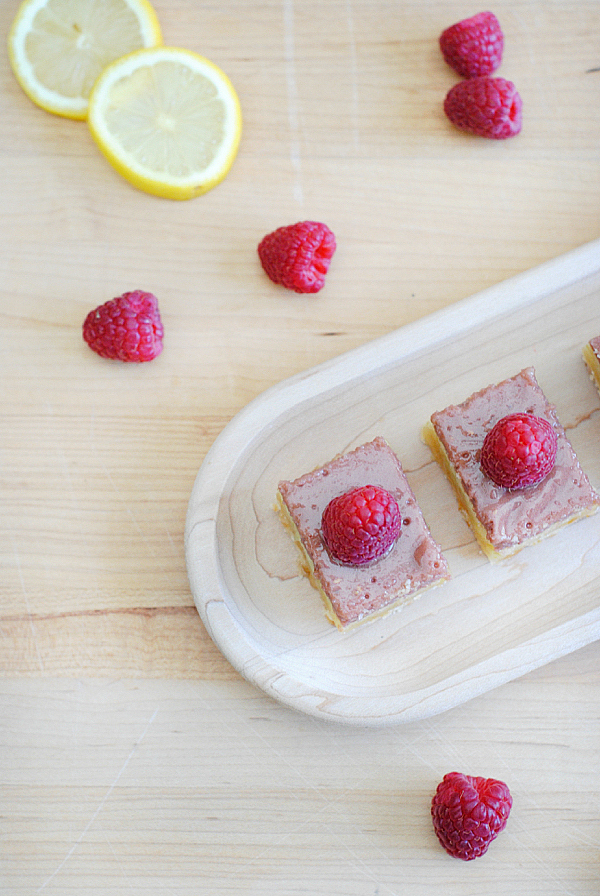 I took my very favorite lemon squares recipe, which has a coconut shortbread crust, and added another layer of raspberry filling on top of the lemon one. I love the way they look when cut so you can see the layers of color.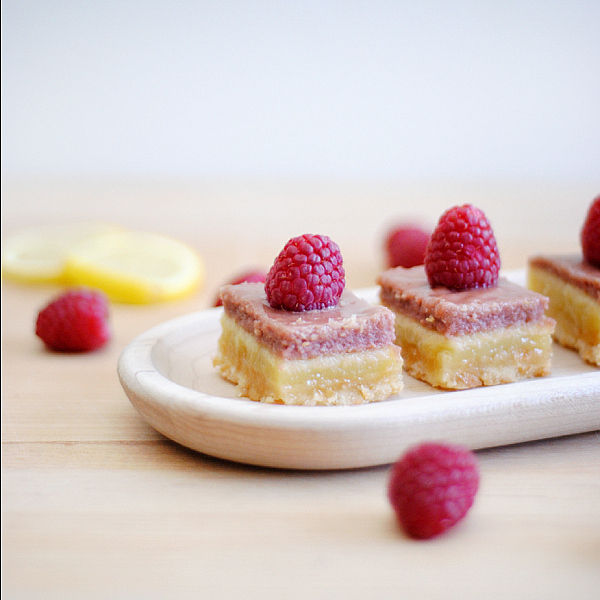 I cut these rather small so each square was about a two bite serving. Perfect for grabbing a little treat for yourself out of the fridge or when you're hosting a party where people are grazing and just want little bites of this or that.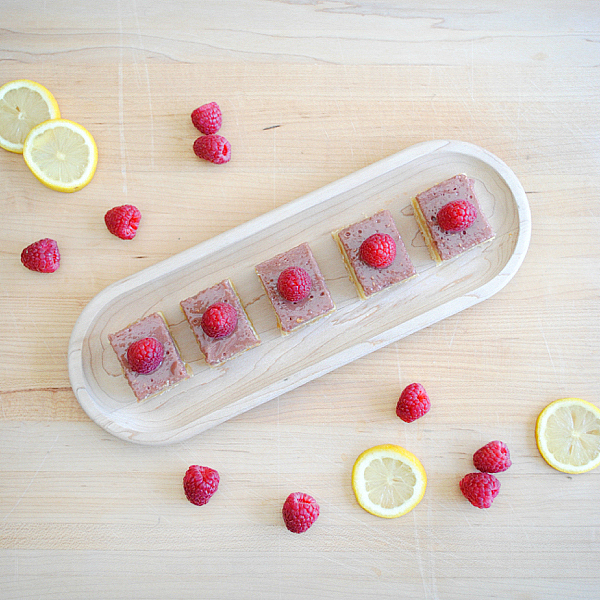 The single raspberry on top lets people know that there's some raspberry flavor involved and also adds a pleasant fresh sweet-tart note to the bars. Plus it's pretty.
I may just have to go nibble one from the fridge right now…
 Coconut Raspberry Lemon Bars
Ingredients
CRUST
1 1/2 c. flour
1 c. sweetened shredded coconut
1/2 c. powdered sugar
1/2 tsp. kosher salt
1/2 c. + 3 tbsp. unsalted butter
LEMON FILLING
1 1/4 c. sugar
zest of one lemon
5 tbsp. fresh lemon juice
3 large eggs
1/4 c. flour
RASPBERRY FILLING
1/2 c. fresh or thawed frozen raspberries
1/2 c. sugar
3 tbsp. water
3 large eggs
1/4 c. flour
Fresh raspberries for garnish
Preheat oven to 350º. Line a 13x9x2 with nonstick foil.
Use an electric mixer to beat flour, coconut, powdered sugar, and salt until blended. Add butter and beat on medium speed until clumps form.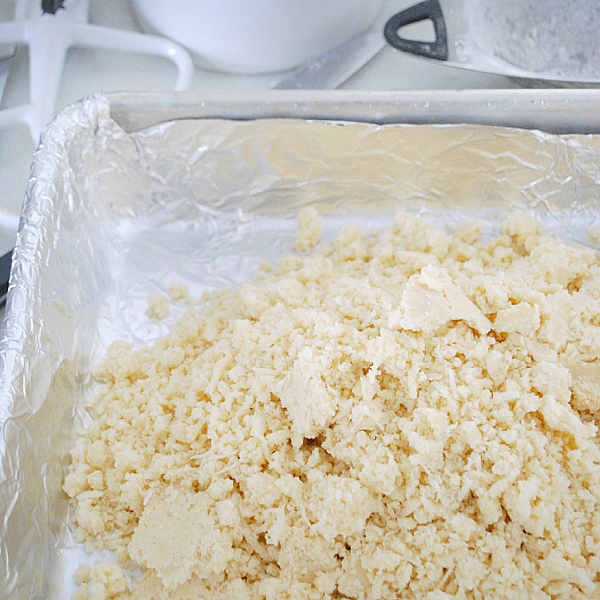 Pour into the prepared pan and press dough onto the bottom and slightly up the sides. Bake crust until golden, about 20 minutes.
While the crust is baking, put sugar and lemon zest in a food processor and process until zest is finely ground.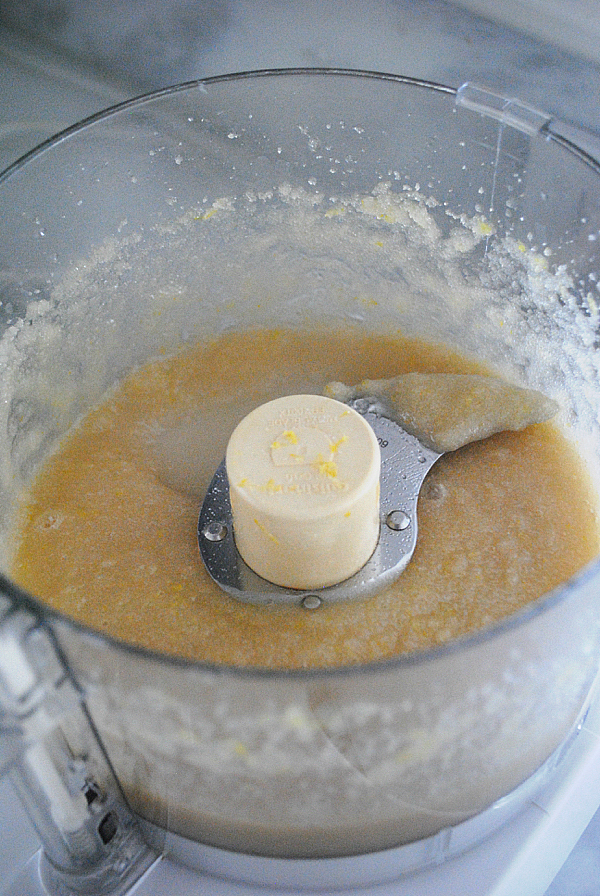 Add lemon juice and process to blend. Add eggs and process to blend. Add flour and a pinch of salt and pulse until mixture is smooth.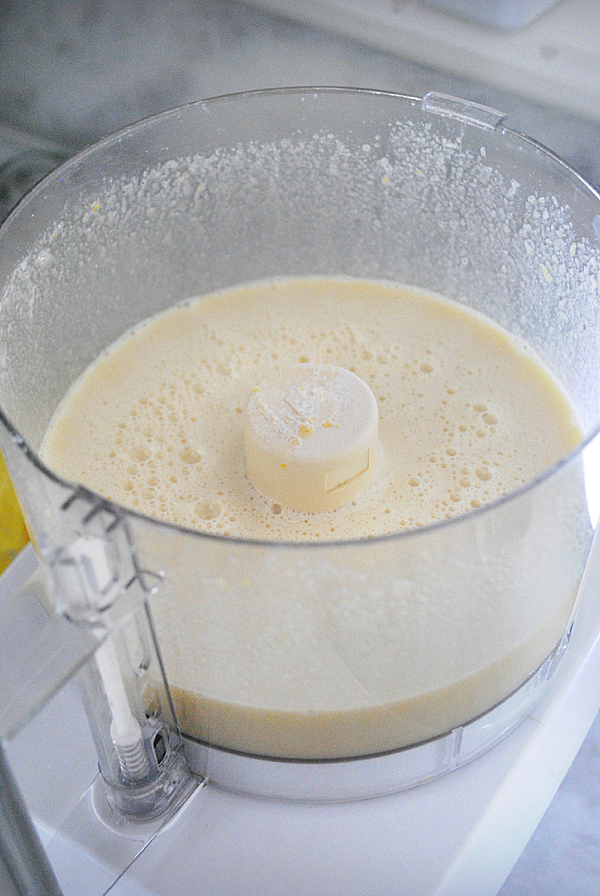 When crust is finished baking, reduce oven temperature to 325º, pour the filling over the hot crust, and return to the oven for 15 minutes.
Meanwhile use the food processor to puree the raspberries, sugar, and water until smooth.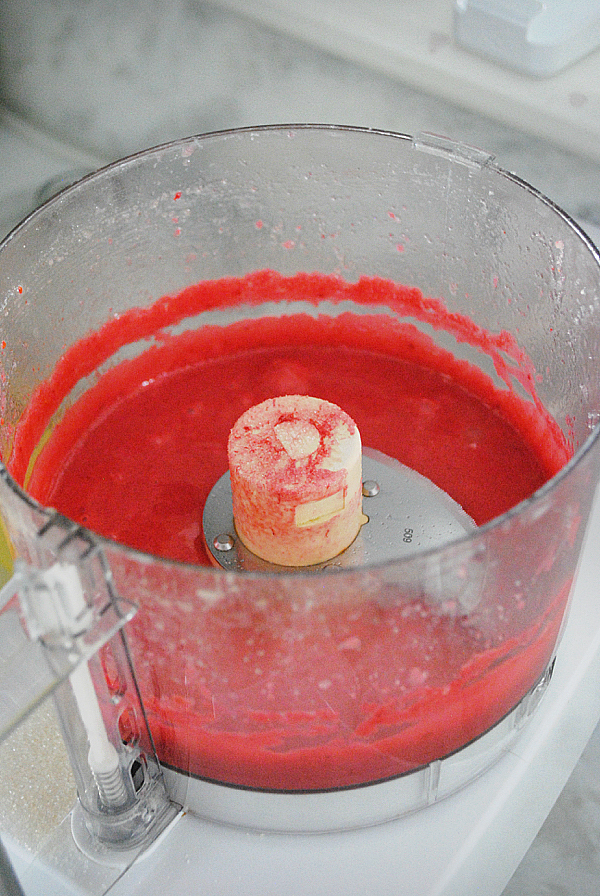 Add the eggs and process until smooth. Add the flour and pulse until smooth. The raspberry filling darkened after these additions, though I'm not really sure why!
Once the lemon layer has been in the oven for 15 minutes, remove it and pour the raspberry filling over top. Return to the oven for 20 minutes, until the raspberry layer is set.
Remove from the oven and let cool completely in the pan. Once cooled, use the foil to lift the bars out of the pan. Cut into small squares and garnish each with a fresh raspberry. Store in the fridge until ready to eat.