Okay. Raise your hand if you love zucchini. Anyone? Who's looking for a great zucchini recipe right about now?
Let's face it – summer's most ubiquitous vegetable is also everyone's favorite vegetable to hate by late summer. There's just so much of it by this point in the summer. I've never hated zucchini but I've never really loved zucchini either.
Until now. This recipe was a revelation for me and truly made me fall in love with zucchini again. My aunt threw together something similar when I saw her a few weeks ago and I couldn't stop eating it, it was just so delicious.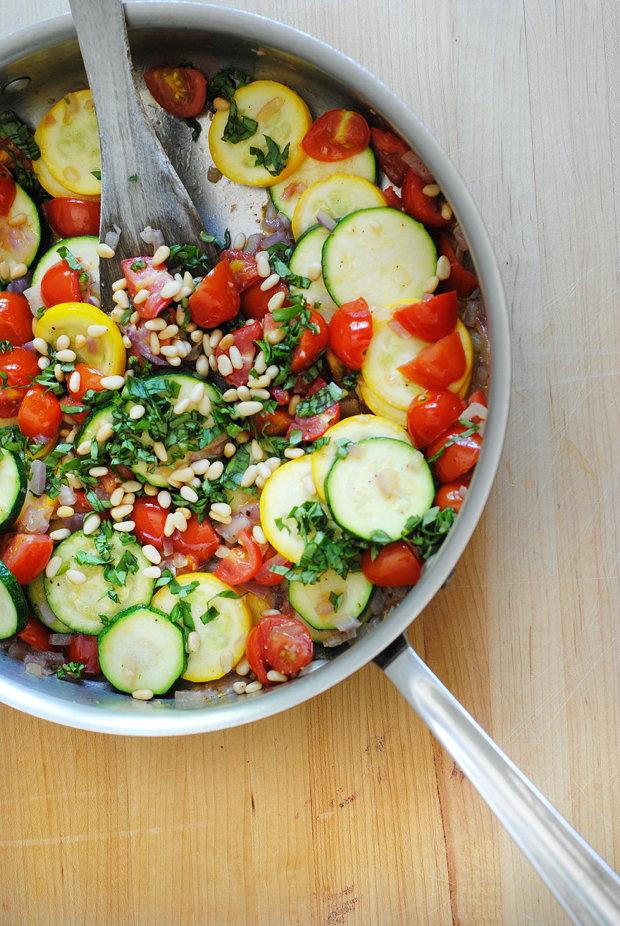 It just tastes like summer, and is everything I love about cooking with summer produce – fresh, simple, light, flavorful, excellent warm, at room temperature, or cold. I've been eating it as a dinner side dish, as a lunch, even as an afternoon snack straight from the fridge.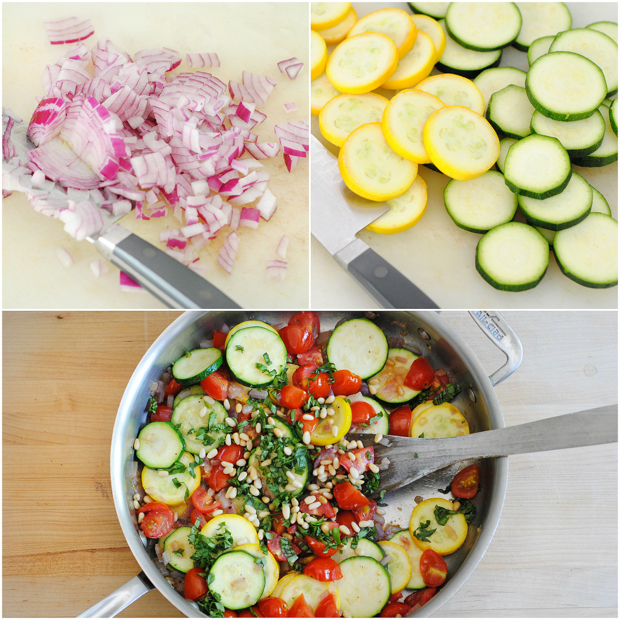 For me, the key to letting zucchini shine in its own right is to undercook it. It loses its appeal when it turns mushy and limp. I sautéed the zucchini here for no more than five minutes so it stayed brightly colored and firm, but cooked just enough to absorb the other flavors and lose its raw taste.
So go ahead, fall in love again. With zucchini.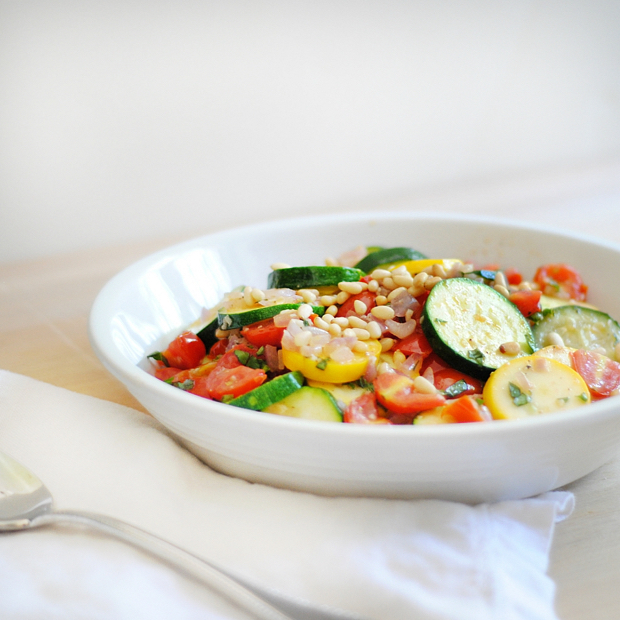 Quick Zucchini and Tomato Sauté
A quick, healthy, and delicious recipe featuring fresh summer zucchini, tomatoes, and basil. So simple it has no right being so delicious!
Recipe type:
Side dish, lunch, or snack
Serves:
4 side dish servings
Ingredients
3 tbsp. extra-virgin olive oil
½ red onion, chopped
3 garlic cloves, minced
1 medium zucchini, sliced
1 medium yellow squash, sliced
pint grape tomatoes, halved
salt and pepper
¼ c. pine nuts, toasted
¼ c. basil, chopped
Instructions
Heat olive oil in a sauté pan over medium heat. Add red onion and garlic and sauté until onion is translucent, about 5 minutes.
Add zucchini, yellow squash, and tomatoes and sprinkle with salt and pepper. Toss to combine and cook, stirring occasionally, no more than five minutes so zucchini is still bright green but has lost some of its crunch.
Remove from heat and stir in pine nuts and basil. Serve warm, cold, or at room temperature.