Do you love pulled pork? Because I loooooooove pulled pork. And I'm going to tell you how to make foolproof, perfect pulled pork with very little effort. It's pretty much my favorite. And here is why.
Pork shoulder is a really inexpensive cut of meat.
It requires almost no prep before cooking.
It comes out perfect every time.
It makes a ton, so for the same amount of effort I can freeze extra and have enough for three-four meals.
The meat is succulent and tender and wonderful.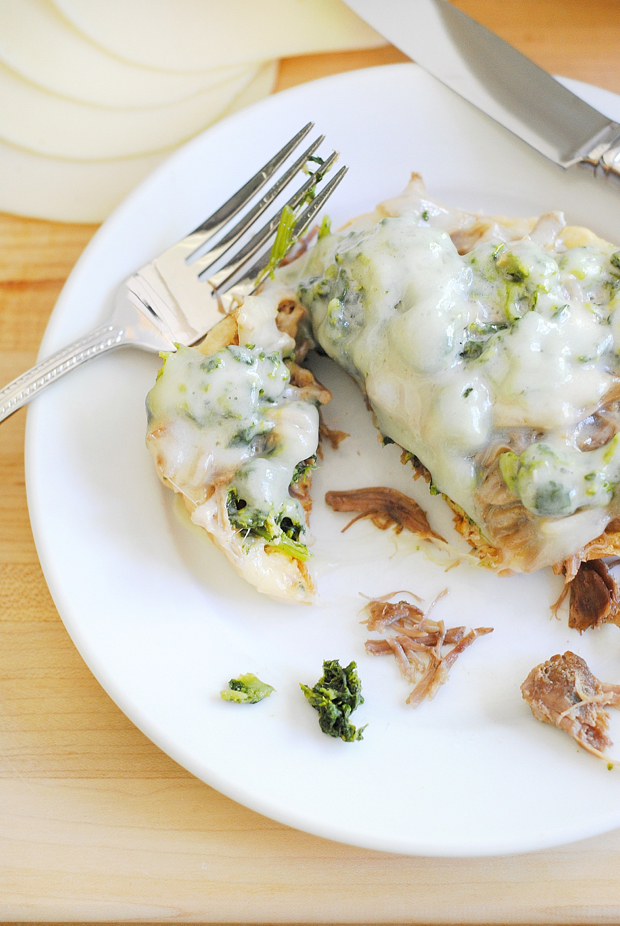 I also love how many different ways pulled pork can be used. Some of my favorite ways to use it are in pasta sauce to make a rich ragu; mixed with barbecue sauce, topped with creamy coleslaw, and piled on a soft roll for a barbecue pulled pork sandwich; layered on bread with dijon mustard, ham, Swiss cheese, and pickles then grilled to make a Cuban sandwich; on top of ultimate pulled pork nachos with buttermilk hot sauce; and how you see here – on half a roll, topped with broccoli rabe that's been blanched in salted water, and a slice of provolone cheese on top, broiled to melty perfection. This combo is my mom's brainchild and it is deeeelicious.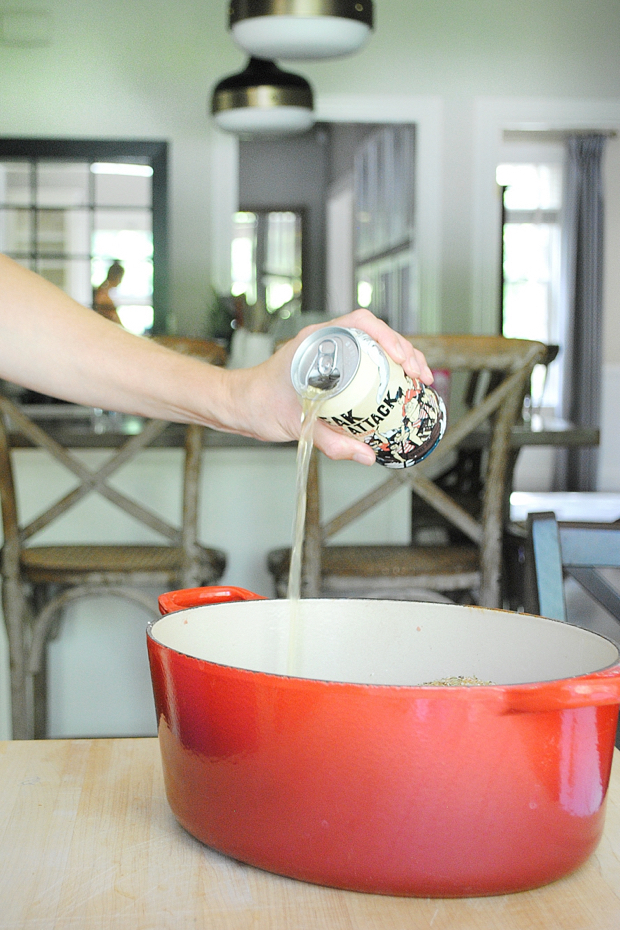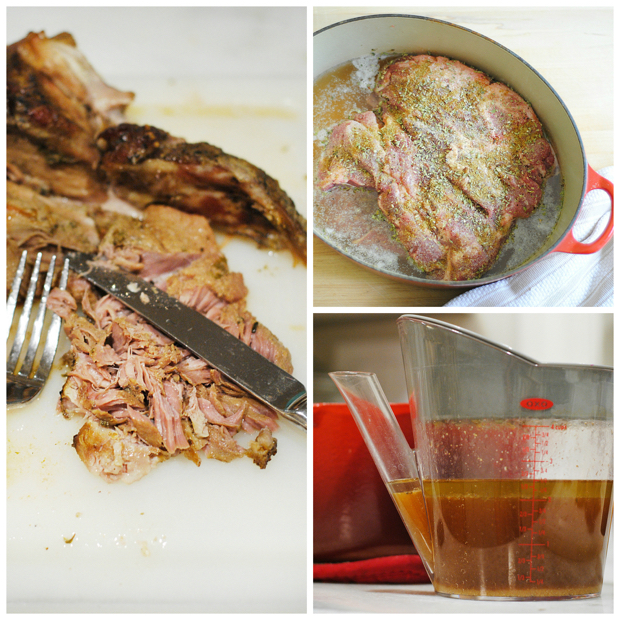 Possibly the best news is how totally easy and totally foolproof it is to make perfect pulled pork. You don't need any measuring implements, just a few simple ingredients and you're ready to pop it in the oven or Crock Pot in about five minutes and when you return it will be to meltingly tender meat. The only part of the process that requires a little time is shredding the meat and separating the fat from the meat. But it goes pretty quickly and then you have a pile of pork left to be divided up and used in any number of meals!

Perfect Pulled Pork
Foolproof pulled pork, ready for the oven in five minutes. Rich and tender, perfect for so many different meals!
Recipe type:
Meat, Main Course
Ingredients
3-5 lb. pork shoulder
kosher salt
black pepper
dried oregano
dried cumin
garlic powder
onion powder
1 can or bottle of beer (usually a lager or IPA but whatever is on hand is fine)
water
Wondra or all purpose flour
Instructions
Preheat oven to 325º.
Place pork shoulder in a large Dutch oven and sprinkle on one side with salt, pepper, oregano, cumin, garlic powder, and onion powder - no set measurements, just a light coat of each. Turn the pork shoulder over and repeat with the spices. Pour the can of beer around the pork then add water to cover the meat by about two-thirds.
Cover and place in the oven for four hours, until the meat is falling apart. Alternatively, do all of the above in a Crock Pot and cook on high for four hours or on low for eight hours.
Remove the meat from the cooking liquid and let cool slightly then use a fork and dinner knife to separate the meat from the fat. Discard the fat. Shred the meat with the fork and knife.
Pour the cooking liquid into a gravy separator so the fat rises to the top. Pour the broth only (you want about 1-2 cups) back into the Dutch oven and bring to a low boil over medium-high heat - add a bit of water if there is not enough or if the cooking liquid is too salty. Stir the flour (2 tbsp - ¼ cup) until the broth has thickened to the consistency of thin gravy. Stir into the meat.