Disclosure: This post was sponsored by Unstopables through their partnership with POPSUGAR. While I was compensated by POPSUGAR to write a post about Unstopables, all opinions are my own.
Poor nightstands. So often, they're the last household tables to get any love. It's so easy to focus your attention on coffee tables, end tables, kitchen counters…you know, the spots that people actually see when they come to your house. But here's the thing…you see your nightstand every day and beyond just pretty looks, a nightstand has the ability to really work for you and provide storage and functionality that makes both bedtime and waking up that much easier. It also has the potential to turn into a piled-up mess…and believe me, mine goes there sometimes. But today I've put together three different looks showing you how to style a nightstand with both beauty and purpose in mind.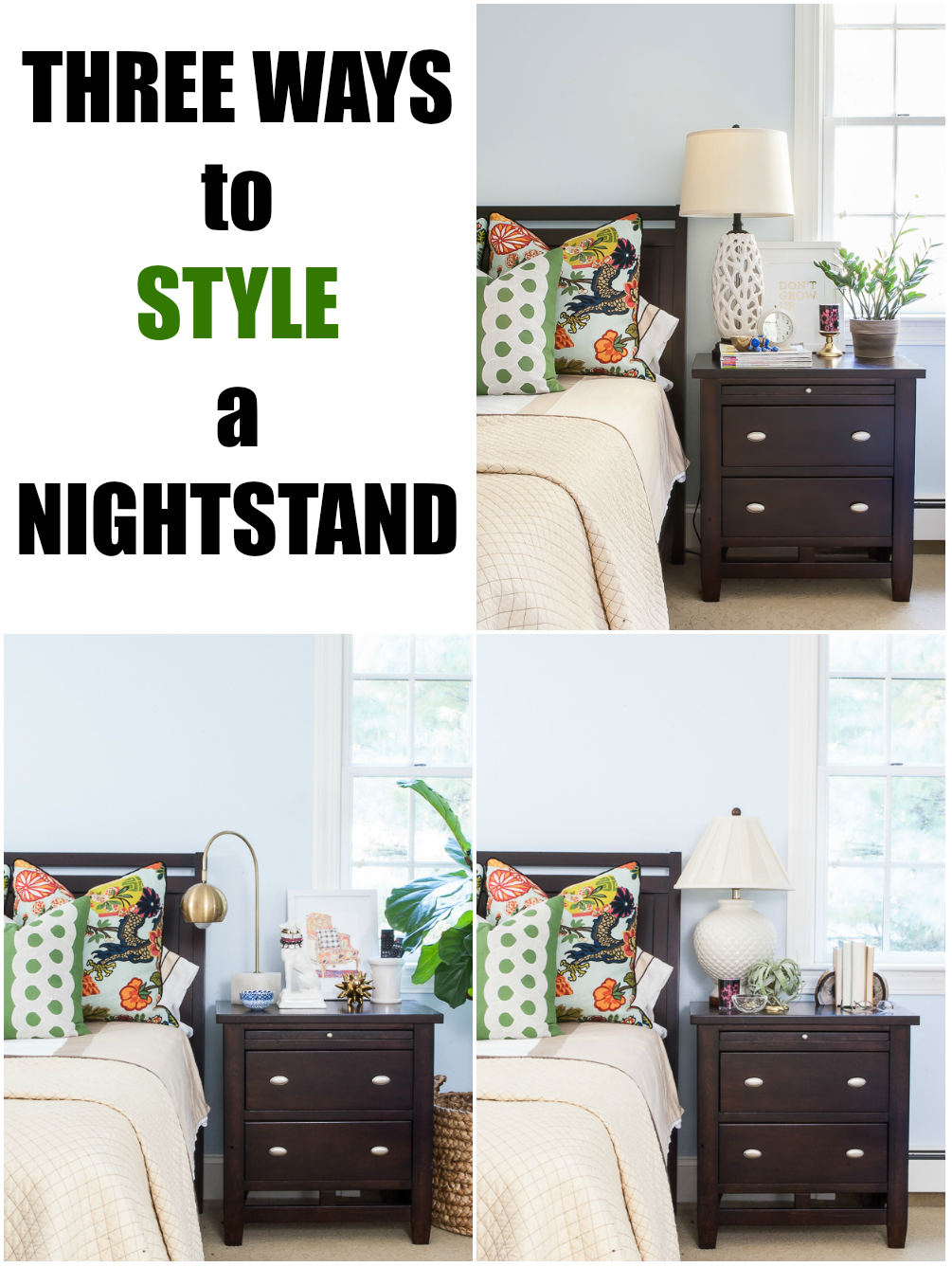 I think the first thing to consider when you're deciding how to style your nightstand is how you use your bedroom. What do you do before bed? Are you a TV watcher? A magazine or book reader? Do you take jewelry or glasses off before bed and put them on shortly after waking? Try to find solutions or storage for the things you find yourself using or doing day after day. A couple of constants I like to have by the bed though are a plant, a lamp, and a bowl of some sort to hold odds and ends.
For the first look I used a classic lamp and shade to start.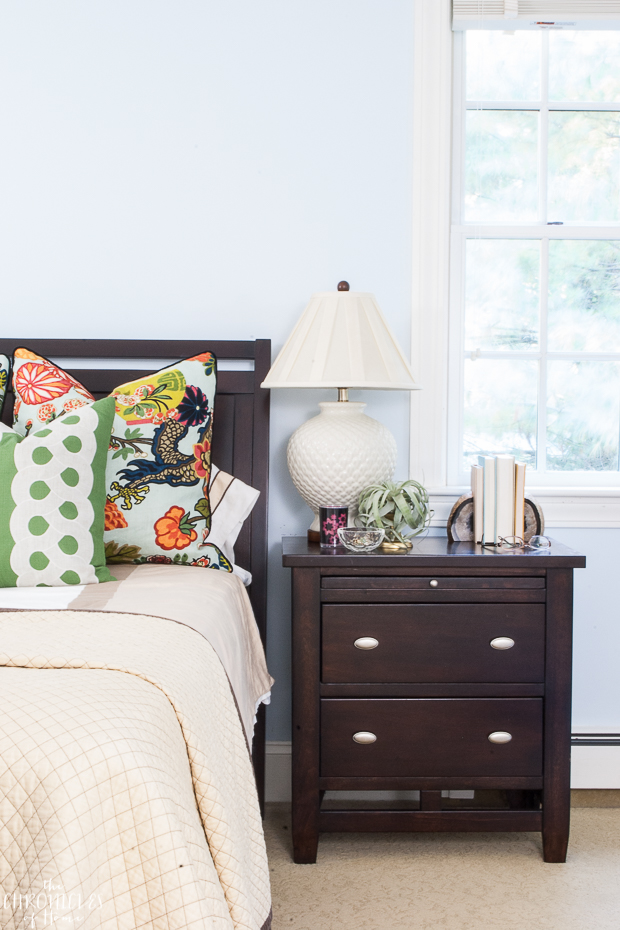 If you're a reader, keep a queue of books propped up with agate bookends to create a mini tabletop library for yourself.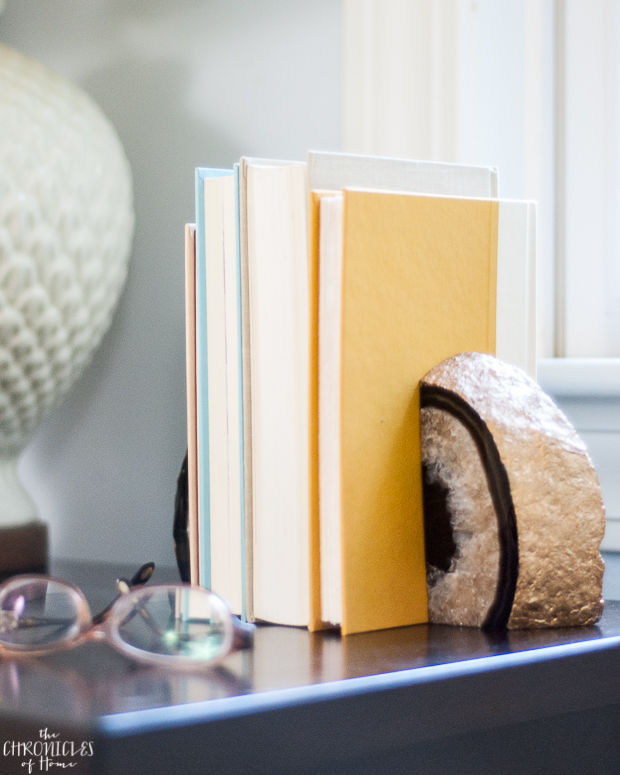 I'm a recovering black thumb but have actually managed to keep a handful of plants alive for almost a year now. Which is big for me. Airplants, like this one, require frequent spritzing with water but they can be moved pretty much anywhere and require no soil at all. I placed this mid-sized one on a little gold pedestal to give it some height. And, who are we kidding, I love a dash of gold just about anywhere.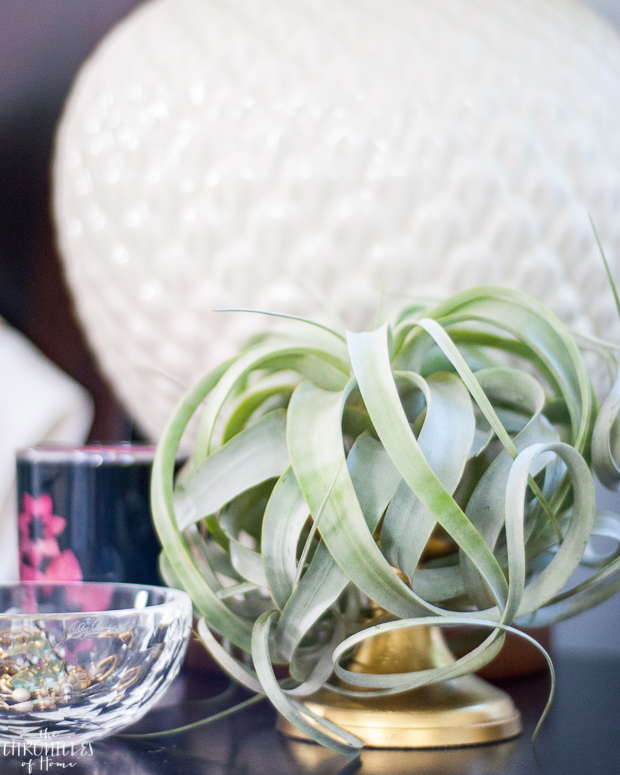 I can't stand sleeping with earrings on so placed a small bowl for favorite earrings on the nightstand. This makes it easy to take them off right before bed and also to grab a favorite pair when I'm getting dressed the next morning.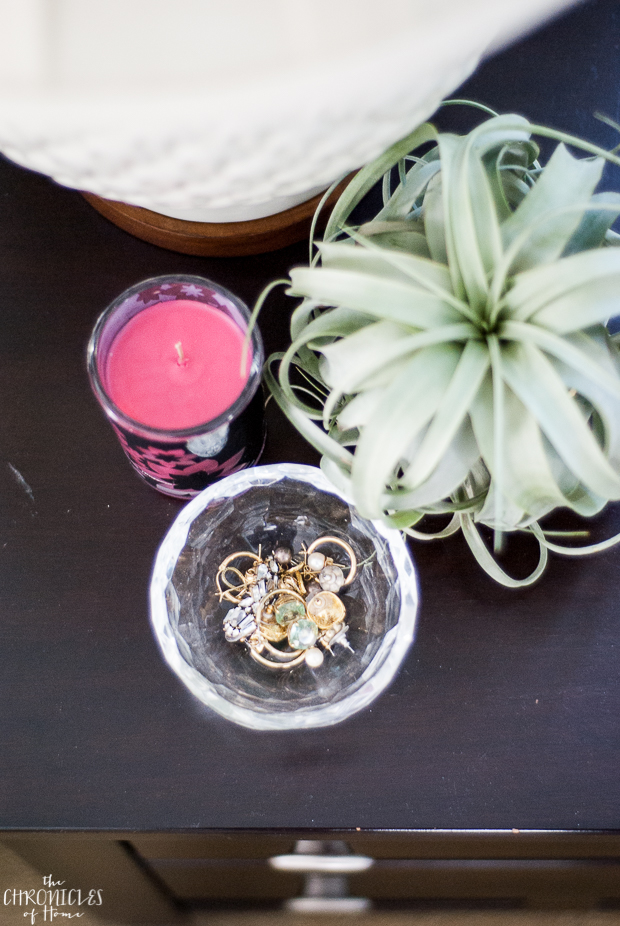 A beautiful scent is something else I appreciate near my bed, like this Unstopables candle. The Shimmer scent smells like a light mix of berry and flowers to me. Even when it's not lit I catch drifts of the fragrance while I'm sitting in bed.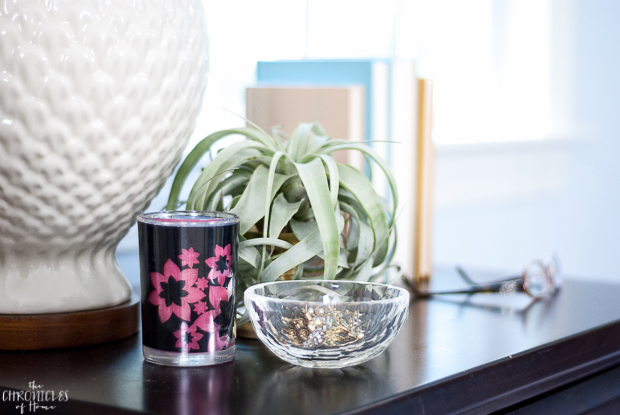 For the second nightstand look I went with a modern brass and marble lamp. A great way to work in a plant if you don't have room on your nightstand is to put a large potted plant on the floor next to the actual table. Live plants help cleanse the air, which is one of the main reasons I'm such a fan of them around the house. I also find that they make a space feel just a little more cheerful – they bring literal life into a room.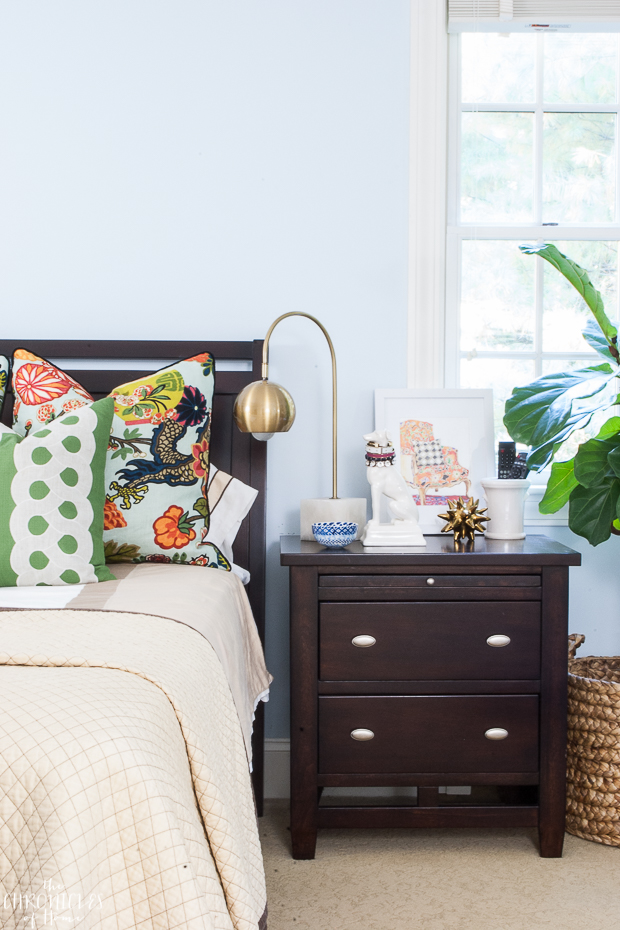 If earrings aren't something you wear everyday but bracelets are, think about stacking your favorites up on an unconventional holder, like this ceramic dog. This isn't the first time this little dog has held my bracelets. His neck just begs for something sparkly! Just like with the bowl for earrings in the first look, keeping favorite bracelets right by your bedside makes it that much easier to find them in the morning, and I need all the help I can get to move things along quickly in the mornings.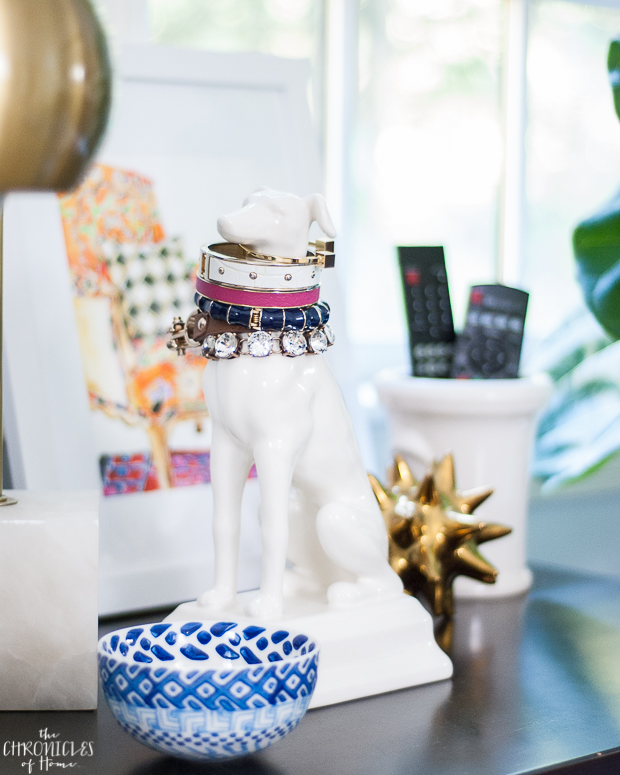 I propped a colorful framed print along the back of the nightstand to bring a little color to this look and added a shiny sea urchin just because ;) If you're a bedtime TV watcher, keeping remotes in a vase or bowl is a nice way to corral them and keep them handy.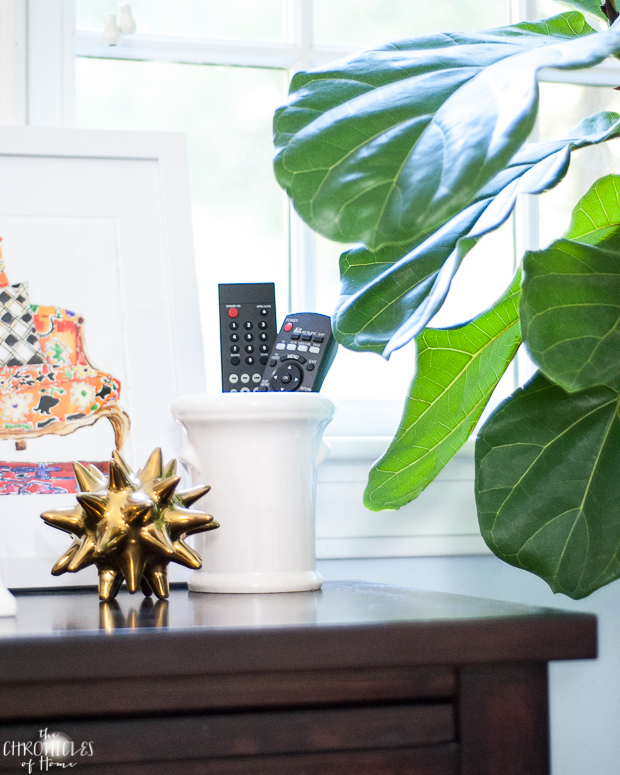 For the last nightstand look I went with a transitional lamp style sort of in the middle between the other two. This is actually the lamp that lives on my nightstand all the time. I used a more neutral print along the back this time, and one with a little cheeky humor. Keeping things light is always a nice way to start and end the day, I think.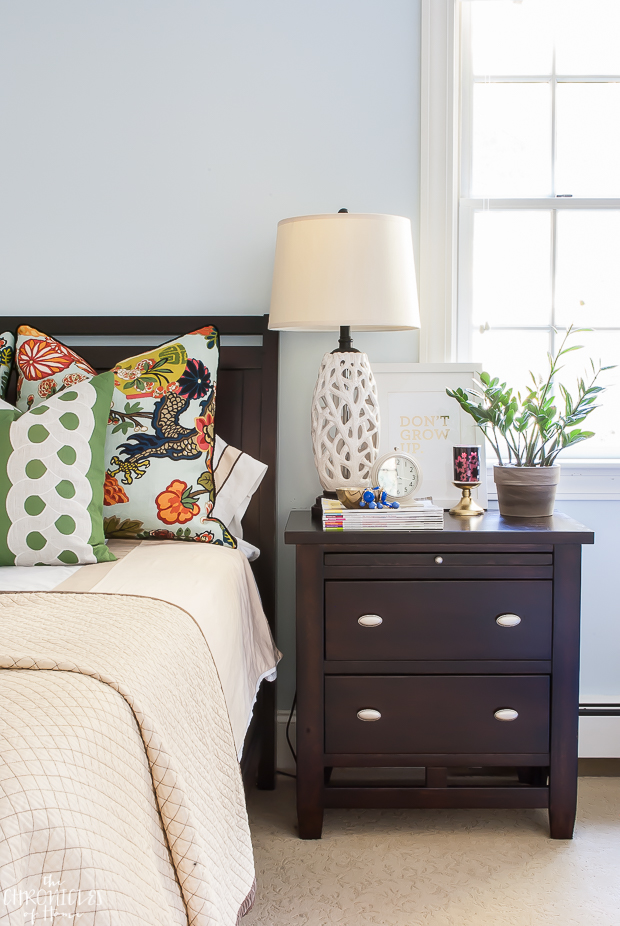 Sometimes I find it hard to stay on top of my favorite magazines but keeping a neat stack of them right by my bed helps me remember to page through them before I go to sleep at night. For the little bowl this time I went with…surprise, surprise…a gold one :)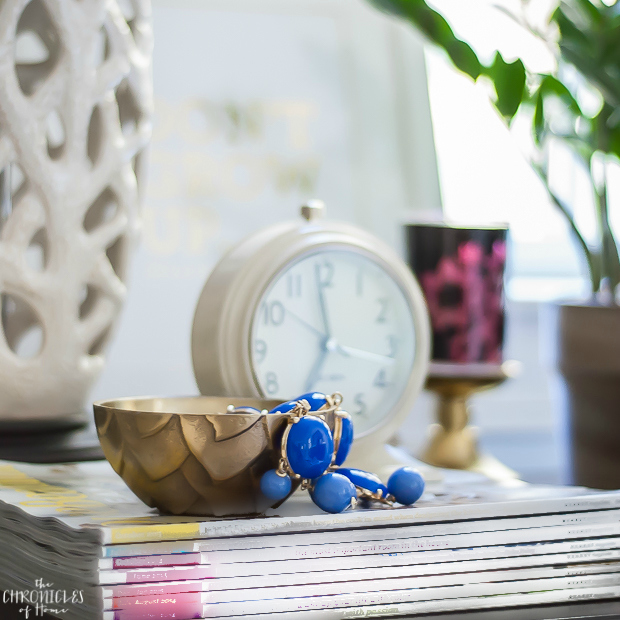 I usually keep my phone on my nightstand to tell me the time in the morning (I also use it as an alarm) but a stately, classic clock is always a nice nightstand detail. I reused the gold pedestal from the first look as a stand for the Unstopables candle this time. This little trick adds some height so the candle doesn't look dwarfed by the plant next to it and also helps give the candle an extra chic look.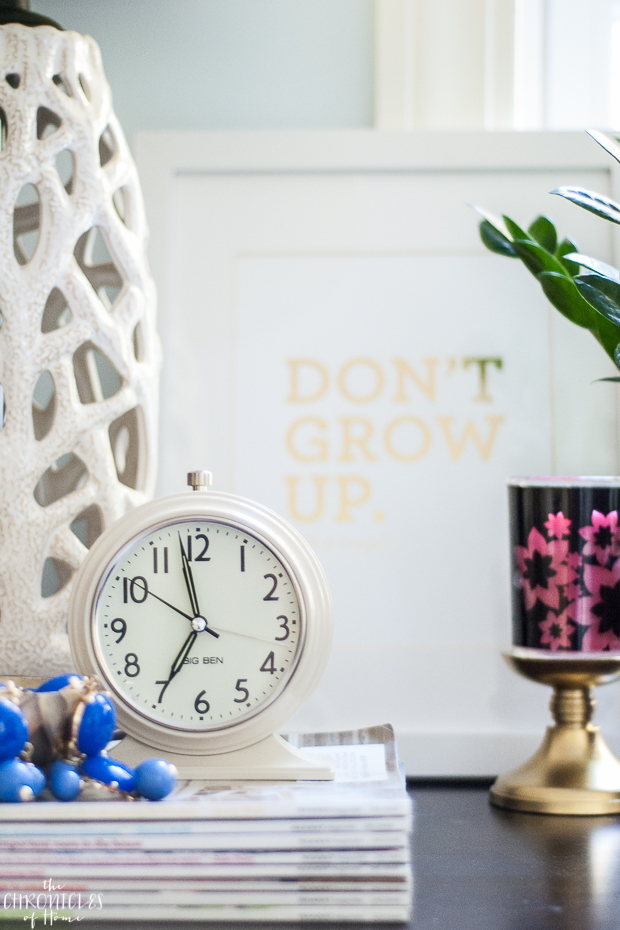 So I would love to know…what do you keep on your nightstand? Are you a styler or a piler?!