As promised in my Thanksgiving Tablescape post yesterday, I'm back today with all the sources for the look, another view of the table with candles lit, and a recipe for a spiced cocktail (or mocktail!) I am absolutely loving. Today's post is part of Blogger Stylin' Home Tours Thanksgiving edition, and if you're joining me from Mimosa Lane, welcome! Lindsay from The White Buffalo puts these tours together a few times a year and I always walk away feeling so inspired by everyone participating.
In case you're just joining me today and haven't yet seen the table I put together for Thanksgiving this year, here's another look.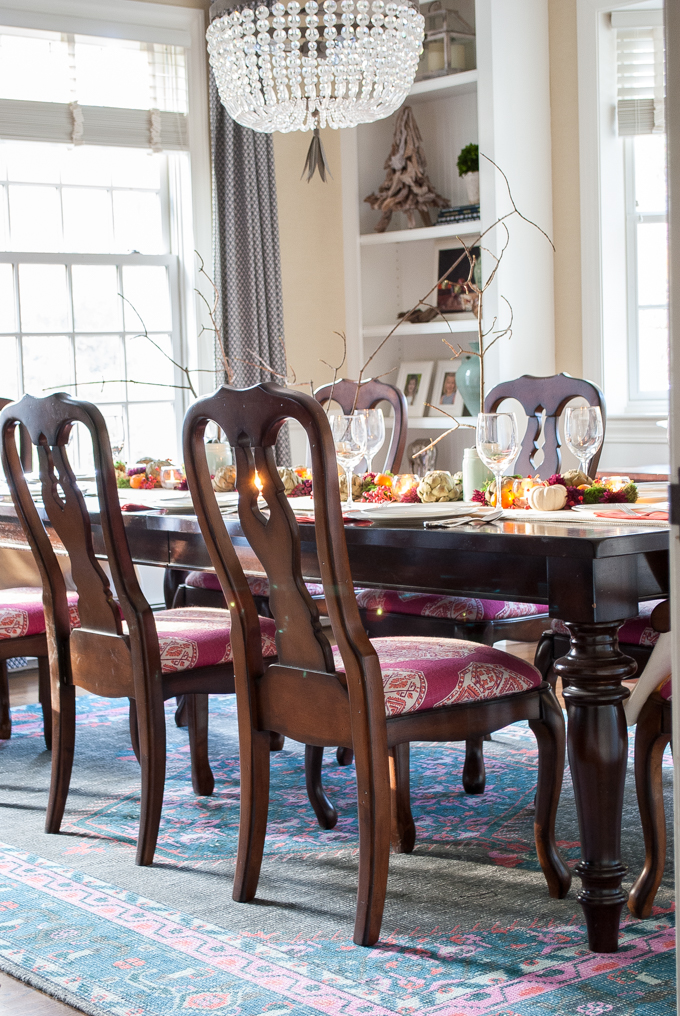 I worked mostly with things I already had, did some foraging in my yard, and purchased a few things from the grocery store to put this table together. Here's a list of the items you'll need to do the same.
Coral napkins (amazing deal at six napkins for $9.99!)
Bare branches (cut some from your yard if you can!)
Clementines (in grocery stores)
Mini white pumpkins (in grocery stores)
Purple mum stems (in grocery stores)
Berry branches (here is a good faux one you can trim from if you can't get real)
I started by setting out my china dinner and salad plates, stemmed water glasses, and flatware. I set folded coral napkins under the forks. Then I turned my attention to filling the mason jar vases with sand and pushing the branches down into the sand to hold them up.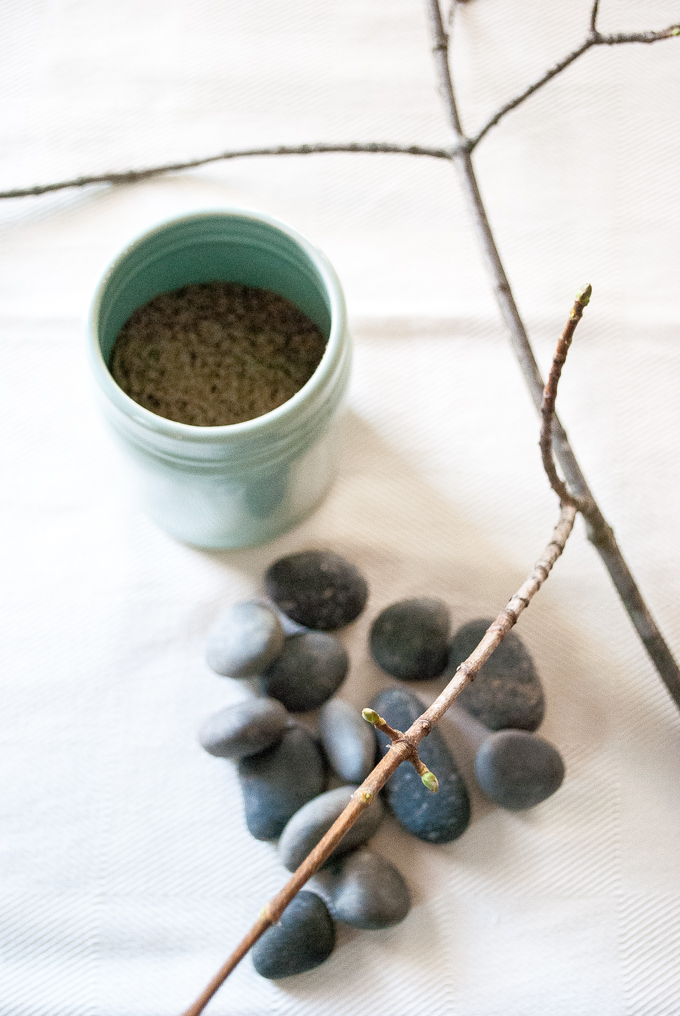 Filling the river rocks around the top helped to anchor the sticks in place and also looks nicer on top than just the sand.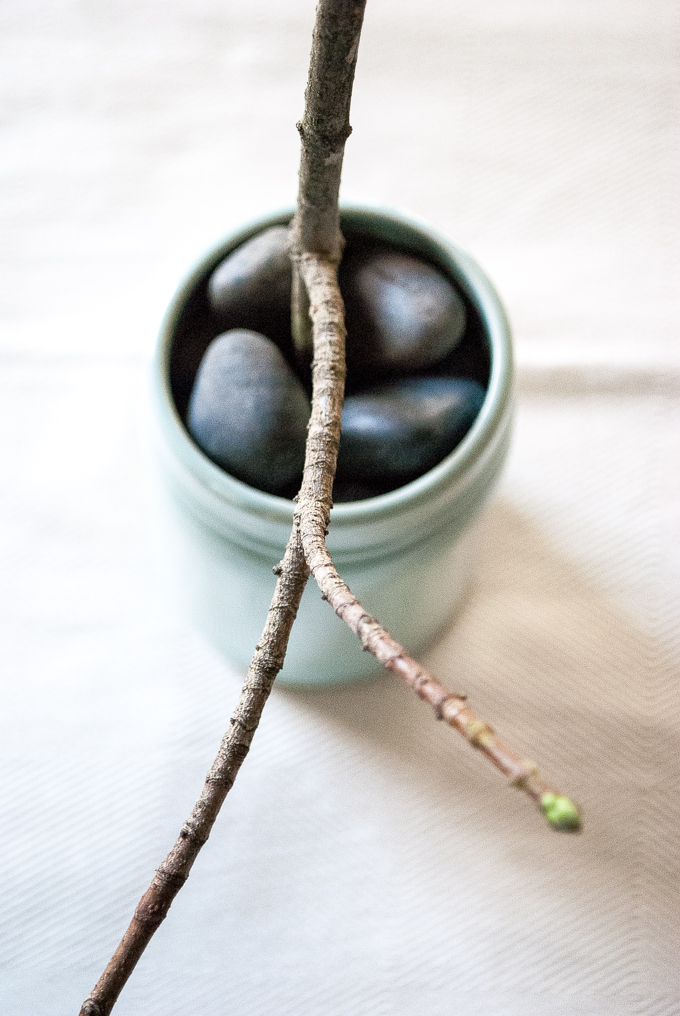 I set three of the mason jar vases down the center of table – one in the very center and the others equidistant on either side of the center vase. Then I scattered the tea light holders and tea lights on all sides of the vases.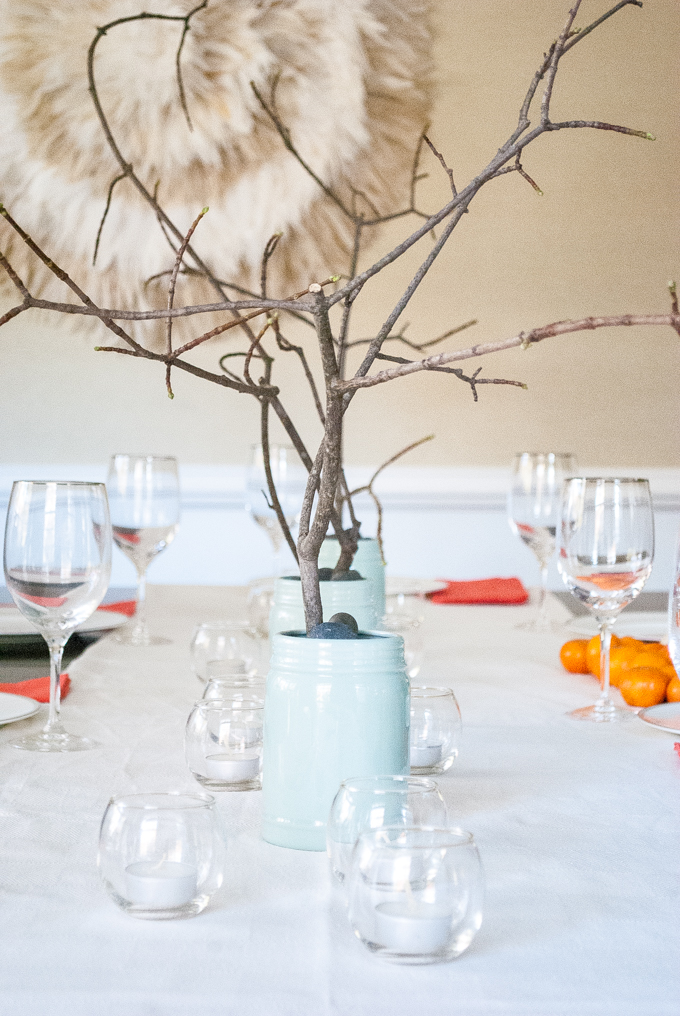 I used this basic layout to set the spacing for the other elements and worked in first the preserved artichokes, then the mini white pumpkins and the clementines. I filled in spaces with the dried moss then tucked purple mum stems and berry branches right into the moss. There's really no pattern to it – just stand back every now and again and look at where there might be gaps that can be filled.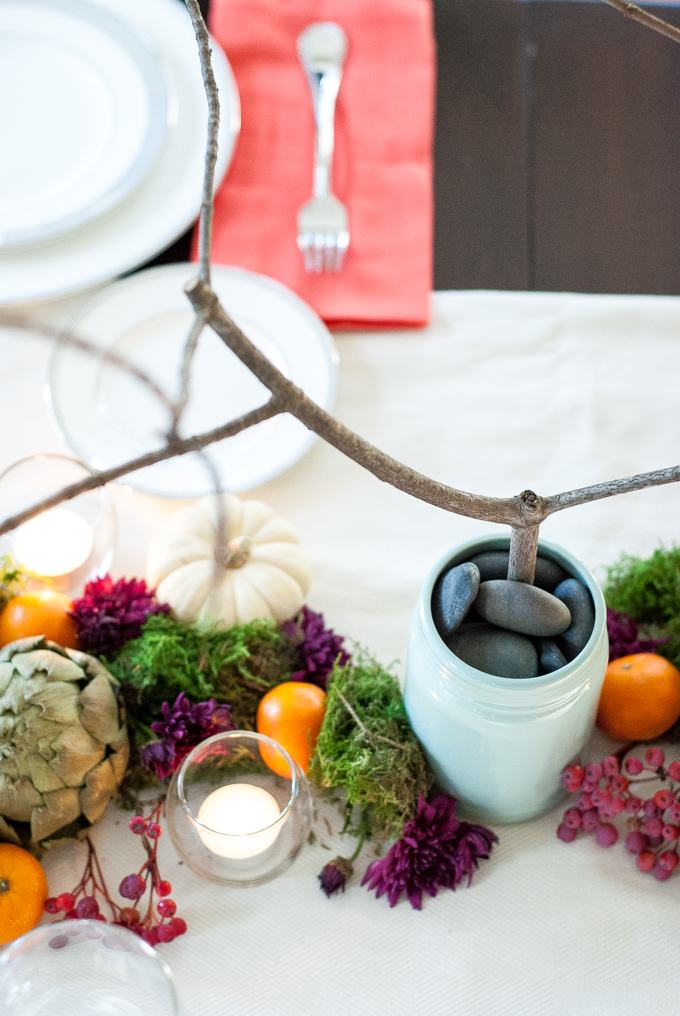 It really looks quite magical when the tealights are lit. They create the prettiest soft glow down the center of the table and are a staple for just about any table setting.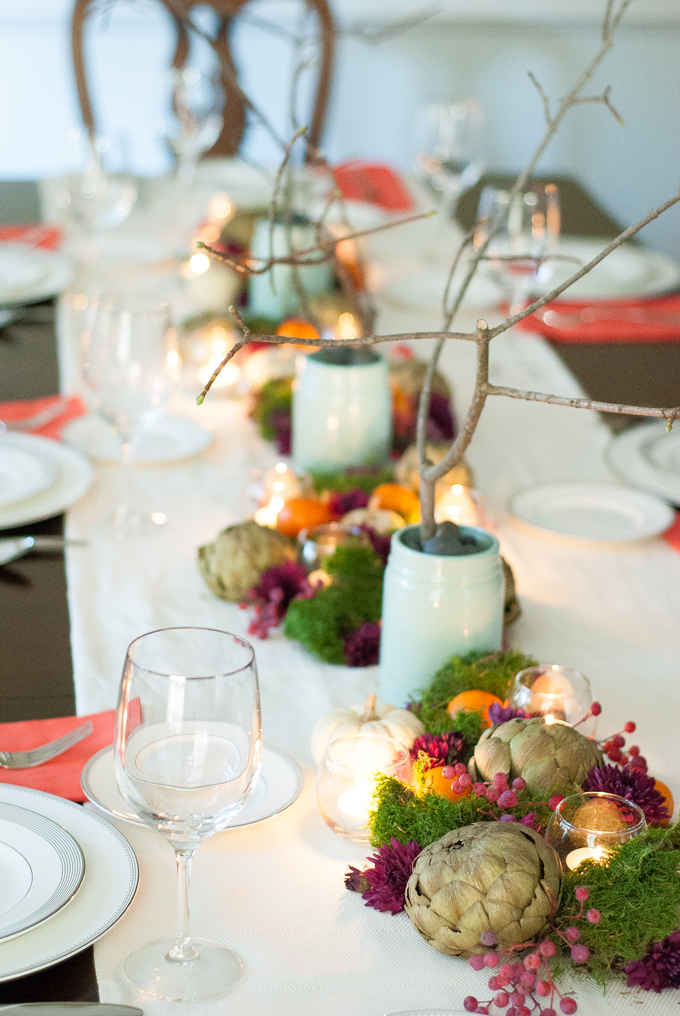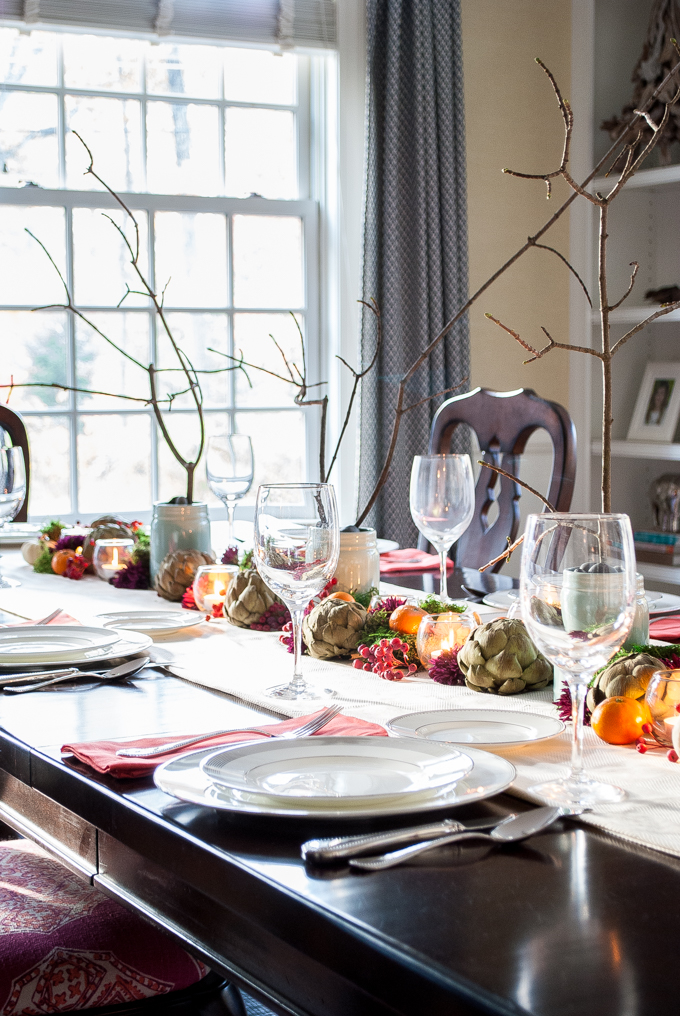 Now that we have our table set, let's switch gears to that spiced cocktail/mocktail I promised you. You will need to make exactly one thing to pull it off and that one thing is a spiced simple syrup with peppercorns, cloves, cinnamon sticks, star anise, and rosemary. The syrup provides the base for both a non-alcoholic and a bourbon cocktail, both of which are delicious. Like delicious delicious. You want to make this, trust me.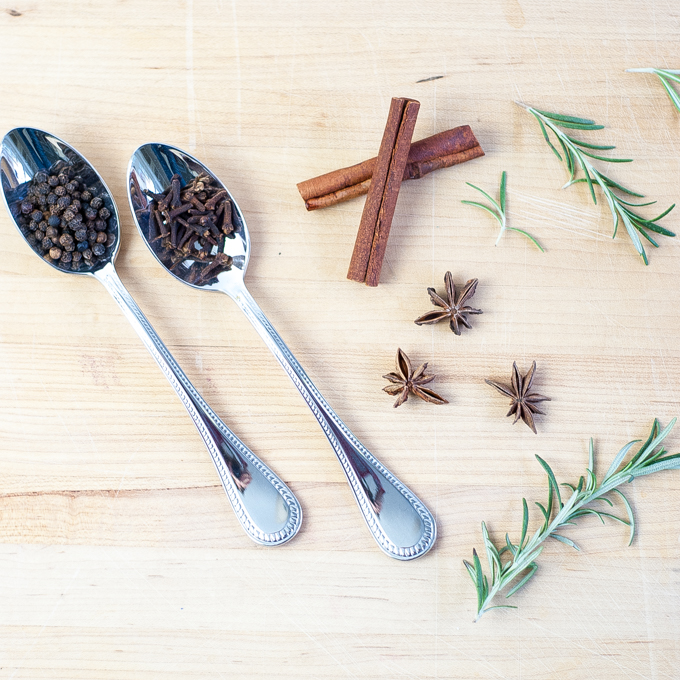 I used the syrup to make a homemade soda this week that was SO GOOD I had to talk myself out of drinking multiple glasses in a row. So if you are not an alcohol drinker or will be serving non-alcohol drinkers young or old at Thanksgiving, this simple syrup is brilliant. You can add as much or as little of the syrup as you like to make the drink more or less sweet. Just spoon a bit into a glass, squeeze a wedge of lime overtop, add some ice, fill with club soda, and give a gentle stir. I am drooling just the tiniest bit right now. It is so good.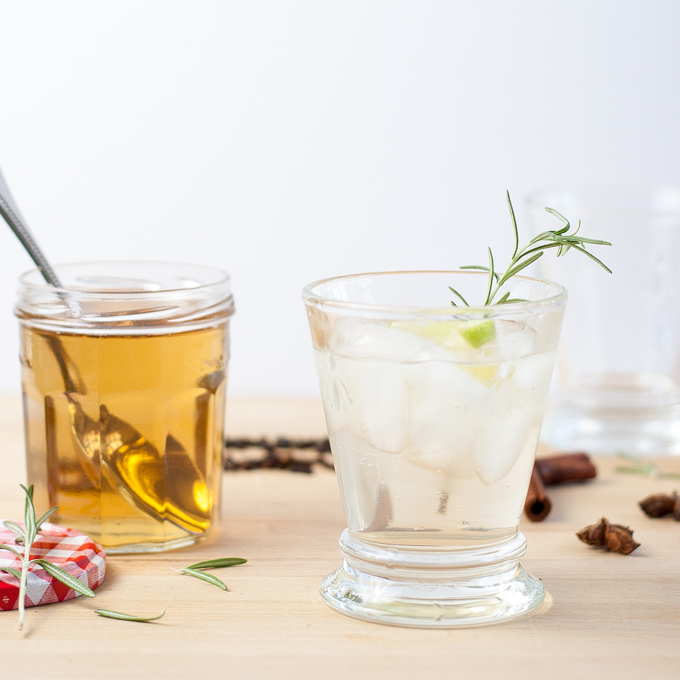 The bourbon version is much the same, but you add bourbon into the mix. Here are some more specific proportions for that version, as well as directions for making the spiced simple syrup.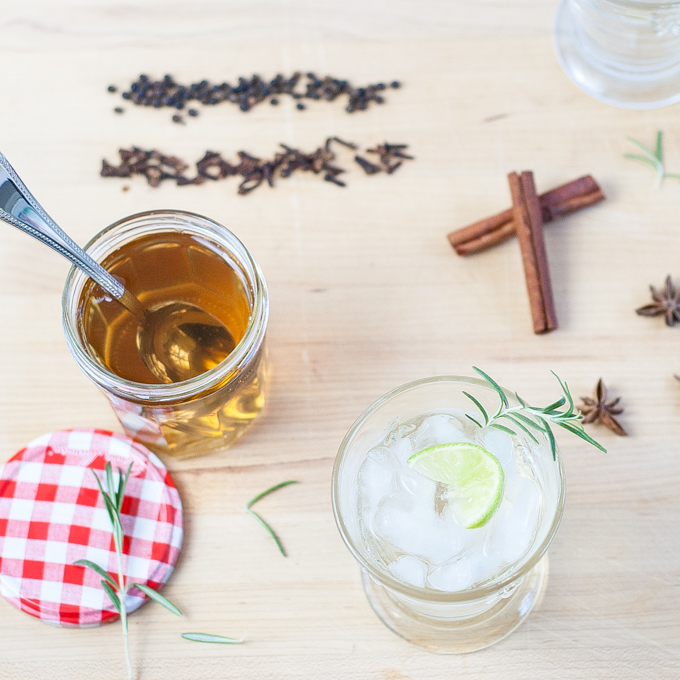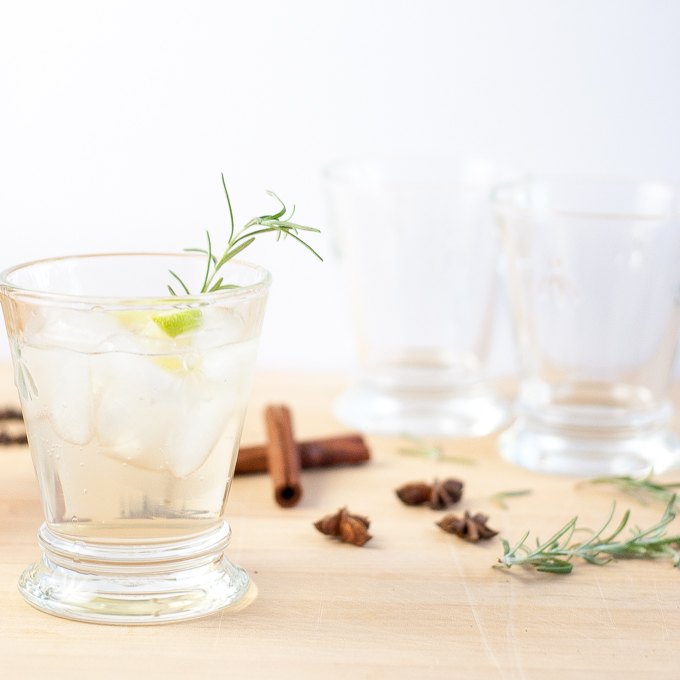 Thanks so much for stopping by today. I hope you have fun setting your own Thanksgiving table, and whether the cocktail or the mocktail, I hope you give this drink a try – and I hope you and your guests LOVE it as much as I do!
To keep going with the tour, head over to see my friend Julia at Cuckoo 4 Design, and see below for links to all of the participants in the tour this week.
The Makerista
Dwellings by Devore
A Creative Day
My Fabuless Life
Primitive & Proper
Simple Stylings
Amanda Katherine (formerly Hammer and Heels Blog)