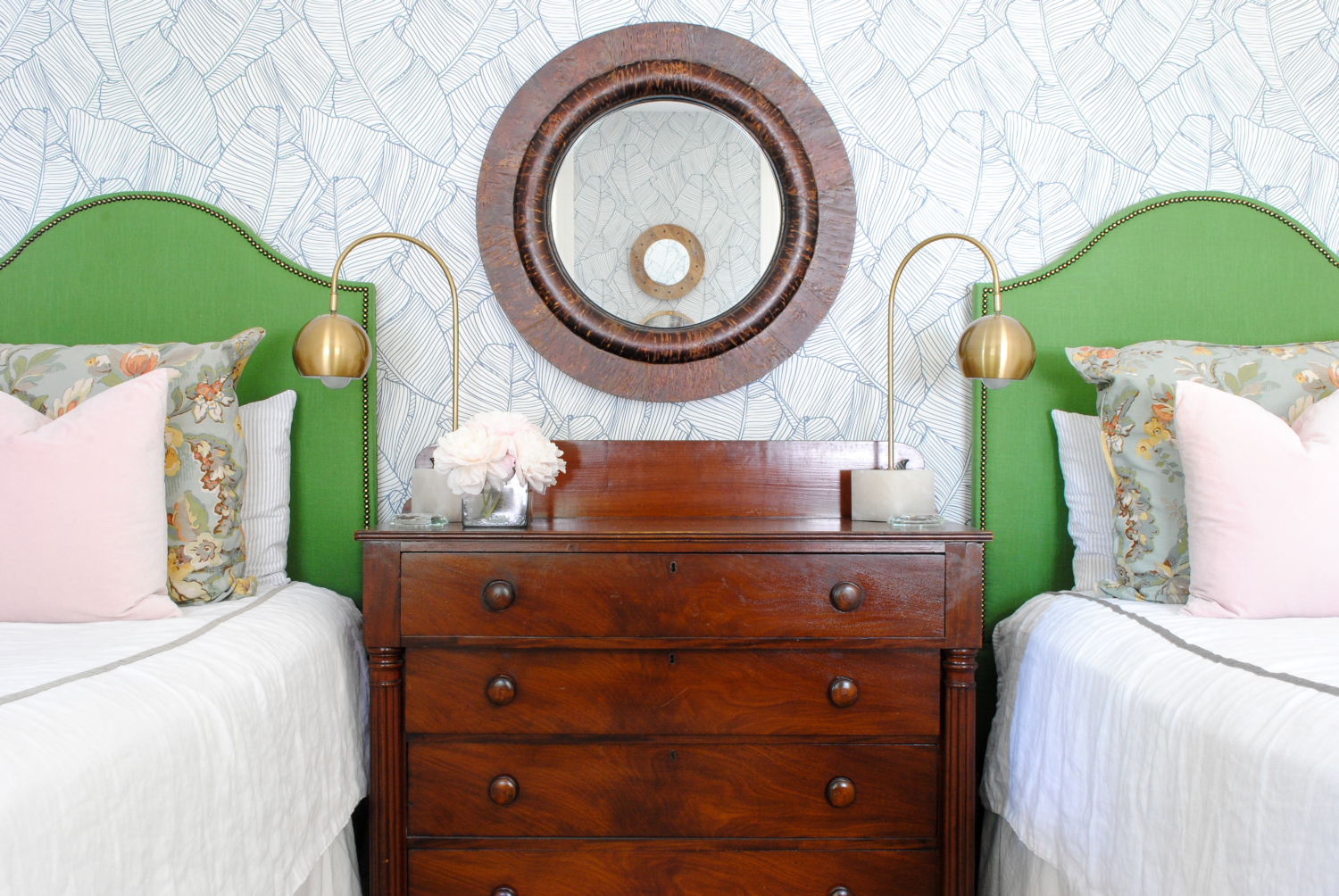 Guest Bedroom
Grey Striped Sheets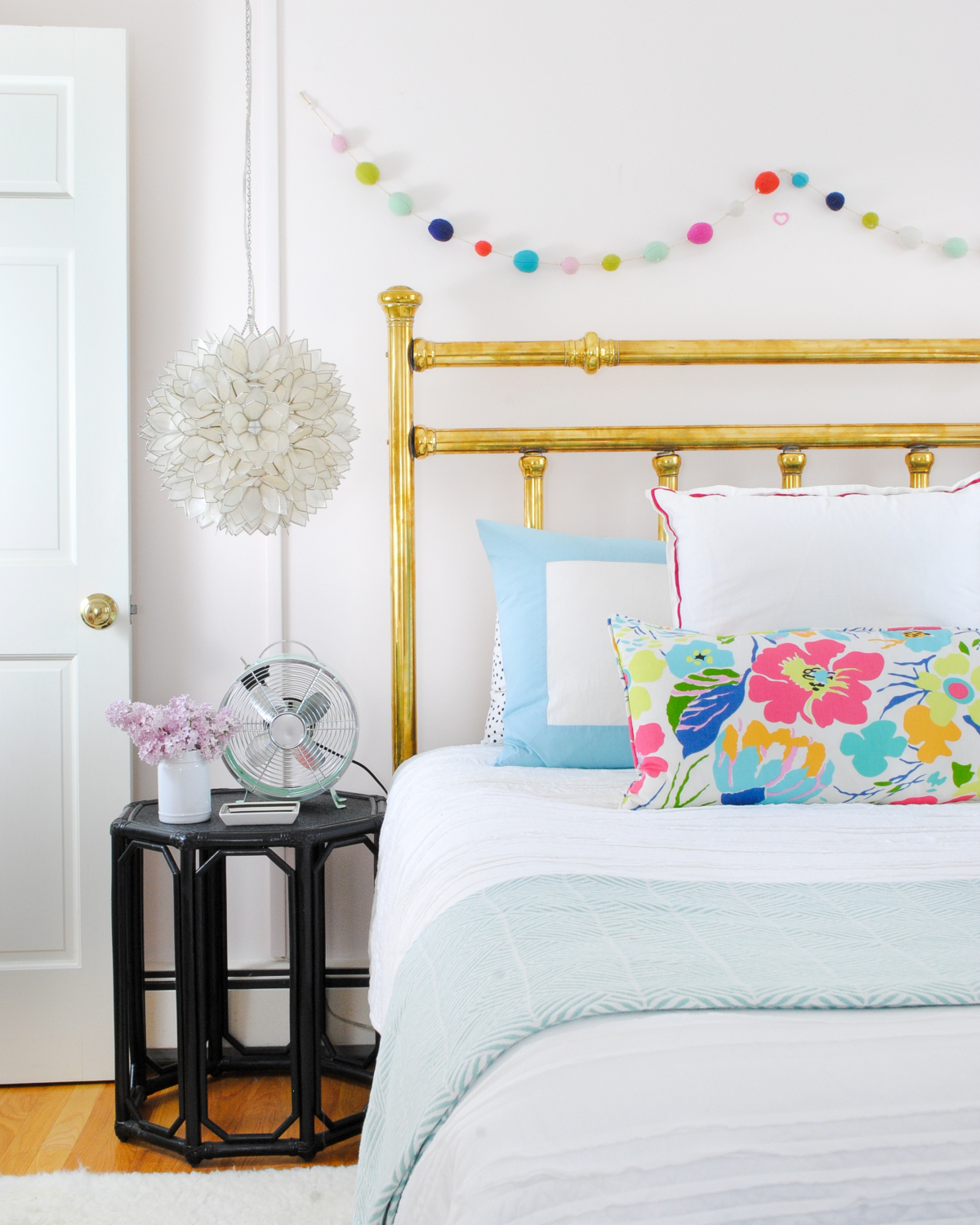 Ada's Bedroom
Black Dotted Sheets (peeking out in back!)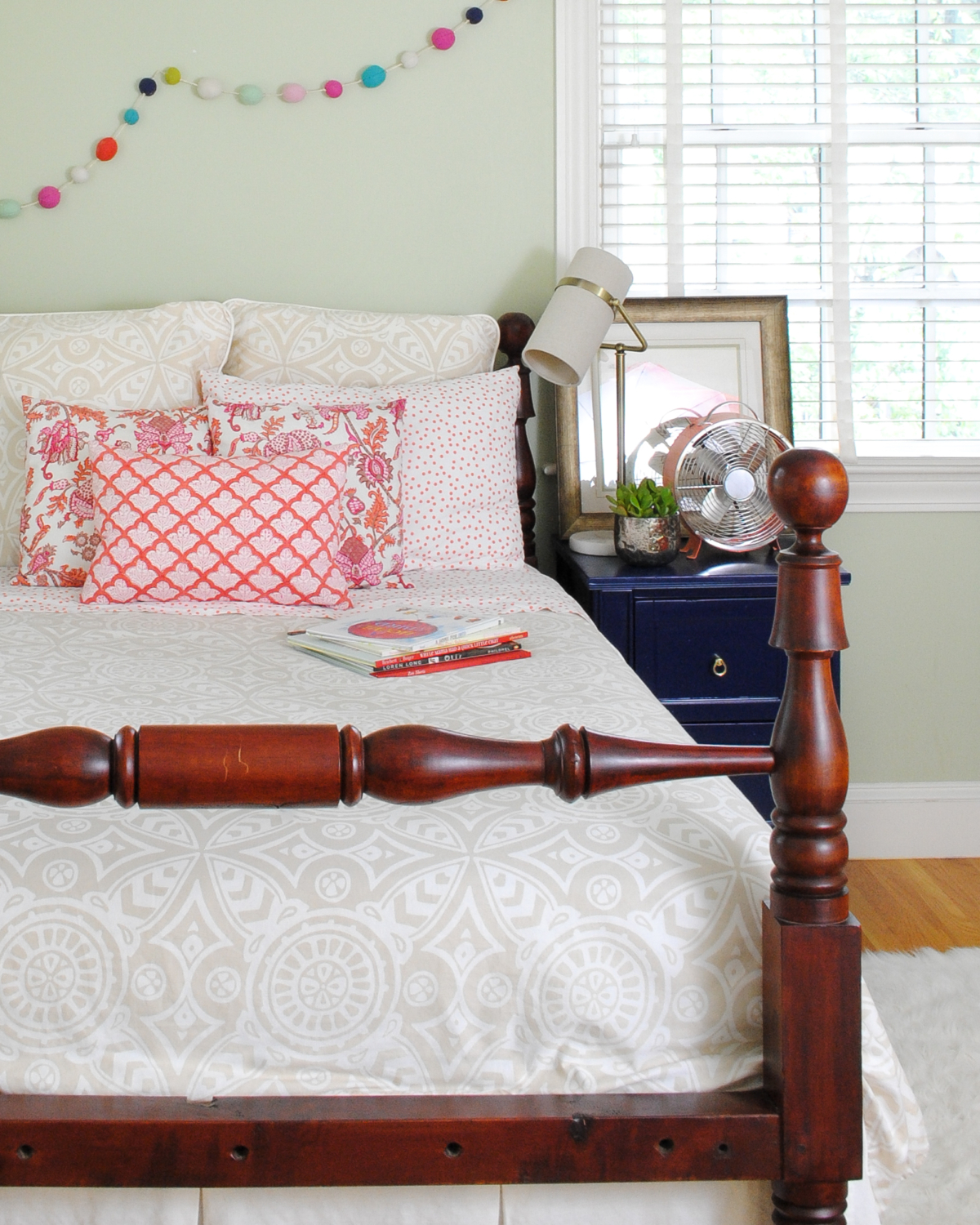 Elle's Bedroom
Coral Dotted Sheets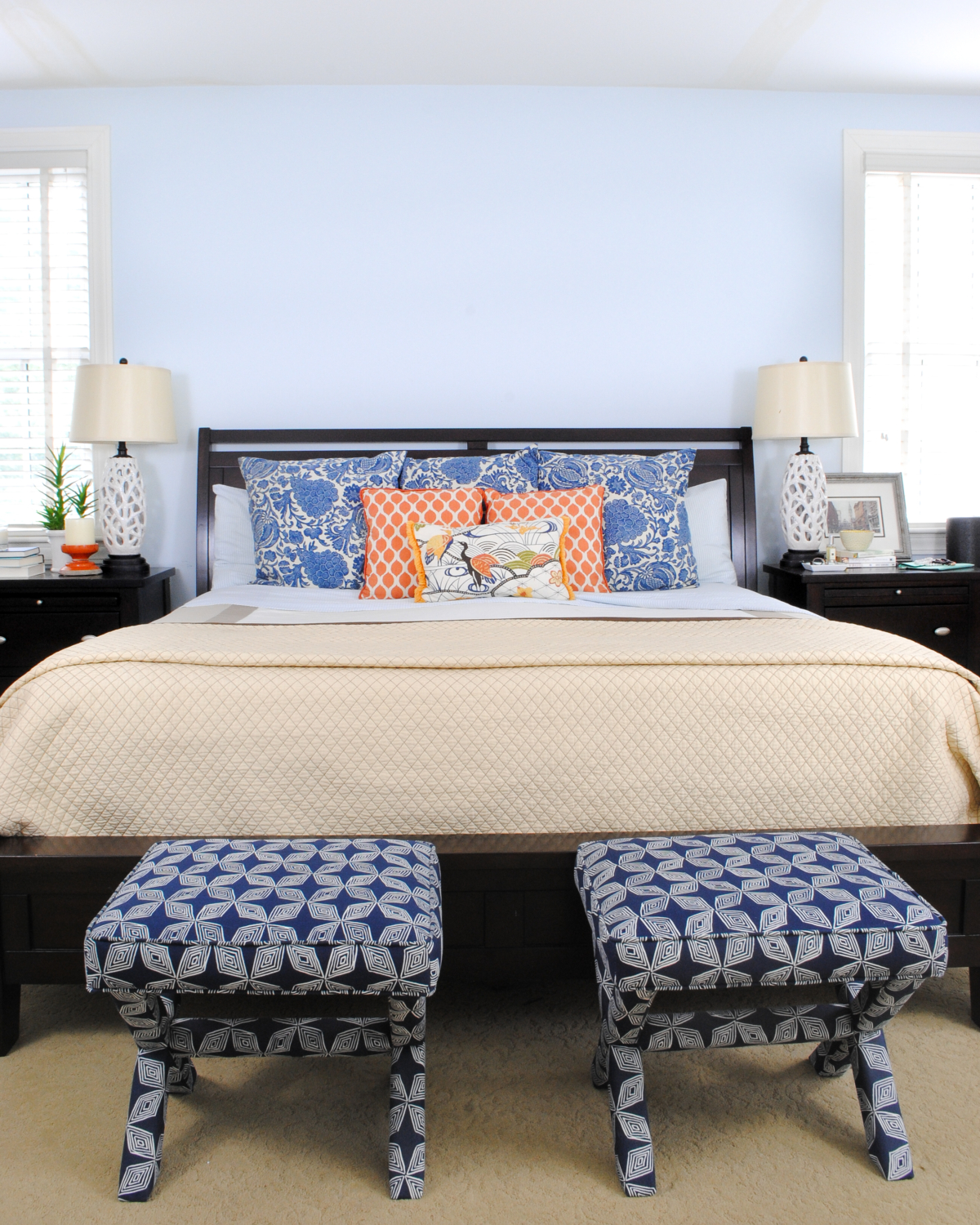 Master Bedroom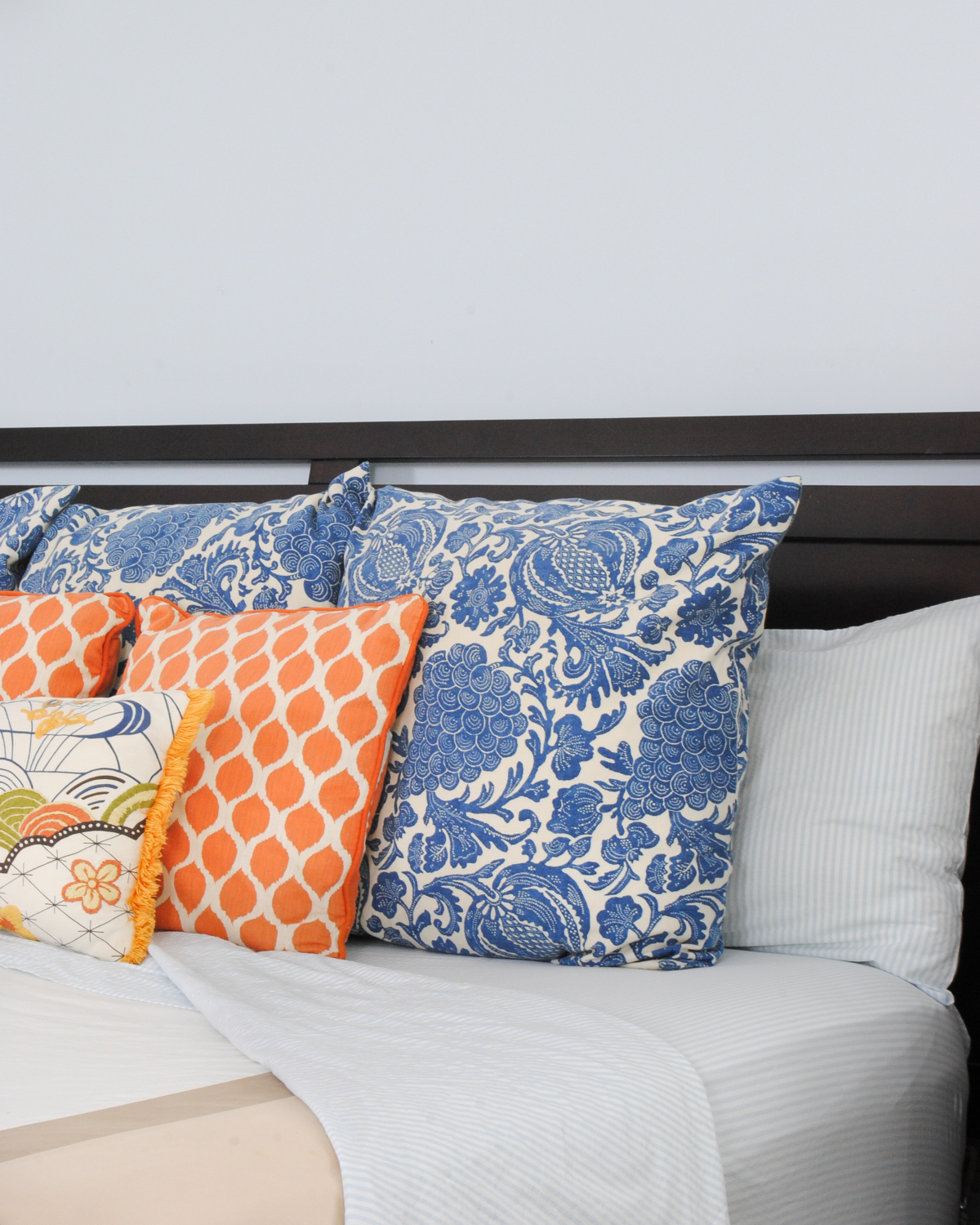 Aqua Striped Sheets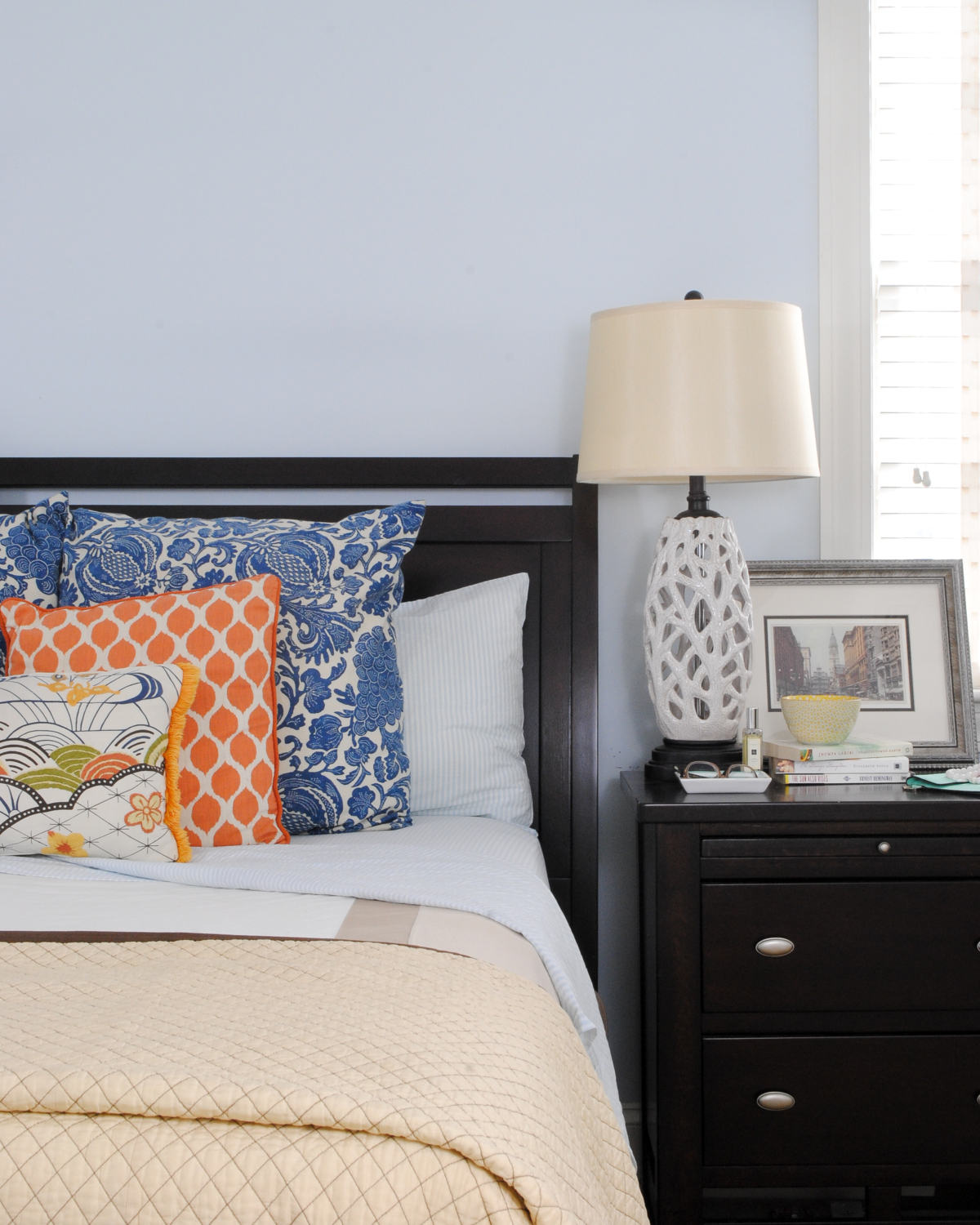 I am such a sucker for patterned bedsheets. I just love the bit of fun and whimsy they bring to a bedroom. As I've updated some of the bedding for the rooms in this house I've gone for very simple, neutral duvet covers and quilts so I could add in pattern and color in smaller doses. And if you've been around here longer than about a minute you know I always add in pattern and color somewhere! Patterns and color make any bed and bedroom look a lot brighter and homely, for example adding a bit of color and pattern to a something like a Leesa queen mattress could brighten up your bedroom!
Of the four bedrooms in my house, I've worked on two of them so far – the guest room and my older daughter, Ada's, room. The master bedroom and my younger daughter, Ellie's, room are still mostly untouched since we moved, though I'm just starting to get going on Ellie's bedroom and have some gorgeous new furniture pieces in there to share with you very soon. But in the two rooms that are almost finished you can see that I kept the base pieces very neutral – white quilts and duvets and softly-colored rugs, and then added color and pattern in with accent furniture, pillows, artwork, and of course that amazing wallpaper in the guest room.
I discovered my most favorite patterned sheets rather by accident. I was in the middle of working on Ada's room and was looking for a new set of sheets and stumbled across these black and white dotted sheets by Martha Stewart at Macy's. They were perfect but also a bit of a risk since I didn't know what they would feel like or how they would wash. Turns out they were dreamy on both counts – really soft and they wash beautifully, coming out of the dryer almost looking like they've been ironed. The sheets of my dreams, really – low maintenance, comfortable, and priced for a gal on a budget. They are on sale right now (through 8/14/16) for half price, making a twin sheet set only $25. That is basically insane for the quality.
So I am obviously obsessed with these sheets and after discovering their wonderfulness while doing Ada's room, they have become my go-to for every other bedroom. I stayed with the fun dotted print for Ellie's room but in coral instead of black, and when I was choosing sheets for the guest room I went with two sets of grey stripe sheets for the twin beds in there.
Which left my master bedroom as the only remaining bedroom in the house without these amazing sheets (also the only bedroom that hasn't really received any decorating love, but all in good time). Just this week I finally got a set of sheets for my bed and now I am wondering why I waited so long. There is just nothing like fresh sheets on your bed and I love the quiet aqua stripe pattern. I'll be doing some pillow shifting when I do give the master bedroom some love but I will definitely stay with blues and the soft aqua of these sheets will be a lovely supporting player no matter which way I go with the rest of the room down the line.
Now about that giveaway I mentioned – Macy's and Martha Stewart are offering a queen set of these same aqua stripe sheets to one of you! You can enter using the Rafflecopter below, but even if you don't win, I highly recommend these sheets. The quality is so great and the price (especially with the 50% off sale!) can't be beat for what you get. Make sure you enter to win below – I'll announce the winner next week! The giveaway opens midnight EST tonight!