This post is sponsored in part by Delta Faucet Company.
You know those projects where you set out to change one small thing and then before you even know what has happened you're left with a shell of a room and you're pretty much starting from scratch? Also known as almost every project I touch…so perhaps it shouldn't have come as a surprise that what began as the installation of a new toilet morphed rapidly into a mostly gutted powder room. Here's how the renovation of my small powder room went from zero to sixty in no time flat.
A tornado plowed through our backyard in late August leaving LOTS of debris to be cleaned up, so we rented a dumpster.
ME – "Hey, while we have the dumpster, maybe we should take out that twenty-five year old hissing toilet in the powder room."
SCOTT – "Yeah, good idea, I'll take it out this weekend."
Toilet is easily removed.
SCOTT – "You should come look at this, I think the toilet's been leaking under the tiles."
We had always talked about updating the floor tile in the bathroom and with the toilet out the timing was right. So, okay, new tile. No biggie, it's a tiny bathroom.
SCOTT – "Sooooo…do you think I should rip out the old vanity too while I'm in there?"
ME – "I don't know. Maybe. Probably. Yes."
And so in the span of one day we went from a quick toilet replacement to a gutted bathroom. Story of my life as a homeowner, I tell you. Even though this renovation kind of crept up on us it was all work we'd talked about doing eventually and I am so thrilled to have the powder room really and truly finished. The whole project took longer than we'd anticipated (doesn't that always seem to be the case?!), mostly because we had to wait on some plumbing work to be done. The pipes for the old sink came out of the floor and we needed them to be rerouted up to the wall to accommodate the new, open sink design. We didn't feel comfortable doing this work ourselves so we hired a local plumber. Once that work was done, however, everything moved pretty quickly.
This is how the powder room looked right after we moved in three years ago – original everything from 1991 as far as I can tell.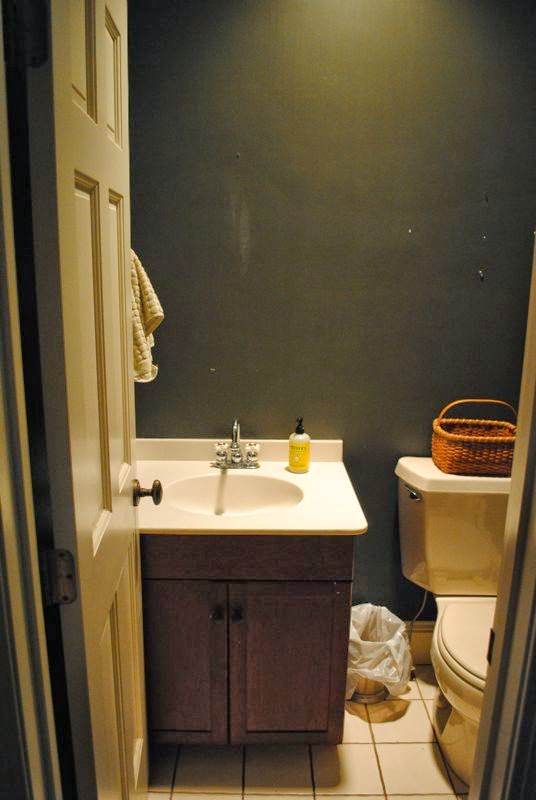 In the first year we lived in the house I painted the vanity and added a small rug as temporary upgrades. I also hung wallpaper that I loved and that I hoped I'd be able to keep when it came time for the full renovation.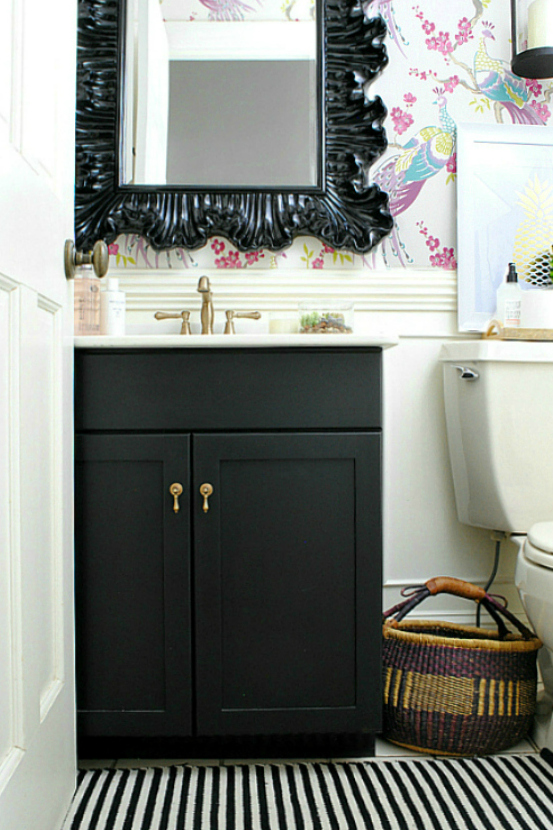 And here is the powder room now, all shiny and new and ready for 2017! It's such a small powder room that it's crazy hard to photograph, but I did what I could to share as much as I could fit in the camera frame! I'll let you sift through the photos of the new space and then I'll talk a bit below about what exactly I did to update this tiny powerhouse of a room.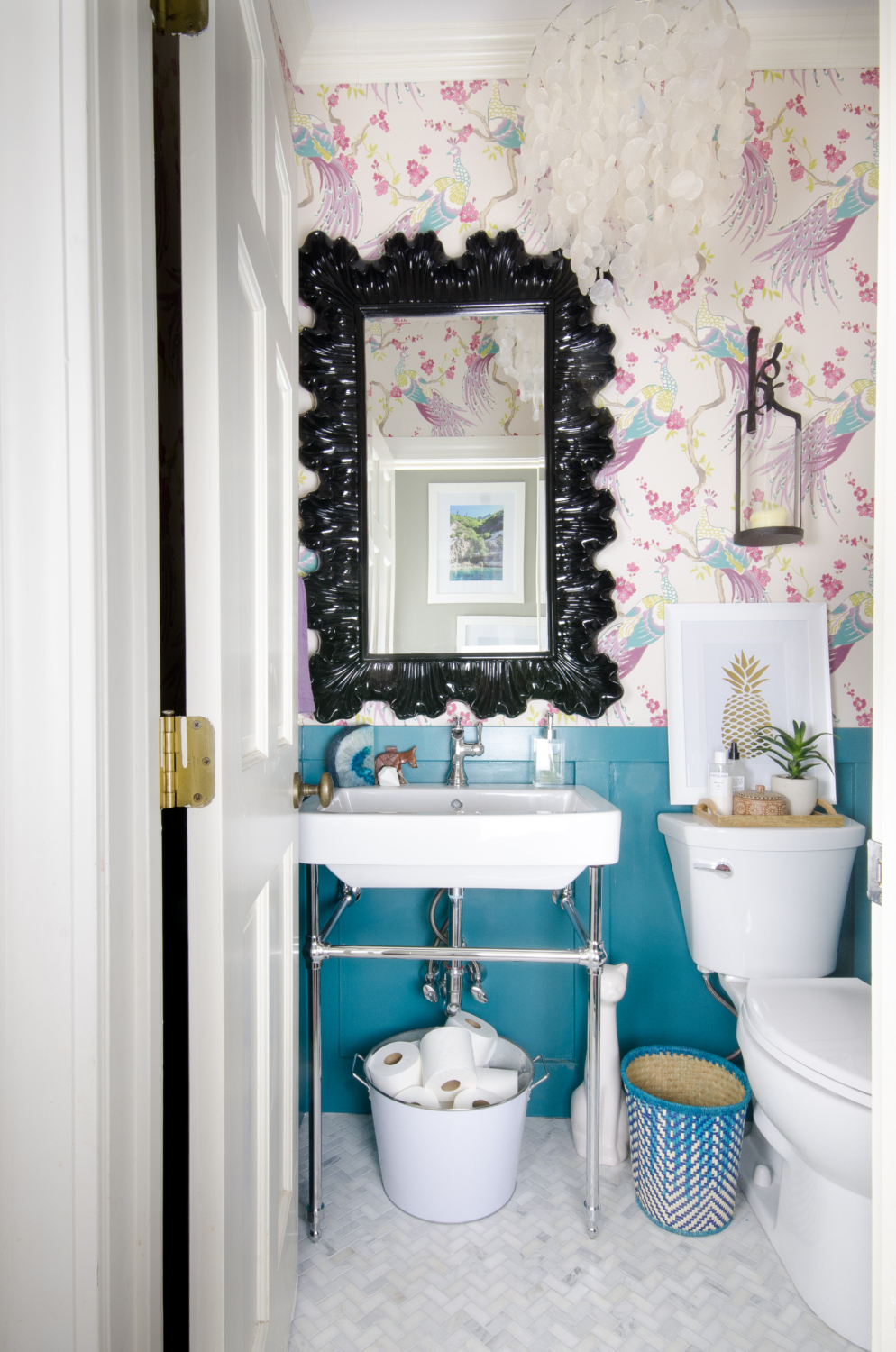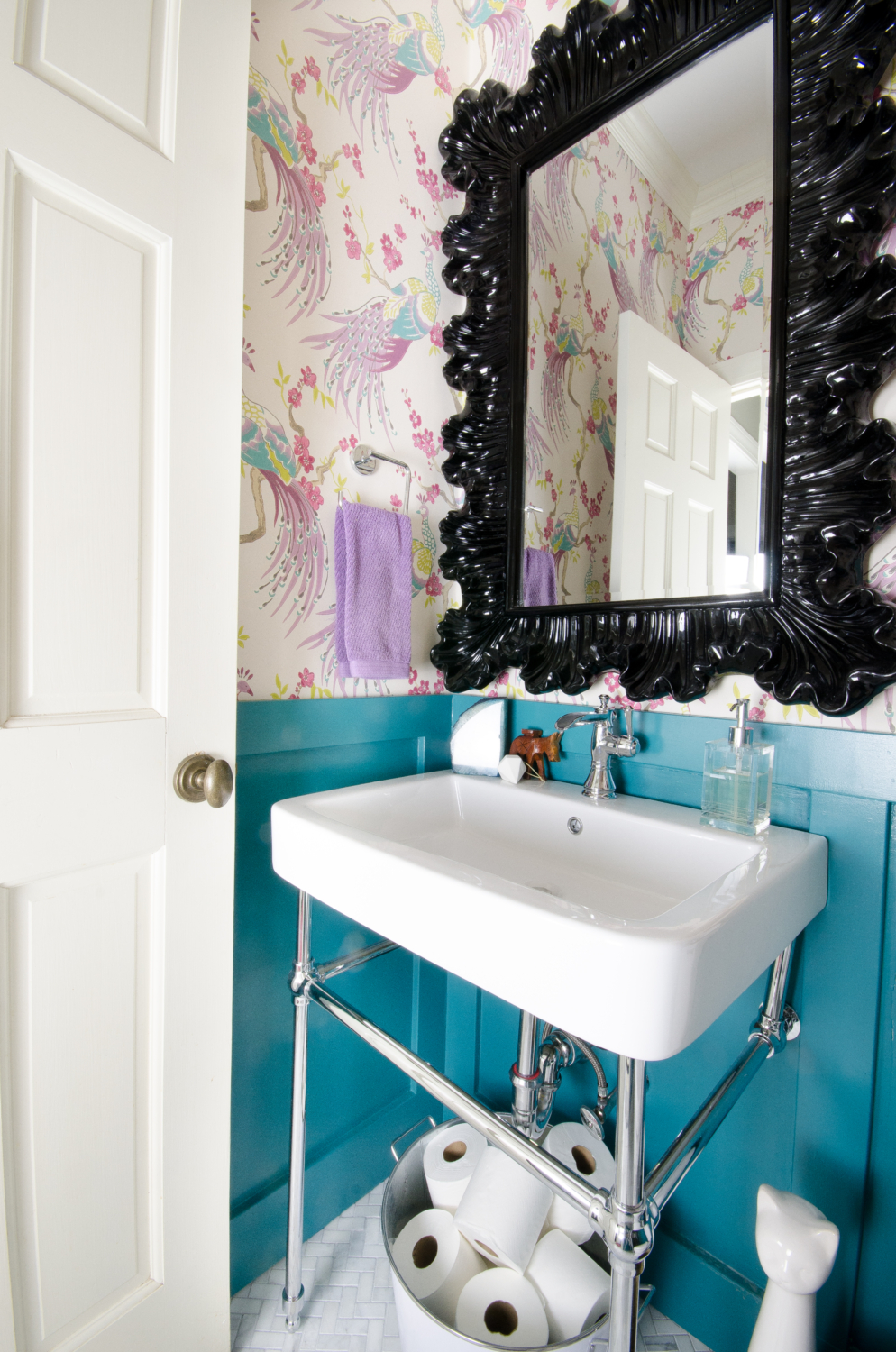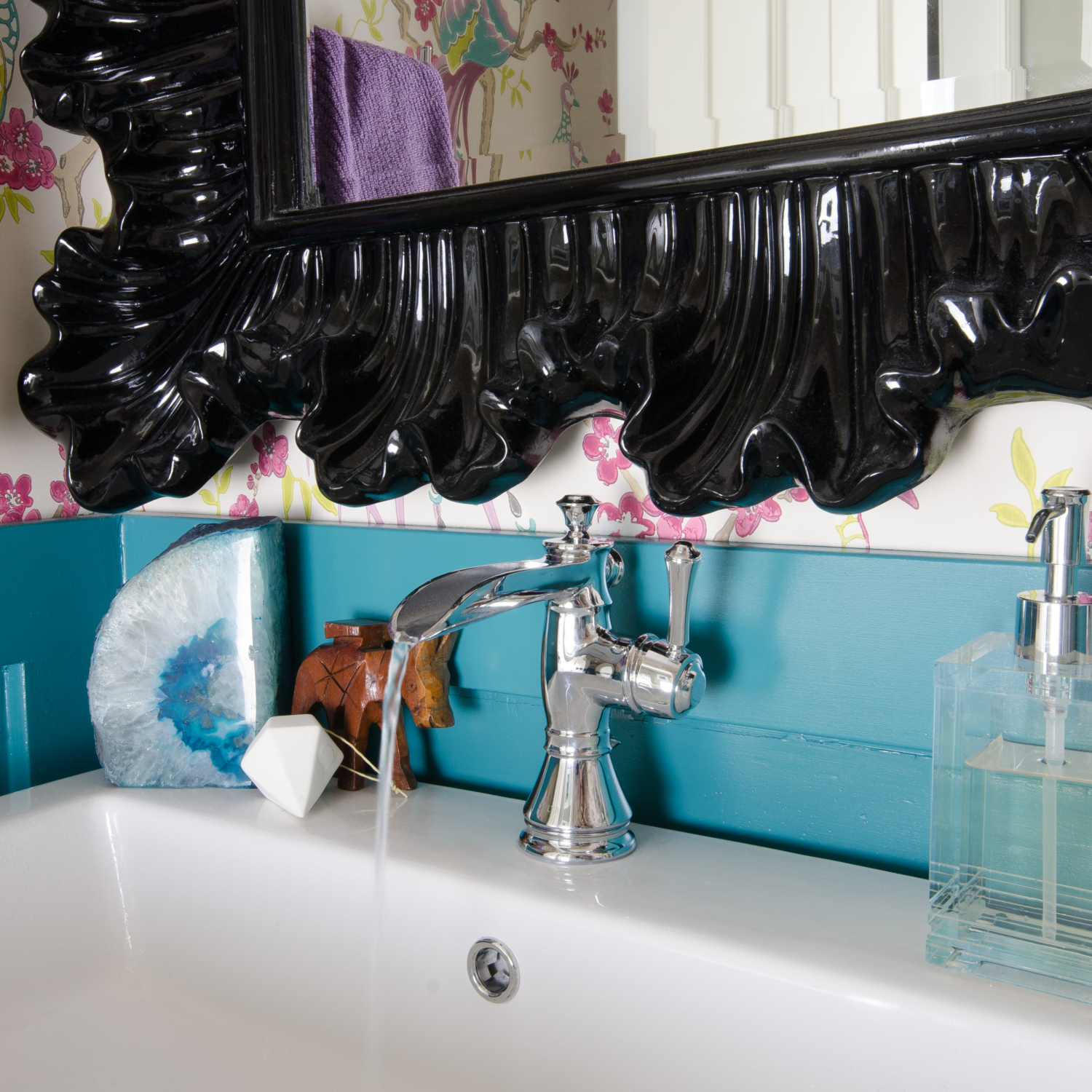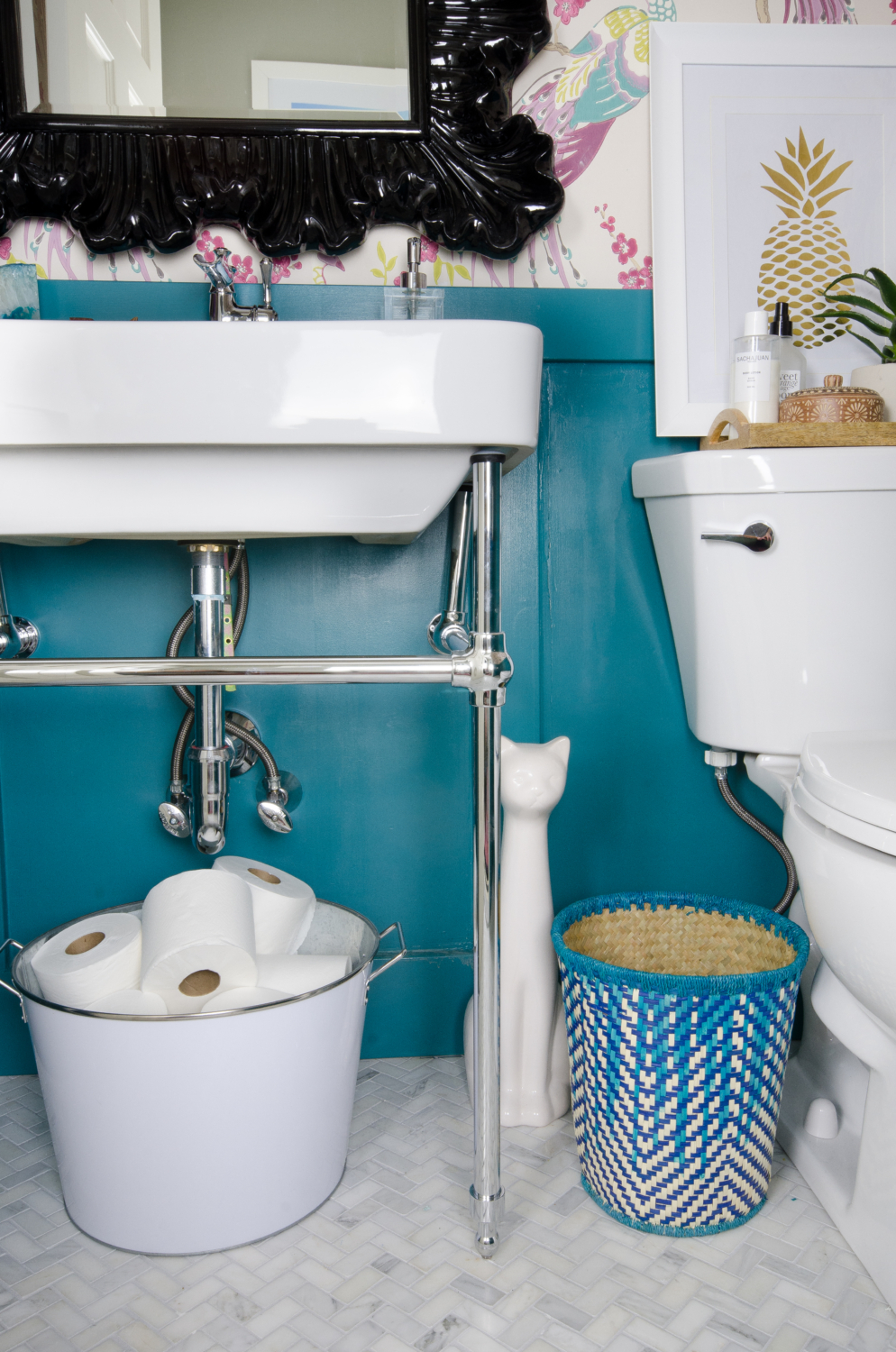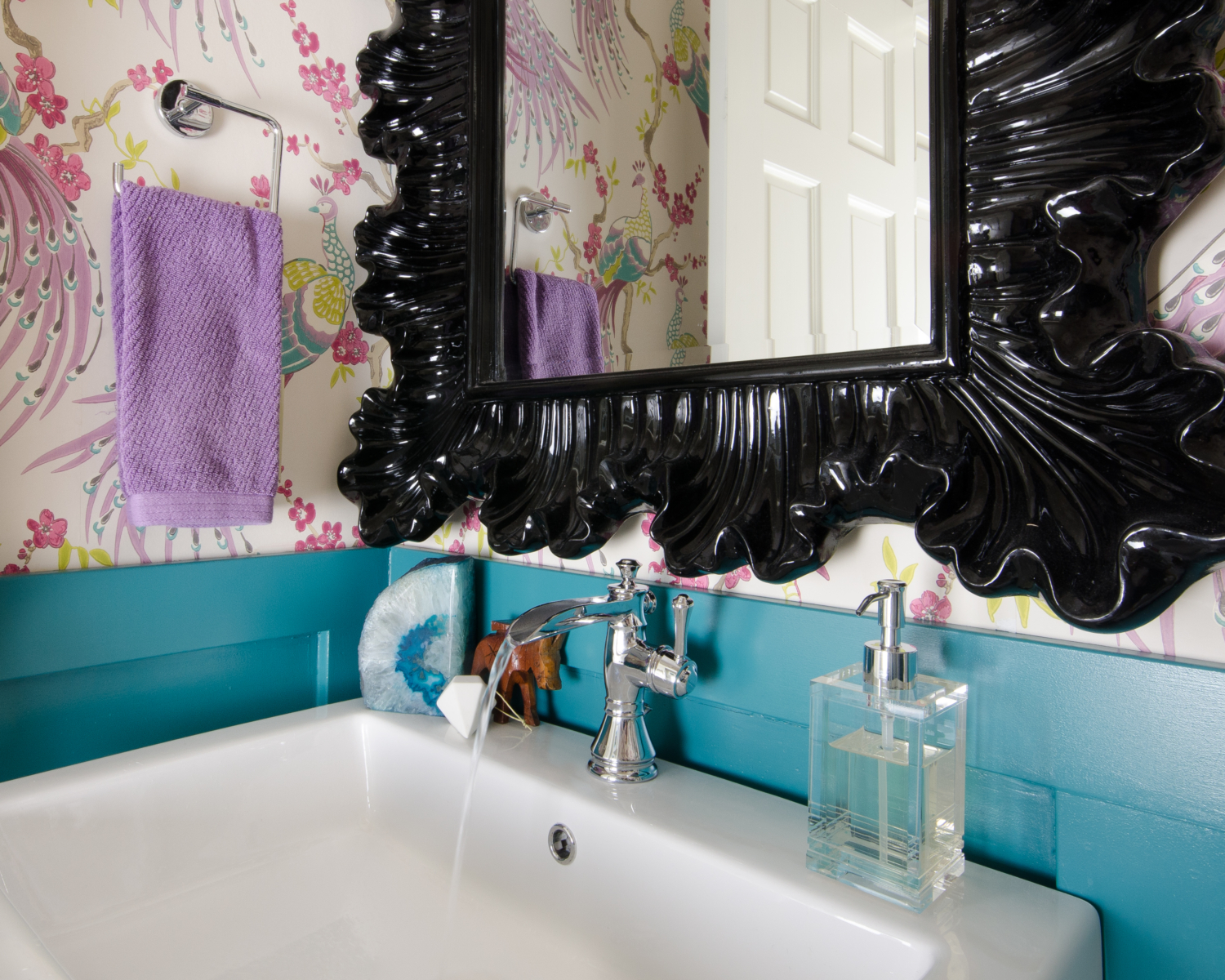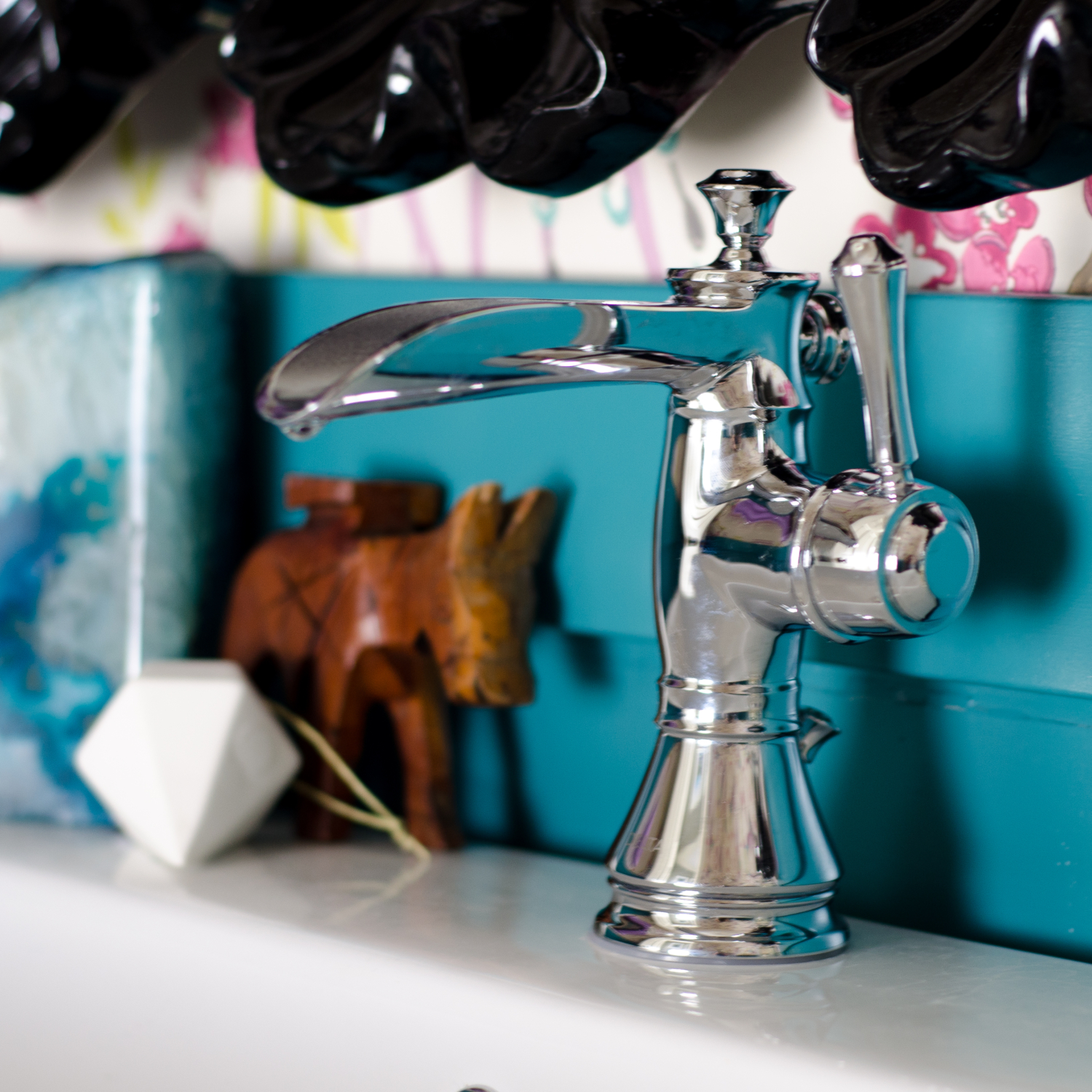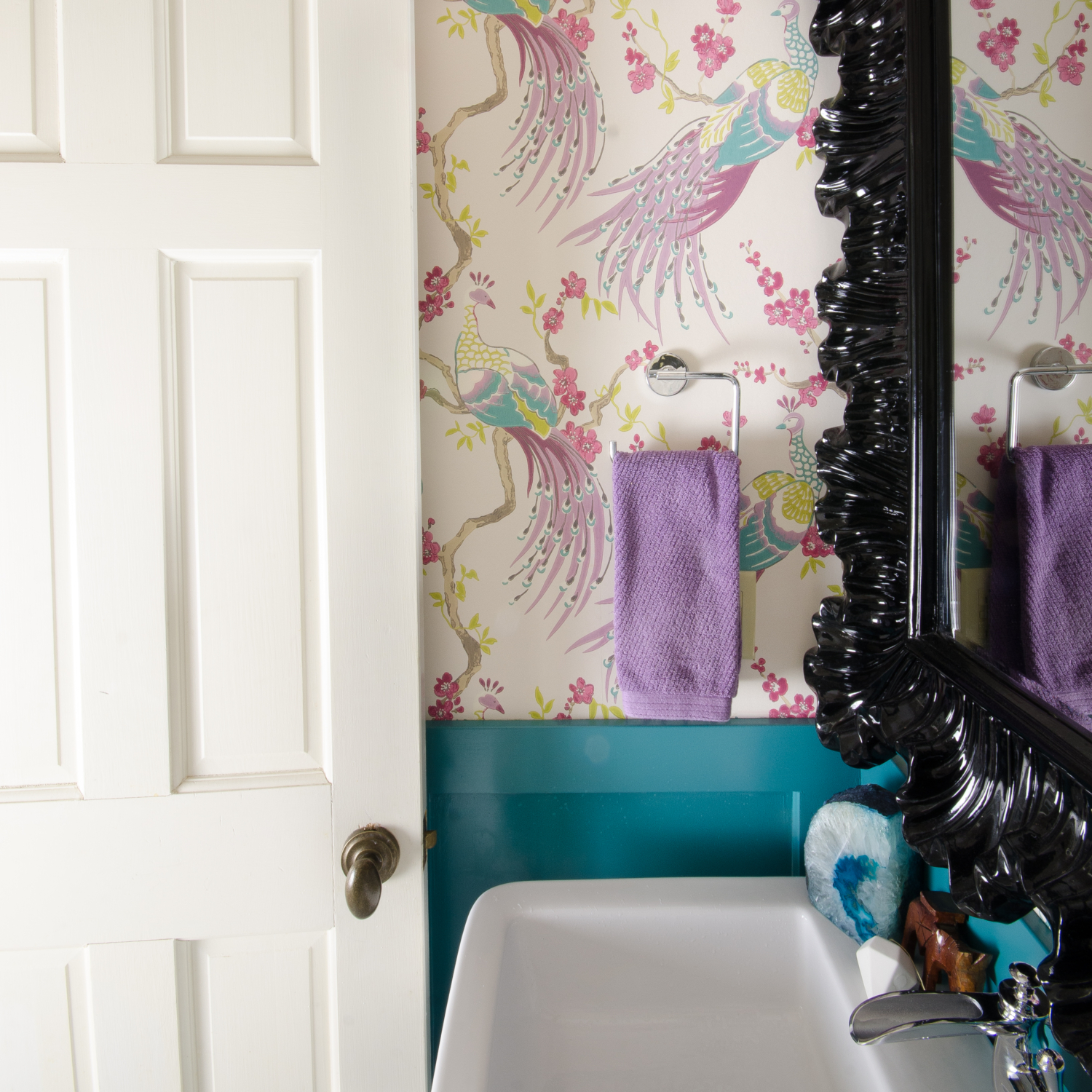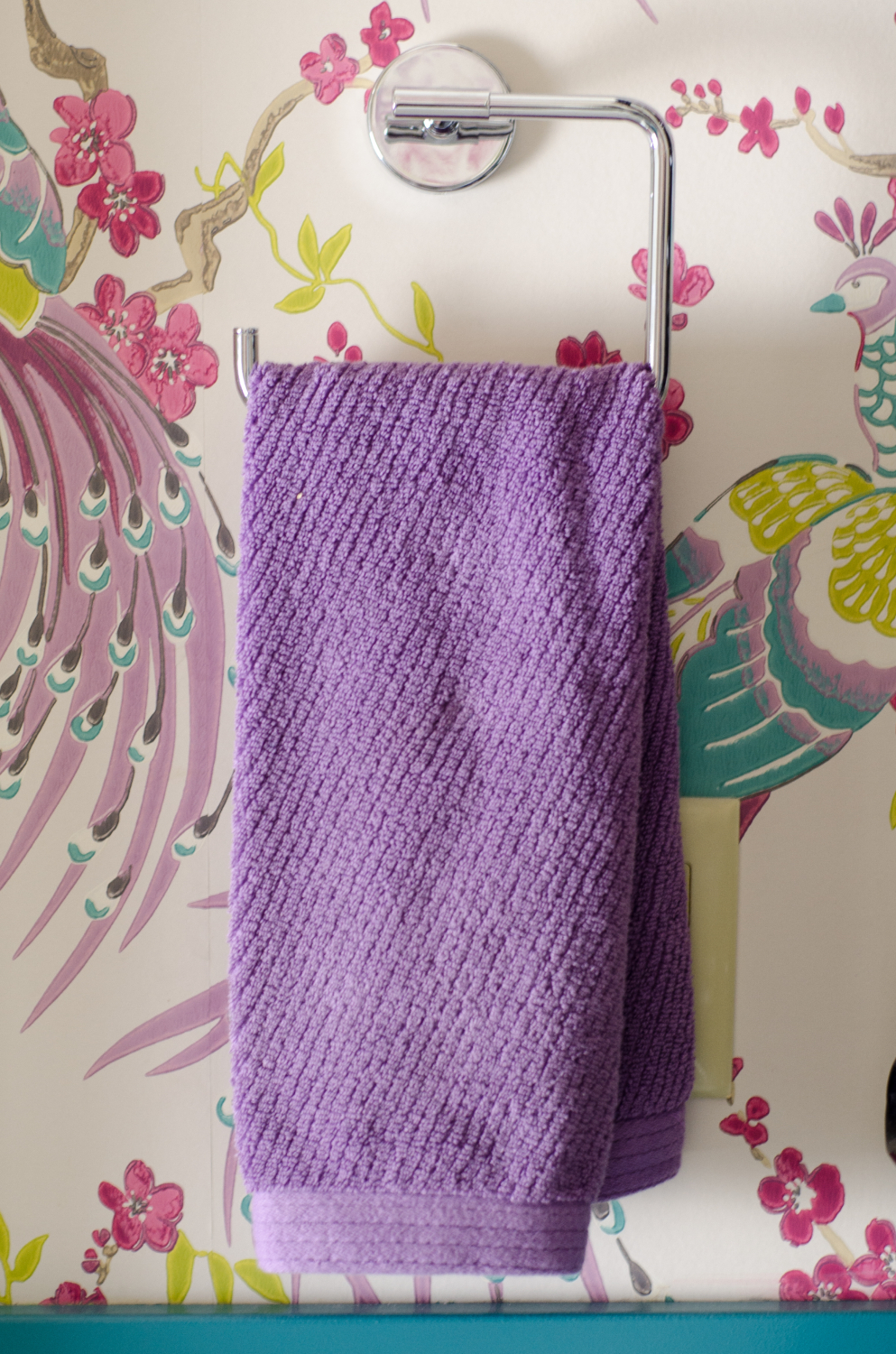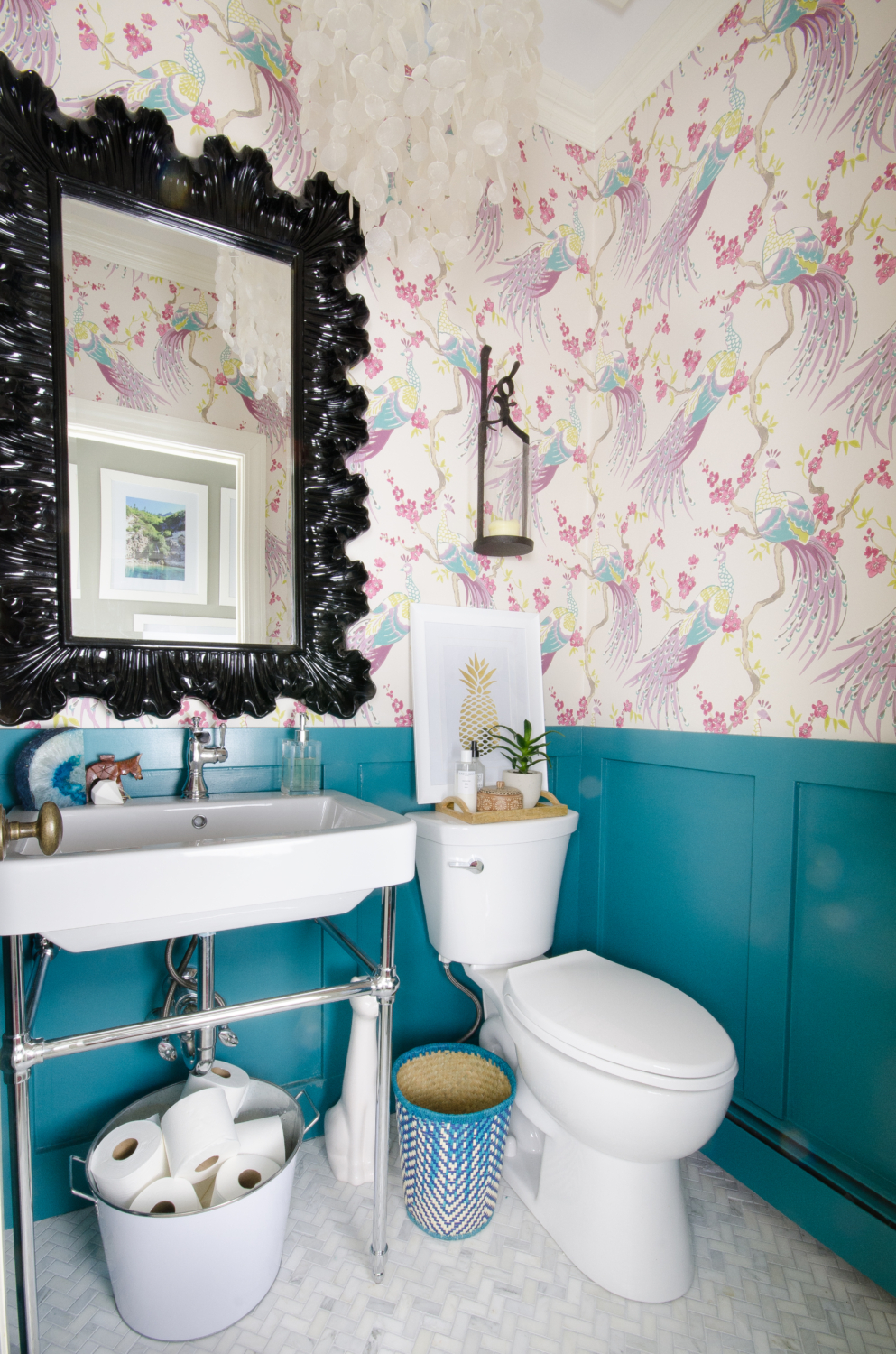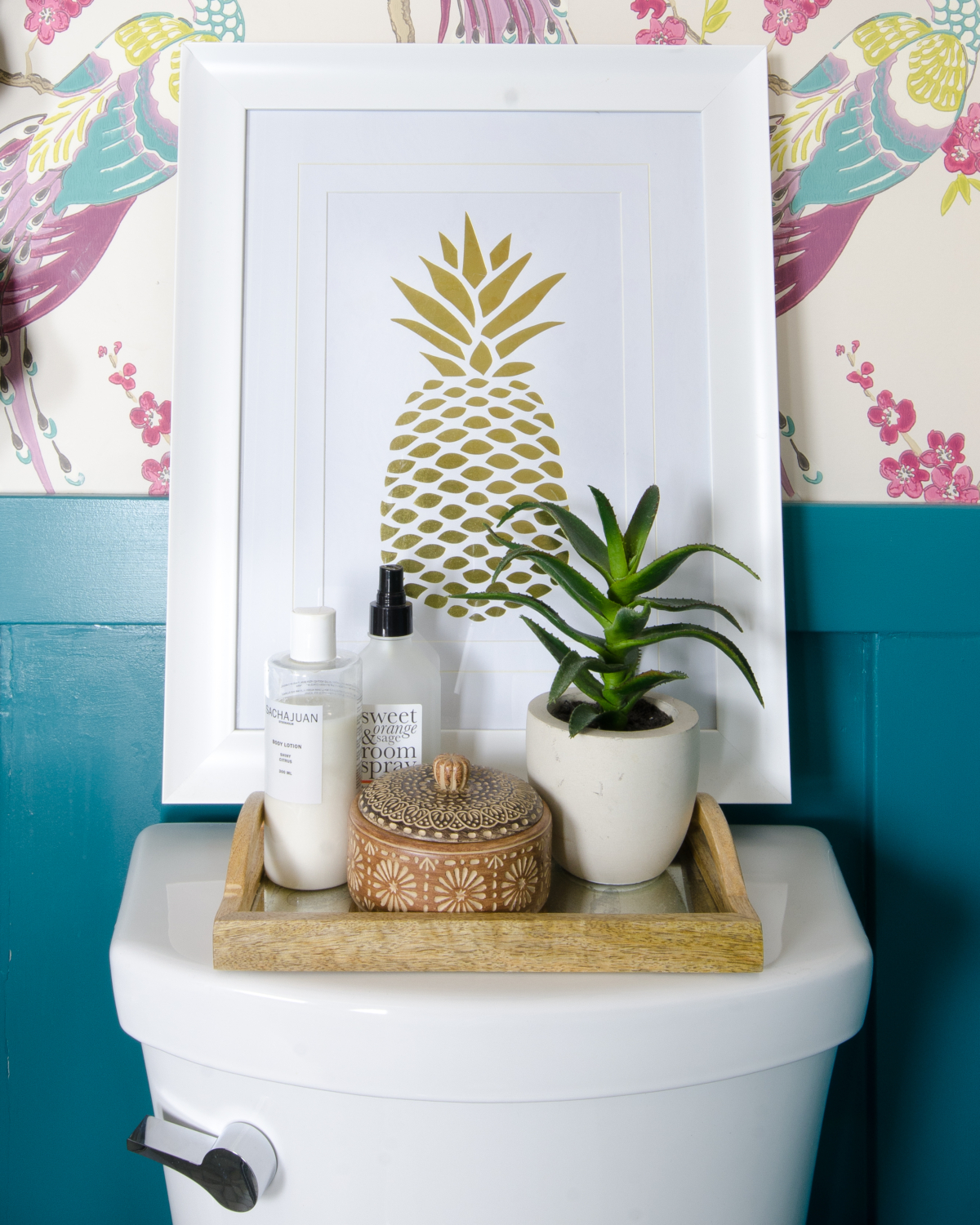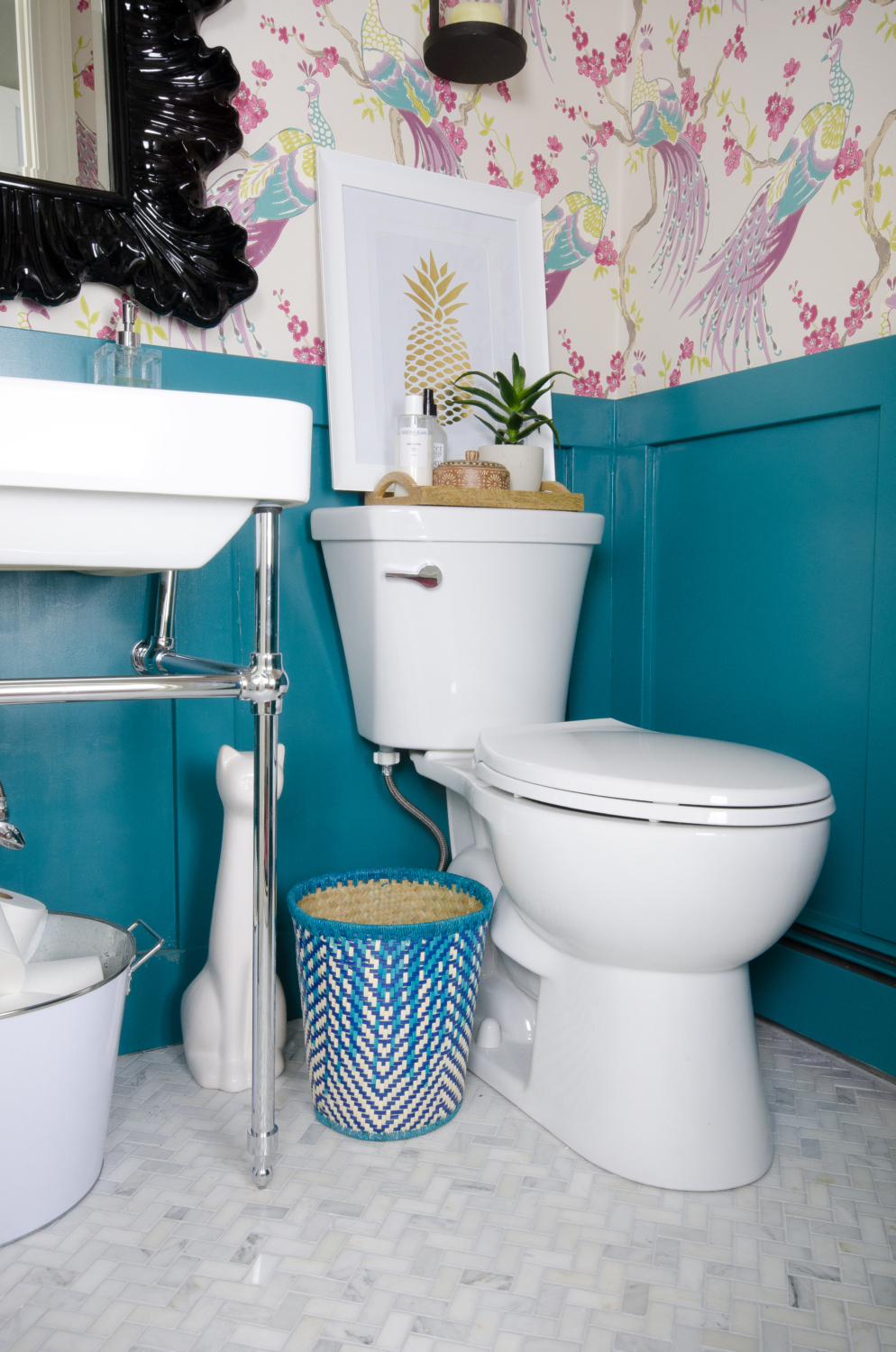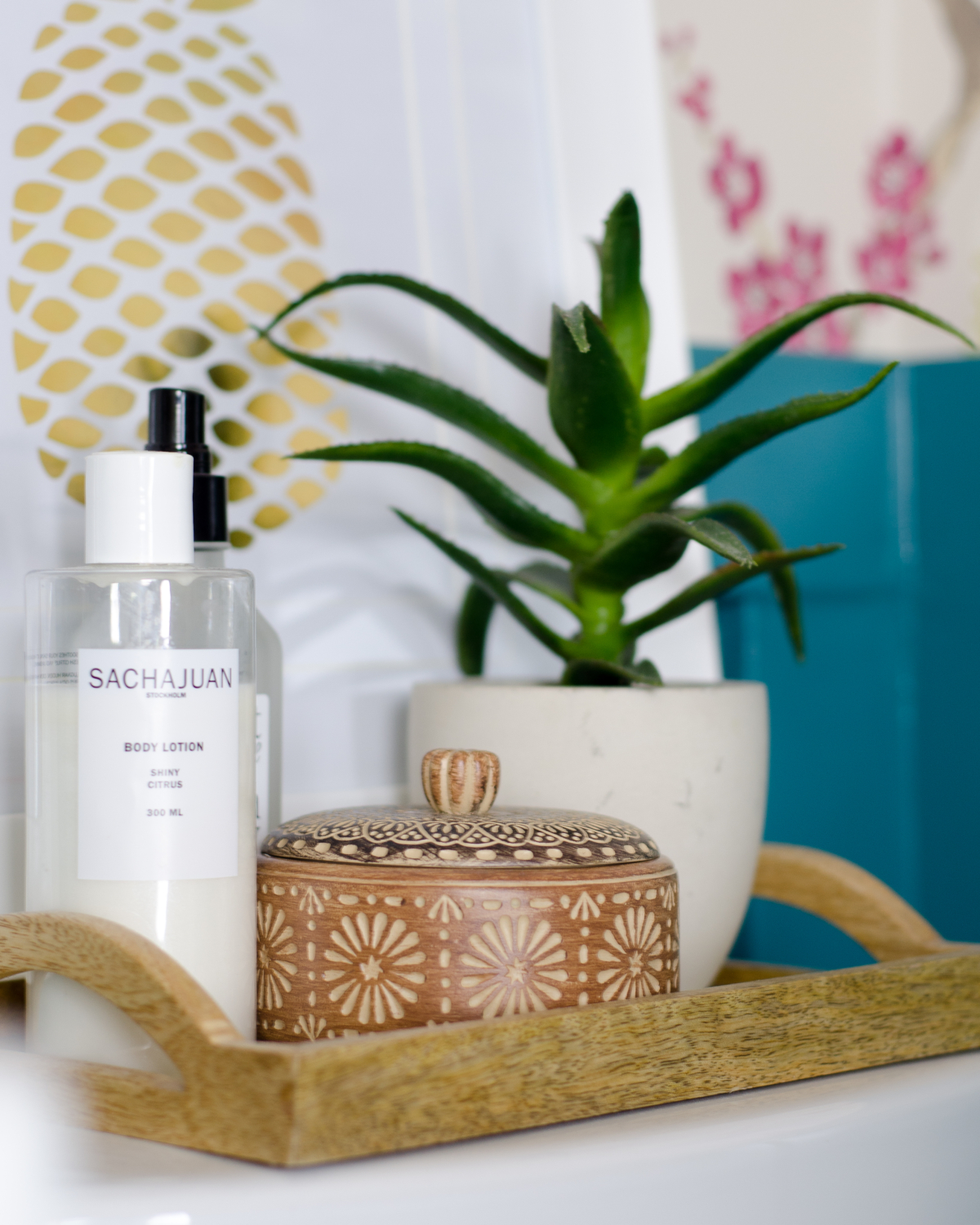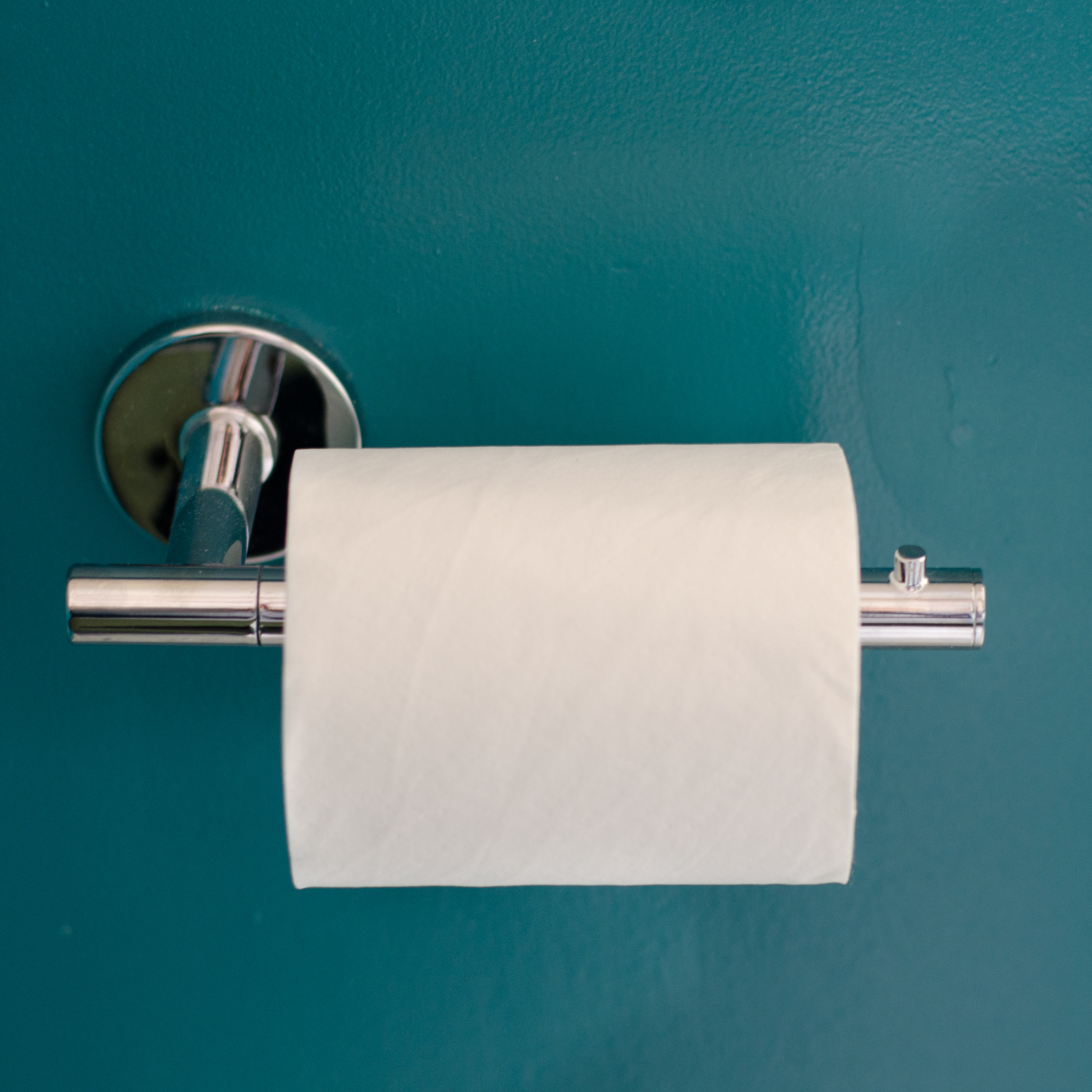 What do you think? Big difference, right? Here's a breakdown of the major upgrades we made, in the order in which we made them, to pack as much style and wow factor into a very small powder room.
New floor tile
Out with the beige ceramic tile and in with a pretty white-grey marble herringbone tile. It gave the floor subtle pattern and is the perfect classic neutral backdrop for the rest of the room. Plus as marble tile goes, it's super affordable!
Wainscoting and wall paint
I originally intended to paint the bottom half of the wall white again but started feeling like there were too many warring whites in the room – the grey white of the floor tile, the bright white of the sink and toilet, the warm white in the wallpaper. So I decided to scrap the white walls entirely and went instead with a rich shade of teal. It was a little bit of a gamble but I LOVE it. Love. The wall color is Teal Ocean by Benjamin Moore.  In a small powder room like mine I love big color choices, like the wallpaper and wainscoting I chose. I think it helps distract from the petite nature of the space because people notice the finishes before they notice the size of the room.
Toilet
We wound up without a toilet on the first floor of the house for a full three months and while this isn't the end of the world, it was pretty awesome to have a working toilet back again by the time it was installed. And besides just having a toilet at all, the new toilet was a major upgrade from the old one. We decided on Delta's Turner Elongated Toilet both for its pure white color and for its sleek, streamlined look. Let's be honest, the toilet is rarely the standout item in a bathroom, and I can't say it is here either, but I do love the way the back of the toilet has a slight upside-down bell curve and in general the Turner toilet is a fresh, modern addition to the bathroom. And a major improvement from the one in there before!
Sink
I knew I wanted something more open than the heavy cabinet that was in the bathroom originally. It's such a small powder room and the cabinet felt much too heavy for the space. I found a few open-bottomed console sinks that I loved but they were really expensive and we were trying to make over this bathroom on a reasonable budget. I was just beginning to despair when I came across this console sink. It was everything I wanted and at about 1/3 of the price of the others I'd found. My only struggle was choosing the finish for the base – there are five different metal finishes and I was stuck between polished brass and polished chrome. Ultimately I decided on chrome and I'm super happy with it, but I think the brass would be so gorgeous too.
Faucet
If it's possible to be deeply in love with a faucet, I am deeply in love with this faucet. It took me very little time to choose Delta's Cassidy Single Handle Lavatory Faucet with Channel Spout as the one for the powder room. Its classic and curvy and sleek and chunky and the moment I saw it I knew it was the one I wanted for the room. And the channel spout is so cool. I seriously love washing my hands in here so I can watch it work. My daughter's seven year old friend was over the other day and after she used the bathroom she said, "That faucet is sooooo cool!" And she's right, it really is sooooo cool.
Accessories
And last, of course, come the accessories. A few things remained from my update a couple years ago, namely the capiz shell pendant, mirror, Clarke & Clare Indira Damson wallpaper, and gold foil pineapple print. New additions included Delta's Trinsic towel ring and Trinsic tissue holder, both in chrome. For both pieces, I love the simple lines and the fact that the design manages to look both delicate and substantial. They were the perfect finishing touches to complement the rest of the room without overwhelming or taking focus off the bigger items.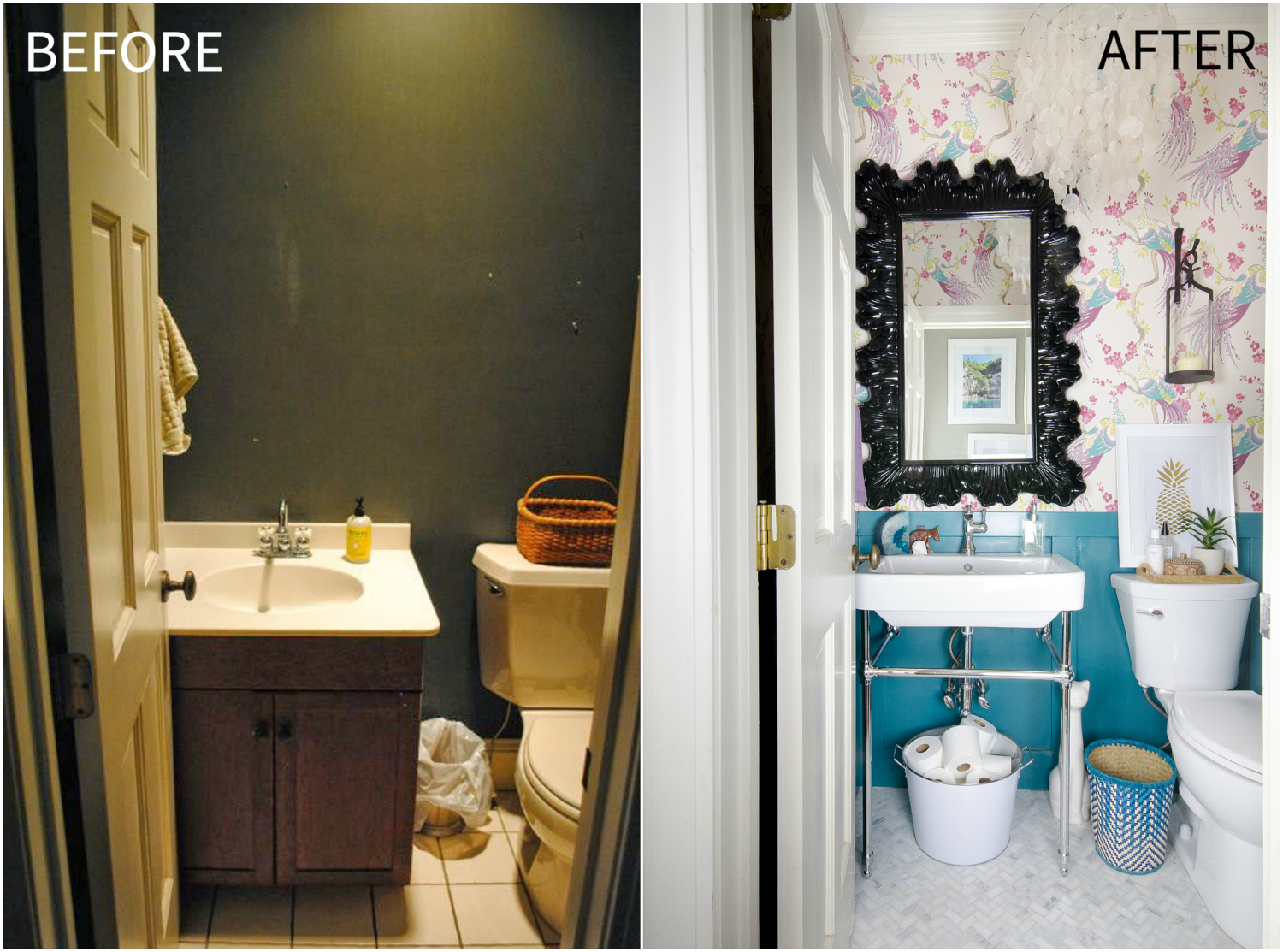 A small powder room is just fine by me, I don't need that much space here, but I did want to be sure I packed as much style and wow factor in as I could. After all the thought and planning and work that went into this room I'm so pleased with the finished look and I really don't even notice that it's such a small powder room anymore because my eye goes to all the pretty finishes and colors in the space. This room is totally "me" and I am thrilled both to be done with this project and to have a room I love this much that I get to use every day.