Loft has had a few 40% off sales lately and they've opened up another one this weekend – 40% off everything with code OHGOODIE. I've ordered a bunch of things from their spring and summer collections, they're just hitting all the right marks for me lately. I've tried on lots of clothes and these are the pieces that I loved enough to keep. With sales like this 40% off one popping up here and there lately, a lot of their pieces are going FAST. I ordered a lace skirt and a one shoulder top (similar one here) about a month ago (LOVE them both) and all stock for them is gone already! The Loft sale has become so popular lately, if you like something, I would say order it now before it's gone!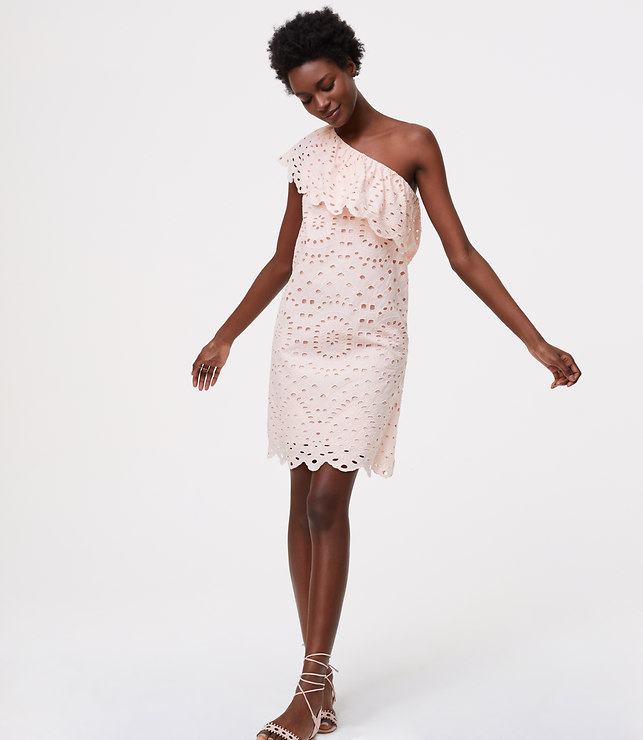 Eyelet one shoulder dress
I was obsessed with this dress instantly. I never got on the off-the-shoulder train but I'm all about this one-shoulder trend that's popping up everywhere now. The dress fits like a shift – it's not fitted at the waist at all so is super comfy. With flat sandals like these the dress is casual enough for a summer barbecue or daytime wear but pair it with statement earrings (current favorite here and 30% off now) and strappy block heels for a dressier look perfect for a summer wedding or night out. I am always in the market for versatile dresses like this.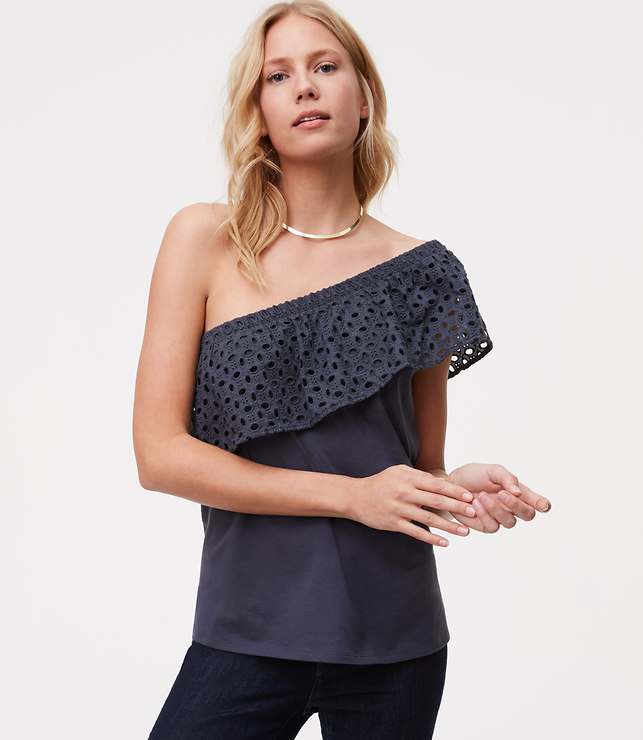 Eyelet one shoulder top
Told you I was on board for this one-shoulder trend! This top is like the perfect dressy tee. It comes in white too, but I really love this gray-blue color. So good with white shorts for day or white jeans for a casual-cute night look. I thought it ran a little big, so you might want to order a size down.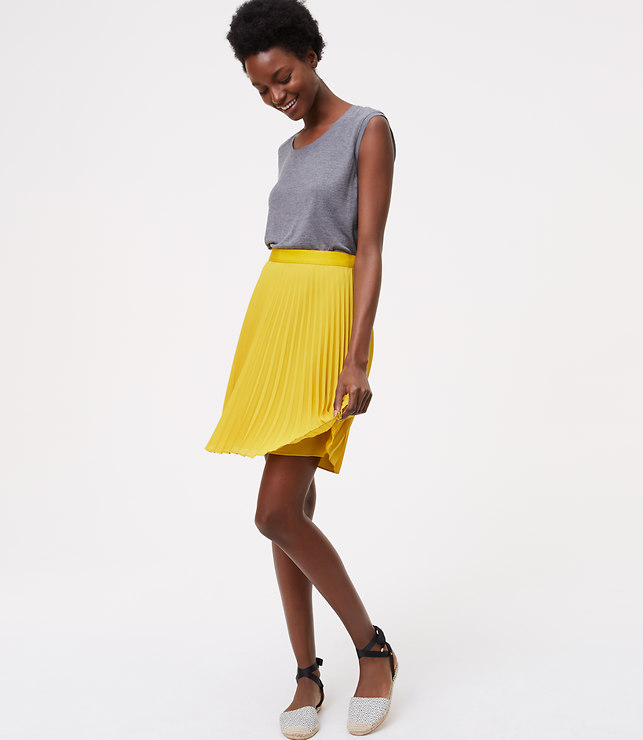 Pleated skirt
This is the only item in this post that I didn't actually order. But the lace skirt I mentioned earlier that sold out was this same color and it looks so great with a white tee and denim jacket I wanted to include a skirt in the same color. The yellow is just so perfect for spring and summer and I always love a pretty pleated skirt. I recently got this denim crop top and even though it might seem like a strange piece, it is such an awesome top to add a little funk to preppy and traditional styles like this skirt. It comes right to my waist so isn't a skin-baring crop top on me (I'm pretty short-waisted though).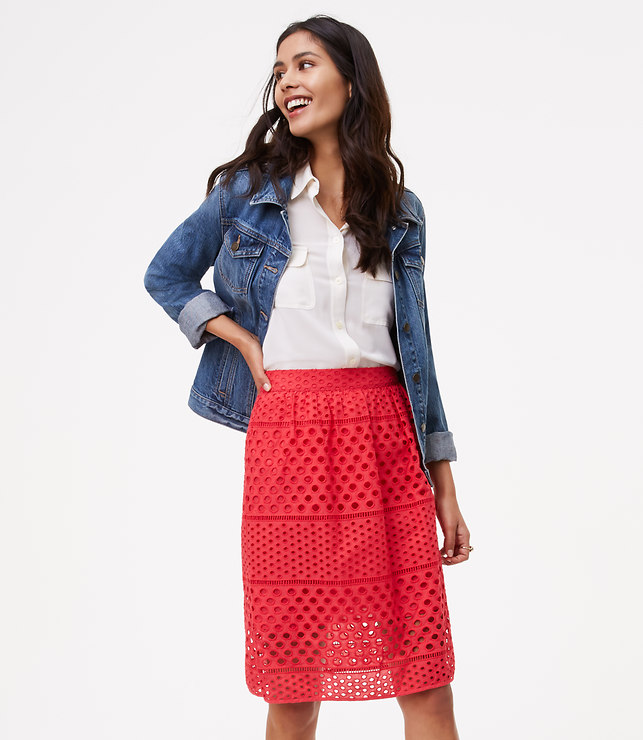 Striped eyelet skirt
This is another skirt in a fun spring and summer color. It's a general pencil skirt shape with a bit more pouf than a classic pencil skirt. It's super flattering and like the yellow pleated skirt, looks amazing with a white tee and denim jacket like shown in the photo or with the denim crop top I talked about above for a more edgy look.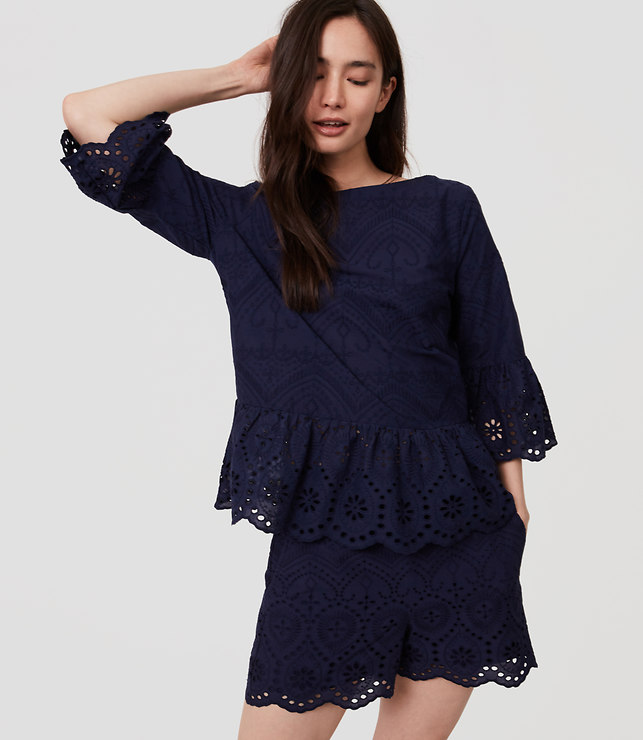 Eyelet flounce top
I honestly might have scrolled right past this online but I saw it and tried it on in the store and totally loved it. It's a lightweight cotton poplin fabric and somehow the ruffles and eyelet didn't come off as too sweet or girly. The crisp navy will look amazing with white shirts and white denim. I love the idea of pairing it with distressed jeans for a contrast to the more feminine top too.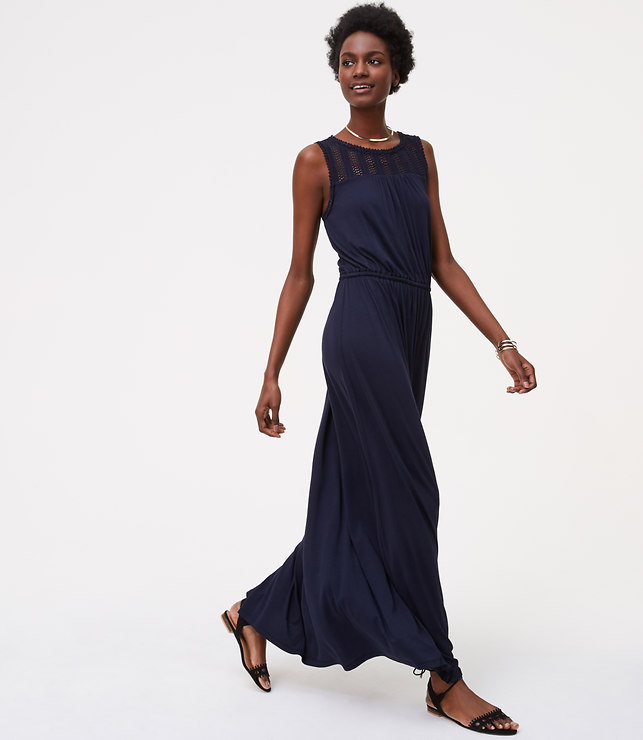 Lace yoke maxi dress
Dresses like this maxi are my favorite kind of summer dressing. Just effortless chic in one easy piece. On one hand this is just a simple t-shirt dress but the lace detail at the top adds the perfect refined touch. I'll wear this dress everywhere from the beach with flip flops to a casual summer party with fun statement earrings like these.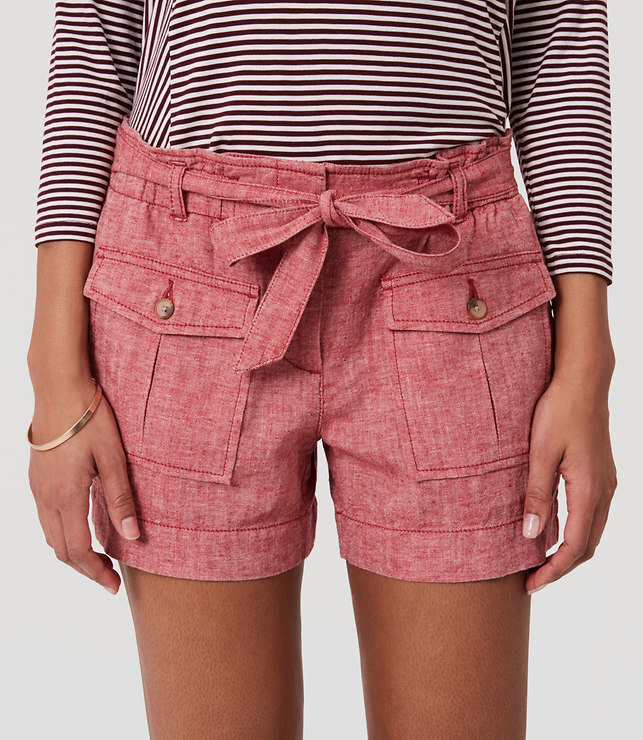 Safari shorts
I've been a fan of Loft's shorts for a couple years now. They have a lot of 4″ inseam options which is just perfect for me – not too short and not too long. I love both the relaxed fit and cute waist tie on this style and the classic Nantucket red color will look great with the white and heather indigo colors of my favorite t-shirt. A navy and white stripe would look amazing too!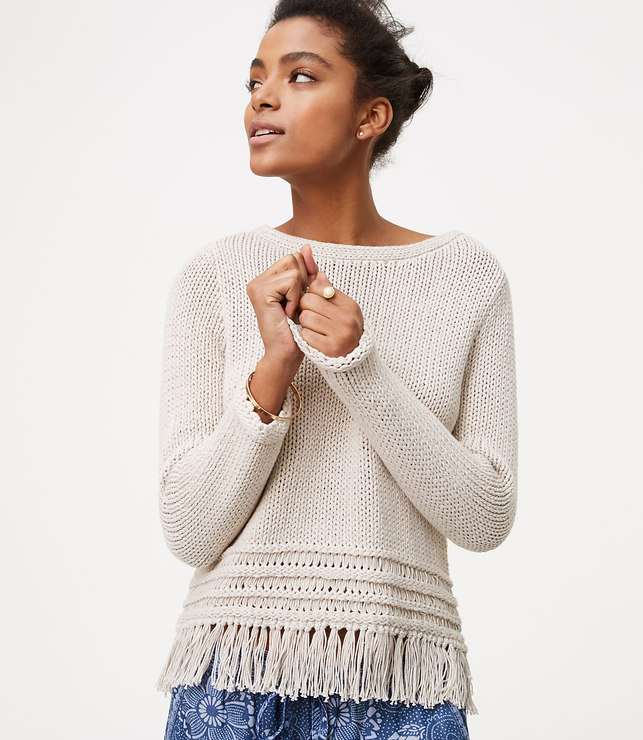 Fringe sweater
I love loose knit sweaters for chilly evenings in early and late summer. This neutral chalky color will go with absolutely everything and how fun is the fringe detail at the bottom? I'll be wearing this sweater all spring on cooler days and it will be my go-to summer vacation sweater. I always kind of dread packing so having a piece like this that I can toss into my weekend bag or suitcase and know it'll work with anything else I pack makes it all that much simpler.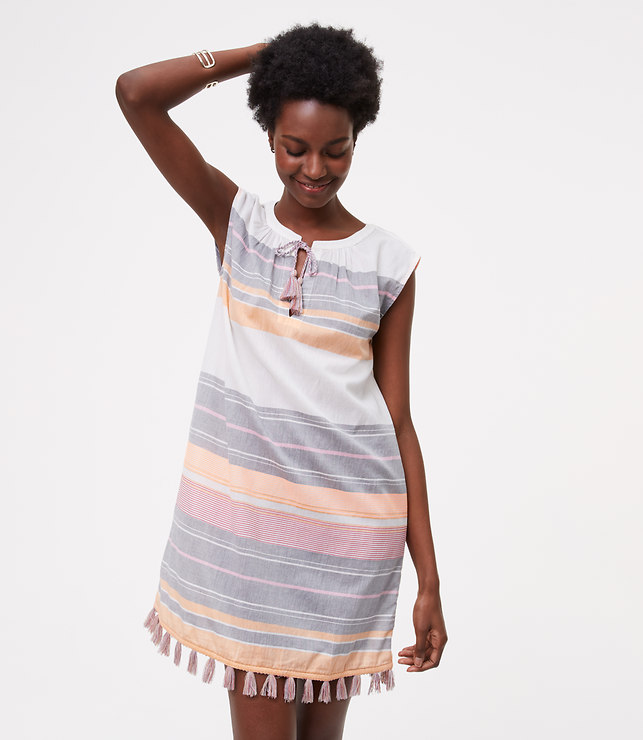 Striped tassel dress
Easy breezy dresses are without a doubt my favorite thing to wear over a bathing suit either at the pool or the beach. Anything I could wear up to the boardwalk for lunch or for a quick grocery run after the pool is just my style and this pretty striped dress with tassels at the neck and bottom hem hits all the right marks. I also bought this linen tunic this year (25% off right now!).
Hope you find some inspiration here! I find online shopping can be a little overwhelming sometimes and guides like this can help me narrow things down to a few pieces I want to add into my wardrobe for a new season. So I hope it helps you :) What are you wearing this spring and summer?