Mother's Day is less than two weeks away and if you have plans with your little ones or with your own mom, I have the perfect dress to keep you looking cute, put together, and super comfortable – the shift dress. Every year I sort through my favorite's stores dresses looking for a new shift or two to add to my closet. So if you're wondering what to wear for Mother's Day this year, or just looking to add some effortless looks to your summer wardrobe, I have you covered.
Other than a comfy maxi, the shift dress is my number one summer staple. It's always in style, it's loose and airy on hot days, and works beautifully with a sweater or jacket when it's cool. You can dress a shift dress up with heels and jewelry or dress it down with flat sandals or even flip flops. There's nothing I love putting on after a post-pool or beach shower than a shift and my rubber flip flops.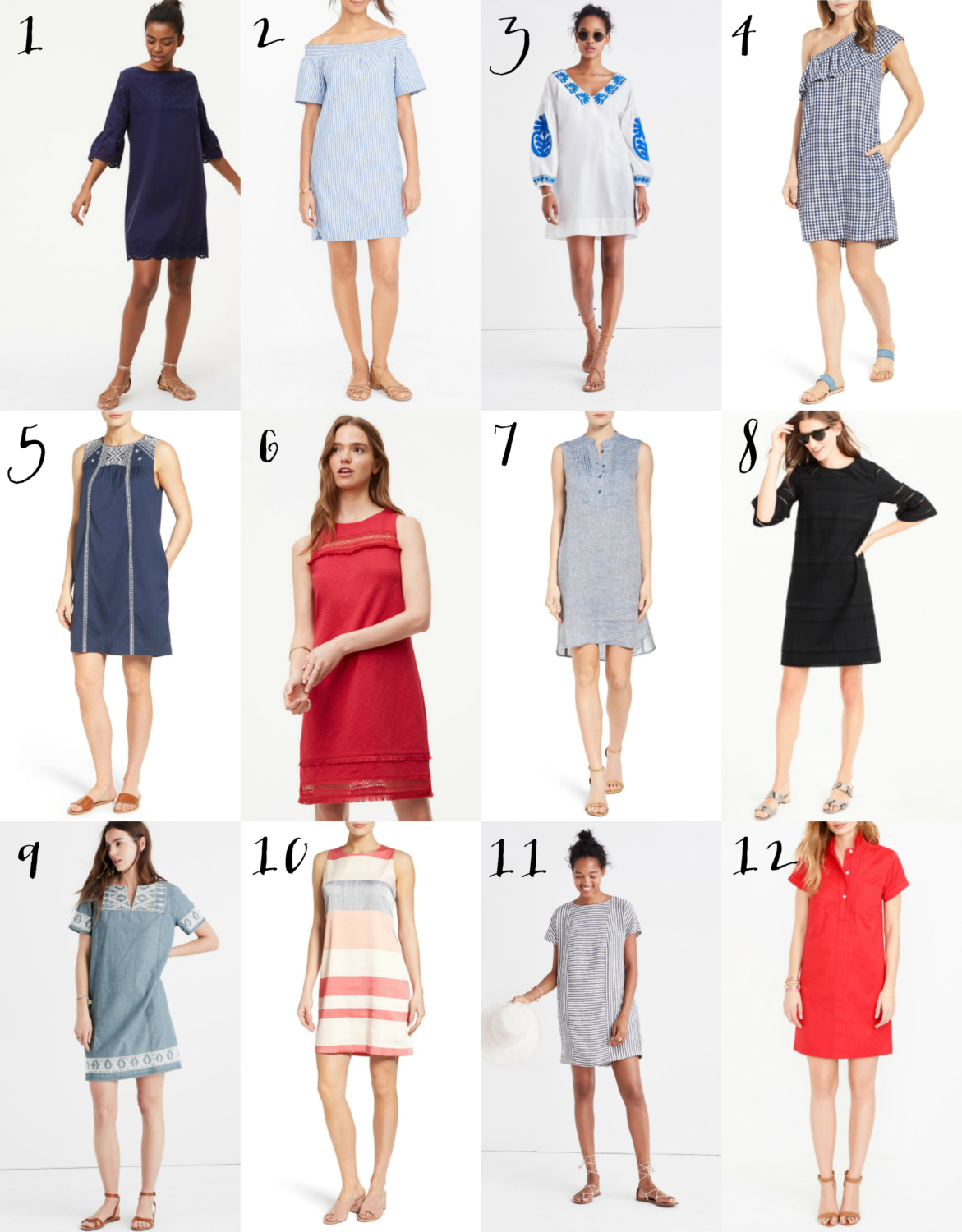 1 / 2 / 3 / 4 / 5 / 6 / 7 / 8 / 9/ 10 / 11 / 12
This pink eyelet shift dress is my most recent shift dress purchase – it comes in black, white, and green as well as the rosy pink color I chose. It's everything I mentioned above that I love about a shift dress – loose, comfortable, and effortless. It does run a bit short, and I actually wound up exchanging it for a tall size after taking these photos. I realized when I sat down in the regular length things were getting a little too racy in the rear! I'm 5'8″ for reference. But with petite, regular, and tall options, this dress can work for so many different heights. I can usually wear a small in shift dresses because of the loose fit and that's what I'm wearing here. I'd say it runs a bit on the big side, but the beauty of a shift is it's not supposed to be fitted so there's usually some play in sizing.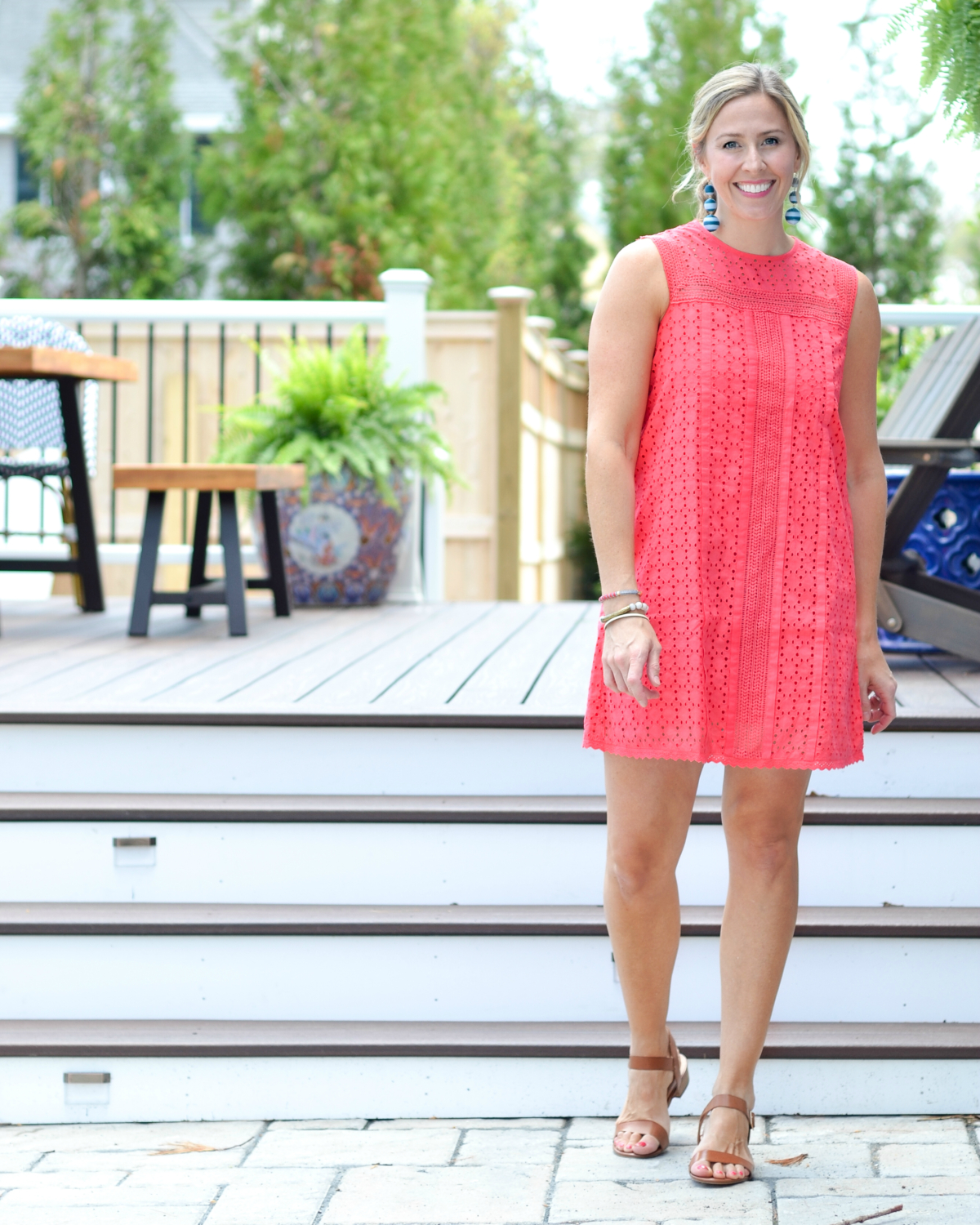 The sandals are another recent favorite that I know I'll wear a ton this spring and summer. This simple toe and ankle strap silhouette is everywhere right now and with good reason – they stay put on your feet and are super comfy! I love that the camel color on these will go with everything in my wardrobe and also that they're not perfectly flat (they have a 1 1/4″ block heel) while still maintaining the look of a casual flat sandal.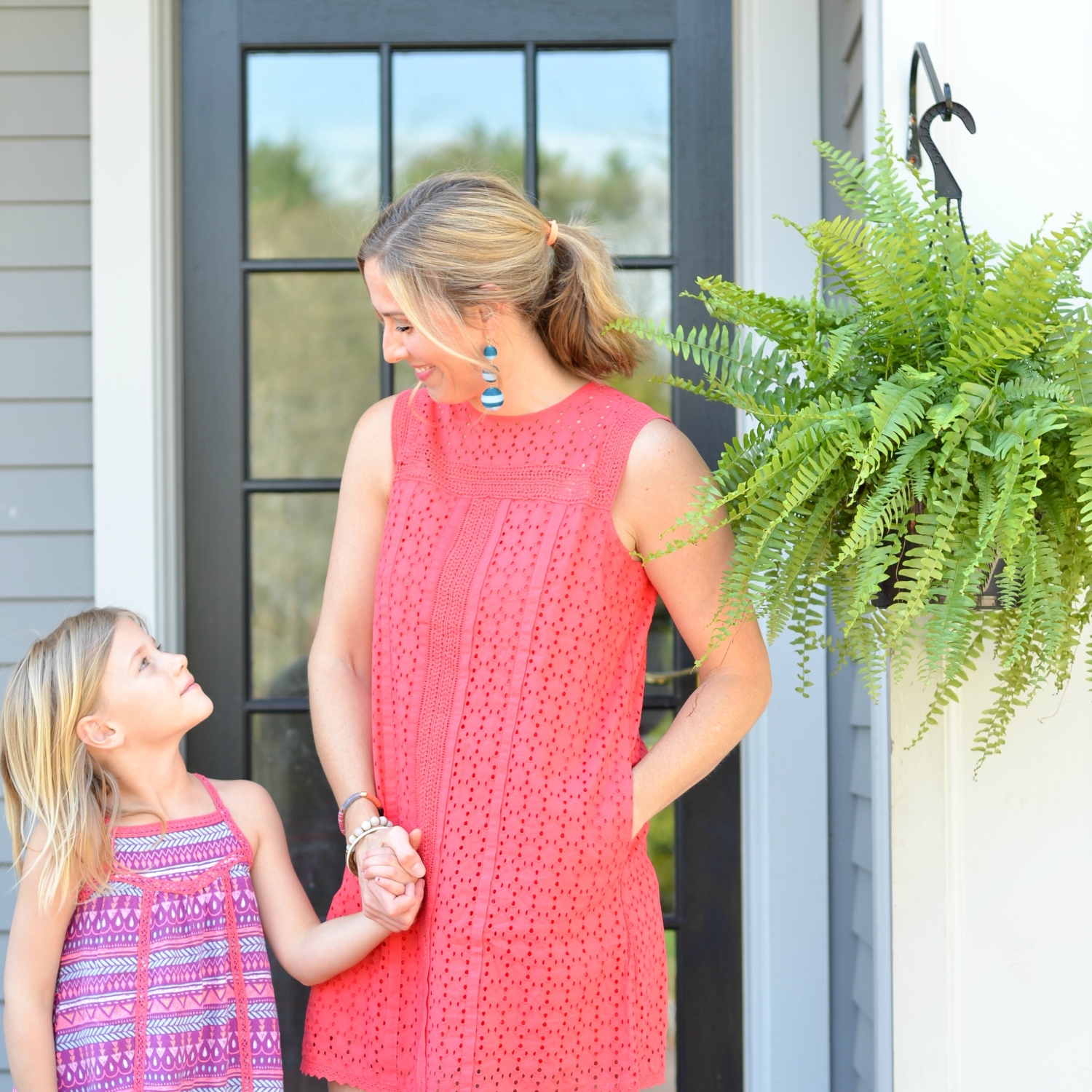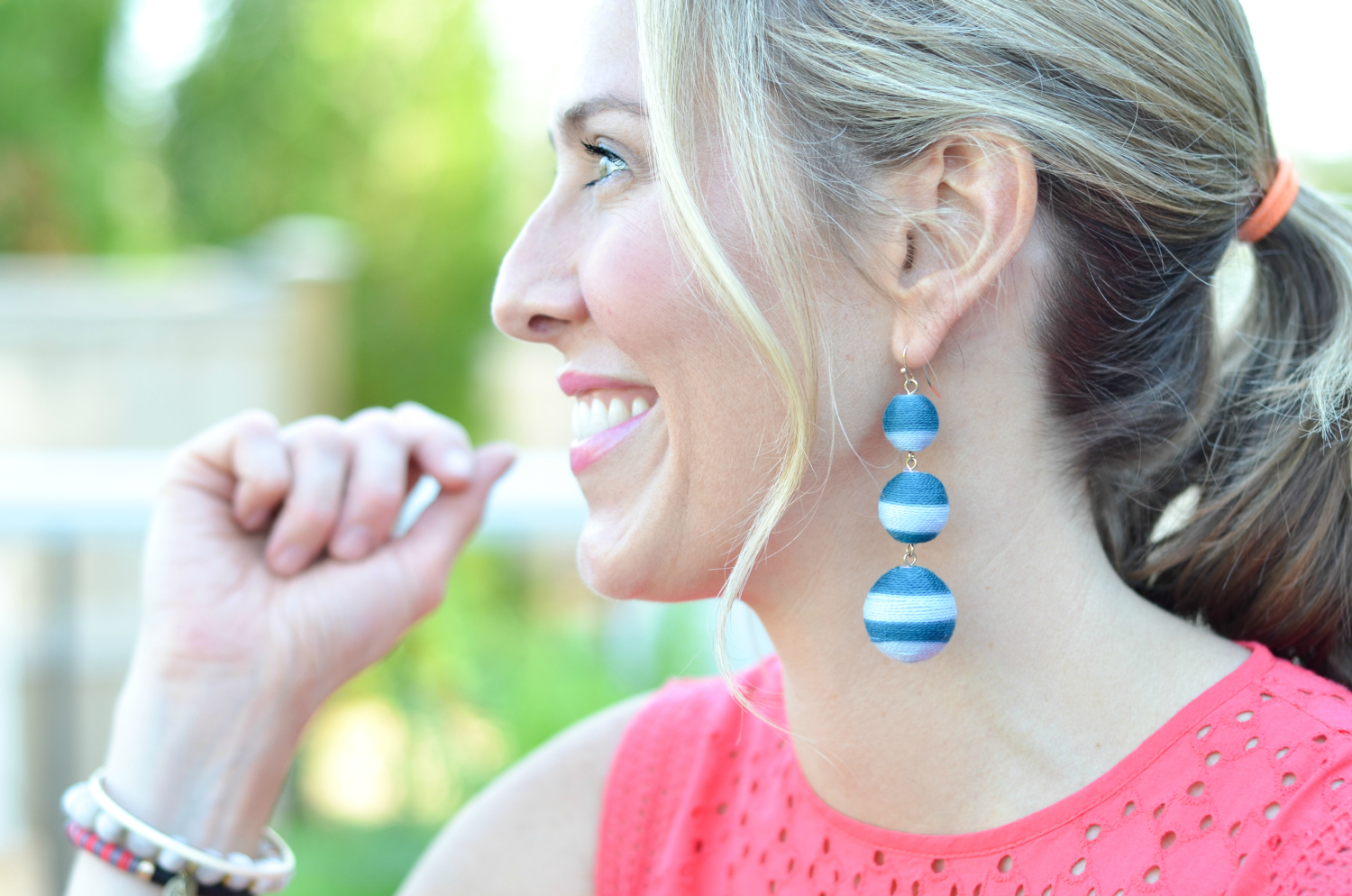 My favorite ball drop earrings are currently on sale for $32! I have these in three colors so far. And I say so far because they keep releasing new color combos that I love so no promises here that I won't add another pair or two to my collection…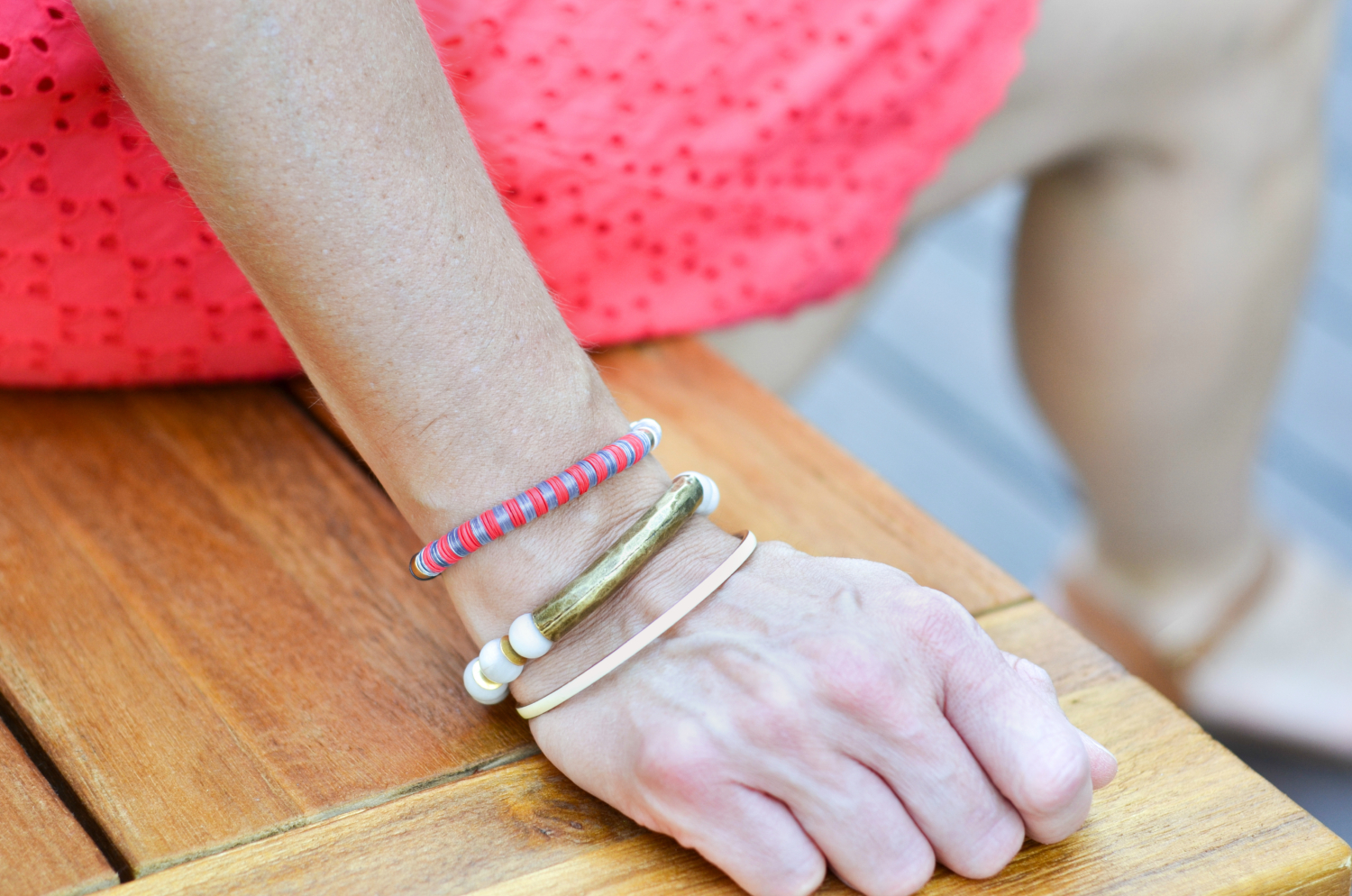 The striped stretchy bracelet I have on here isn't available anymore but you can find lots of other pretty stretchy styles HERE. The beaded bracelet with the brass bar is part of this set.
Are you as much a fan of the shift dress as I am? You can shop all my favorites by clicking through the thumbnails below and then clicking on the image when you see one you like. A few are on sale right now so check them out, sale styles always seem to fly! And don't forget to take a look at these sandals too, they're so good with dresses, shorts, you name it!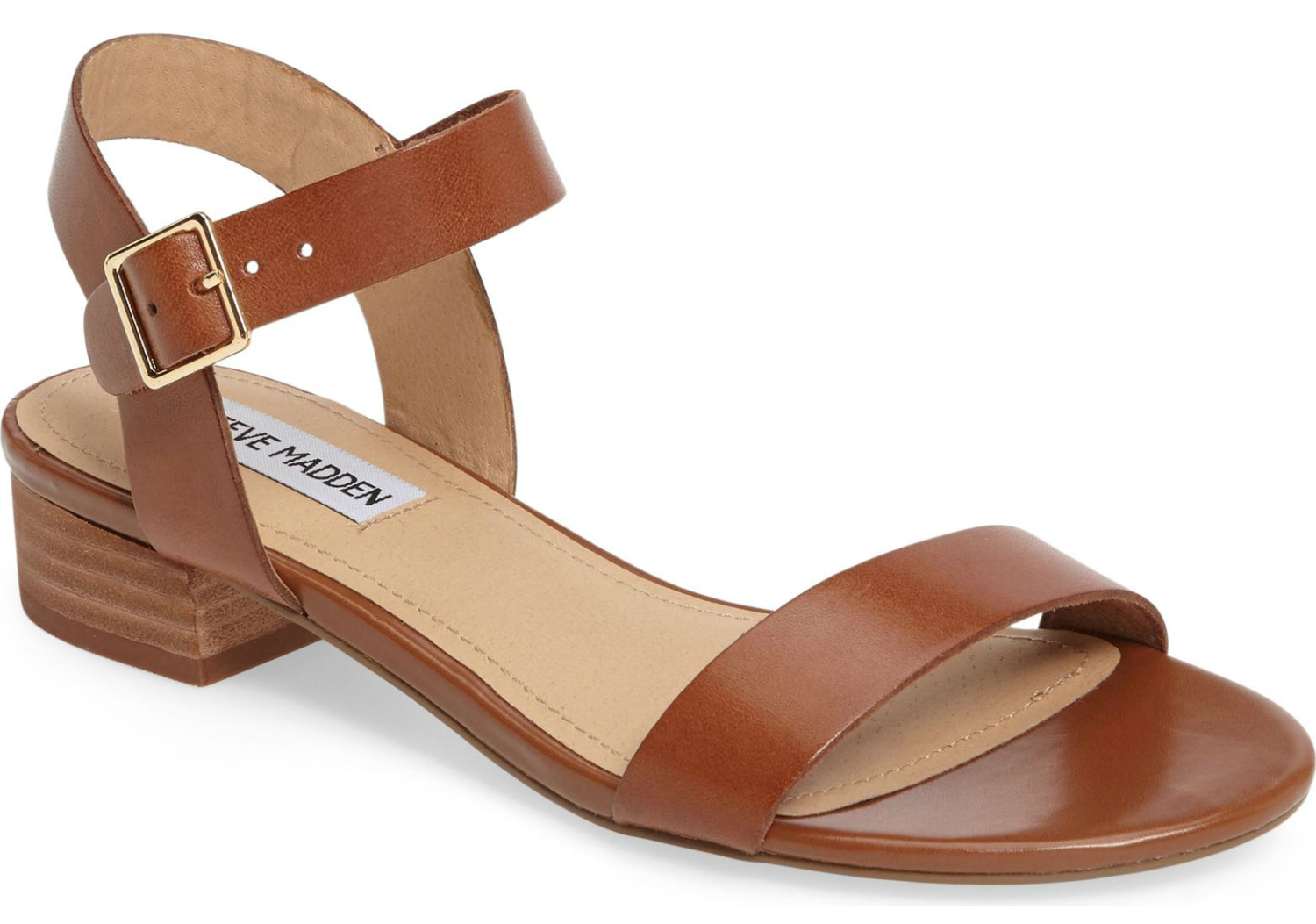 sandals