Show of hands – who remembered that we've been building a DIY deck?? It's been the longest running DIY project of all time for us and I will say this – while I love the finished product and it is doable to build a deck yourself, it is a hard project. But I was told by a contractor towards the beginning of this process that this same deck would probably cost in the ballpark of $40,000 if we had hired someone to do it so I am still feeling pretty glad that we took this on ourselves because that is a looooaaaaad of cash! We did run out of steam a few times and had to stop and start a few other times while we began on patio areas around the deck so we could have the steps land properly. We also had a tornado blow through our backyard in August…like an actual tornado, that's not a metaphor for something else. So all in all, we've had our share of roadblocks but our DIY deck is officially DONE and I am absolutely thrilled with how it came out.
If you want a refresher on the steps we've taken to get to this point, you can check out these prior posts I wrote about our DIY deck build. We used Trex Transcend boards in Lava Rock and I can't say enough good things about the quality of the materials.
DIY Deck – Concrete Footings
DIY Deck – How to Build a Deck Frame
DIY Deck – Laying the Boards
The only part of the deck build that we wound up hiring out was the steps. We had other projects we needed to focus on this past year and determined it was worth paying a local contractor around $2000 to get that part finished up for us. If we had it to do over again, we'd also hire out the digging of the holes for the footers. The rest of it, though, we would do again ourselves. I mean not again again, I think I'm done building decks for awhile now, but I don't regret taking this project on one bit.
Here's a look at how the back of the house looked when we bought it.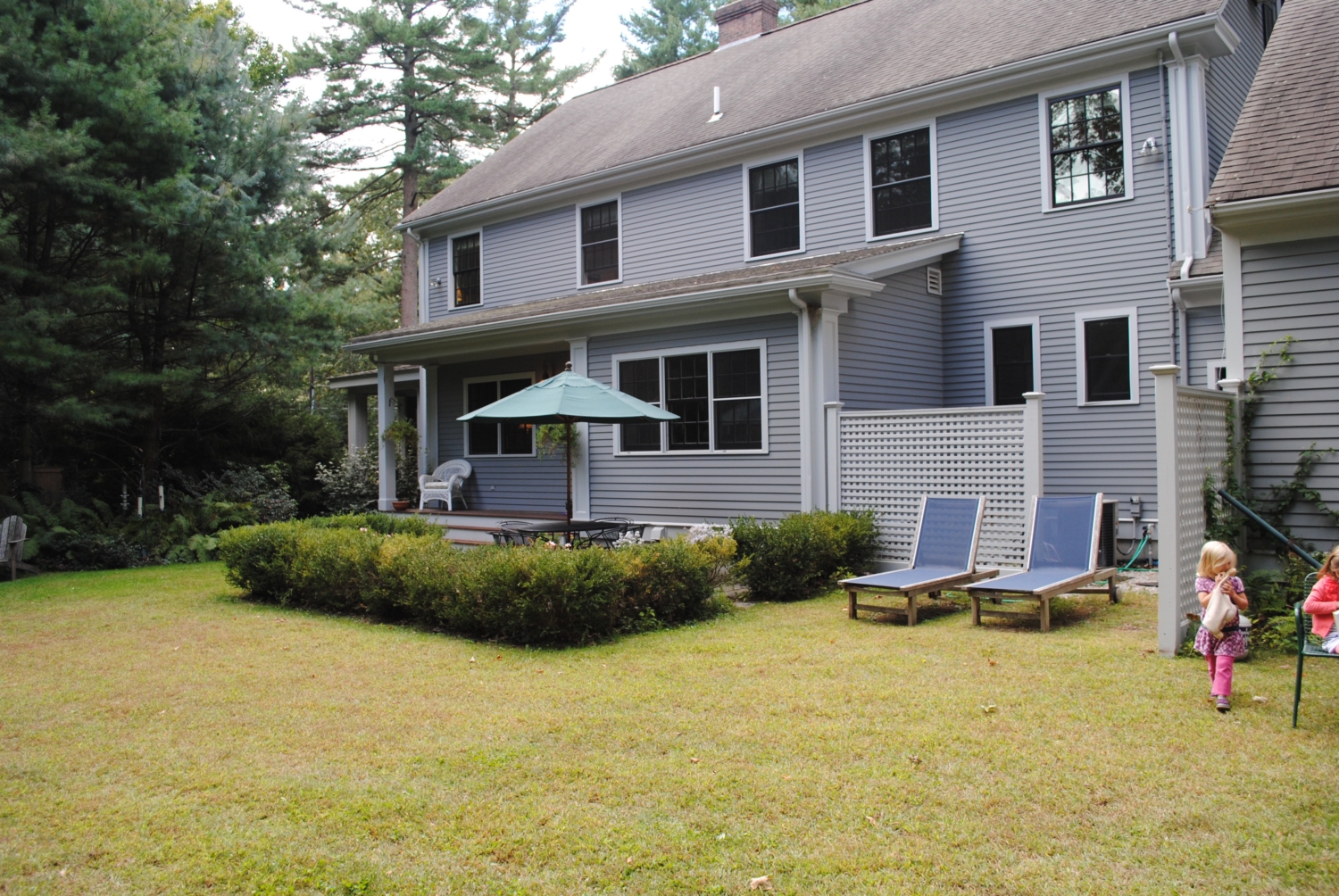 I know this isn't one of those horrible "before" photos, in fact I thought the backyard was pretty cute when I saw it. But after living in the house for a summer we kept talking about how nice it would be to expand that little wood landing off the house into a real deck and to take the small patio (with boxwoods around it) and build it into something bigger. A summer later we had ripped the existing landing off, built the new deck frame and lay the boards, and had excavated the space for the new patio (which is mostly finished but not quite ready to be photographed yet).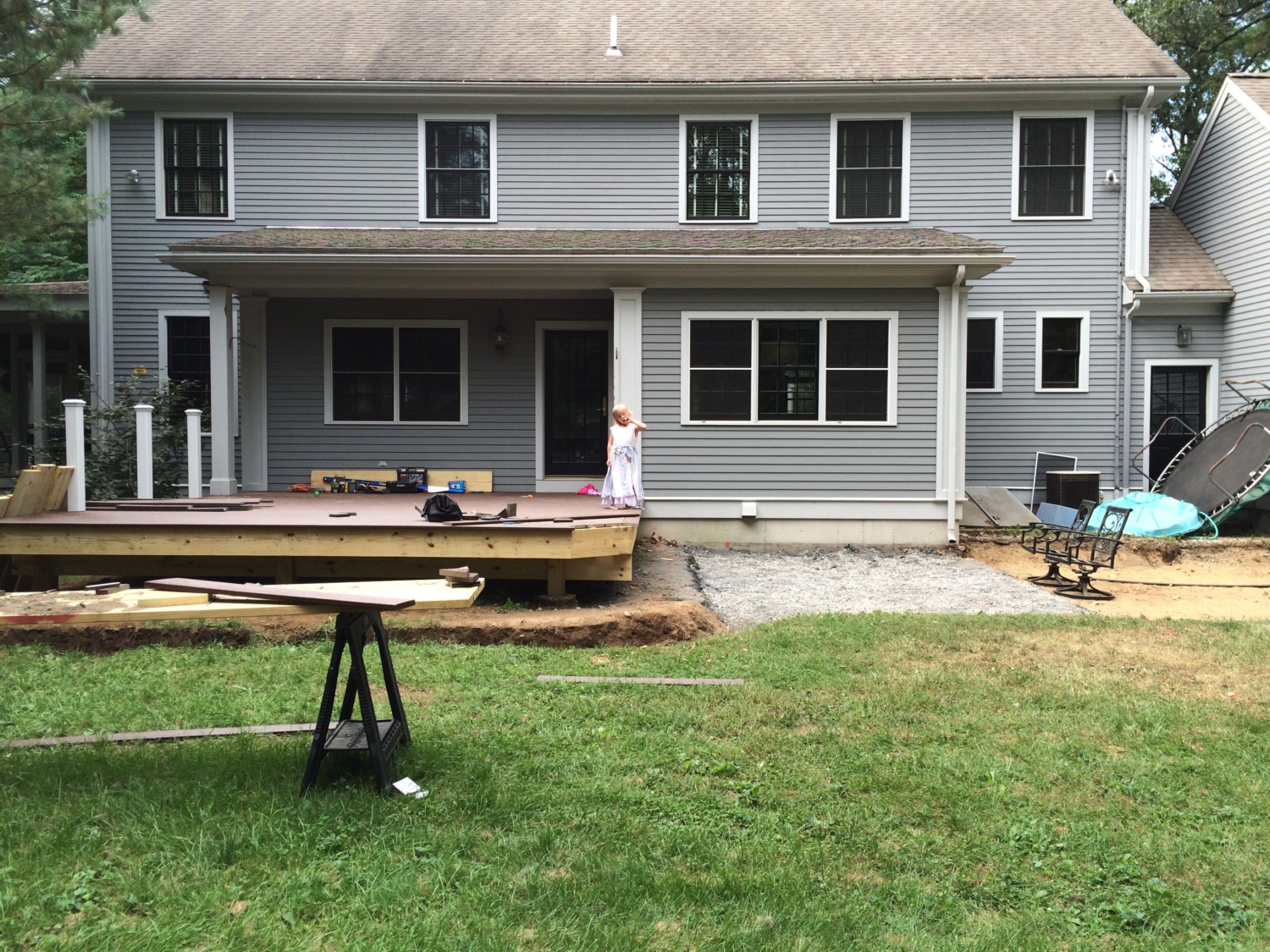 And here we are now – I didn't include the new patio space in the photos because it's currently covered in bags of potting soil and herbs waiting to be planted but I'll show you a wider view in June when I share some summer home tours. We actually have two new patios my husband has been hard at work on that we'll have finished and ready for sharing soon!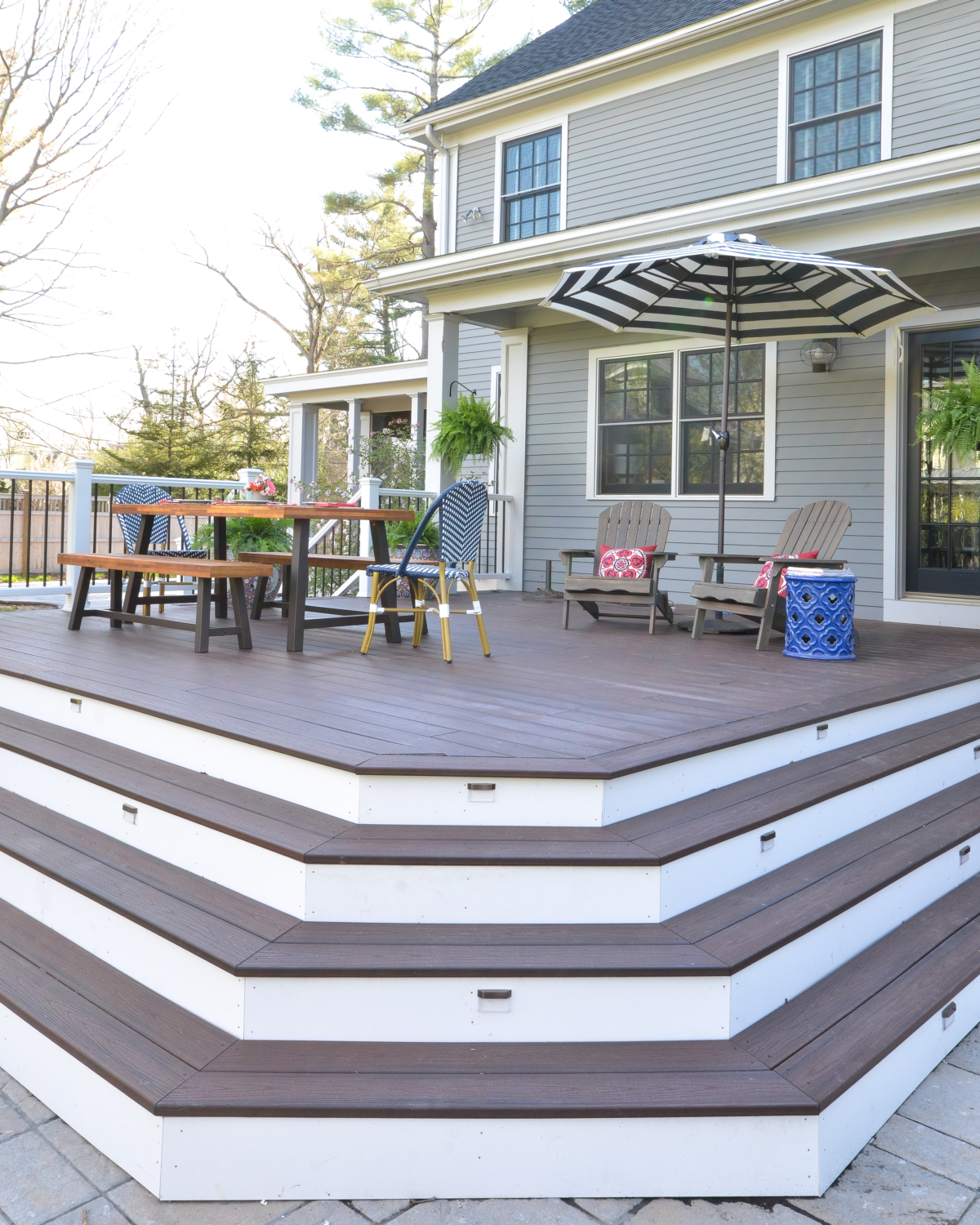 I've partnered with Joss and Main today to show off some of their outdoor furniture on my completed deck – the dining table and benches and the adirondack chairs are both part of Joss and Main's spring and summer outdoor line. You can always find fresh, seasonal decor on their site and right now their outdoor product selection is pretty awesome with some amazing prices to be found. AND they are currently offering a $500 giveaway to shop the site! All you have to do to enter is snap a picture of your outdoor areas – a front porch, backyard, patio, etc. – post it to Instagram, and tag it with @jossandmain and #designtheoutdoors. A winner will be chosen on July 1, 2017 and will get a $500 gift card to Joss and Main.
Now let's look a little more closely at my finished deck and the new furniture from Joss and Main that has it ready for use! I'll link to products under the photos or you can scroll through the images below to see them all in one place.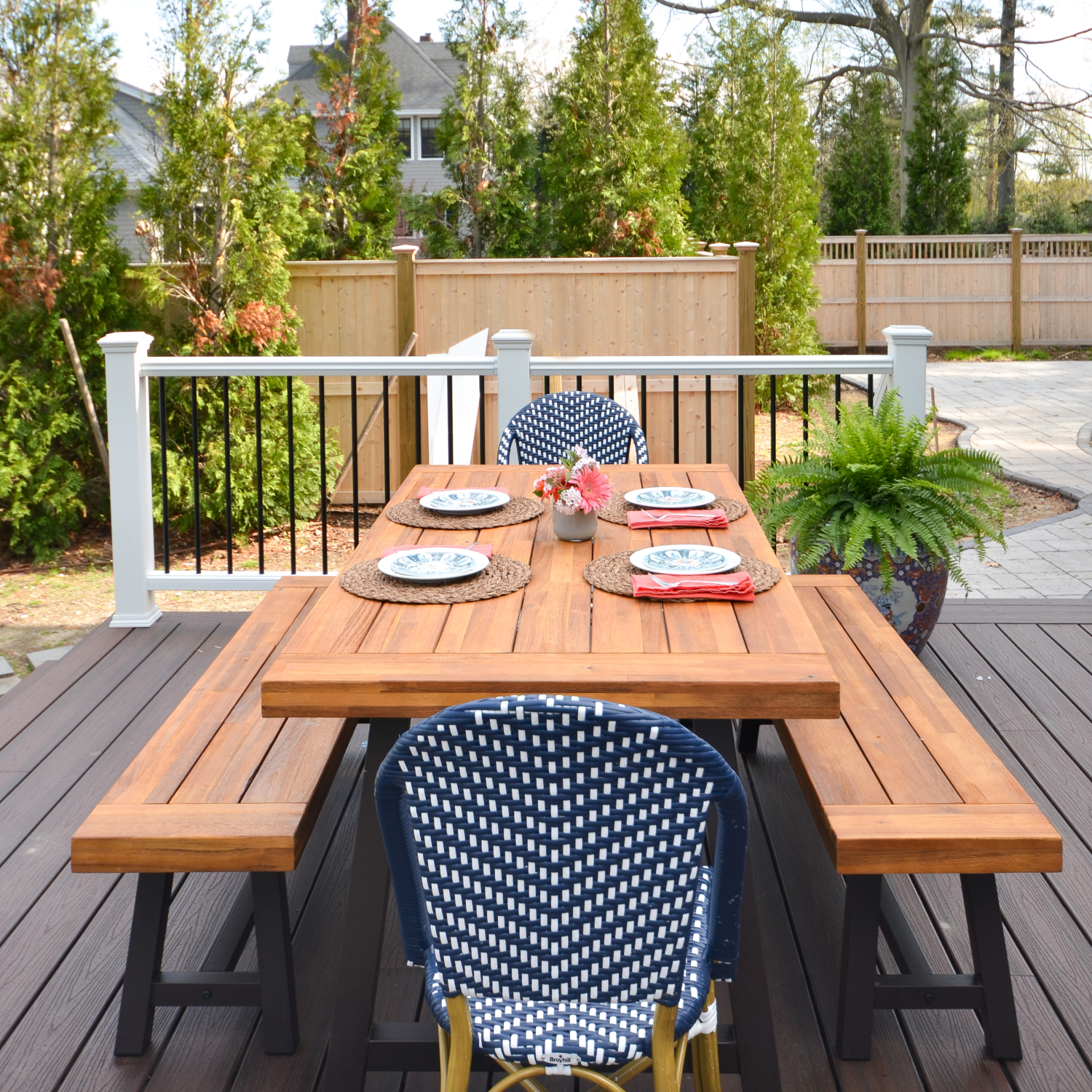 outdoor table and benches
outdoor wicker chairs (similar)
seagrass placemats (similar)
melamine plates (similar)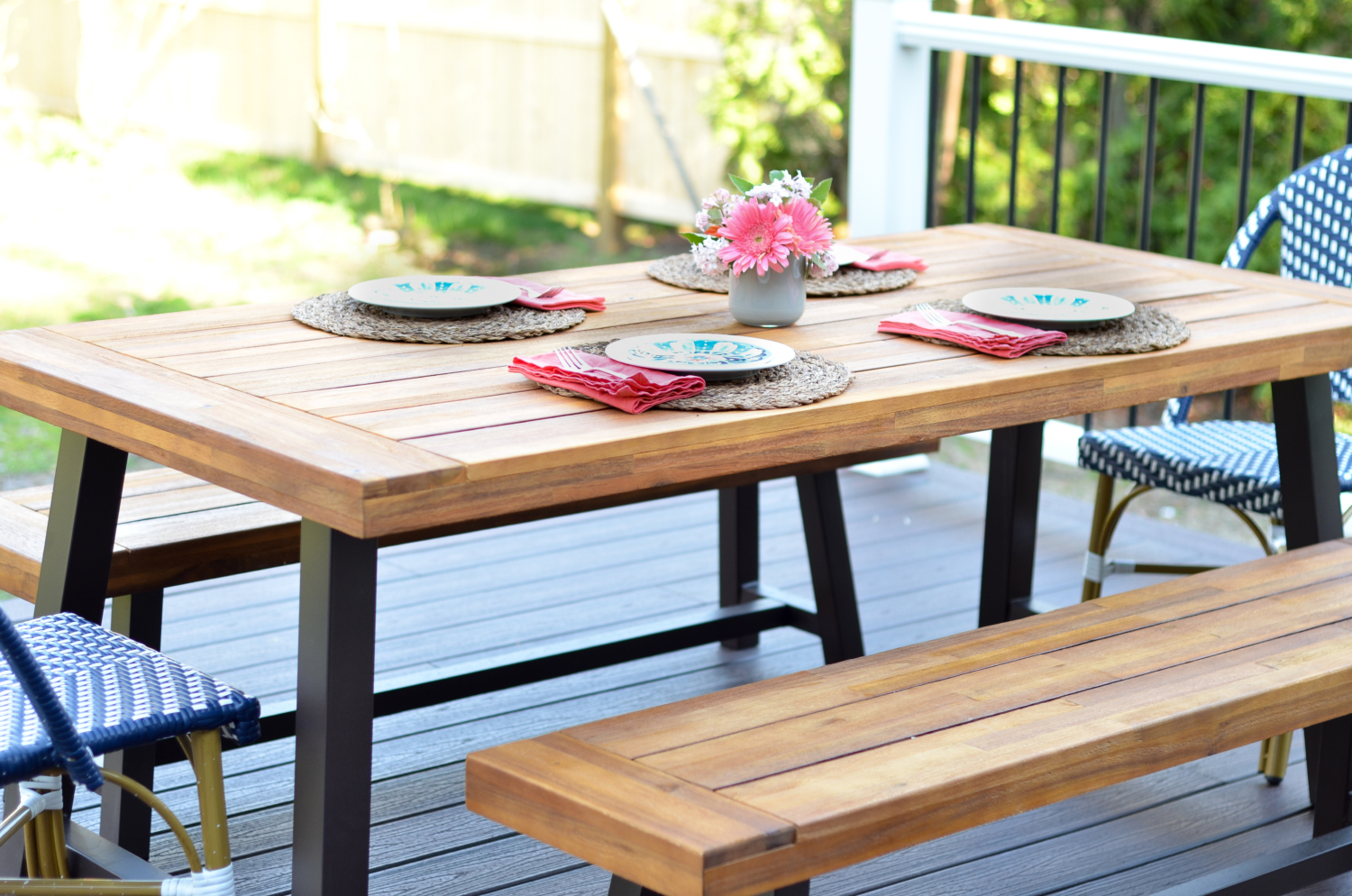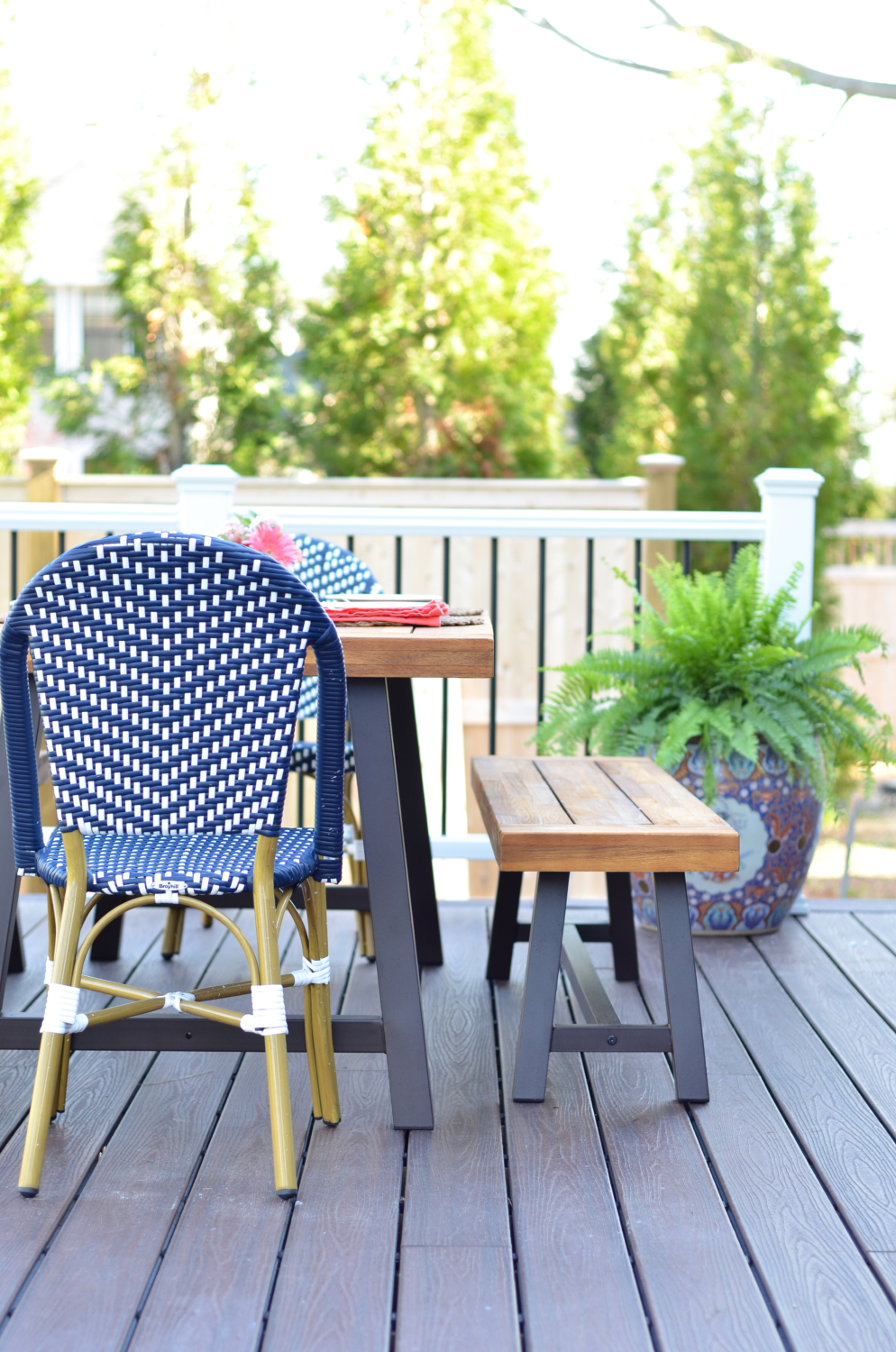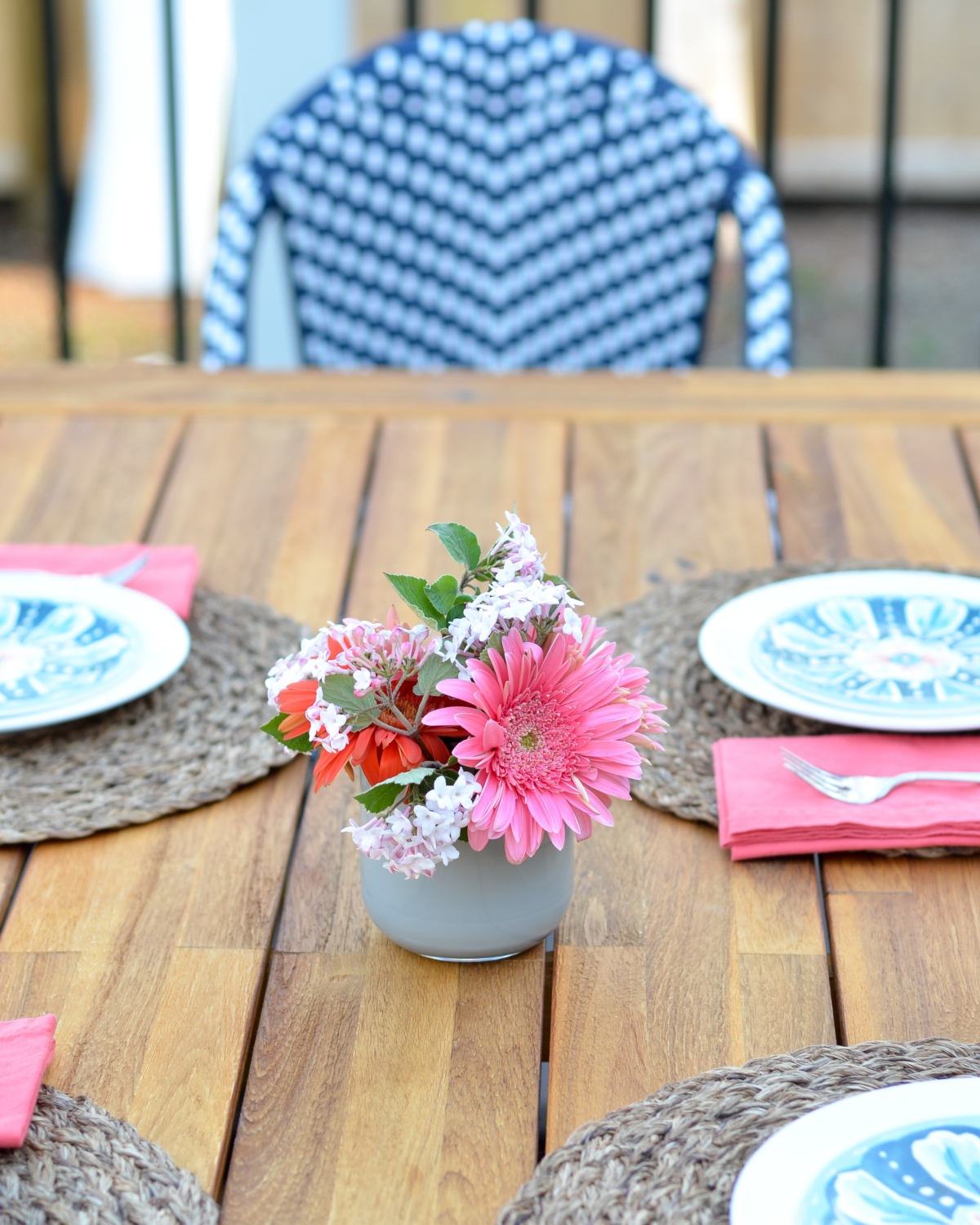 The dining table and two benches come as a set and are an amazing deal for solid wood and iron construction ($387!!). The acacia wood is suitable for outdoors and I'll plan to leave it out and uncovered through the late spring, summer, and early fall and then will cover it for winter storage to help preserve it. I've found even outdoor furniture benefits from a little TLC if you live in a climate that gets harsh in winter like I do. On the Joss & Main site, it says the table seats four, but having used it, the benches could definitely seat six people and adding a couple of chairs to the ends like I did increases the capacity to eight. My chairs are several years old but you can find similar outdoor wicker dining chairs here.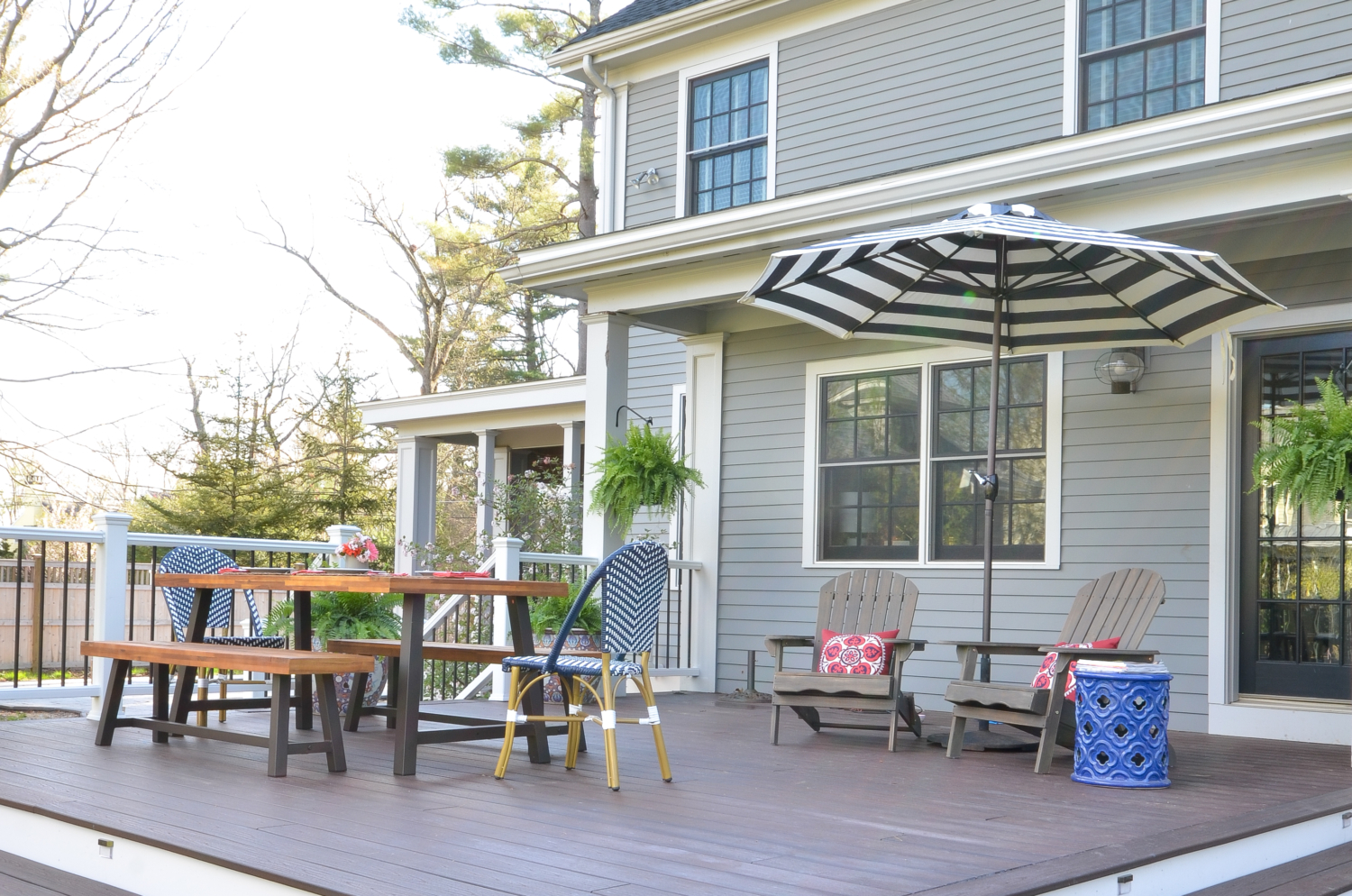 The folding adirondack chairs are super comfortable and have been our weekend morning coffee spots since they arrived. They come in four colors – the weathered grey you see here plus natural, white, and navy blue. They're made of the same acacia wood as the dining table so are great for outdoors but I will store them for the winter too just like the table. I love that they'll fold flat for easy storage when it's time to put them away for the season.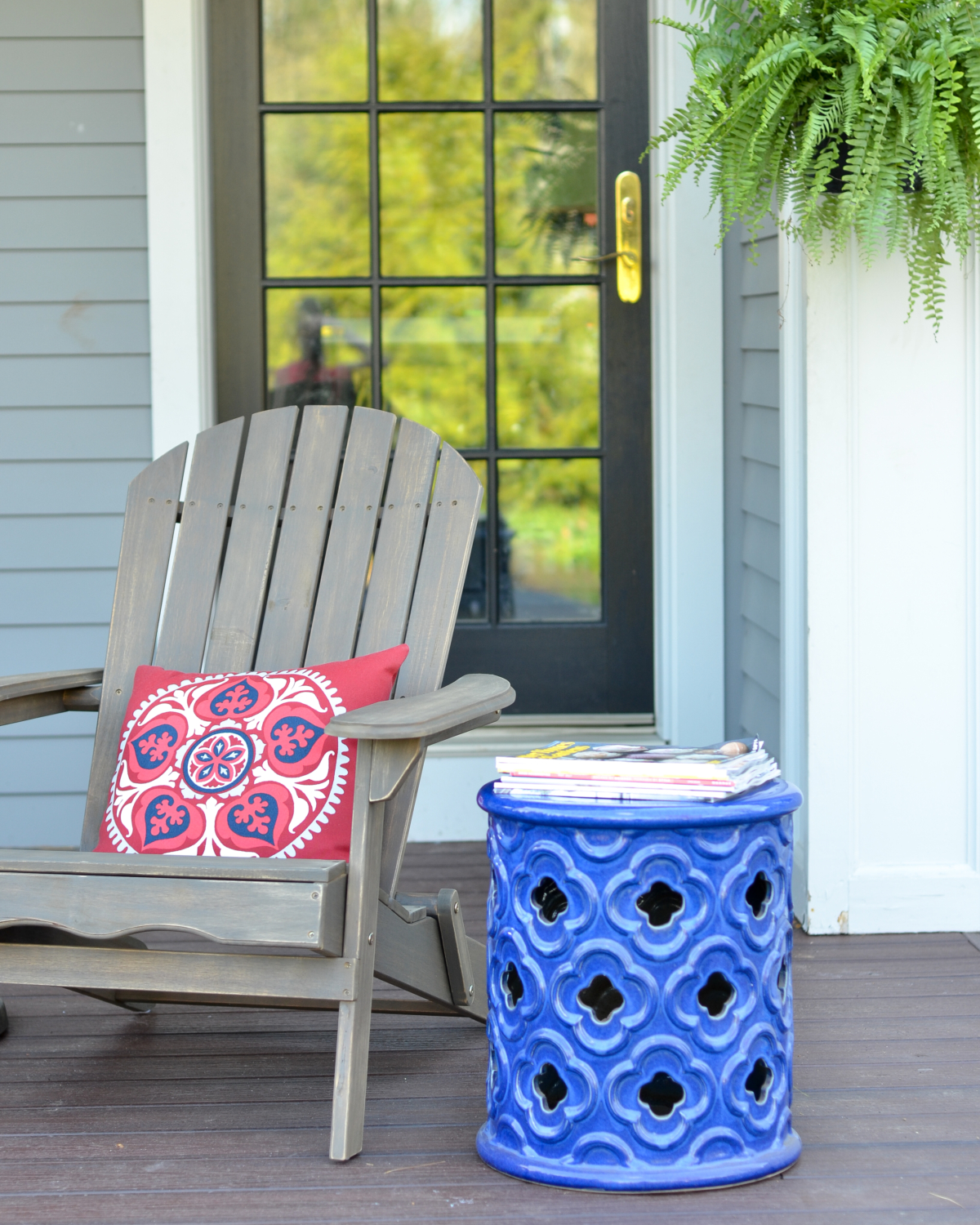 folding adirondack chair
outdoor medallion pillow (similar)
garden stool (similar)
striped patio umbrella (similar)
black patio umbrella stand (similar)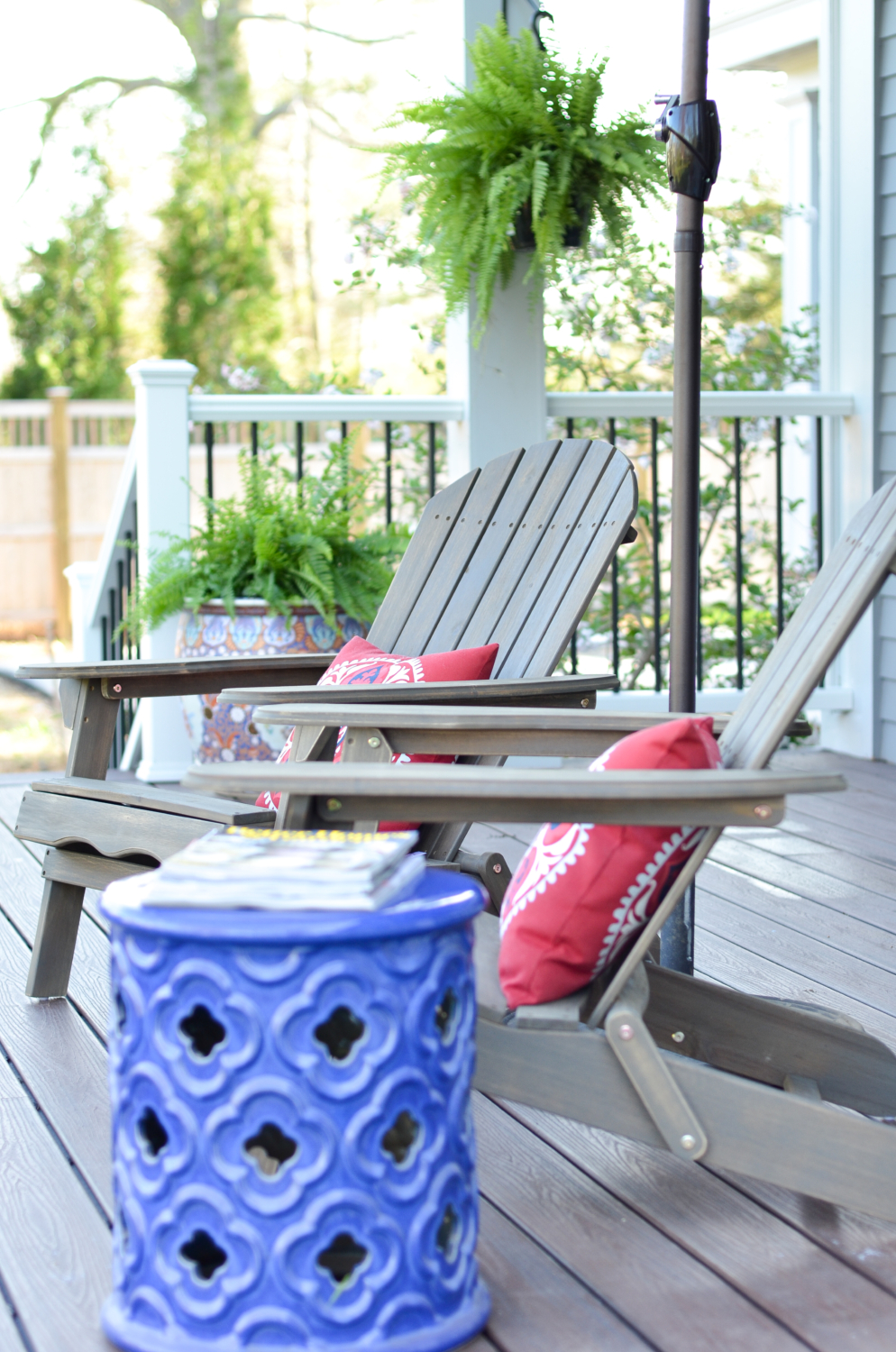 On the far side of the deck is the fence we had installed last summer along our property line and around one of the paver patios we installed last year. We're working on building up the beds all around the patio and I hope it'll be planted, mulched, and ready to share in the next month or so.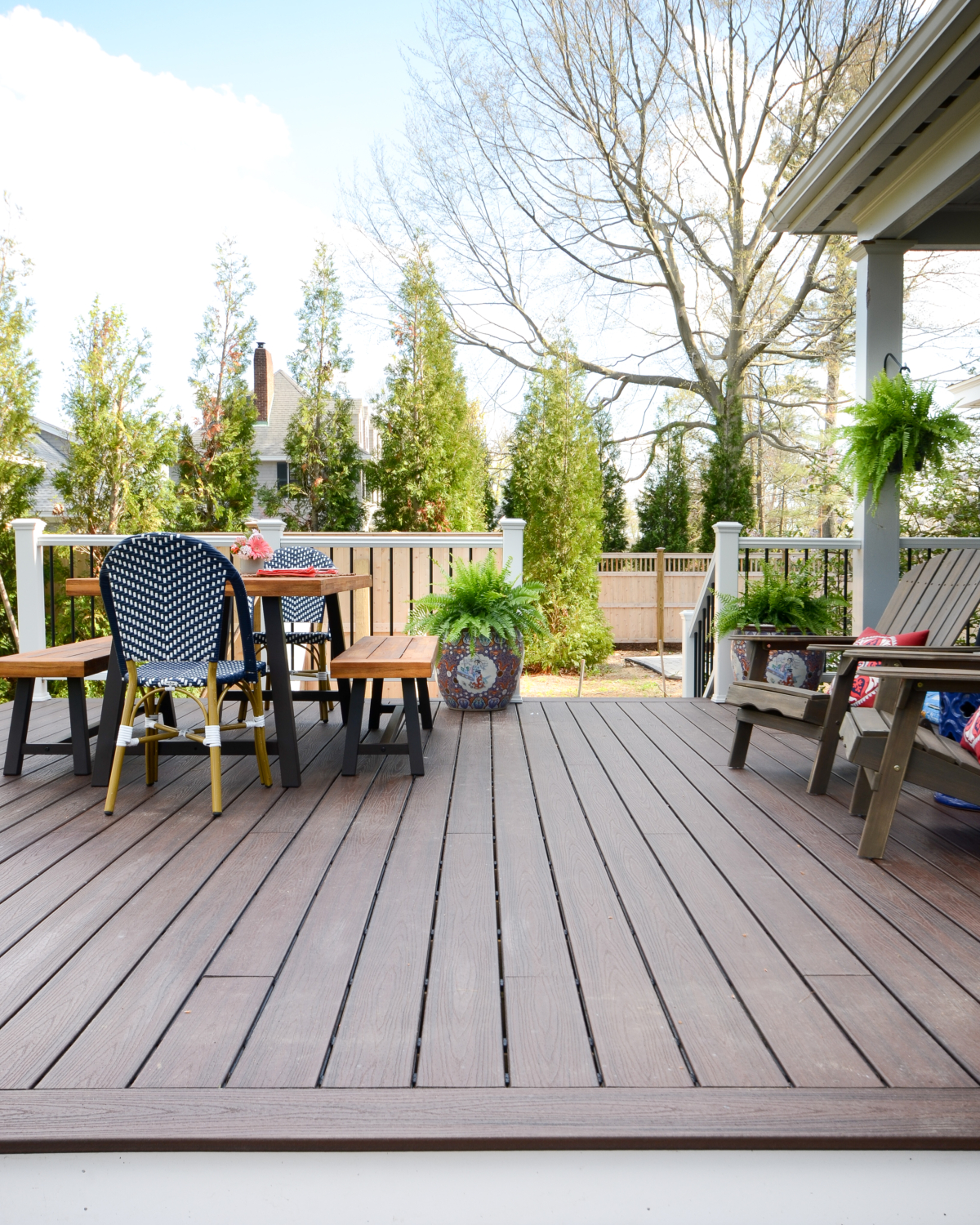 And across the other side of the deck is the other paver patio. This one has a built-in gas firepit that we LOVE and have been using a ton this spring on chilly evenings. I'll share this space wth you for sure next month.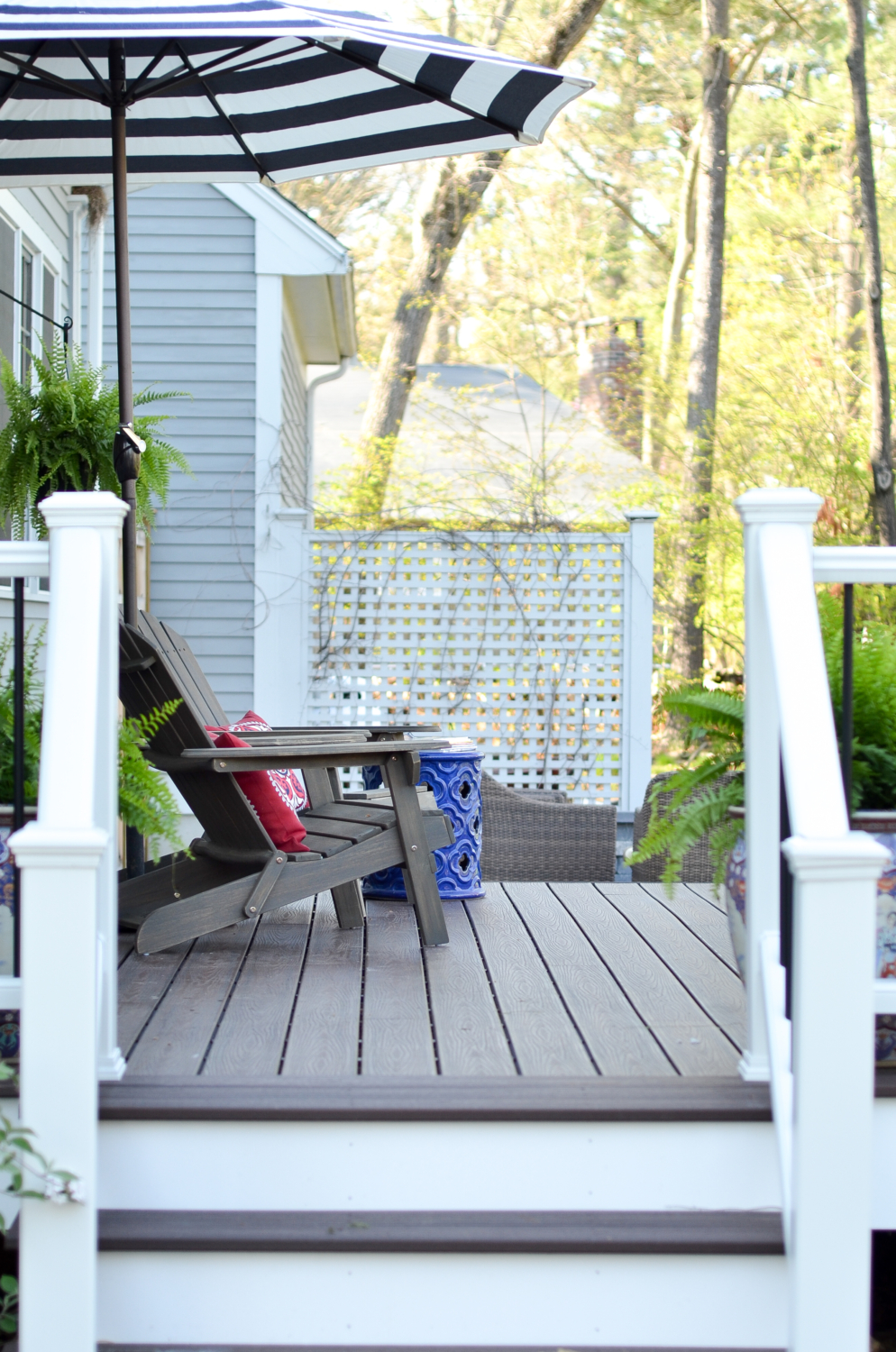 Well it certainly was a long time coming but our backyard is really starting to shape up into a place we want to hang out all time. We currently have no grass and some remaining debris from the tornado but we're getting there and having the deck completed and furnished with the new pieces from Joss and Main has done wonders for making it feel that much closer to being the backyard we've been picturing in our heads for so long. Don't forget to enter the $500 giveaway on Instagram so you can spruce up your outdoor space too and get it summer-ready! And you can shop the Joss and Main pieces I used on my deck here: