If you've been shopping lately, chances are you've seen a flounce top. The definition of a flounce top is pretty loose – anything with a flow-y, ruffle-y, peplum-y hem or sleeve could be called a flounce top. And here's why I love the flounce top for spring and summer. When the weather heats up my style gets pretty casual. I like things I can throw on and go (like an easy shift dress) and I especially lean toward pieces that are loose-fitting. I hate the feeling of tight clothes when the air is hot and sticky. Plus there's something unabashedly feminine and fun about a flounce top. Those little flouncy details at the sleeve or hem give instant polish to an otherwise simple outfit.
I recently picked up this navy blue eyelet flounce top, which is 50% off right now bringing it to under $28. Did you catch that?? Twenty-eight dollars. I played around with it a little, pairing it with different pieces in my closet, and it's just as perfect with shorts for a casual everyday look as it is dressed up a little for summer evenings with white jeans and wedge heels. And…there's a dress version too!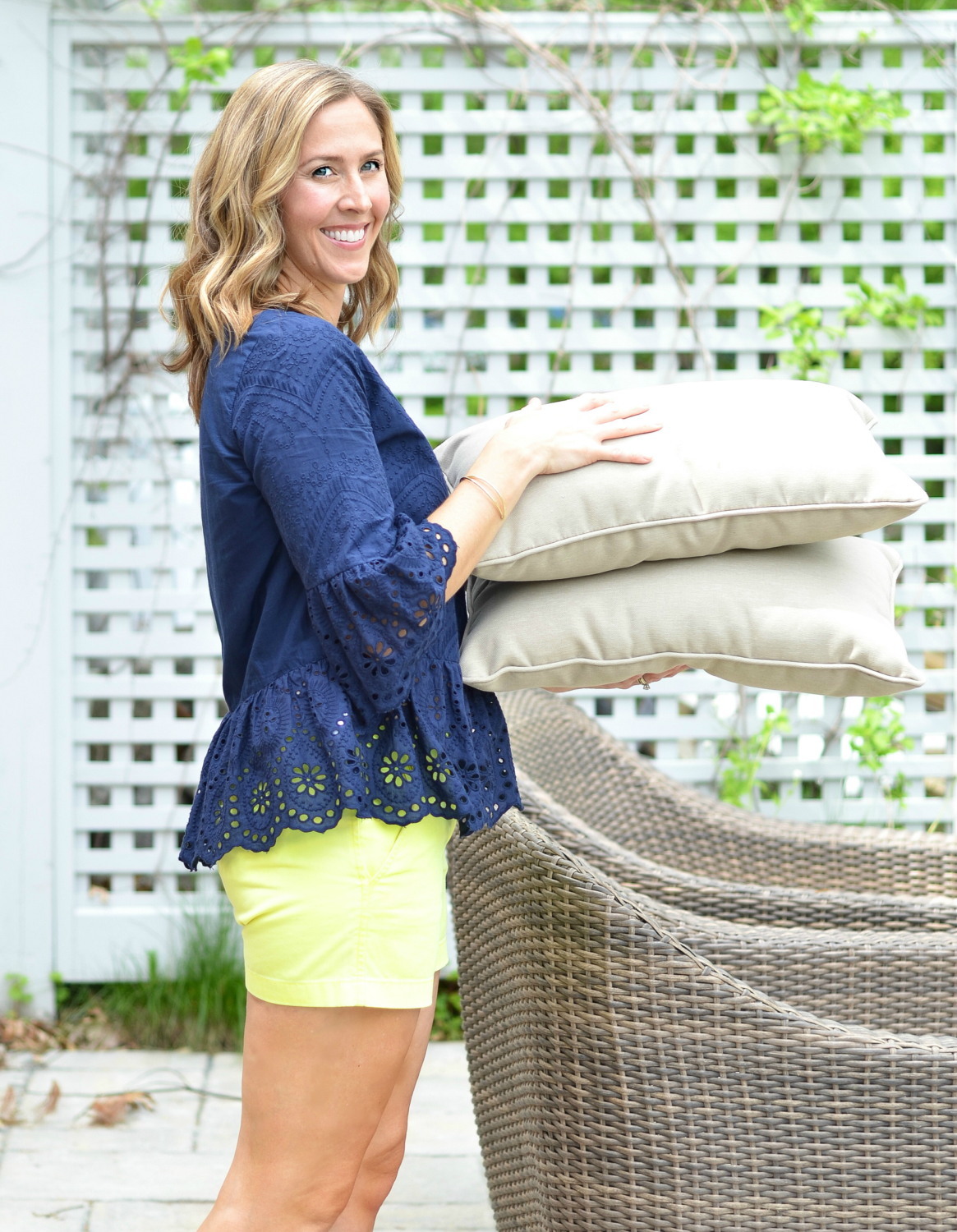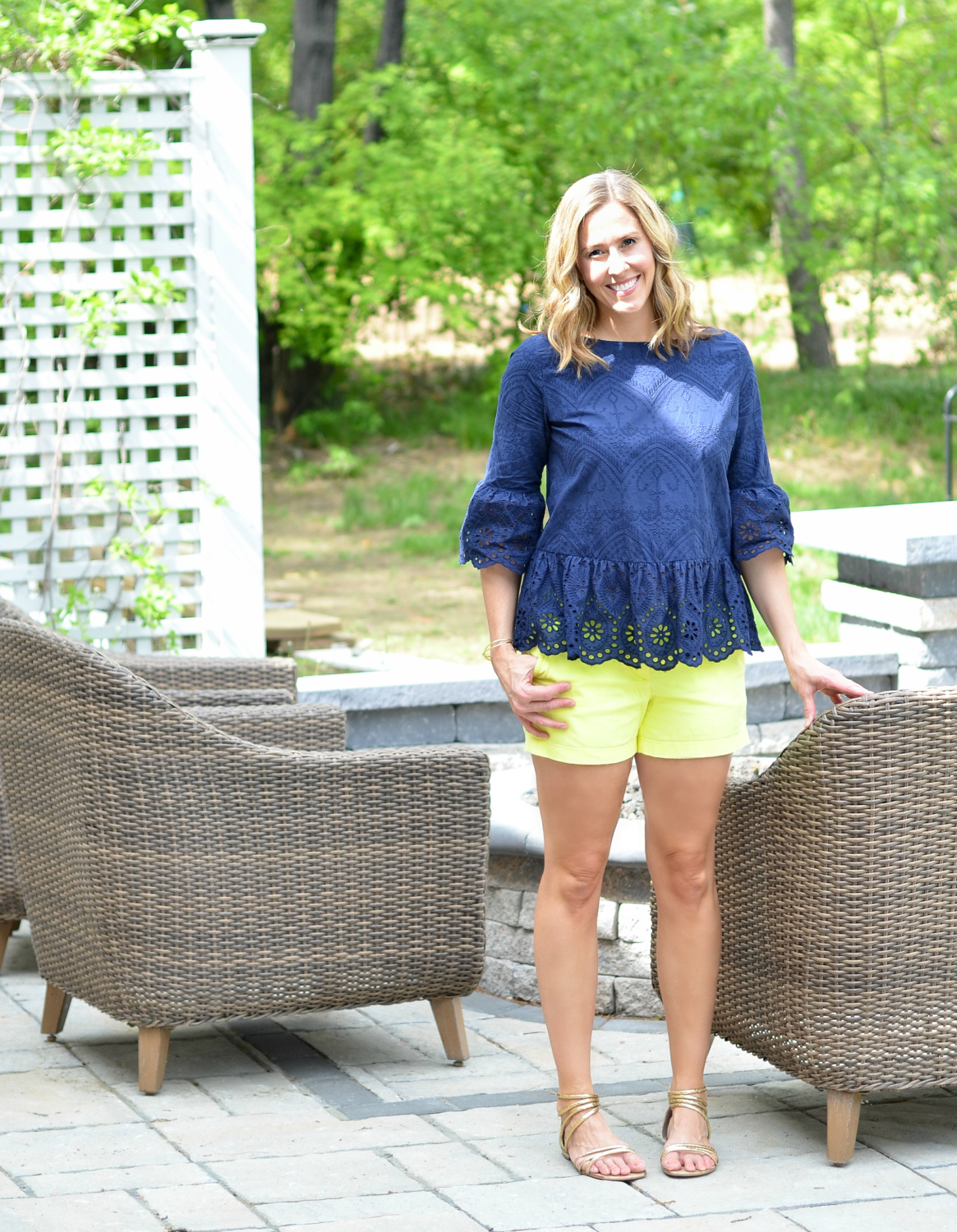 eyelet flounce top | yellow shorts | gold sandals (similar)
gold cuff bracelet | earrings | necklace (similar)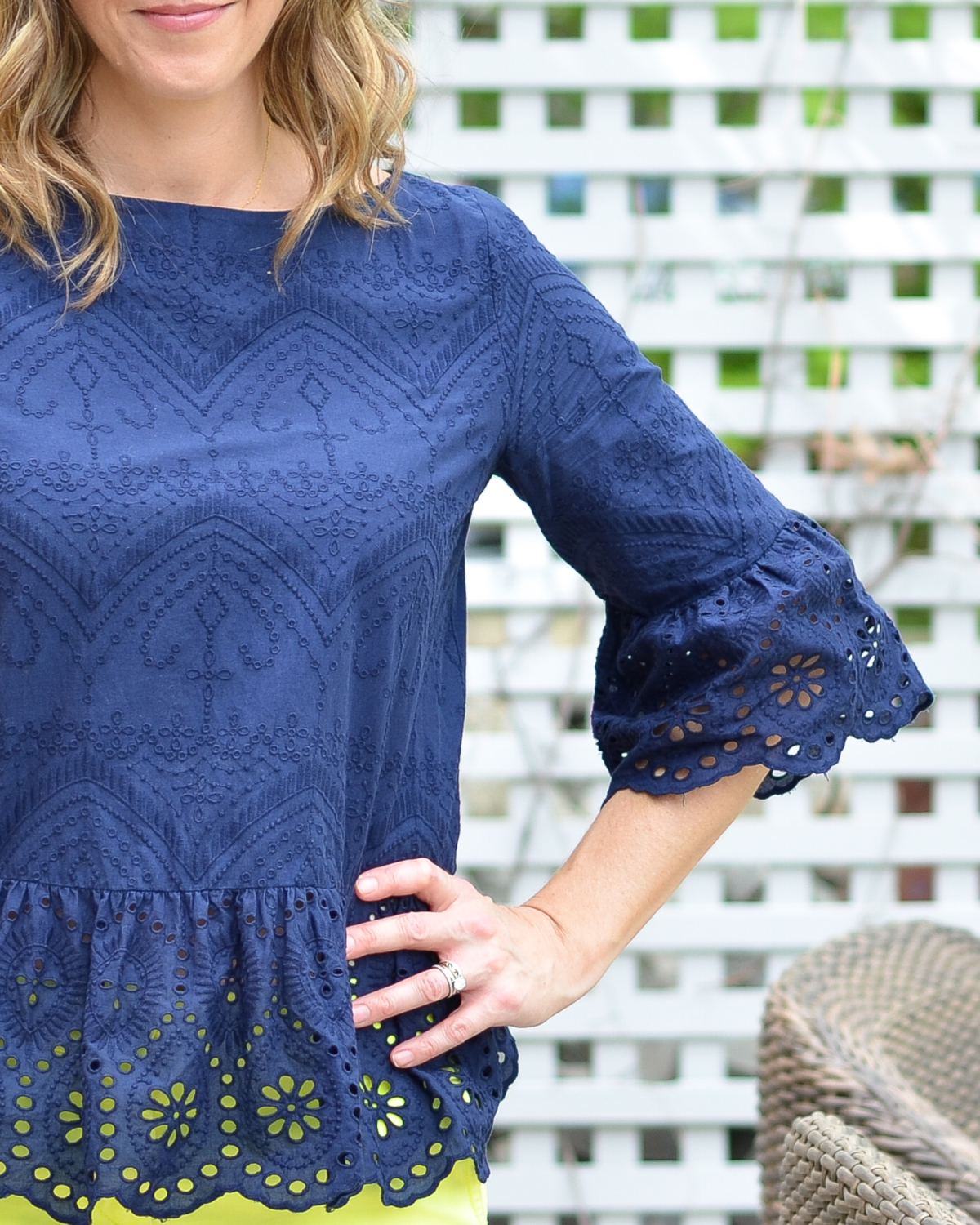 Besides this casual look with shorts, I've worn this flounce top a few times lately for dinner out or with friends at my house. It's not an evening look, but it's easy to dress up for a casual night out. I love the way the flounce details and eyelet stitching elevate the top to something special and chic enough for date night while the airy cotton fabric keeps it looking effortless and easy.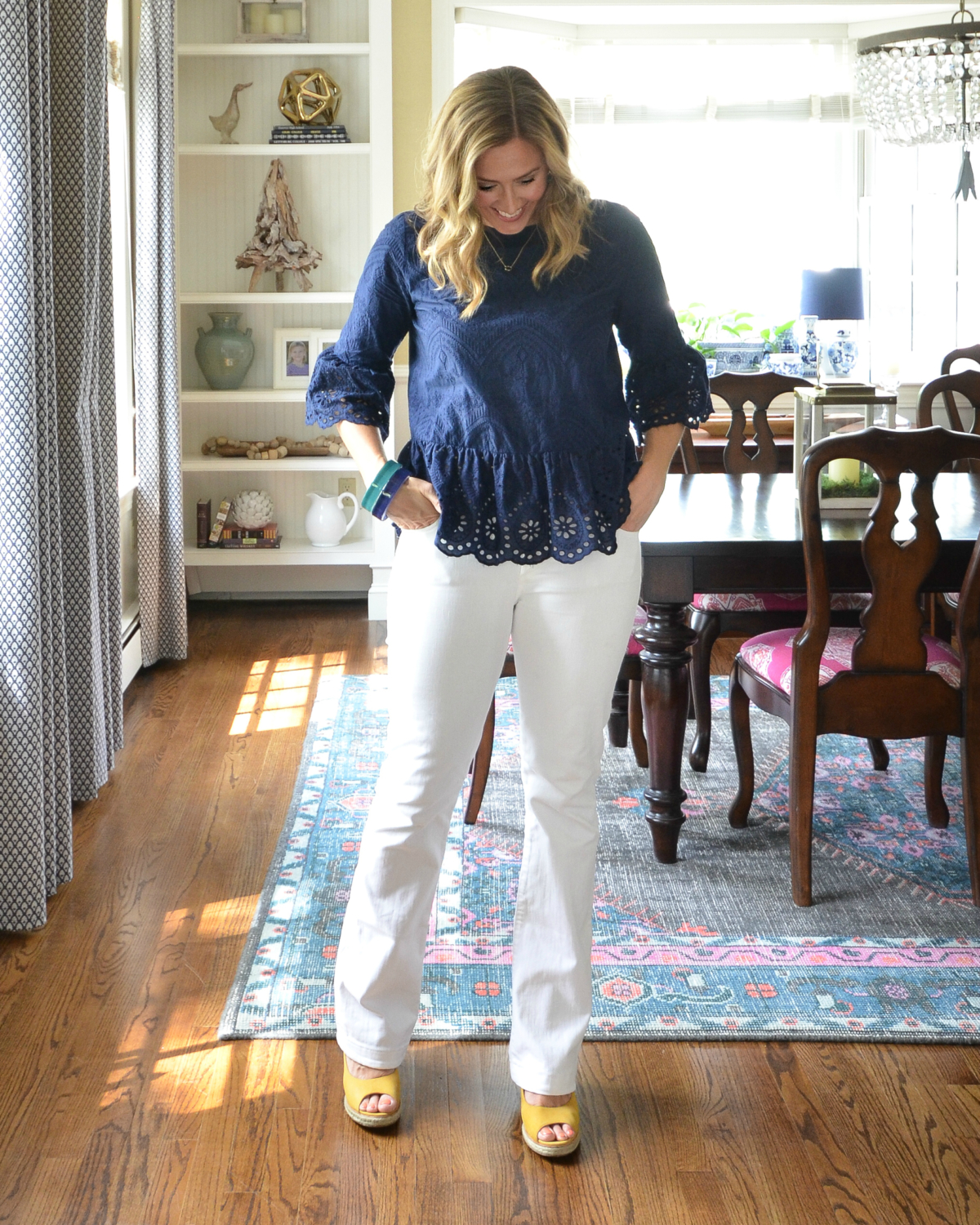 eyelet flounce top | white jeans | yellow wedges (similar)
bangle bracelets | necklace (similar)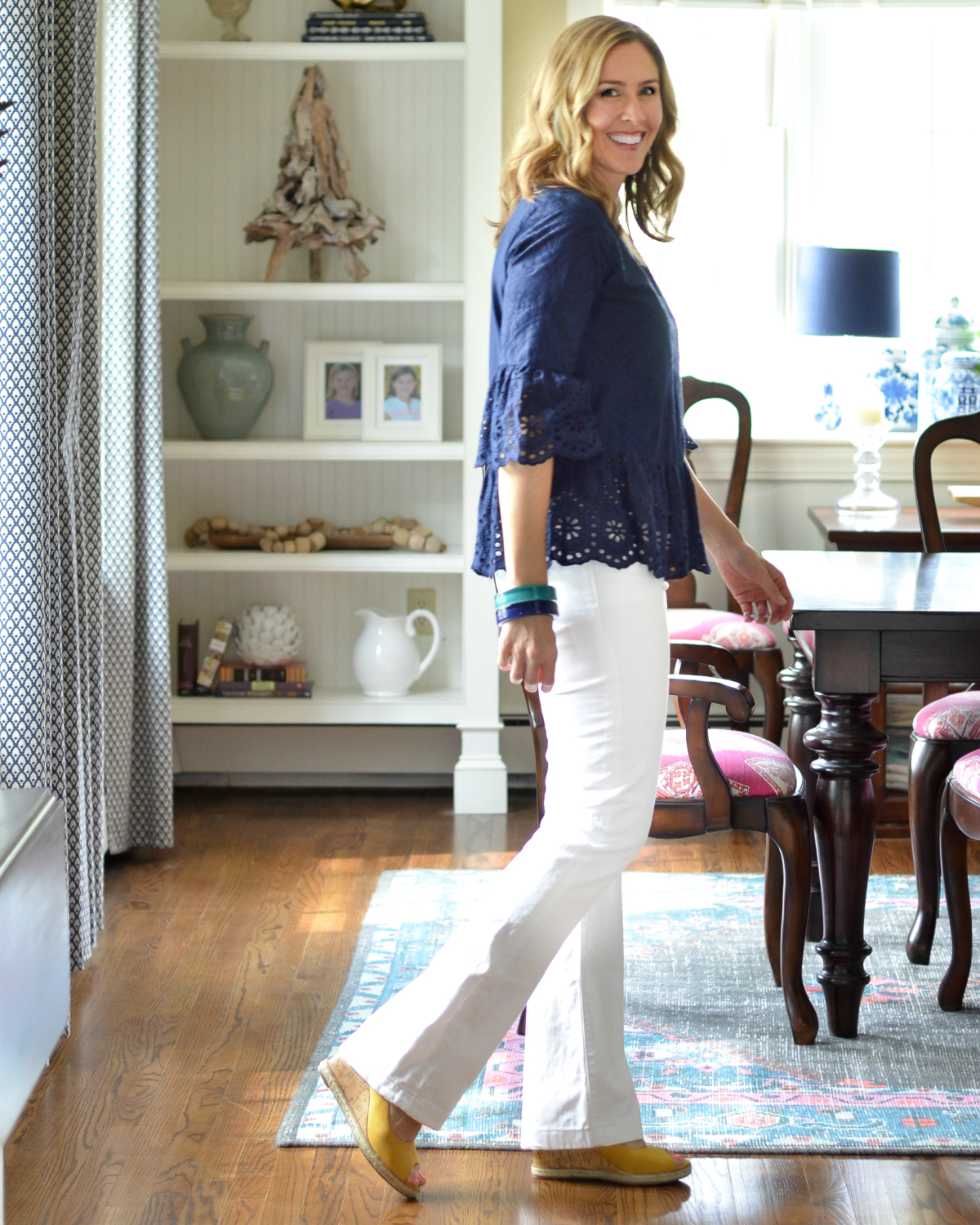 Here's a quick roundup of my favorite flounce tops out there right now. If this isn't a style you'd normally try, give it a go! Most of these are on sale right now and it's a more flattering style than you might think.