This post is sponsored by 2000 Flushes® Automatic Toilet Bowl Cleaner. All ideas and opinions
expressed are my own and these are all tips for a clean bathroom I really use and follow in my own home!
I'm really pulling back the curtain today and giving you a look at my master bathroom, which has never, ever made an appearance here on the blog. But I'm shamelessly sharing my 26-year-old, un-renovated bathroom with you today for a couple reasons. First, a little regular cleaning maintenance goes a long way in making an old bathroom feel new, so I'm sharing my top five easy tips for a clean bathroom. Think simple, everyday-type habits, not deep cleaning.
Second, I know I'm not the only one out there with an older, kind of outdated bathroom. We're not ready to spend the money on a renovation right now so I've had to find other ways to make the master bathroom feel fresh. I picked out a shower curtain I loved, added a pretty runner in front of the sinks, and hung some artwork on the walls. But all of the major players – the vanity, counter, sinks, faucets, tile, etc. – are original to the house and starting to look a bit outdated. If you have an old bathroom in your house too, I hope you might get some ideas for accessories and other small cosmetic things you can do to make an old bathroom feel new. Or at least new-ish!
Easy Tips for a Clean Bathroom
Keep a few key cleaning supplies under the sink.

For daily or every few days cleaning, you don't need a whole arsenal of cleaning products in the bathroom. But having a few bathroom cleaning supplies right in the room makes it that much easier for quick upkeep, and the easier it is to get to your supplies, the more likely you are to actually use them! I keep my favorite bathroom cleaning supplies on a lazy susan under the sink so everything is easy to access. My favorite supplies to keep here are:
Use 2000 Flushes Automatic Toilet Bowl Cleaner.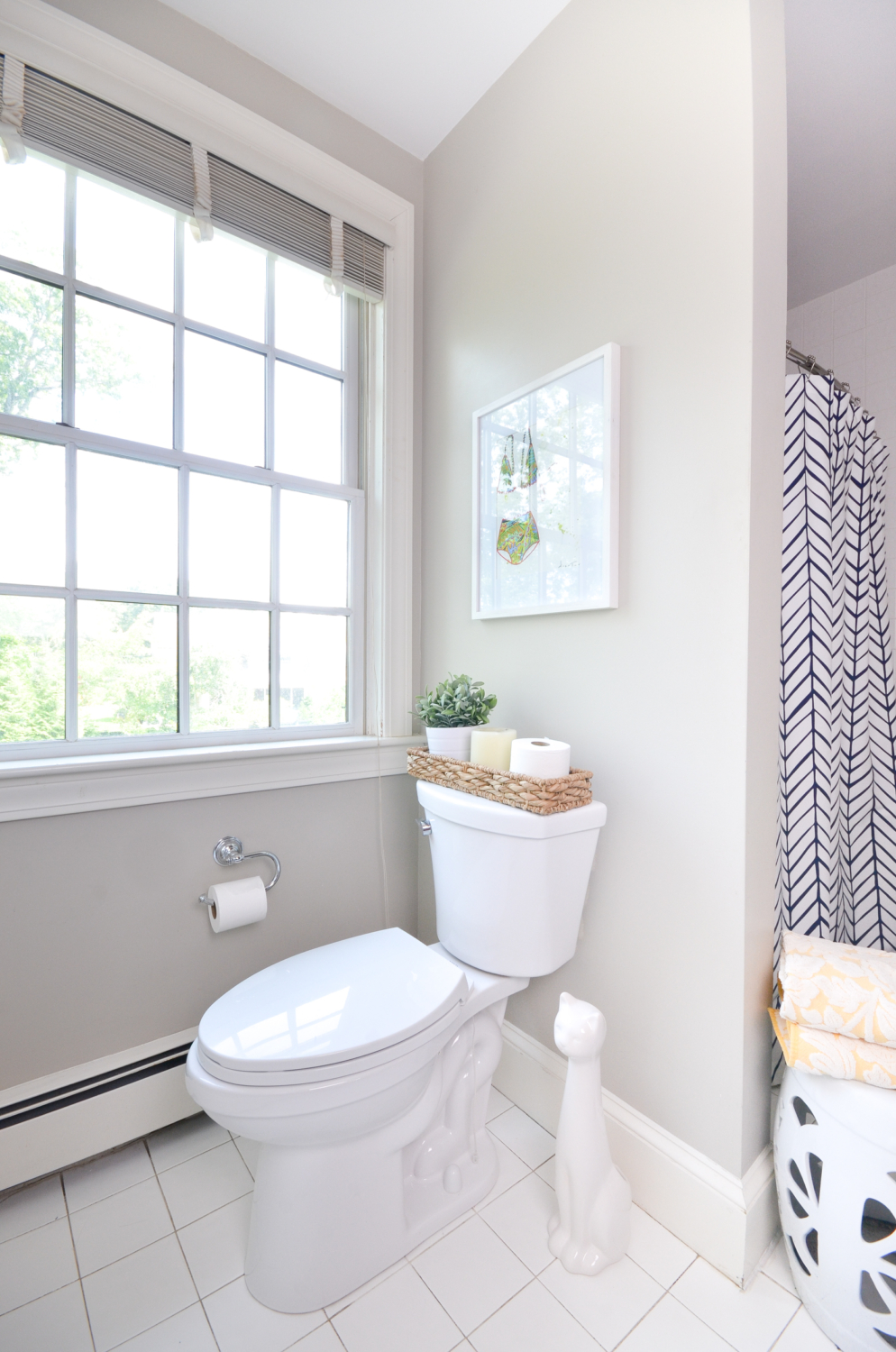 Wall art
Cat toilet brush holder
Ceramic garden stool
Bath towels
Shower curtain
2000 Flushes Automatic Toilet Bowl cleaner might be my most favorite of all of these tips for a clean bathroom, because it's so easy. You just drop it in the toilet tank and it keeps your toilet bowl clean for up to four months without the need to scrub it. Which means no more gross toilet rings. Hallelujah! You can find a coupon for $1 off 2000 Flushes Automatic Toilet Bowl Cleaner HERE and search for where to buy it online and near your home HERE. It's also available online HERE.
Keep bathroom counters mostly clear.
It may seem obvious, but the less clutter there is on the counters, the easier they are to wipe down. If your bathroom counters are covered in stuff, you won't be able to wipe them down quickly. If they're mostly clear it only takes about a minute and I know I am always more likely to do some small bit of cleaning if it's going to be super quick. I keep a soap dispenser by each of our sinks, a glass cup for toothbrushes and toothpaste, and a small dish for my rings and watches. All my other odds and ends are in drawers or the linen closet and I always try to put them away after I've finished using them.
Use bins (or shoeboxes) to organize toiletries.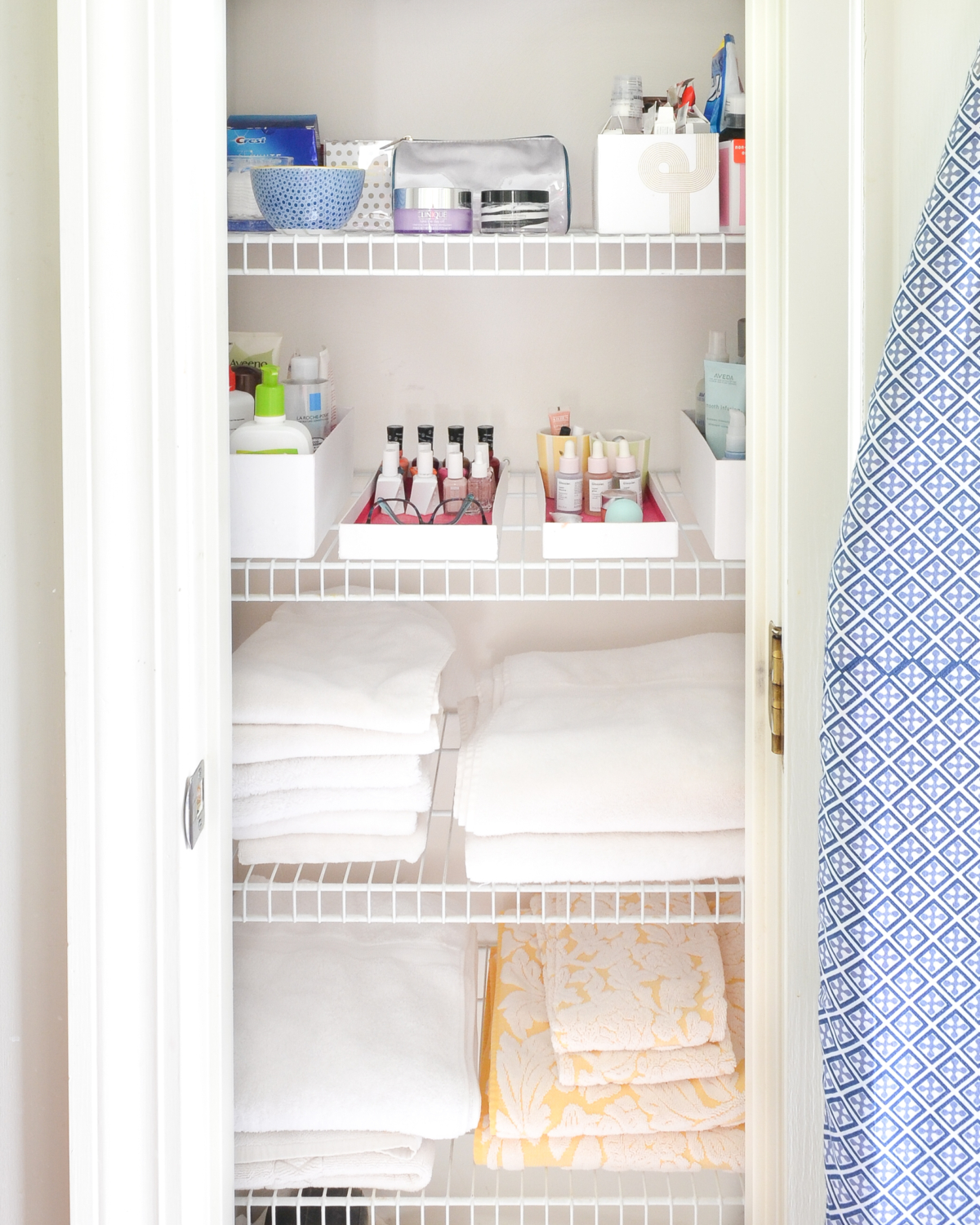 Now speaking of those odds and ends…I don't have any wall or medicine cabinets in this bathroom but I do have a small closet with wire shelving. When I first started putting my toiletries away they were falling all over the place and looked like a cluttered mess. The solution? Empty shoe boxes and their lids! I grouped my toiletries by type and organized them into shoe boxes. Now they're all easy to find, to slide in and out of the closet, and hello, it was free! Plastic bins like these would work great too and are very inexpensive.
Make and use a simple daily shower spray.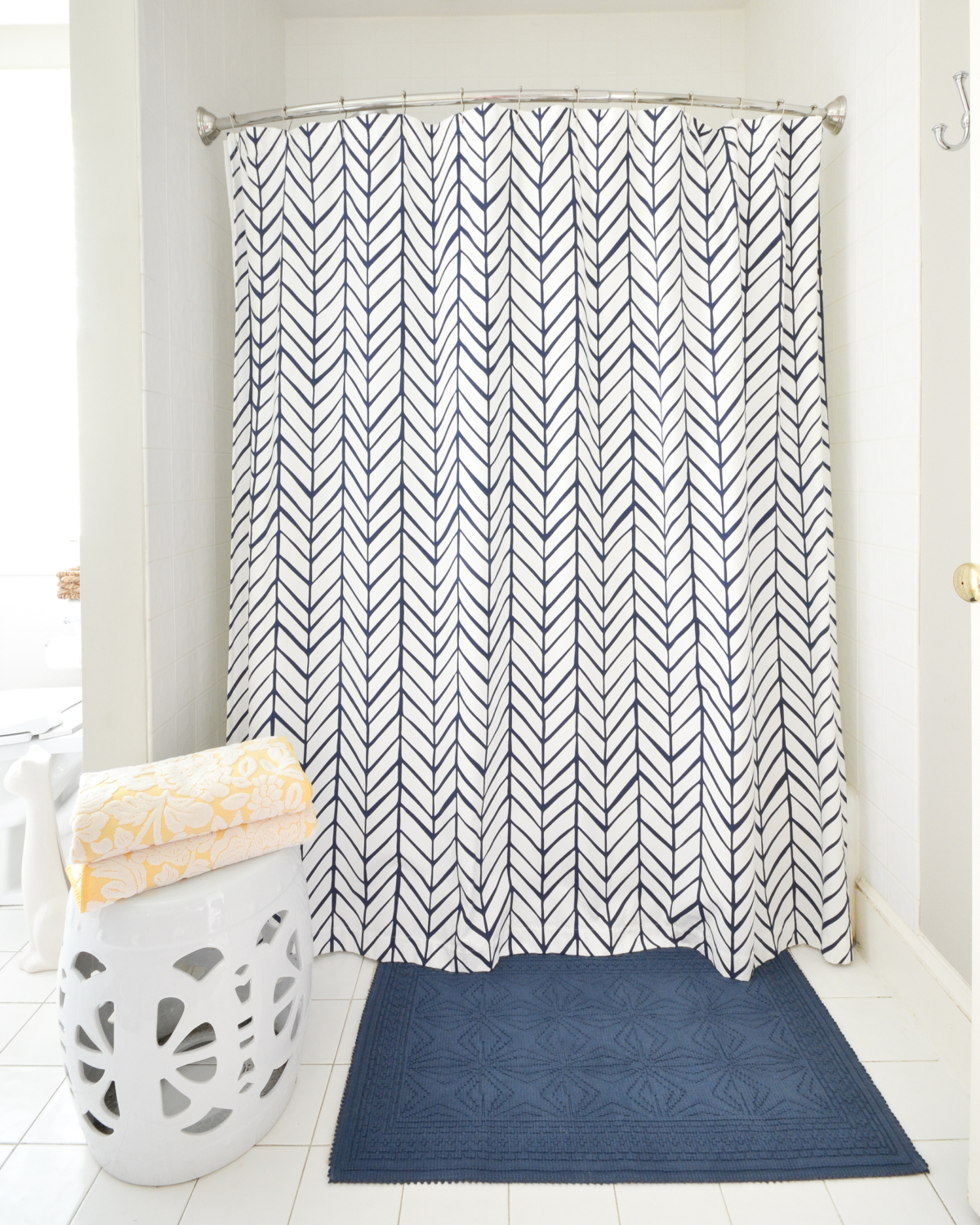 Ceramic garden stool
Bath towels
Shower curtain
Other than the toilet, I don't think gunk builds up faster anywhere than the shower. A quick daily spray after you shower makes a world of difference in how easy it is to deep clean. Instead of having to scrub away built-up soap scum and other grime, a daily spray keeps the build-up from happening at all. I've purchased daily shower sprays before but my favorite one is an easy DIY shower spray that is super cheap and smells great. You can use any scent castile soap you like but lavender is my favorite. Add these items to a spray bottle, give it a shake, and you're ready to go!
If you're able to implement even a few of these tips for a clean bathroom I think you'll be amazed at how much cleaner and newer your bathroom feels, whether it's old or new!