Summertime is winding down for us big time this week with my girls starting back to school but we're still spending lots of time outdoors in the beautiful August weather. We've spent the past three summers working on outdoor projects to really overhaul our backyard landscaping. The front yard is still a hot mess but we've really been able to enjoy the fruits of our labor out back this second half of summer as we've finished work on our DIY deck and two paver patios on either side of the deck – one that includes a gas firepit and our grill and the other that acts as a little courtyard with a fountain off of our screened porch. This is the first time I've shared the whole space with you since we were still wrapping up some plantings around the patios in the beginning of the summer.
Here's a reminder of how the backyard looked when we first bought our house.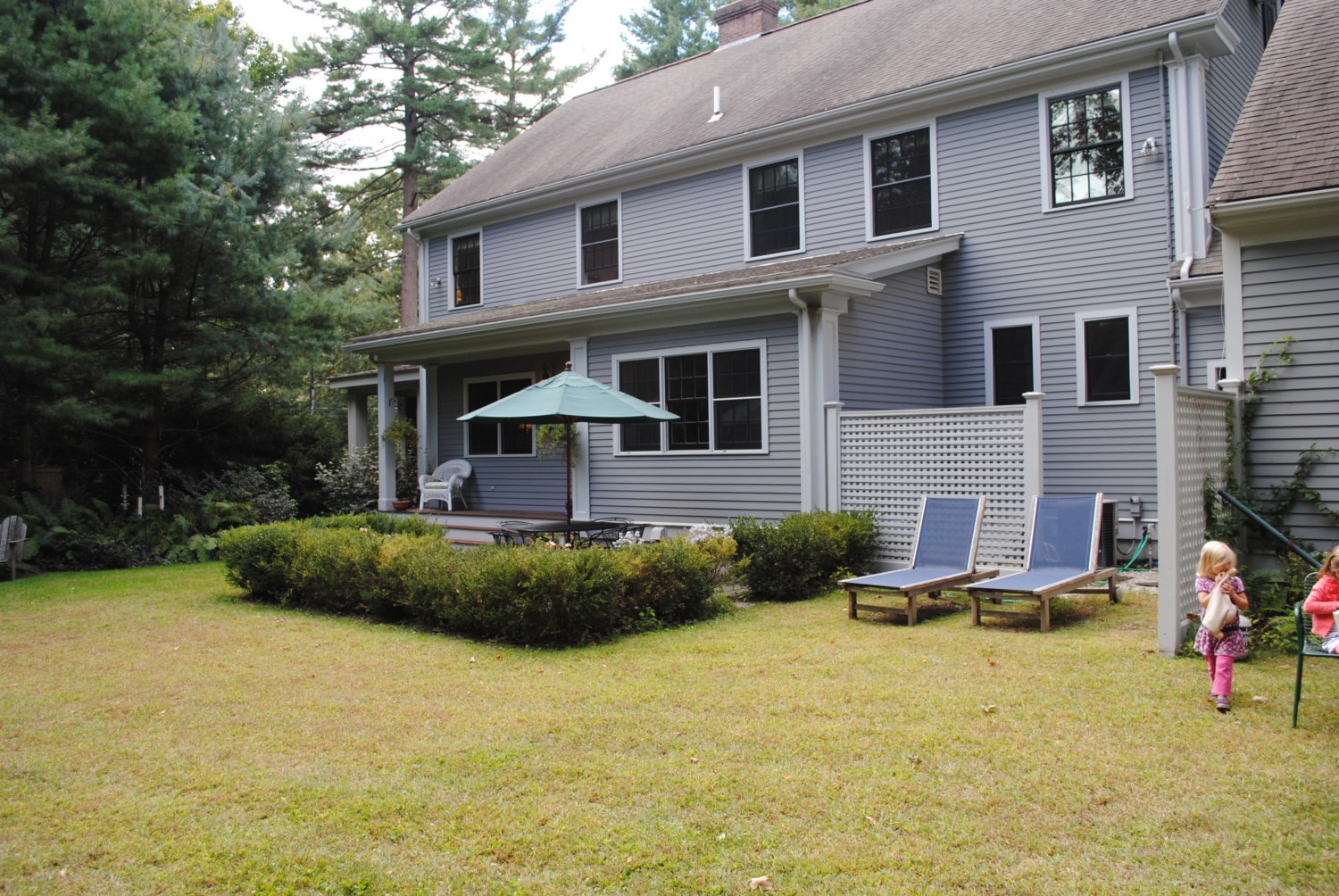 Not a bad backyard, in fact we were really drawn to the space as a whole, but we had visions of a bigger deck space (there was just a small landing off the back of the house when we bought it) and of expanding the small patio (where you see the outdoor umbrella in the above photo). Here's a photo when the deck was in progress and the patio with the firepit had been excavated.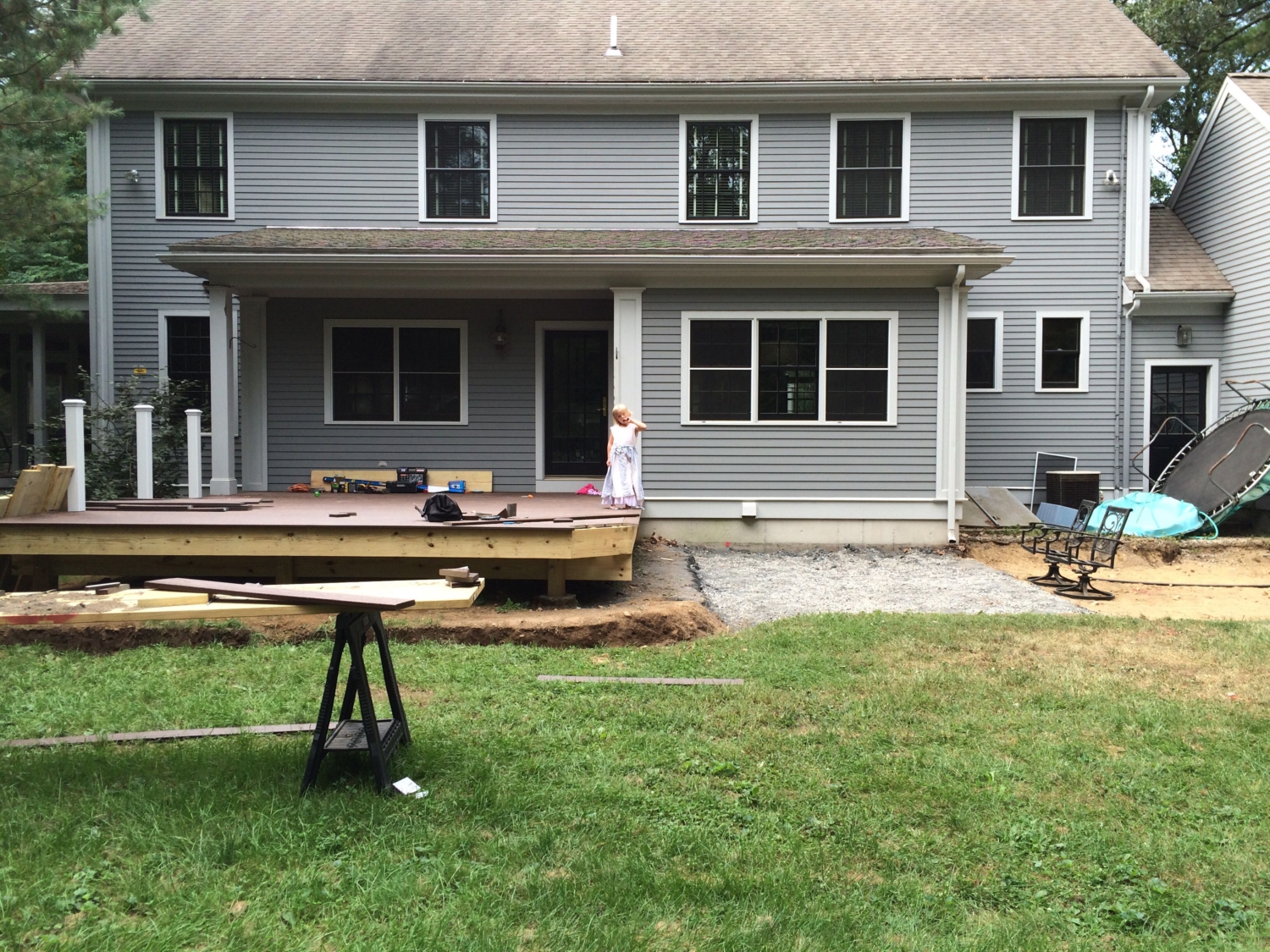 After three years of work on these spaces – we built the deck ourselves (with help from family) and my husband, Scott, designed and constructed both of the patios himself – here's how our backyard landscaping looks today. Scroll to the end of this post for a full source list of everything I used to finish these spaces!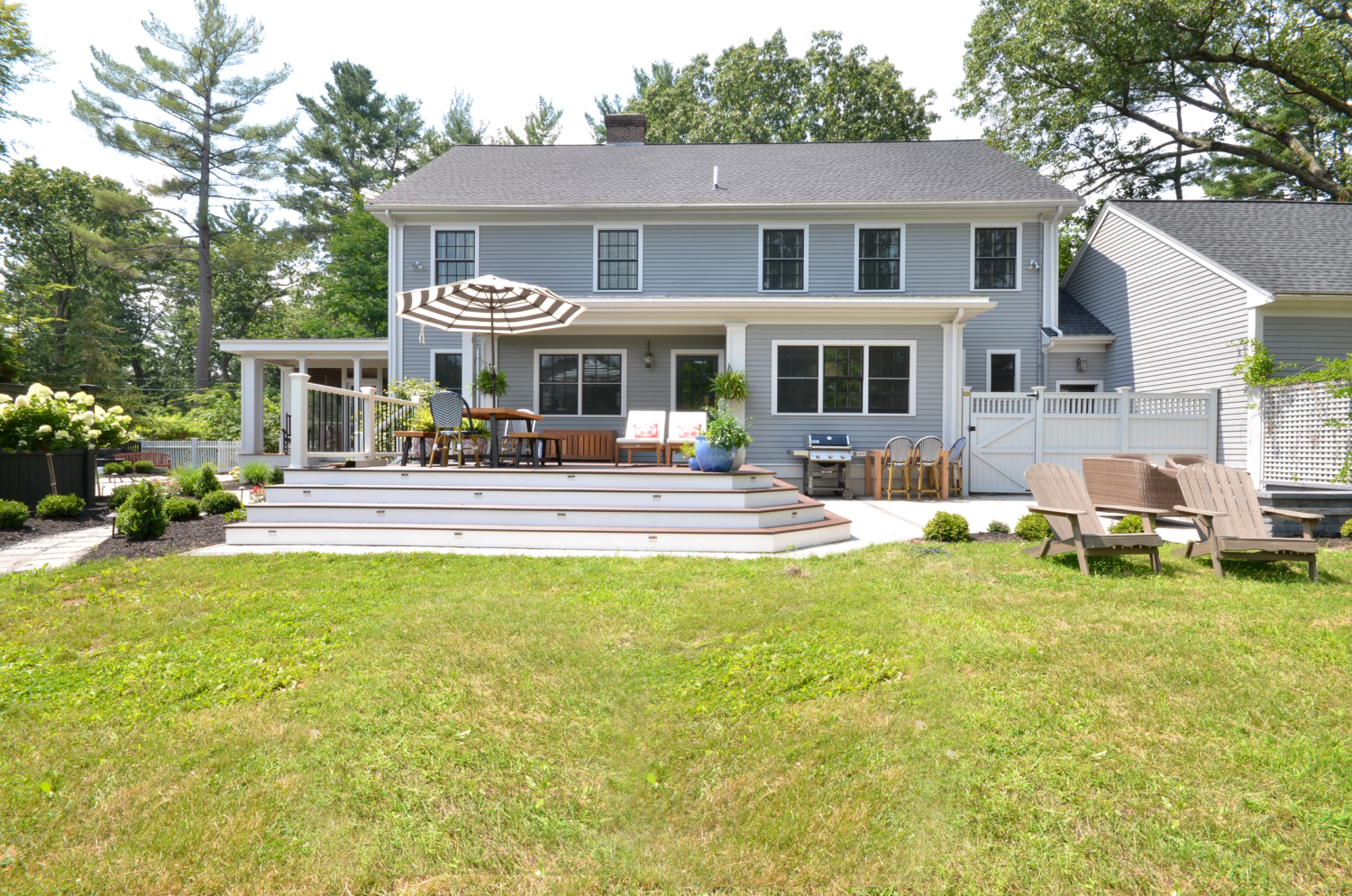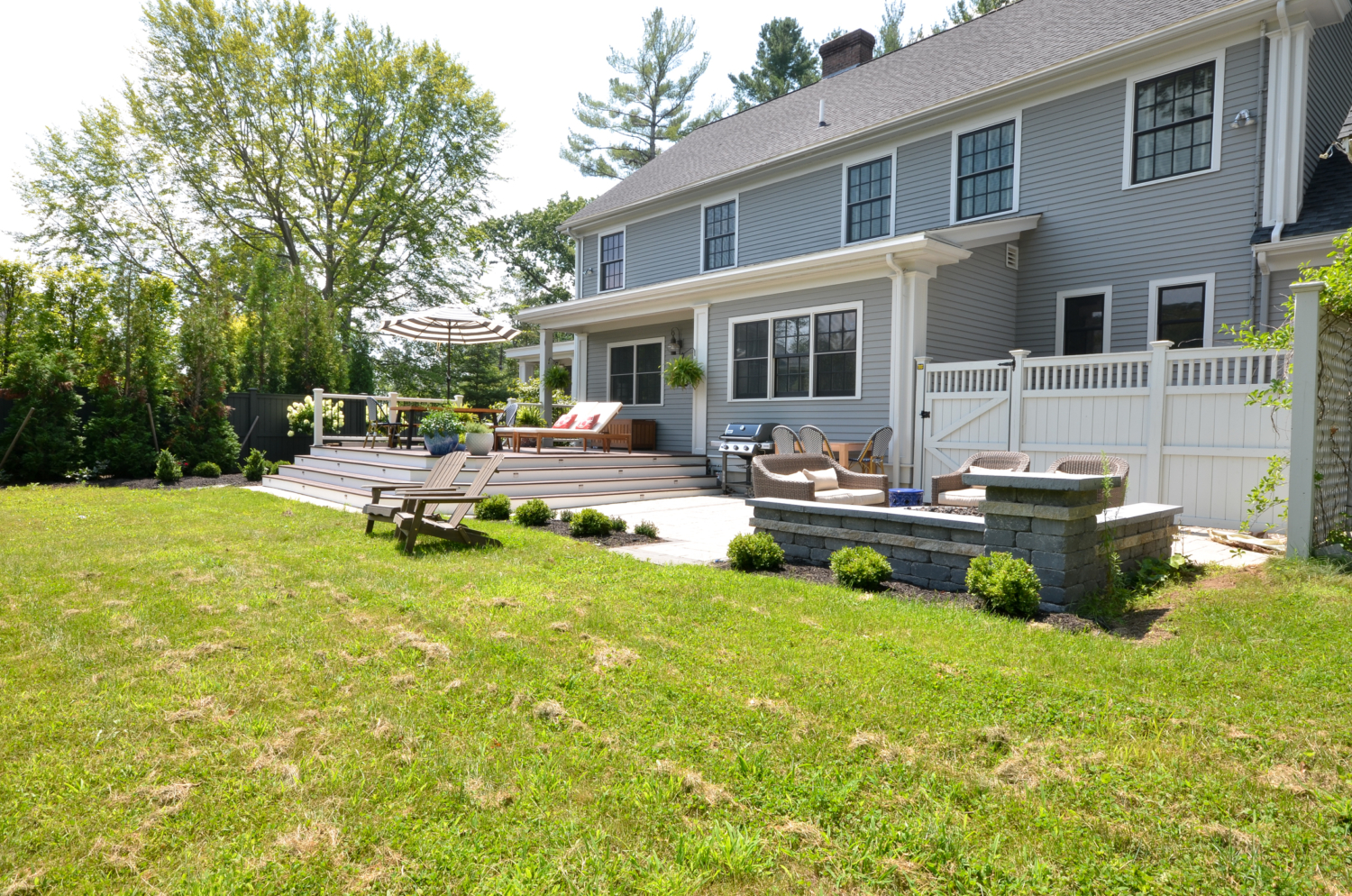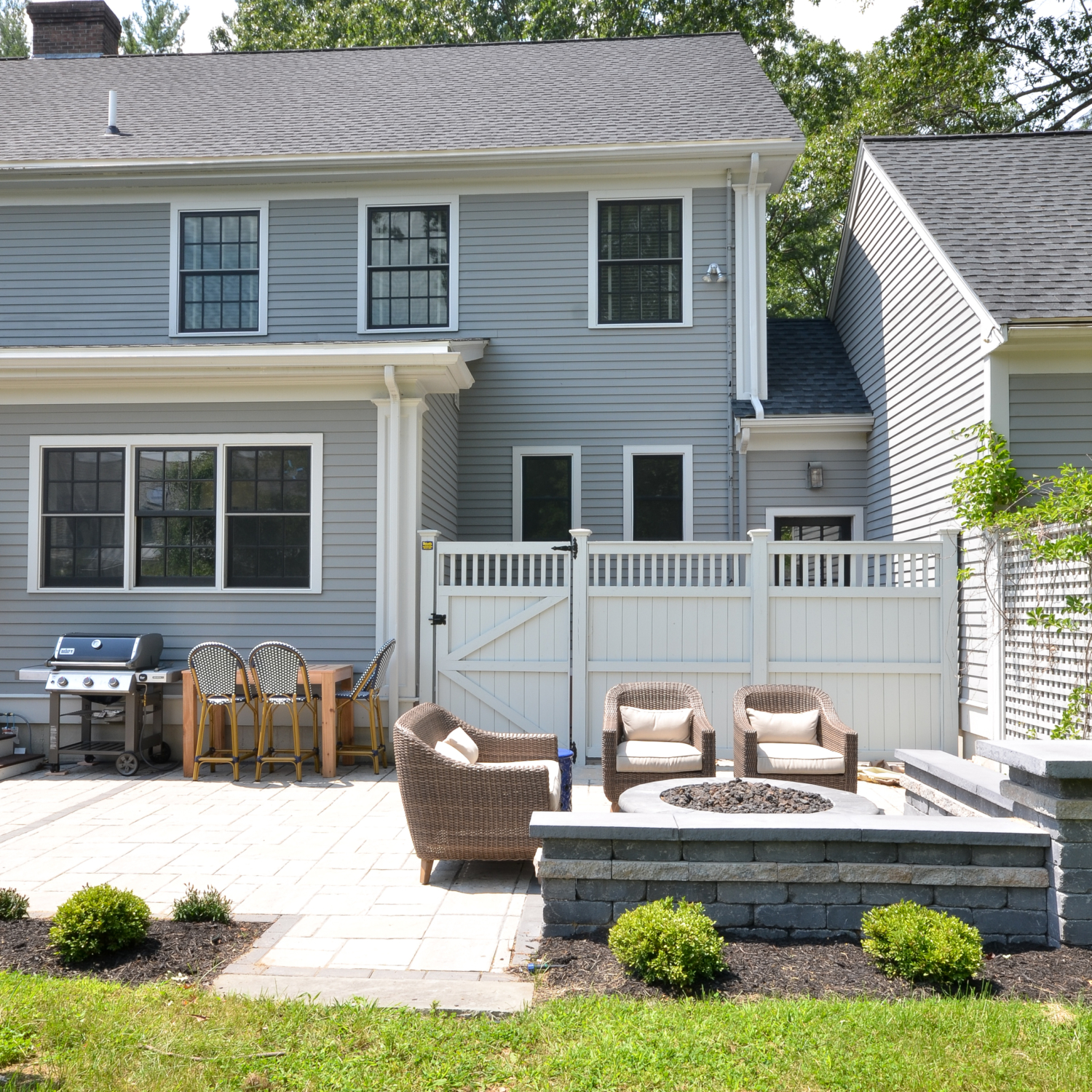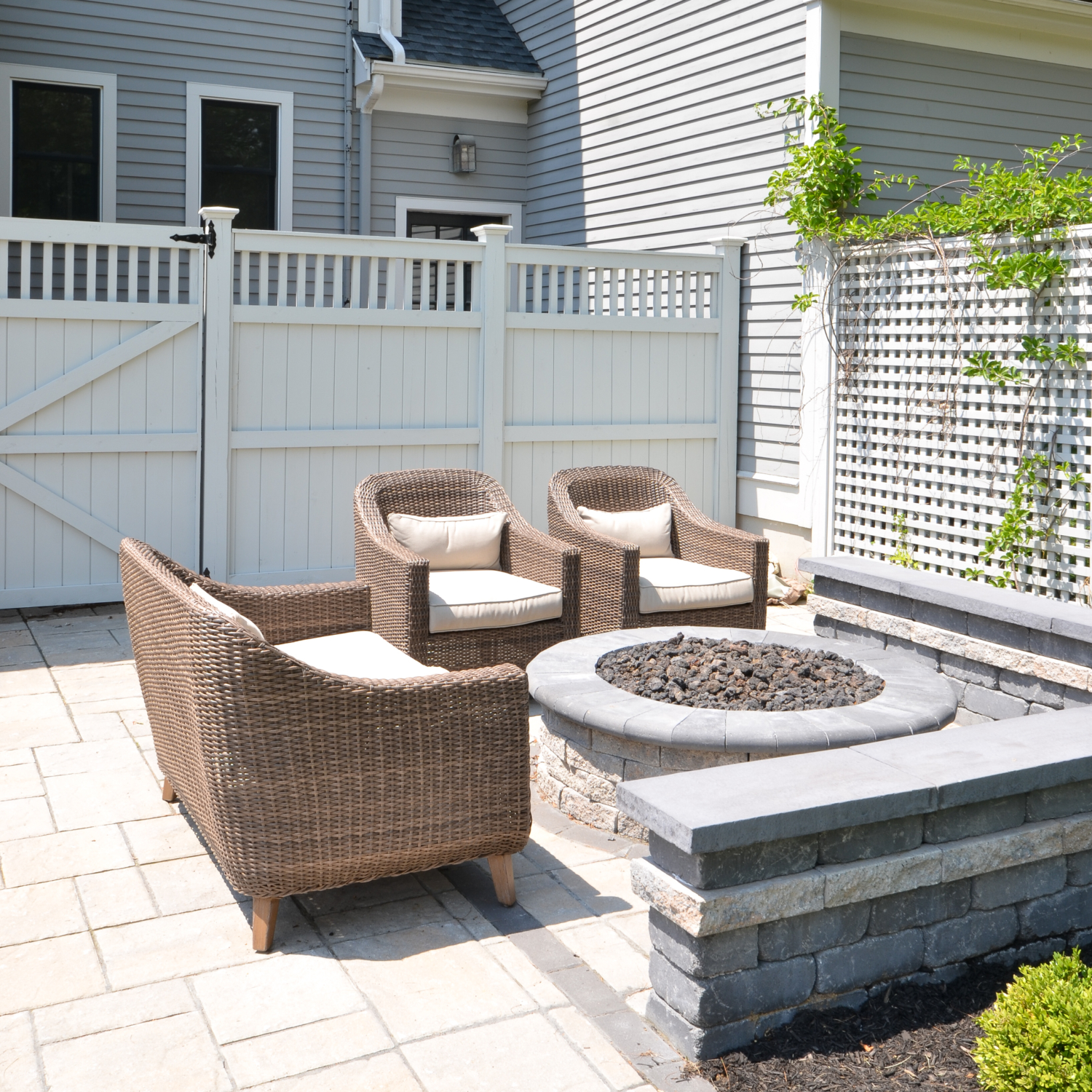 Outdoor club chairs
Outdoor sofa
A big part of our backyard landscaping plans included a patio with a gas firepit and we have used that firepit a TON – it's so great with friends on chilly evenings in the spring and fall and my girls love roasting marshmallows on summer nights. It's become our favorite way to hang out outdoors. All of the pavers Scott used for the patio, the firepit, and the wall around the firepit are made by Techo Bloc. A wood firepit is certainly easier and cheaper because you don't have to pay to have gas lines run and there's no venting or equipment required, but we knew ourselves and knew that if we had to get wood, start a fire every time, and also wait for the perfect wind conditions to do so, that we wouldn't use the firepit very often and being able to turn it on with a knob has meant we use it so much. Which, for us, has made the investment in the equipment completely worthwhile.
When the gas line was run, we also had a second gas outlet installed so we could hook up a natural gas grill (no more propane!!)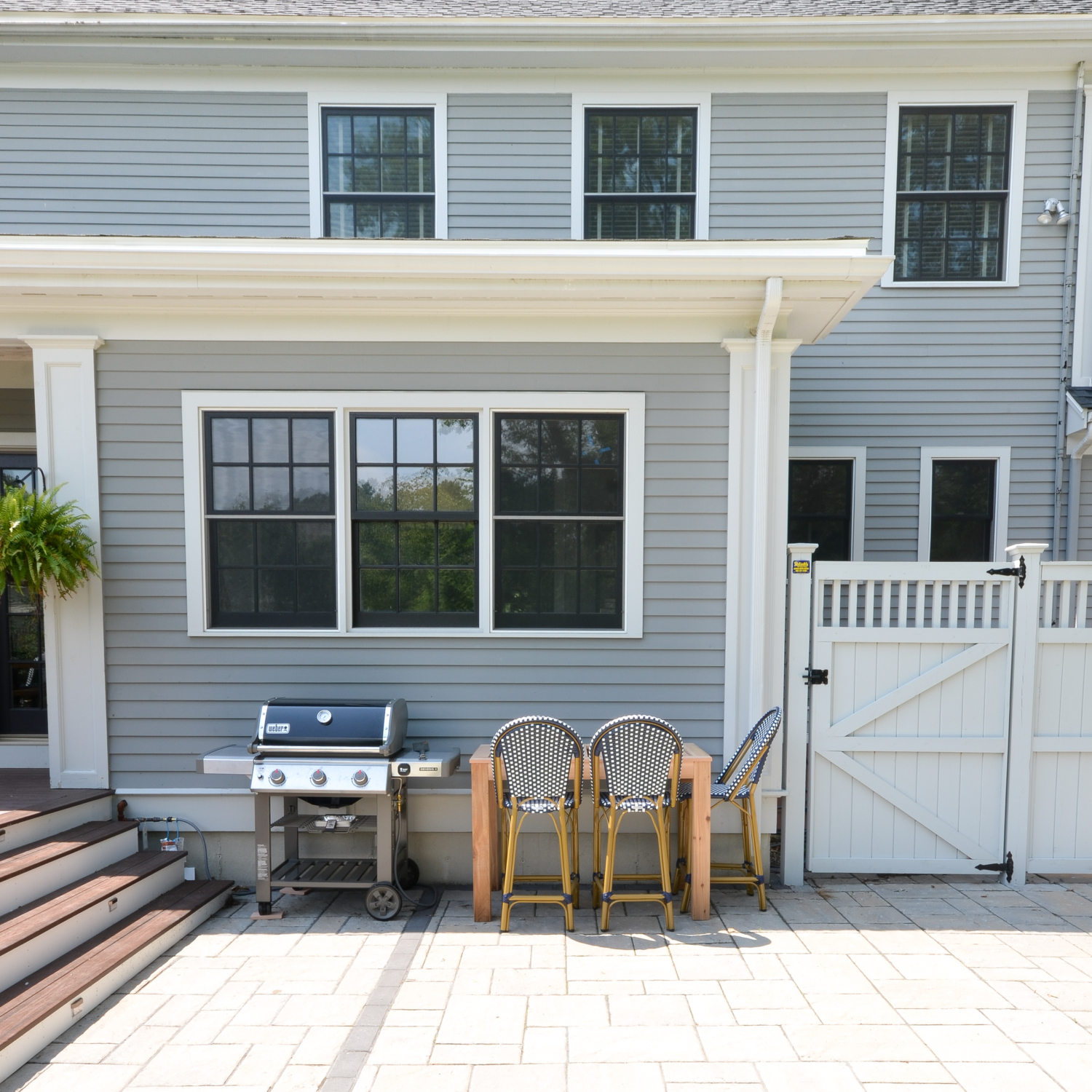 Natural gas grill
Outdoor woven barstools
Outdoor bar table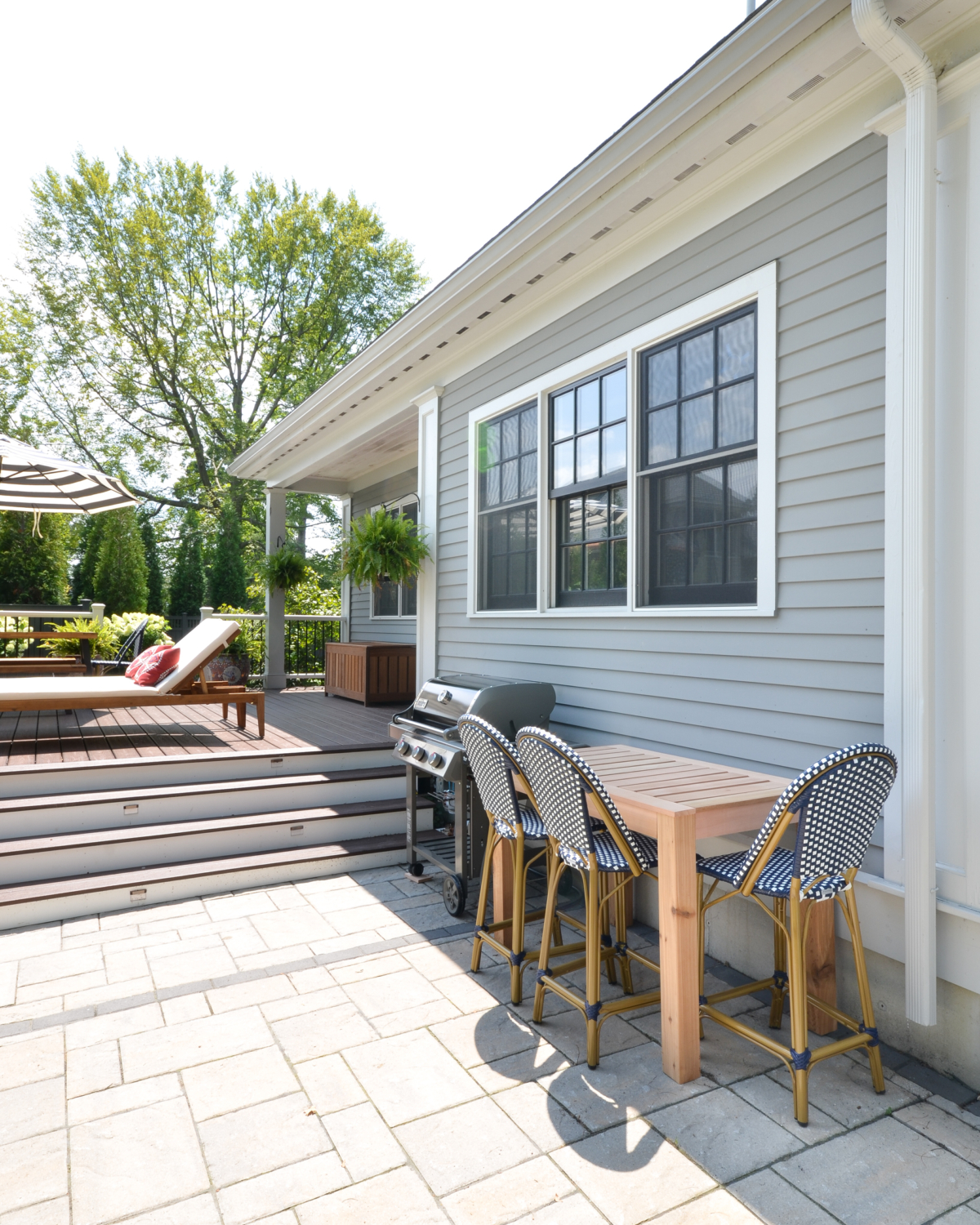 I shared theses photos in my post about the patio on the other side of the deck, but here's a look again so you get the full backyard landscaping picture.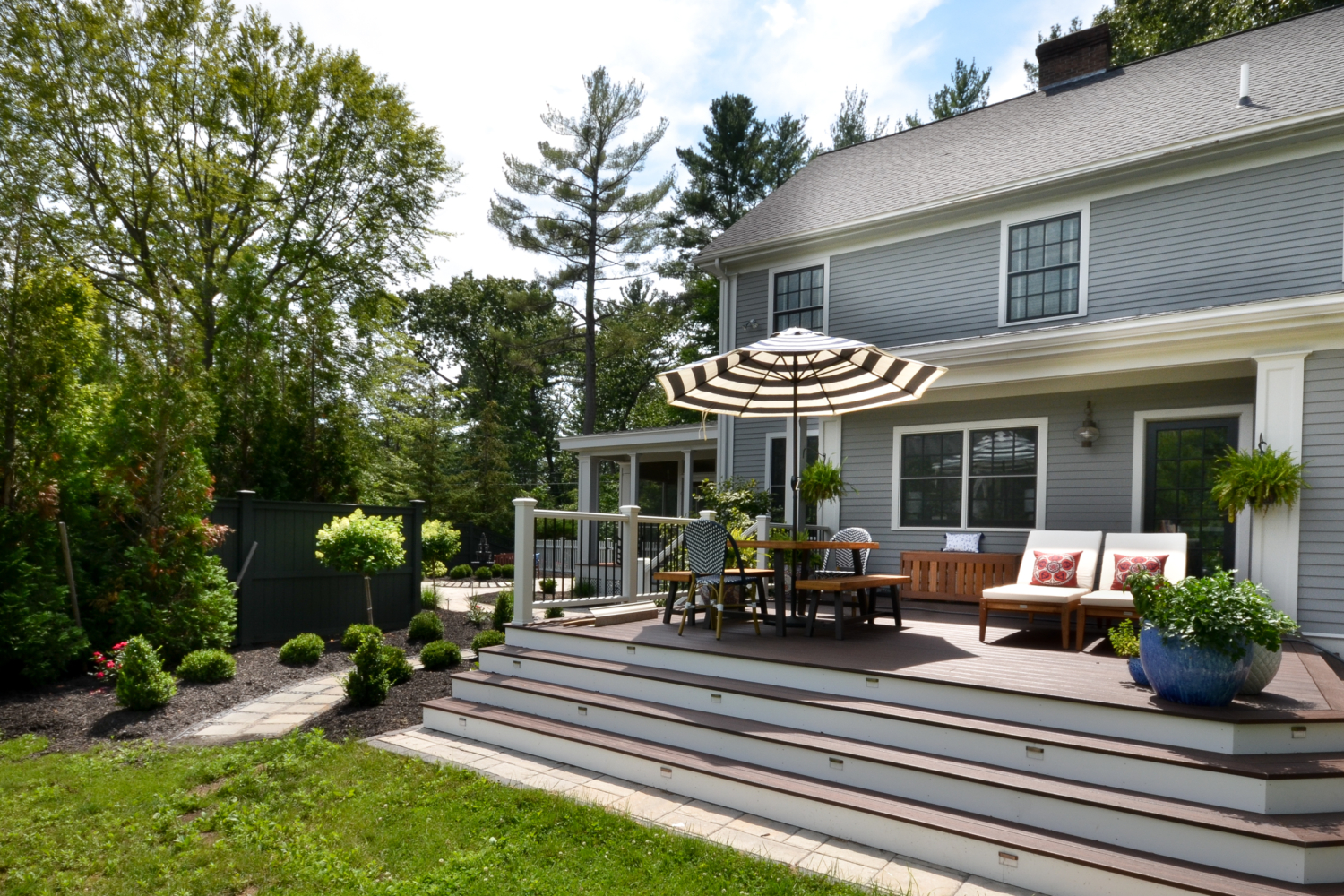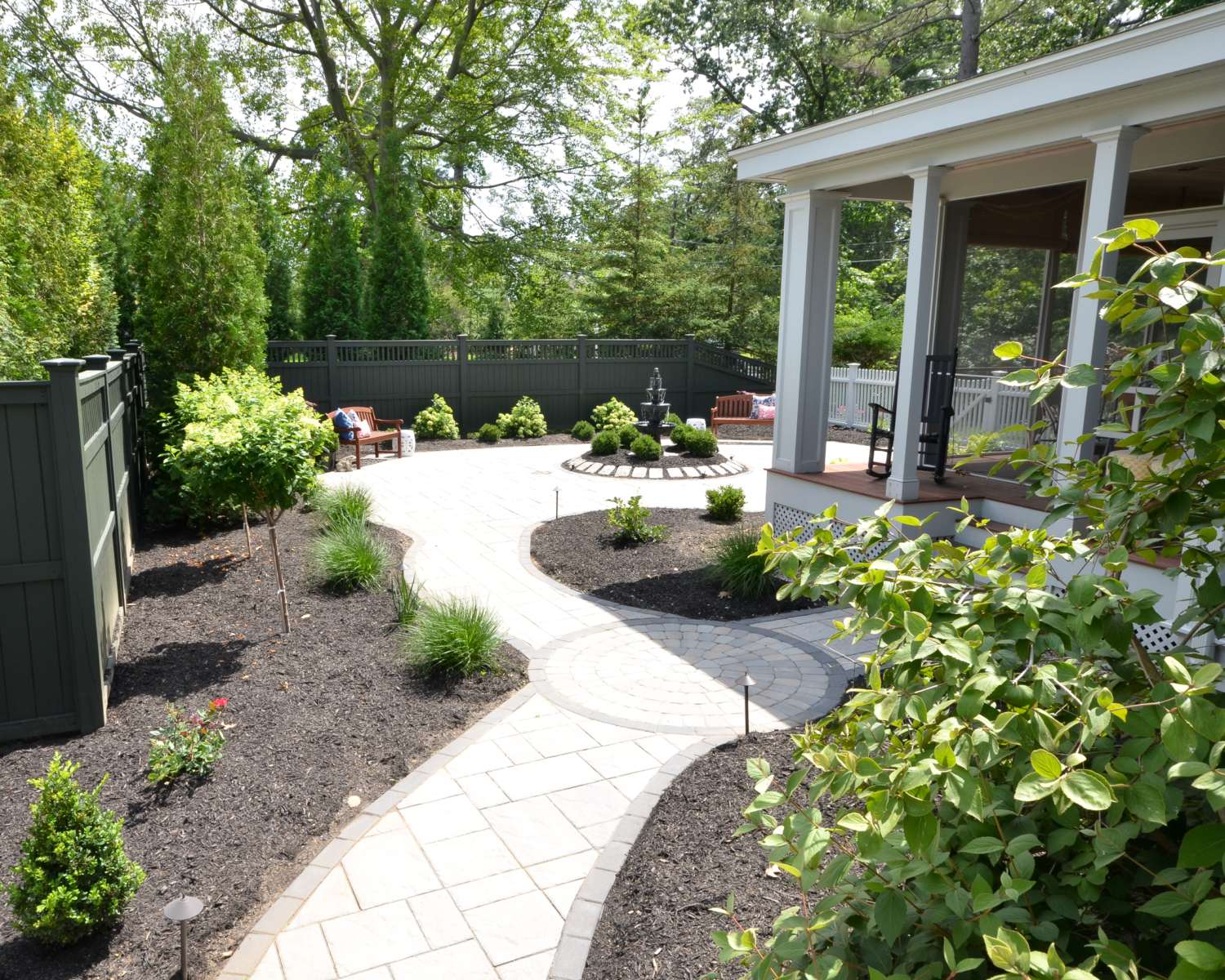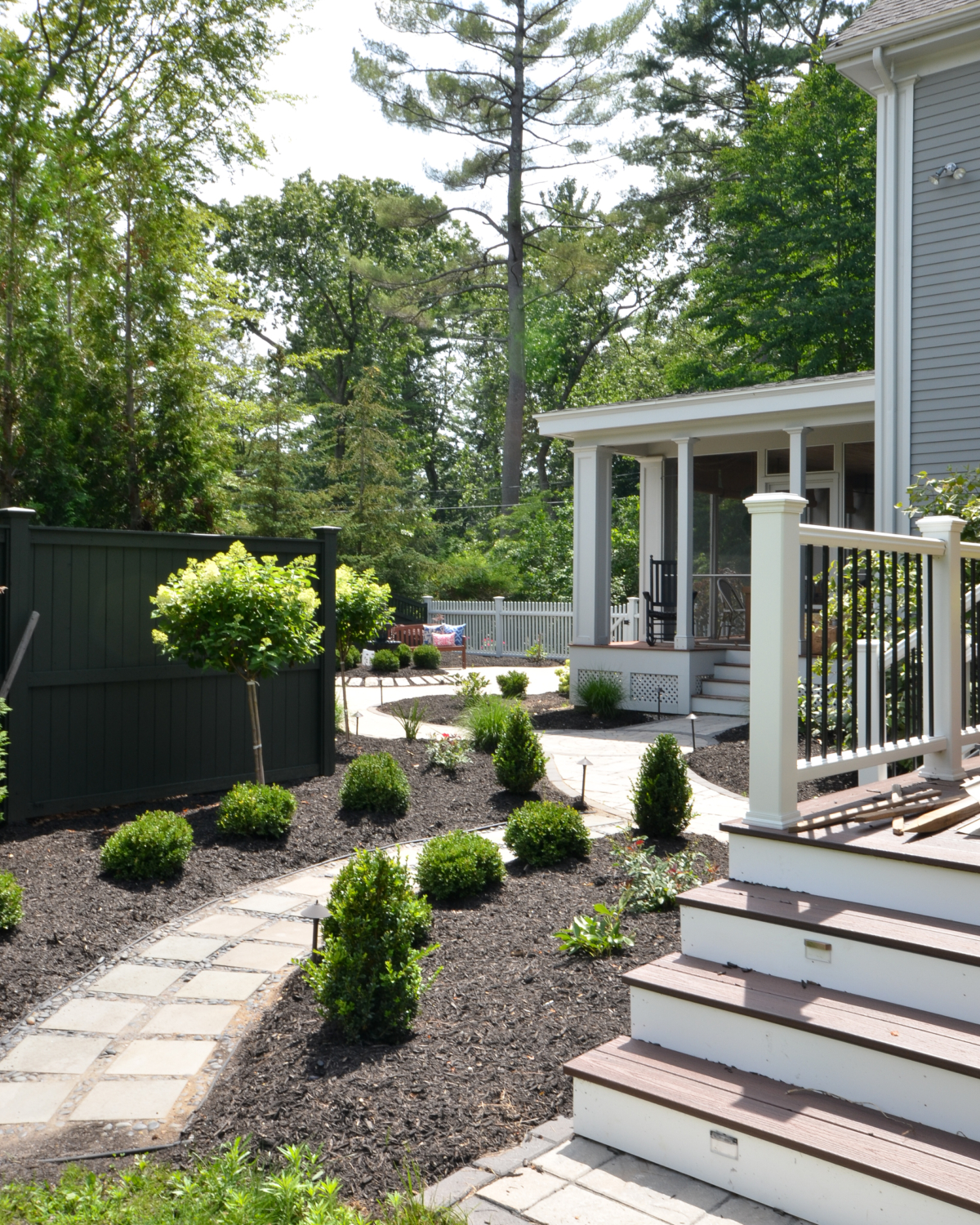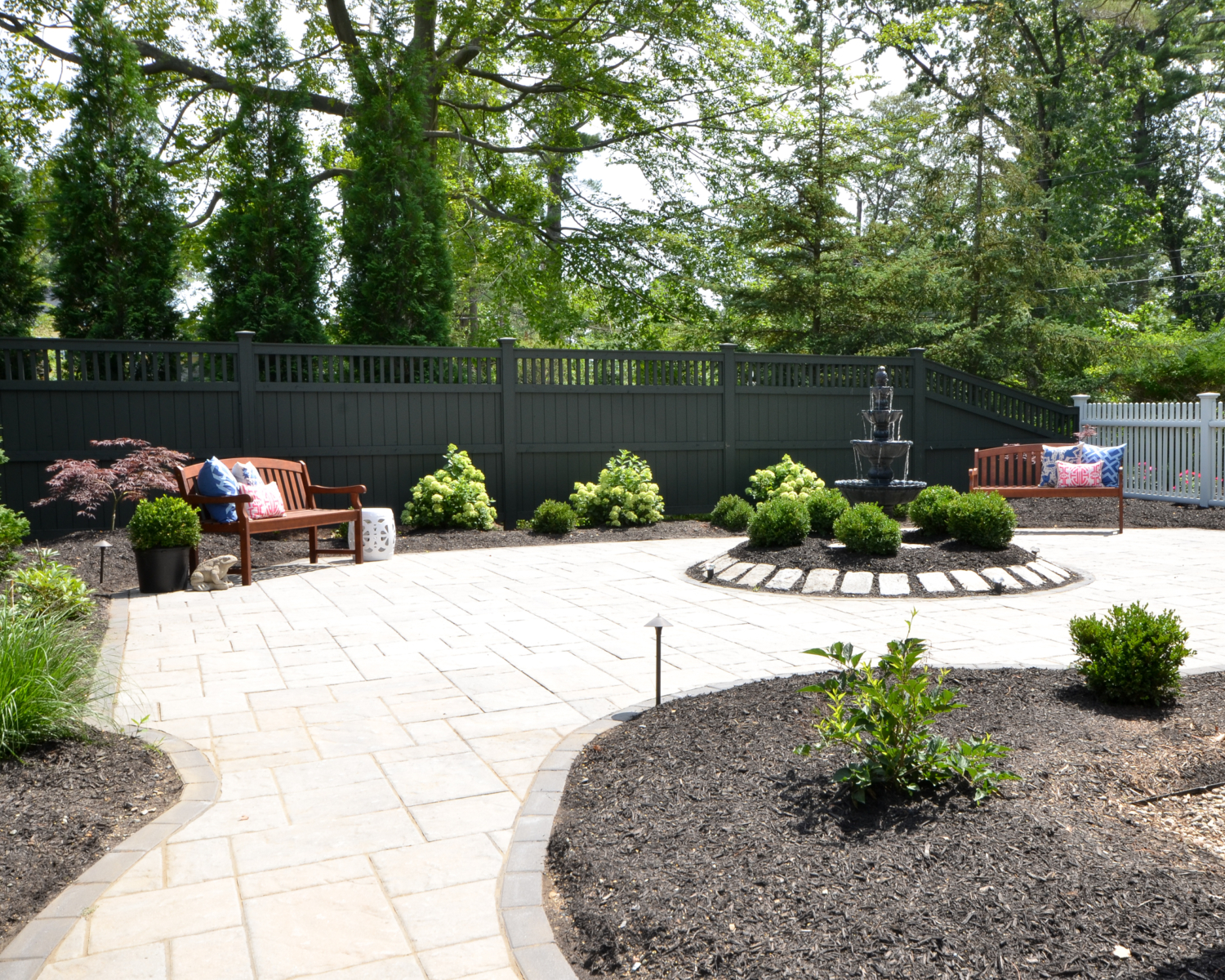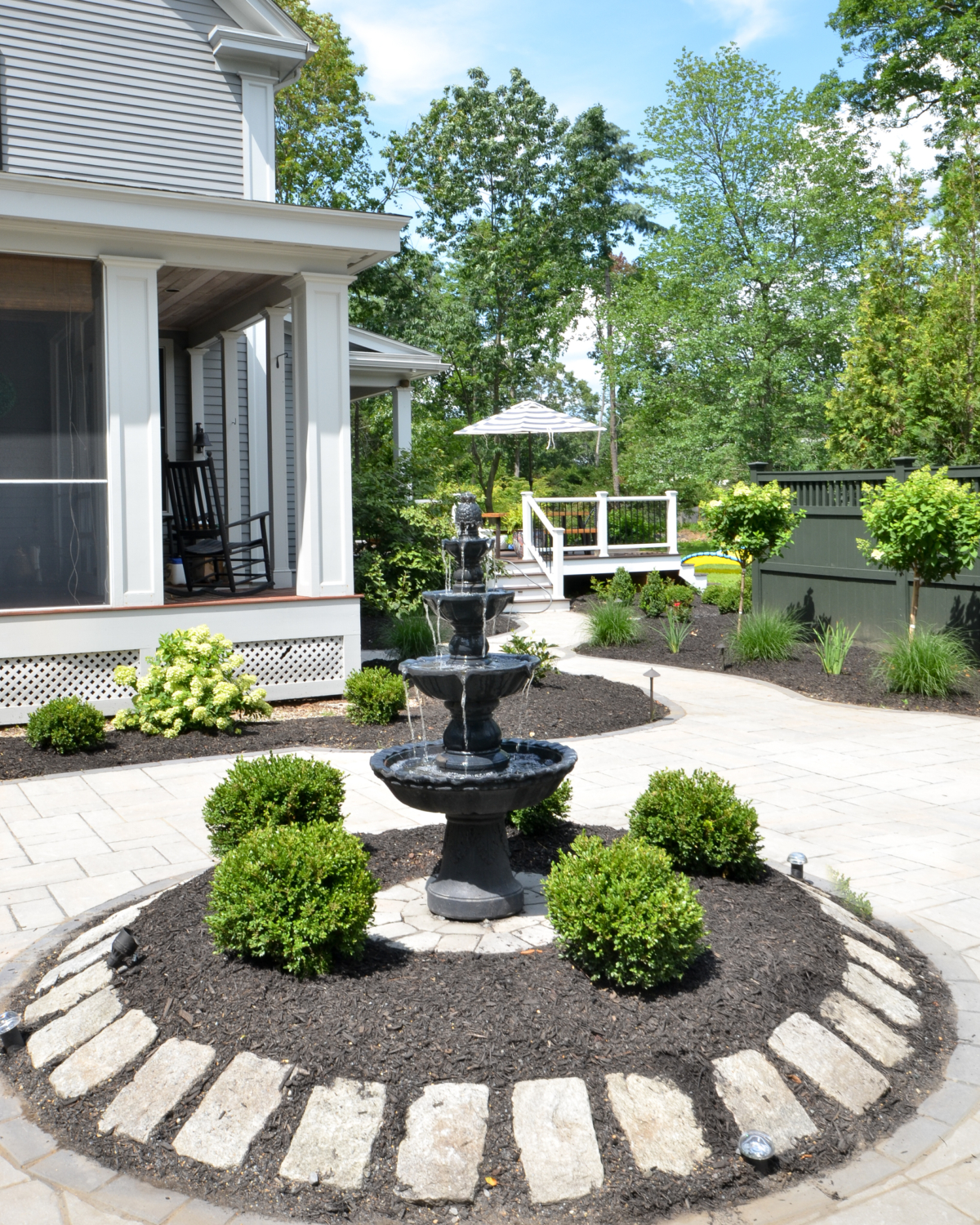 For comparison sake, here's a side-by-side before and after view of our backyard landscaping.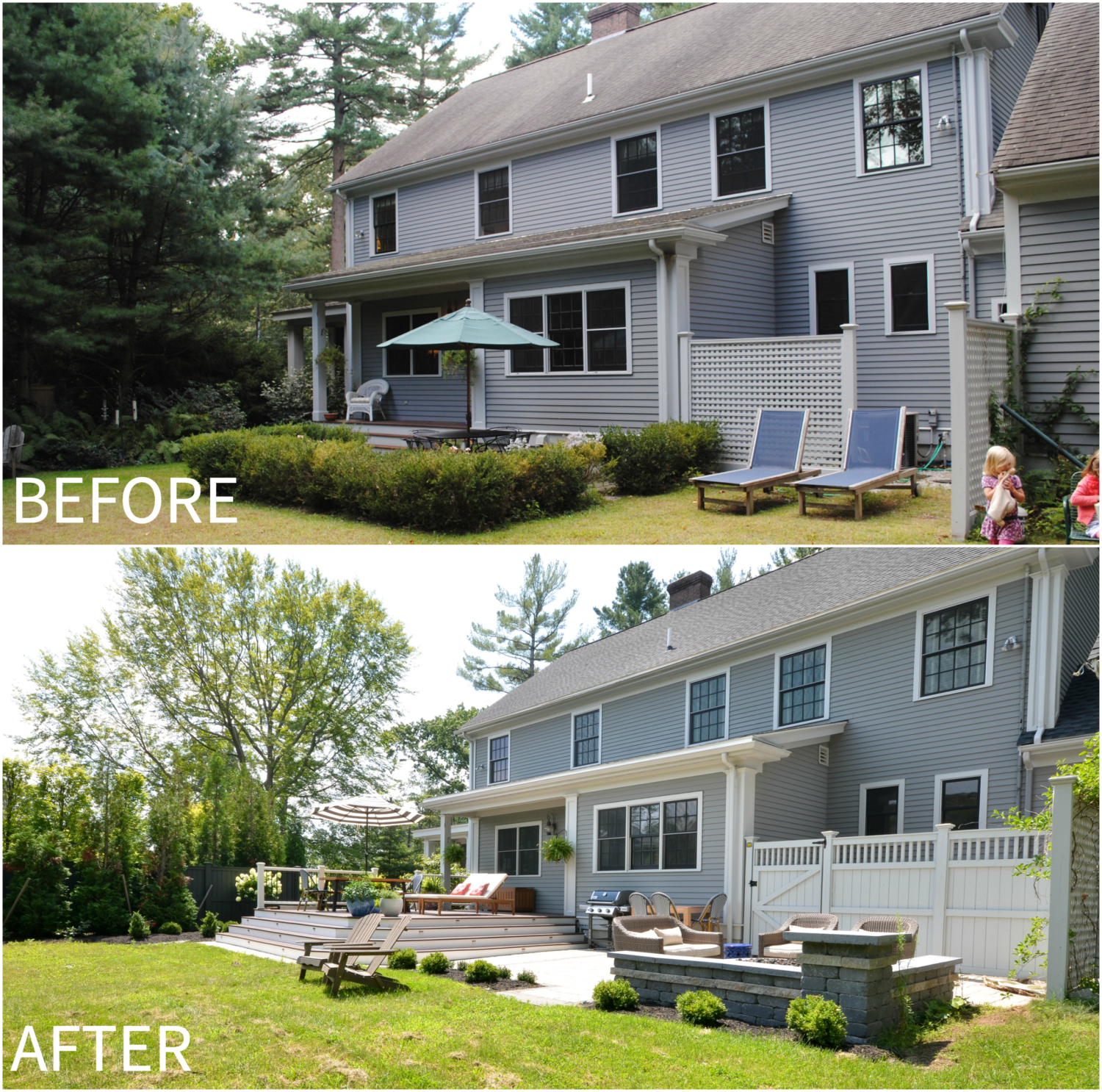 It's been such a joy to be finished these backyard landscaping projects early enough this summer to enjoy time outside. We have some work to do on our lawn still but that hasn't stopped us from eating and playing out back and loving every second of it! If you're looking for sources for any of the items I used on the deck or patios, click the images below to find them. Here are tutorials for building the DIY outdoor bar table and the DIY outdoor storage box.