I often start decorating for the various seasons by going through old posts I've published to remind me of what I did in past years. There are some things I wouldn't necessarily repeat (and some photographs that make me positively cringe) but I also found a lot of ideas that I still love years later. The common thread is definitely simplicity, which I seem to be craving this year more than ever. By far, the ideas I like best are ones that are easy to implement and say "fall" in a subtle way. Here are my top ten favorite easy fall decorating ideas from the past few years here on the blog.
Easy Fall Decorating Ideas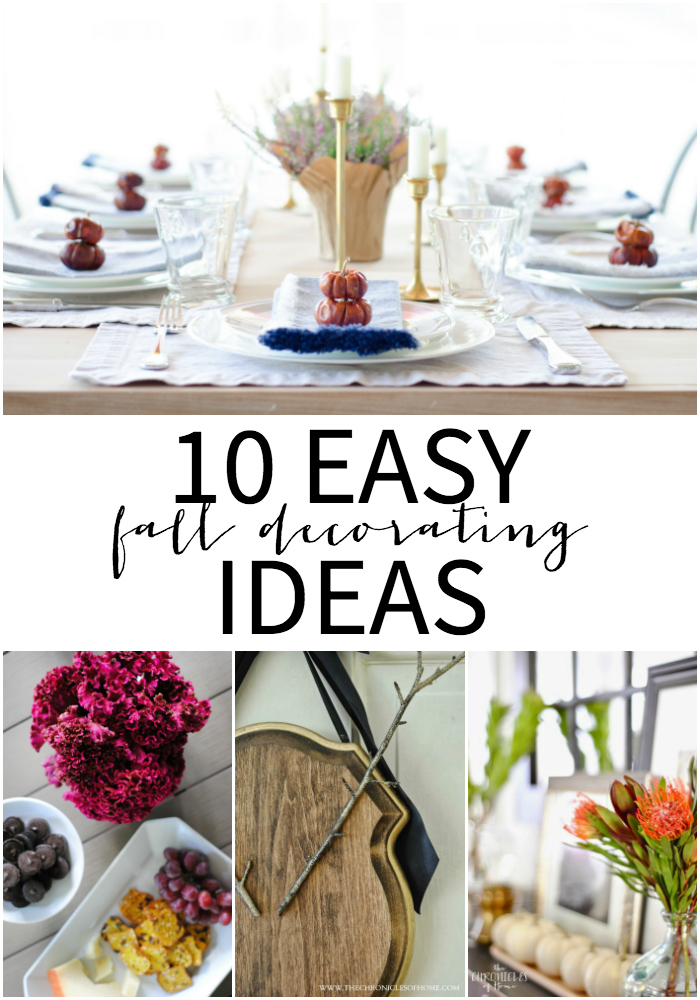 Navy Blue and Orange
While not a particularly traditional fall color combo, I just LOVE the way navy and orange play together for fall. Not to get all art-dork on you, but did you know that blue and orange are complimentary colors on the color wheel?? Meaning they usually read as a pleasant pairing to the human eye. I especially like the way navy blue and the deep, burnt orange shade of these dried mini pumpkins work together. I've had the mini pumpkins for three or four years now and I use them in my fall decorating every single year.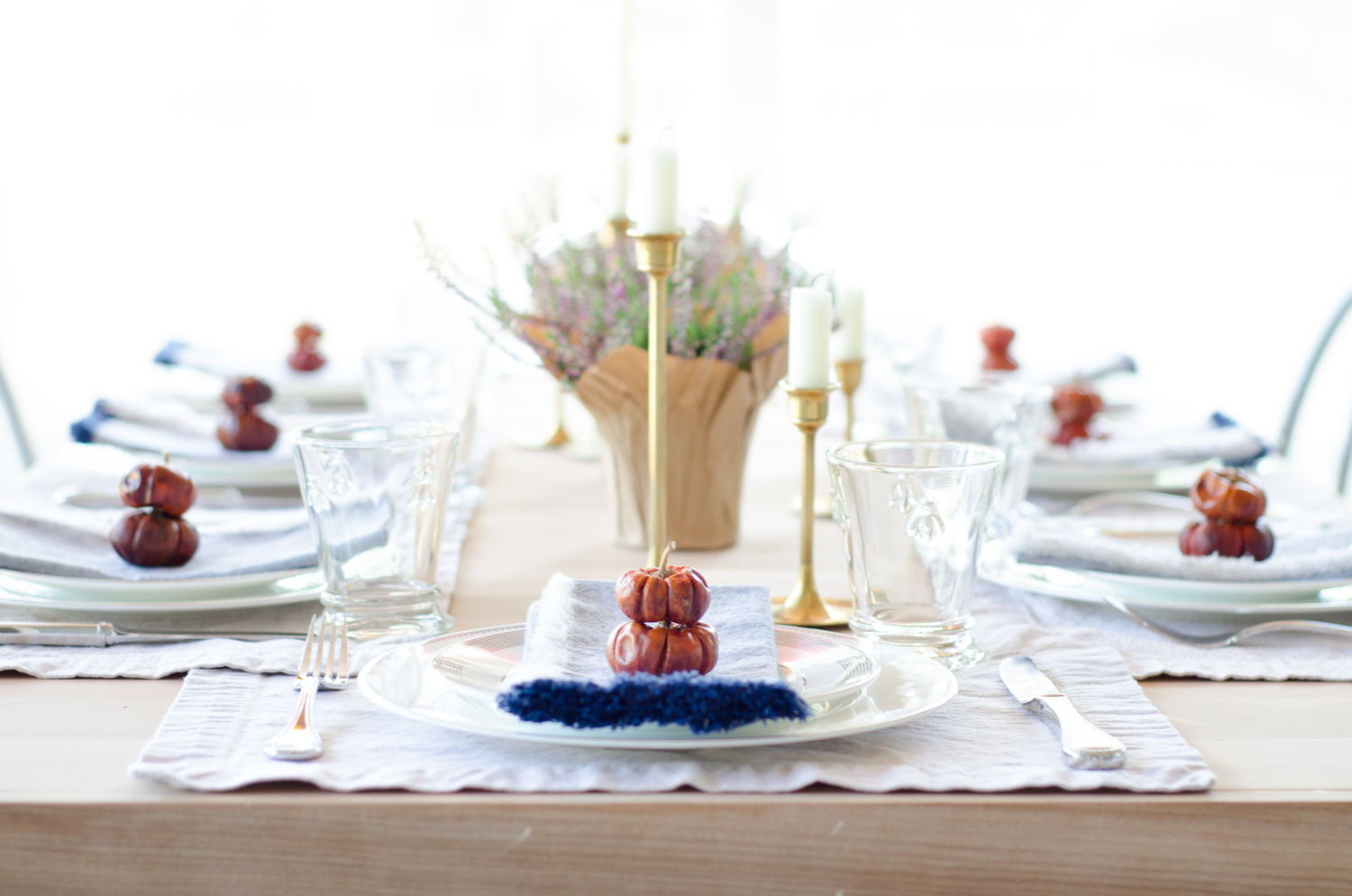 Dried mini pumpkins
Navy blue napkins
Brass candlesticks
Potted Plants as a Centerpiece
I love looking at elaborate floral arrangements but I also think it's important to recognize our own strengths and weaknesses and flower arranging is not one of my strengths. So when it comes to tablescapes, I usually go for super simple florals as a centerpiece, and a series of small potted plants is one of my favorite ways to do this. I grabbed three of these small plants from Trader Joe's for a few dollars each and they made the prettiest simple fall table setting. I scattered my favorite vintage brass candlesticks around the potted plants and called this dinner centerpiece done!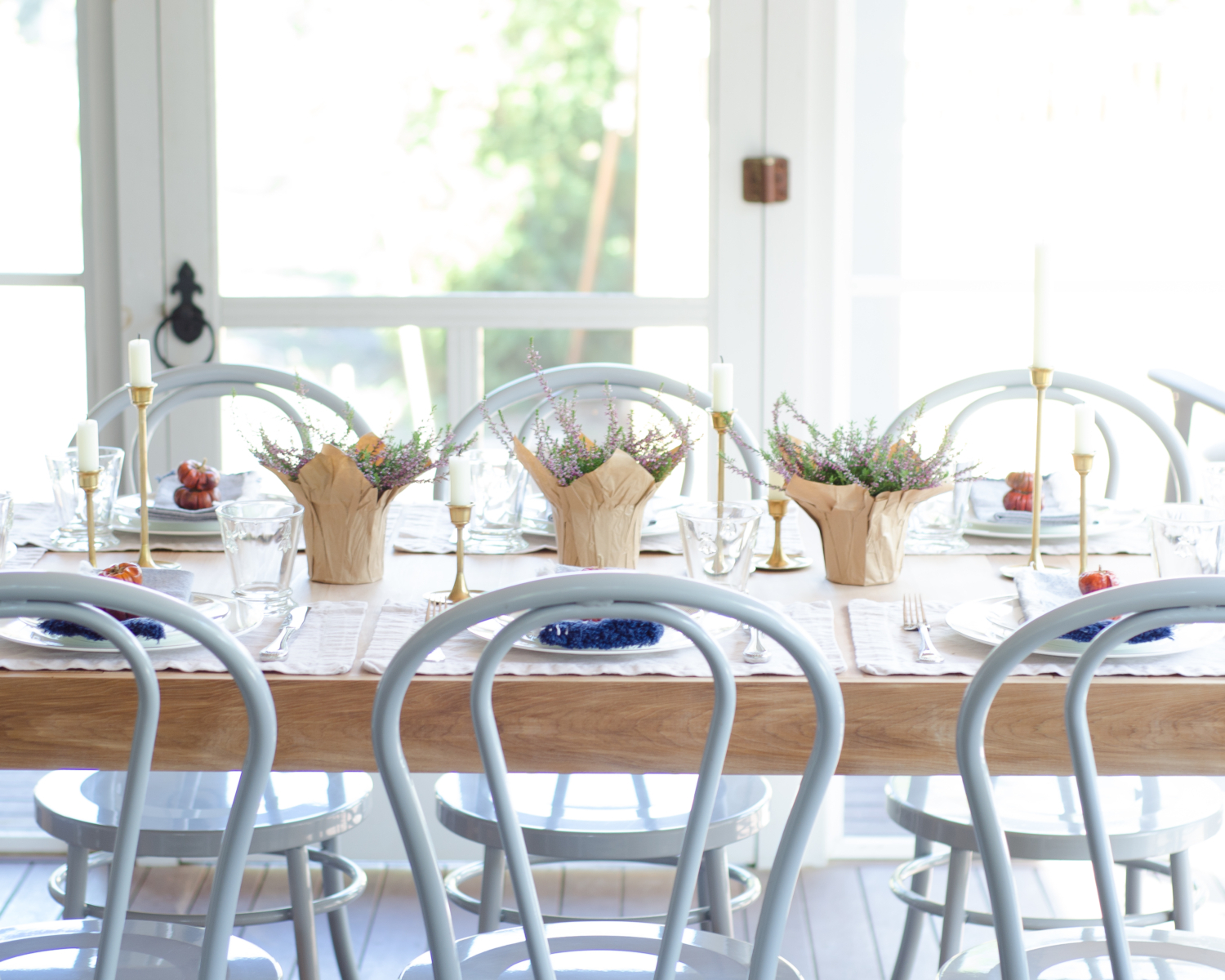 Metal bentwood chairs
Cedar farmhouse dining table
Dried mini pumpkins
Navy blue napkins
Brass candlesticks
Faux Antlers
I'm not a super crafty type. Even though I love to make things, the making usually applies more to woodworking and home improvement projects than crafting. But this little faux antler plaque I made a few years ago is still one of my favorite fall decorations and it is most definitely a project of the craft variety. It is so super simple – just stain a wooden shield plaque, paint the edge with liquid gold leaf if you like, and hot glue some antler-looking branches on either side. Easy peasy and so cute!

Protea
Protea flowers, with their vibrant color and red/orange-edged leaves, might just be my favorite fall flower. They're kind of weird and wild and I totally love their funky porcupine-ish bits that jut out all over the place. I see them at Trader Joe's from time to time, especially in fall. You can also buy a faux version that looks slightly different but is still super cool and feels very "fall" to me. Pop a few real or faux protea in a vase and you have instant fall drama. Easy fall decorating at its best.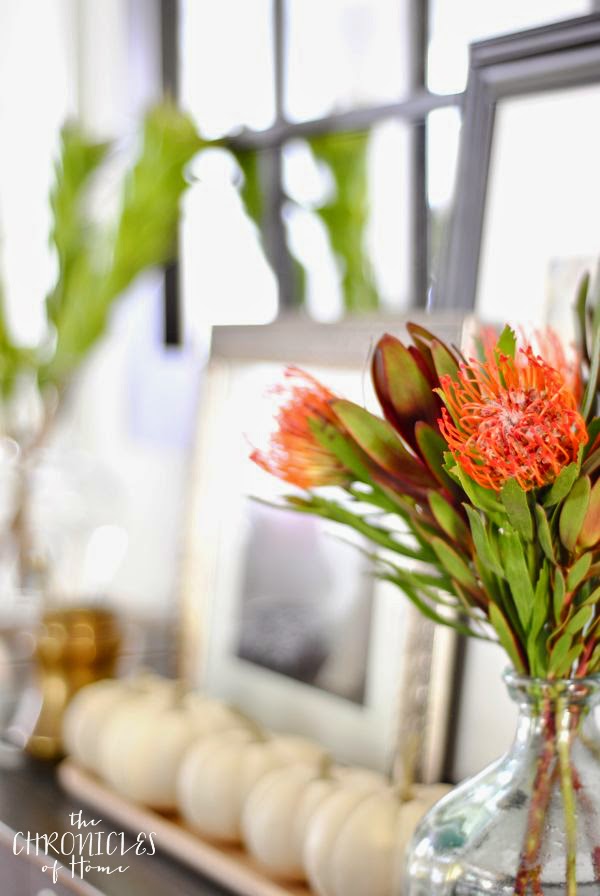 Faux protea
Cockscomb
Cockscomb is a very close second for my favorite fall flower. The first time I saw it I picked it and stared at it for awhile and kept turning it over in my hand. It looks like honest-to-goodness velvet but it's an actual living flower. It's one of the most brilliant and unique flowers I've ever seen. I like it best in a short, wide vase, so you can pile the giant blooms in and it looks like velvety goodness just cascading out at you.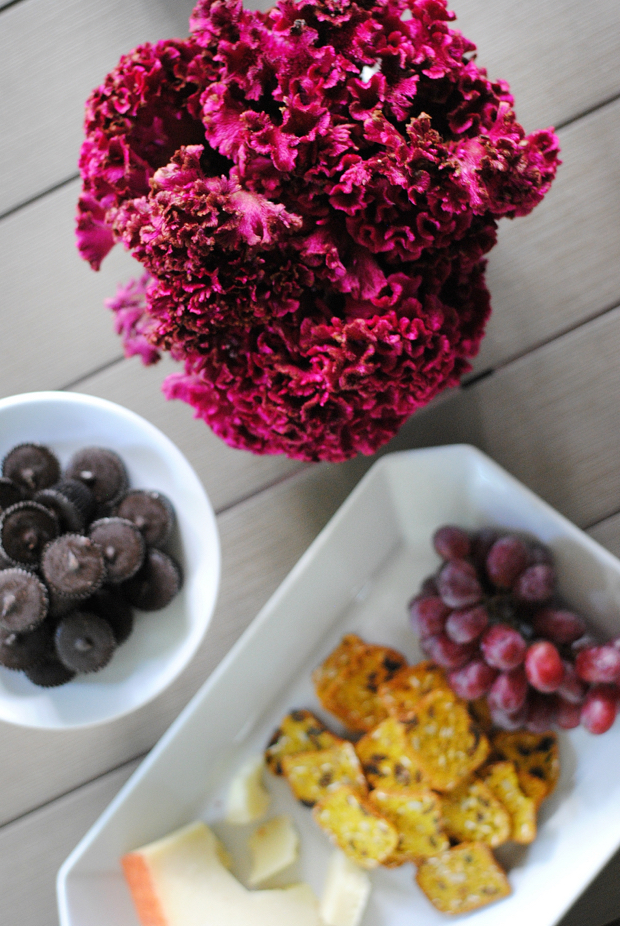 Faux Cotton Stems
Faux cotton stems are another easy fall decorating idea that add texture and warmth while keeping things totally neutral. So if you're not a color lover in fall, this is a perfect way to add a botanical touch without any bold color. I like a single stem or a grouping in a vase, or snip some of the cotton balls off a stem and add them in a cluster to a preserved boxwood wreath for a simple fall display on a door or mirror.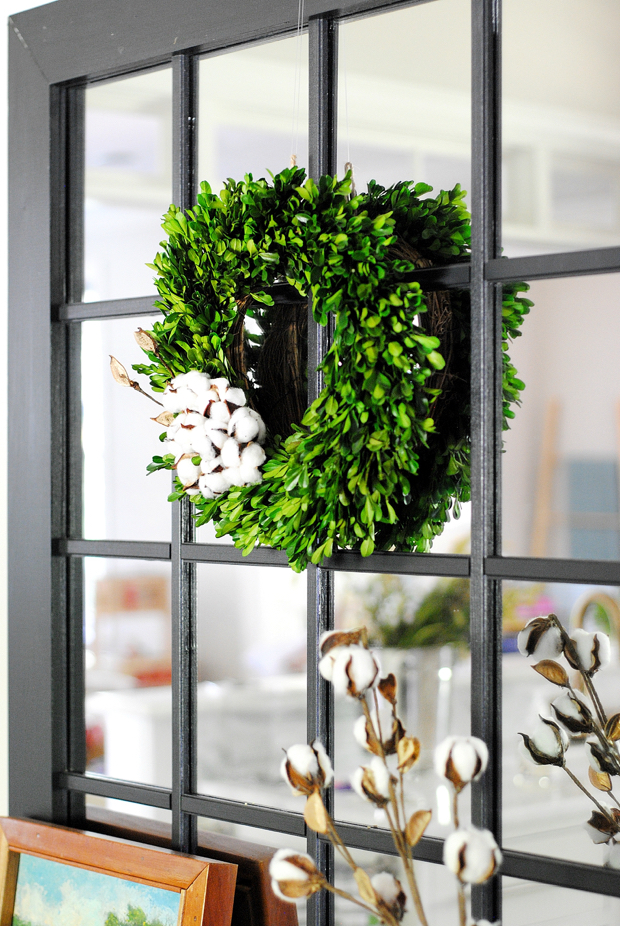 Faux cotton stems
Preserved boxwood wreath
Dried Botanicals
As everything outdoors starts to dry up it only seems natural to bring some dried bits indoors in your fall decorating too. I use preserved boxwood wreaths around my house all year round, including in fall. Some of my favorite other dried botanicals are the dried mini pumpkins I mentioned earlier, dried oranges, and dried artichokes. They all make for festive but easy fall decorating when incorporated as part of a table setting, piled inside a bowl or vase, or placed under a glass cloche on a mantle or side table. And they never die like fresh flowers or fruit so you can invest once and then reuse them year after year!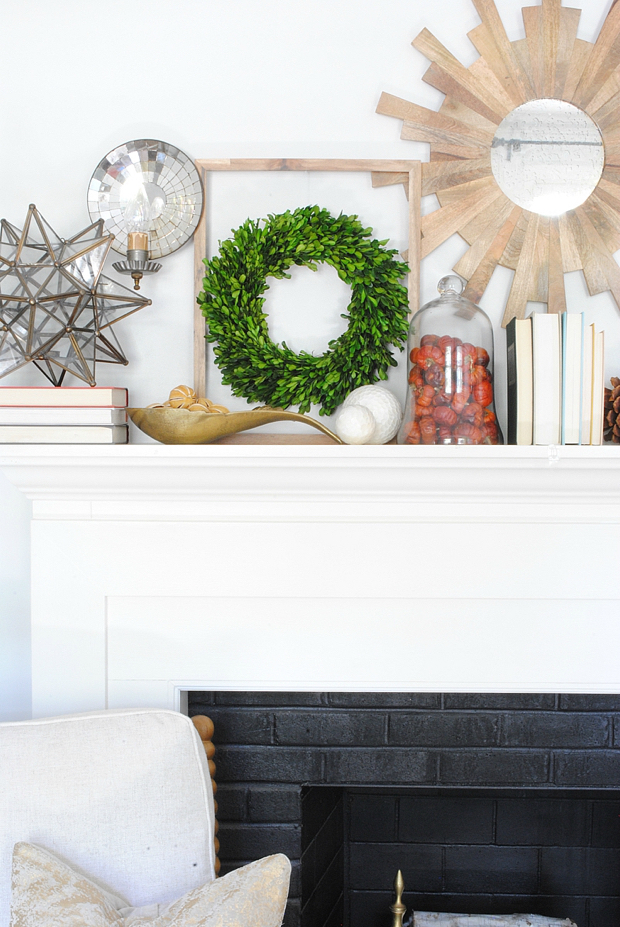 dried oranges
preserved boxwood wreath
dried mini pumpkins
glass cloche
Neutrals
It seems a little funny to be drawn to neutrals when all the leaves outside are blazing with color but maybe that's precisely why I find neutrals so soothing in fall. It's like the perfect counterpoint to all of that glorious color outdoors. Clearly, I am not afraid of color indoors either (see the protea and cockscomb pictures above) but I do like to work some neutral vignettes in as well, like I did with this mantle setup. Notice those dried artichokes I just mentioned above, under a pretty glass cloche, simple brass candlesticks, LOTS of pillar candles in varying shades of white, and a white pitcher full of drapey eucalyptus. All soft, neutral colors with just a hint of warmth from the gold tones make for subtle, easy fall decorating.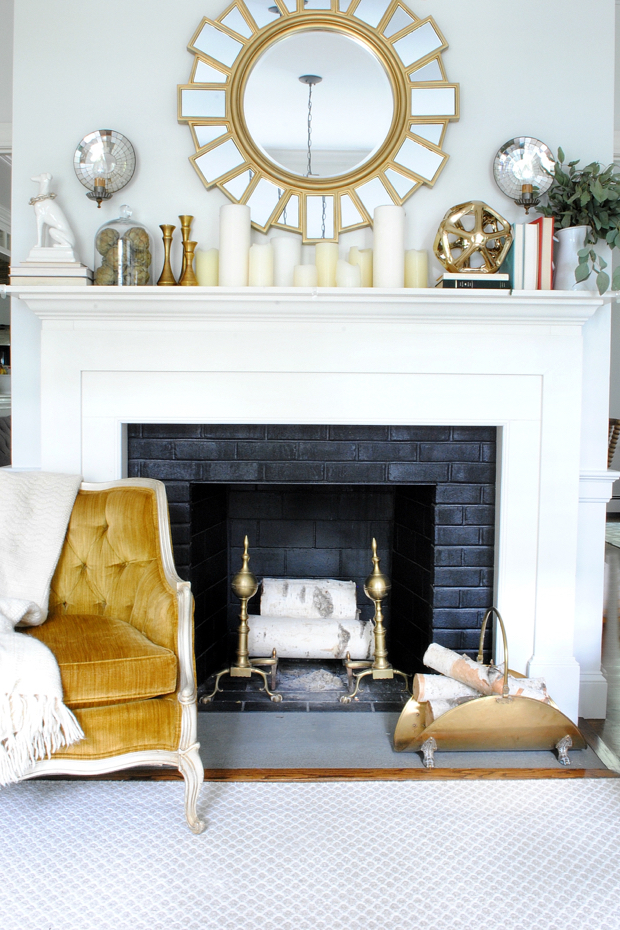 sunburst mirror
dried artichokes
glass cloche
brass candlesticks
white pillar candles
Mustard Yellow
Speaking of that hint of warmth from gold tones, mustard yellow is one of the hottest colors out there right now. It adds a shot of luxe warmth to any space and acts largely as a neutral since its color is so reminiscent of metallic gold. I added a little mustard yellow to the screened porch a couple years ago to pick up on some of the yellow tones in the plaid pillow. And of course, in the photo above, mustard yellow plays a big role in the living room by way of the vintage velvet chair. Try just a little mustard yellow in a room that feels like it's missing the space needed.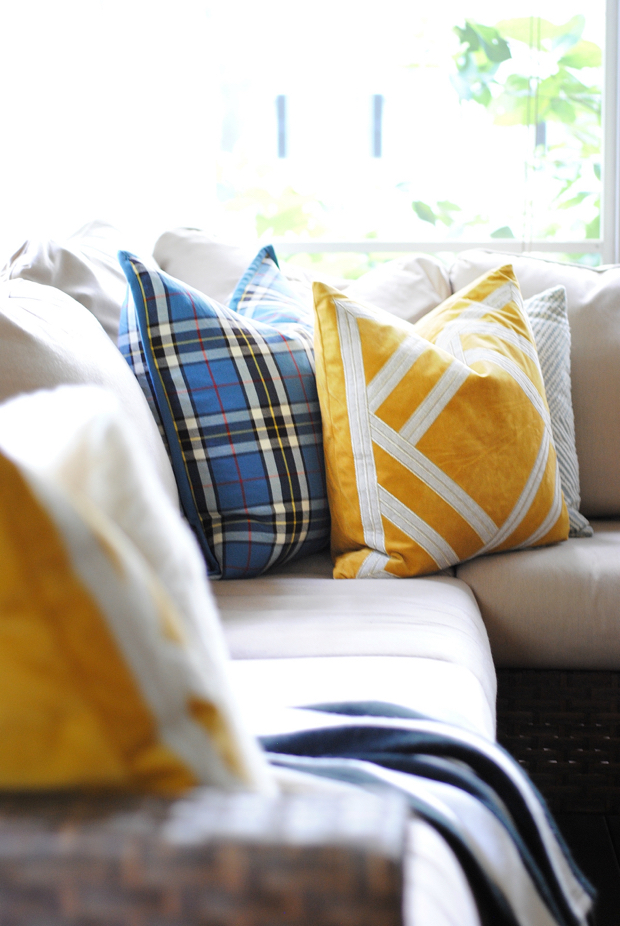 Leopard
I'm forever moving pillows and other accessories around the house and these leopard pillows are one of my favorite moveable pieces. And adding a new pillow or two to a room may just be the easiest of easy fall decorating. The leopard pillows here always add a perfect punch of graphic pattern wherever I put them. With the warm background color, this particular leopard pattern is so perfect for fall and I find myself pulling them out this time of year especially.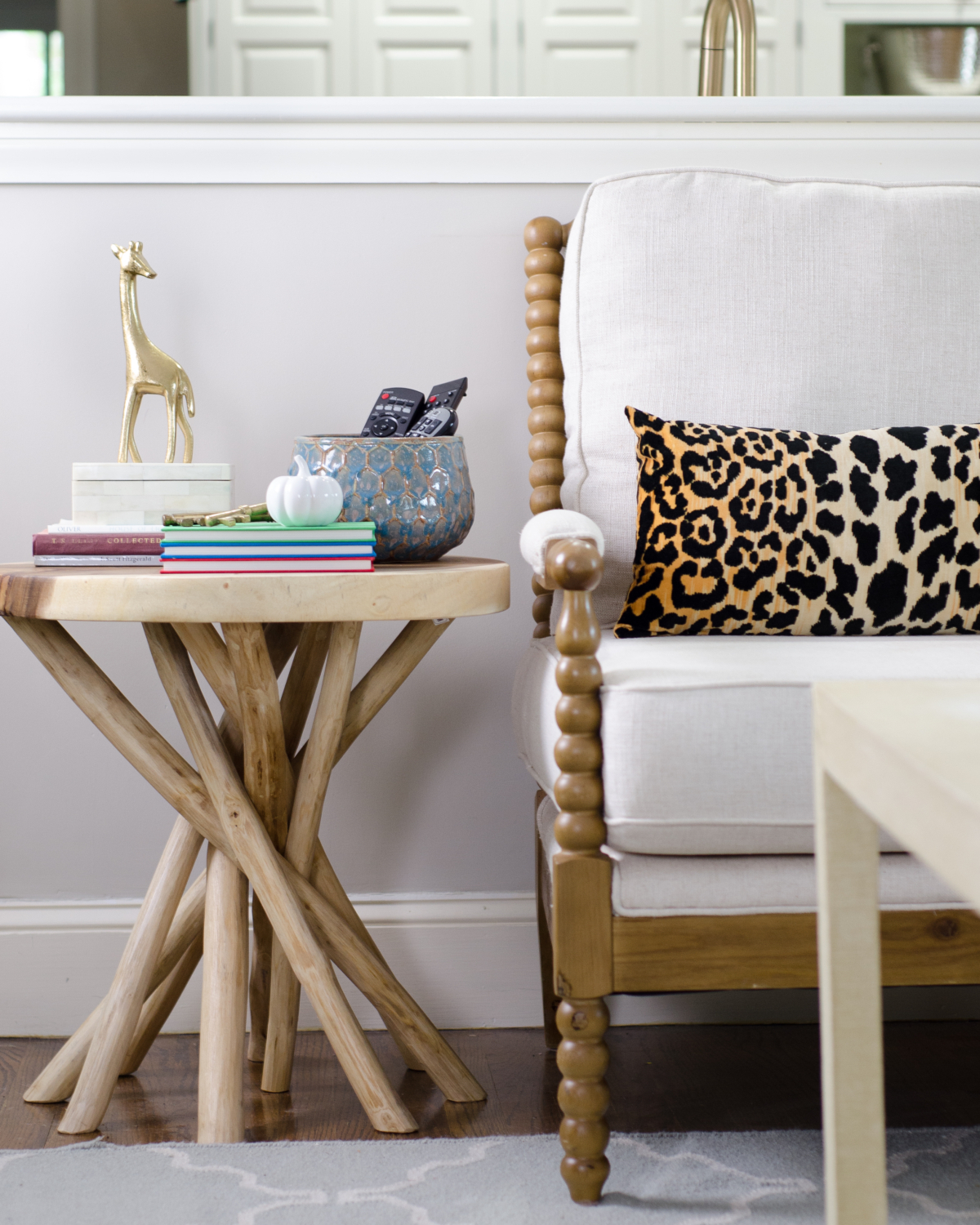 Branch leg side table
Spool chair
Leopard pillow
How do you decorate for fall? Are you a simple gal like me, or do you love to go all out?