Here's the thing about me. I fall in love kind of easily. With food, I mean. But it's always heartfelt and real, you guys. When I tell you I LOVE something and that it is the best version of that thing and that it's my most favorite, ultimate recipe of its kind, well…I mean it. The frequency with which I fall in love with food doesn't make it any less real. And today (and last week, and every week in the future) I am in love with these chocolate peanut butter cup cookies. They're like a classic, chewy chocolate chip cookie but with chopped chocolate peanut butter cups instead of chocolate chips. So in other words, AMAZING.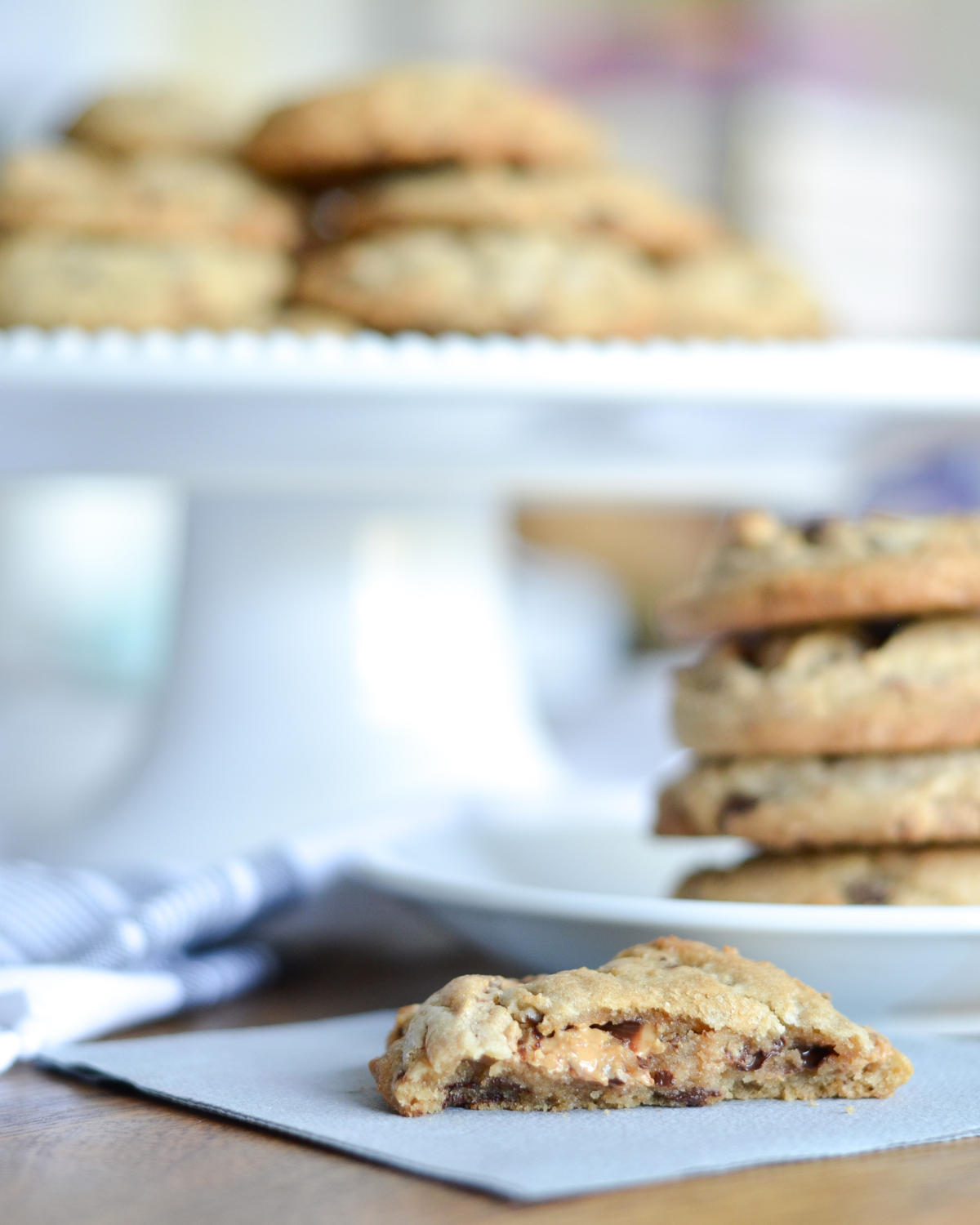 Can you see the melty peanut butter in there??? Honestly I wasn't totally sure this would work. I thought the peanut butter might melt all over the cookie sheet while baking and I would open the oven to a big old mess and the ultimate chocolate peanut butter cup cookies I'd dreamed of would be nothing more than just that. A dream. But it worked. It totally worked. And they are glorious. They're pretty much the only cookies I want to eat now and forever.
I used the small dark chocolate peanut butter cups from Trader Joe's for this recipe and just gave them a rough chop. But use any peanut butter cups you like. I left the chopped pieces probably about twice the size of chocolate chips but I wasn't too exact. Some pieces were smaller, some bigger, and they all settled in just right to make outrageously awesome chocolate peanut butter cup cookies. Writing about them right now is making me want to make them absolutely immediately. I would highly recommend you do the same. If you even kinda sorta like chocolate and peanut butter together these are calling your name and frankly, you should listen to them.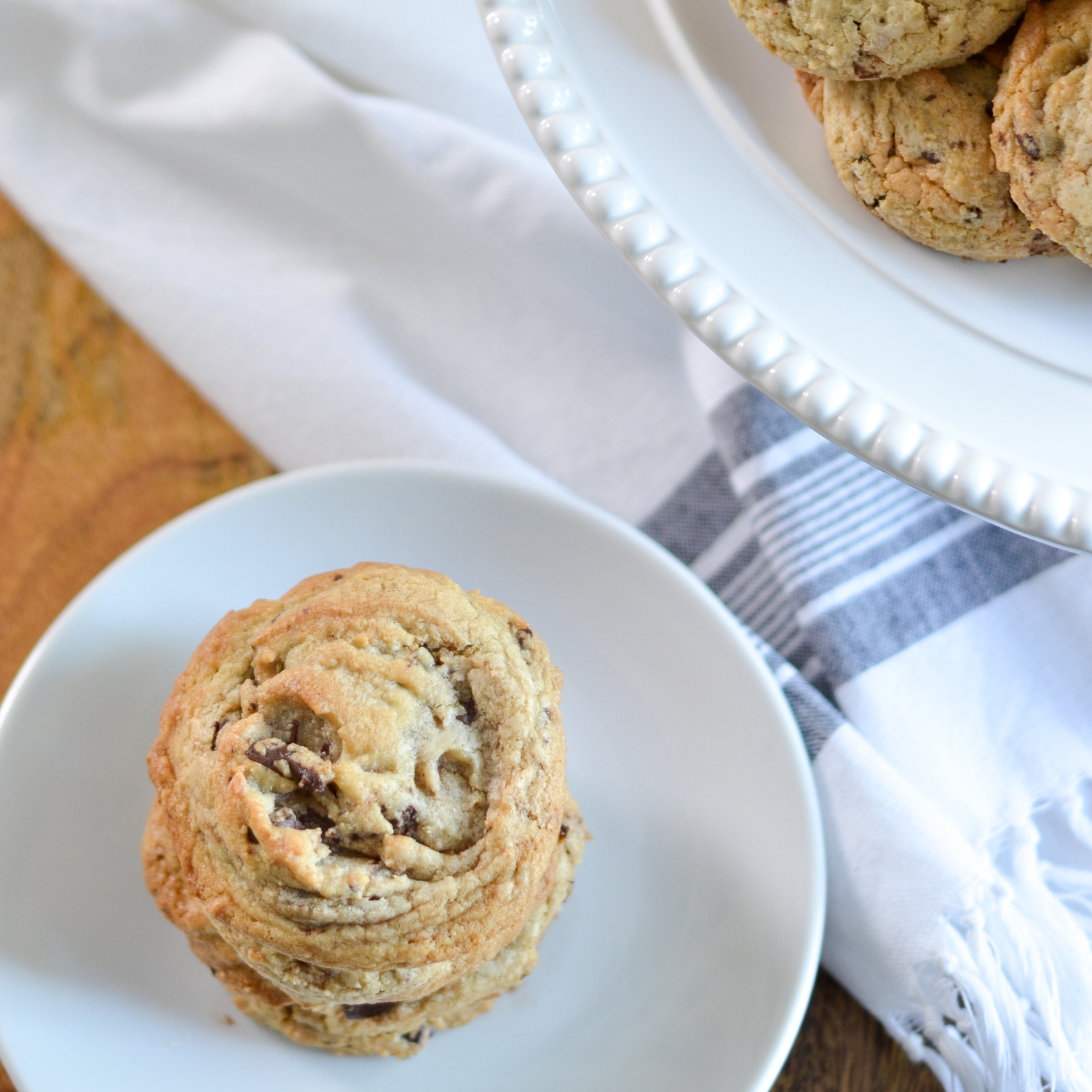 This is kind of a huge recipe – it makes 24-30 large-ish cookies but if you're going to make them why not make lots?! They freeze great so I usually put whatever we won't eat in a day or two in an airtight comtainer in the freezer. Meaning you can have homemade chocolate peanut butter cup cookies any time you want. Which is fantastic but also dangerous, of course. The recipe easily cuts in half so go ahead and do that if you want to make less! And I super recommend this ice cream scoop for consistent cookie size. I use it for cookies, muffins, and yep, even ice cream.
I made a short little video so you can see these chocolate peanut butter cup cookies come together. Are you as addicted as I am to watching food videos??
Chocolate Peanut Butter Cup Cookies
Sinfully delicious chocolate peanut butter cup cookies. A perfect marriage of chewy chocolate chip cookies and peanut butter cups!
Recipe type:
Dessert, Cookies
Ingredients
16 tbsp. unsalted butter
1 c. sugar
½ c. dark brown sugar
2 tsp. vanilla
2 eggs
3 c. all flour
1 tsp. baking soda
½ tsp. salt
16 oz. chocolate peanut butter cups, coarsely chopped
Instructions
Preheat the oven to 350º.
Melt the butter in the microwave for 60-90 seconds, until JUST melted. Pour into the bowl of a stand mixer fitted with the paddle attachment, add both sugars, and beat on medium speed until very smooth.
Add the vanilla and eggs and beat on medium speed again until paler in color and creamy (see video for an example).
Add the flour, baking soda, and salt and stir on low speed until the flour just starts to combine with the wet ingredients. Add the chopped peanut butter cups and stir on low for a few seconds until they're evenly distributed through the batter.
Scoop large balls of dough (a medium ice cream scoop is the perfect size!) onto a cookie sheet and bake for 9 minutes. It might be more or less depending on your oven but you want to err on the side of them being underdone. They should be just golden around the outer edges.
Let the cookies cool on the cookie sheets for 5-10 minutes then tranfer to a wire rack to cool completely.
Freeze any cookies you won't eat in the first day or two to keep them fresh!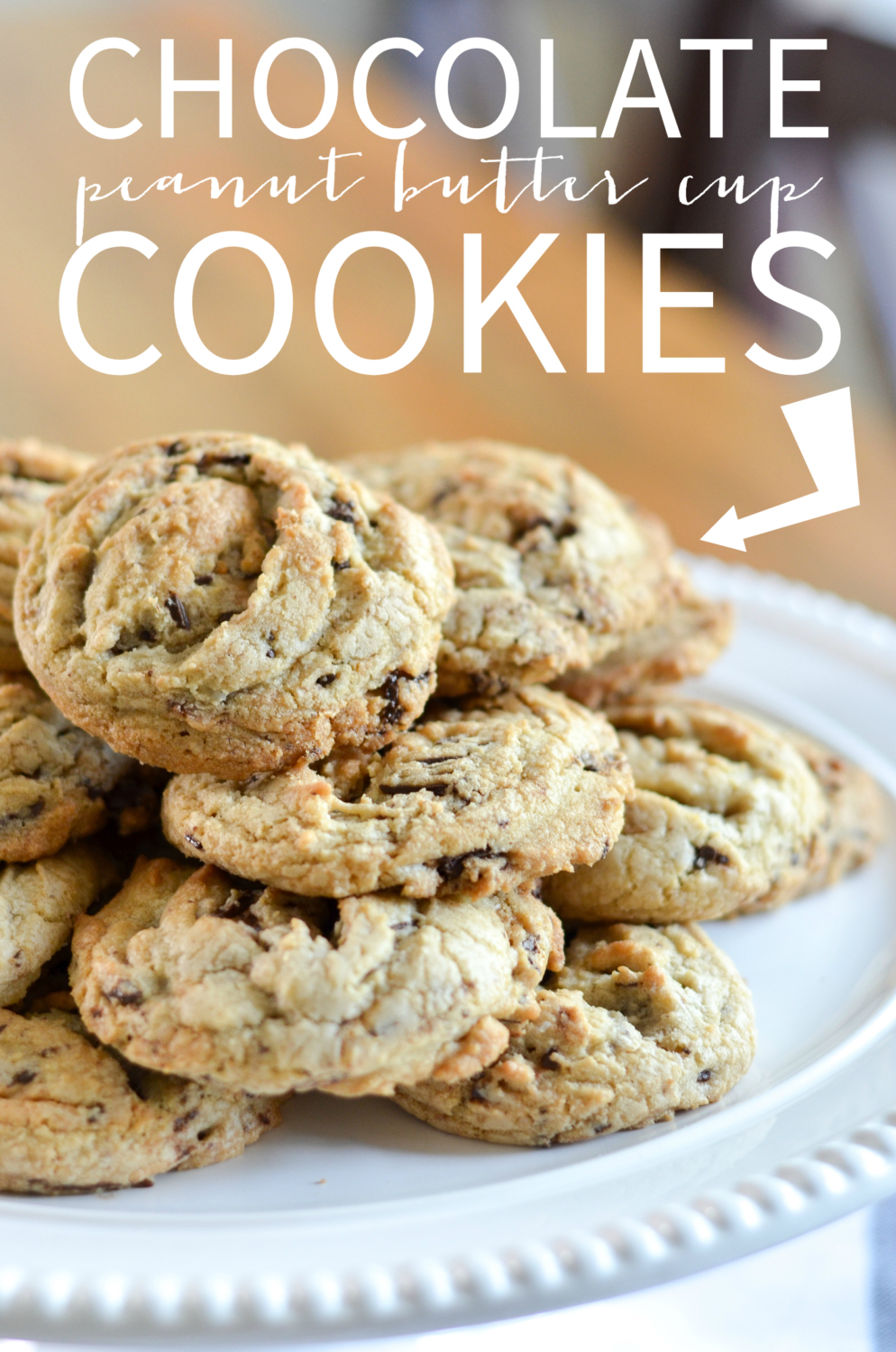 Looking for more awesome cookie recipes?? Try my
caramel-stuffed snickerdoodles
,
peanut butter oatmeal sandwich cookies
, or
almond, coconut, and chocolate Paleo cookies
(yep, they're Paleo!!)