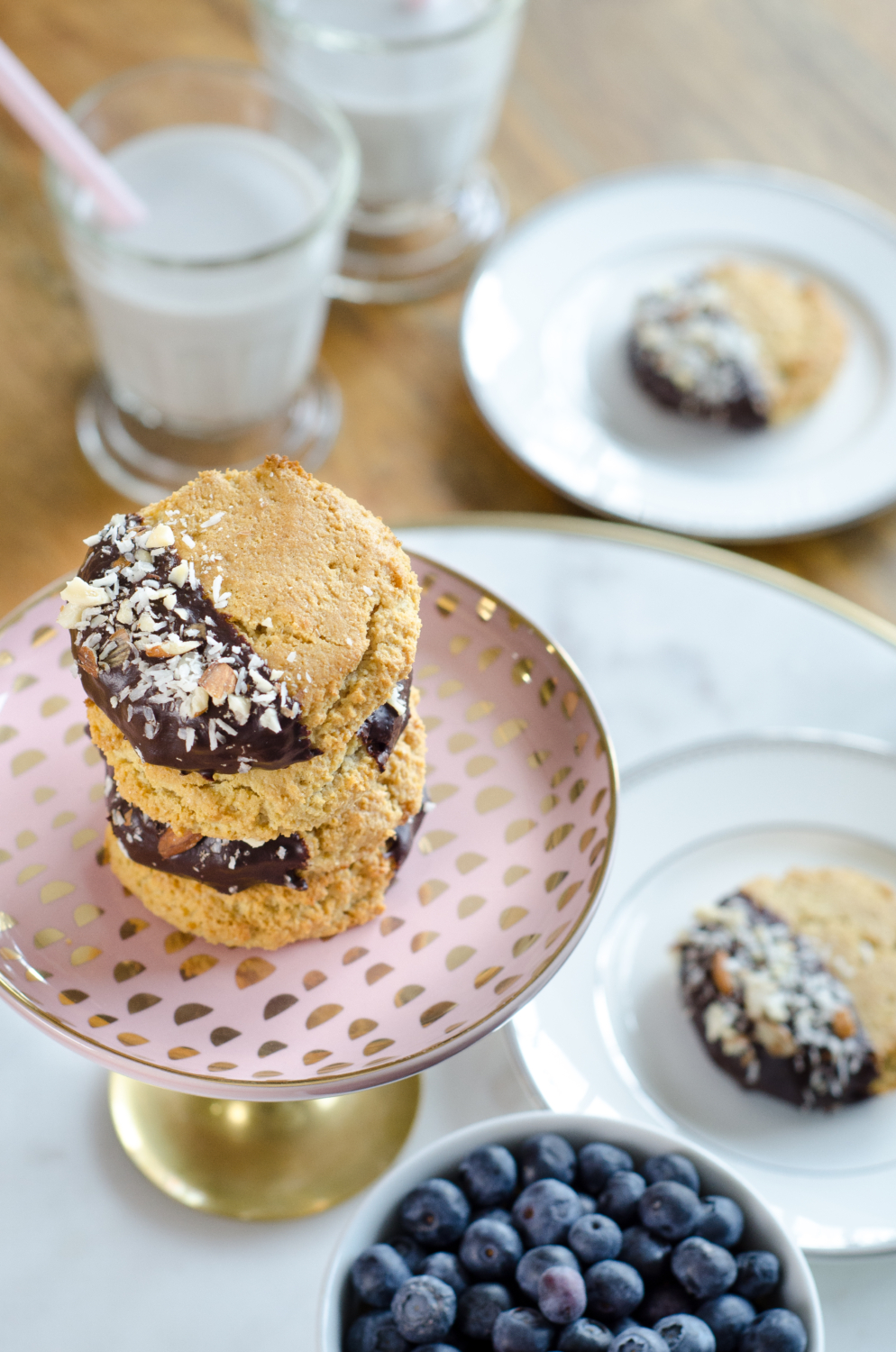 Well. This is getting awkward. I keep saying I'm not on a Whole30 or Paleo diet but then the last three recipes I've shared here have been Paleo and/or Whole30 (see Asian Broth Bowls and Easy Tuna Nicoise Salad for the last two). I swear I still love my legumes and grains and dairy and sugar over here but that doesn't mean I eat them all the time and it also doesn't mean I think sugar is healthy (tasty, though). So, ya know, I try to keep my consumption of sugar mostly moderate, which led me to this paleo cookie recipe. Almond (yum), coconut (YUM), and chocolate (YUMMMM) cookies. Pretty much my three favorite things in anything dessert related.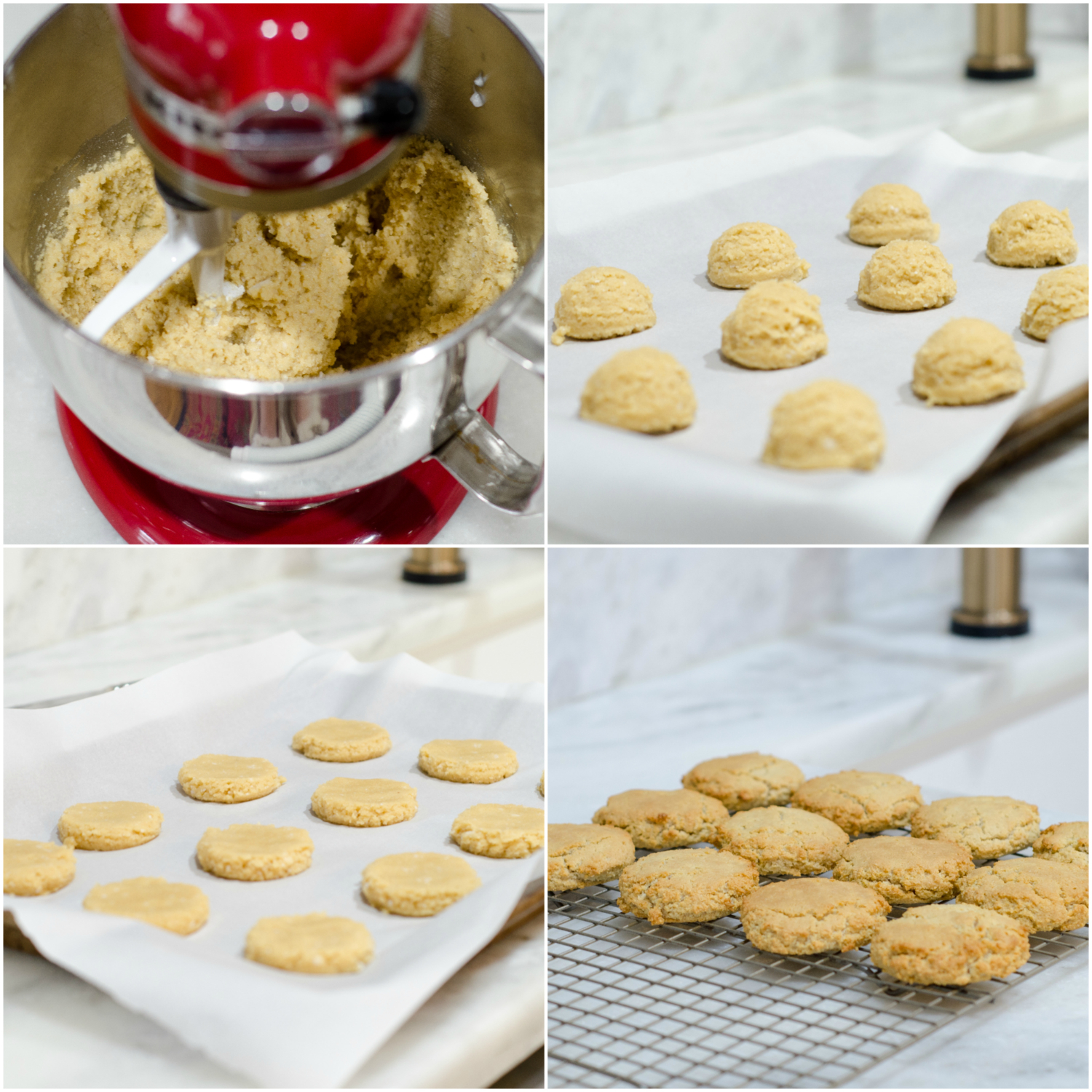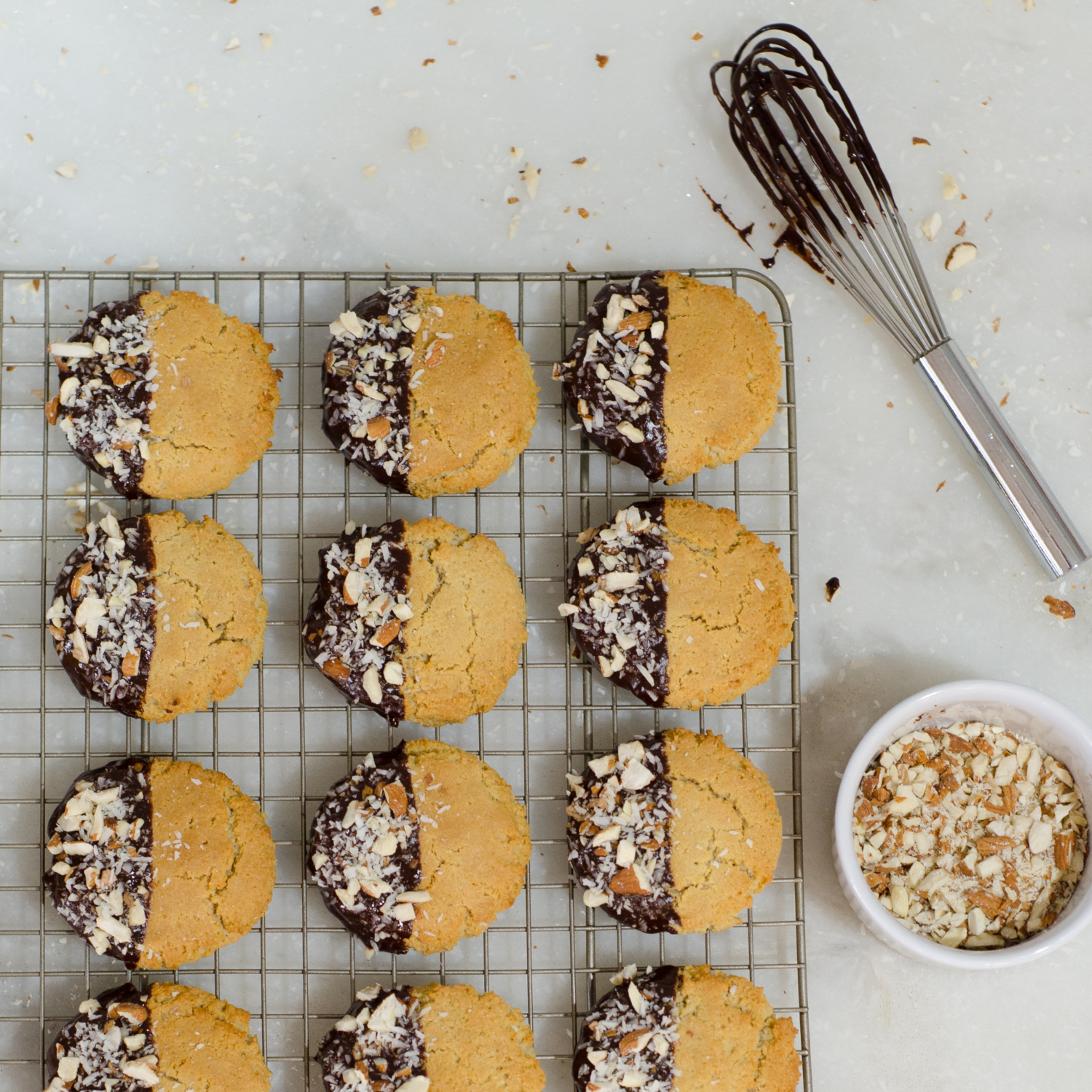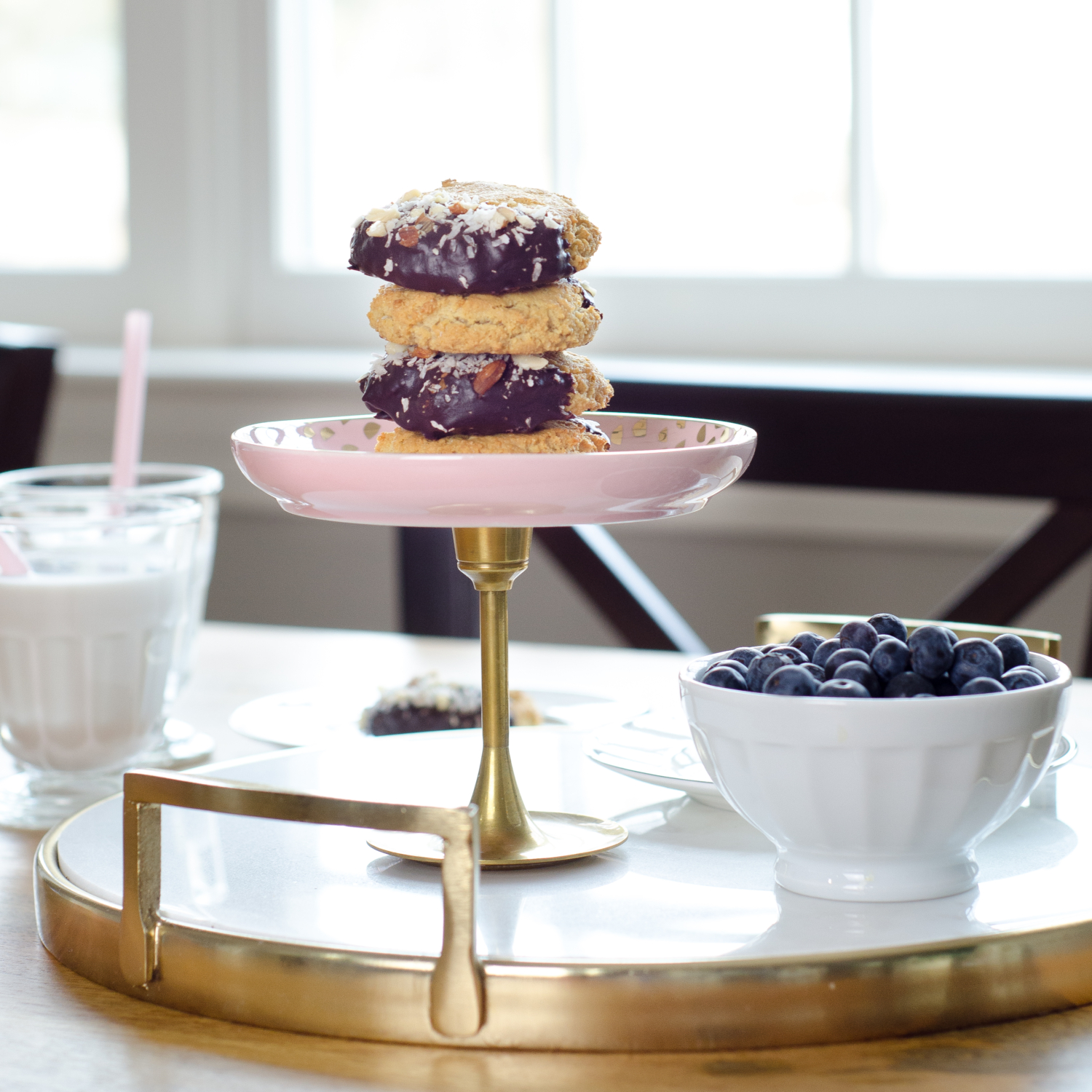 Now, let's have a moment of truth here. This paleo cookie recipe is different than a butter, sugar, and flour cookie. It's more cakey and not quite as sweet. So you should know that it is not exactly like a butter, sugar, and flour cookie. For me, those traditional cookies still have their place, there's just nothing quite like them. But. Sometimes I want a cookie after lunch or I want to have some "treats" on hand for my girls that lean more toward the healthy side of things. These are that cookie. And while they are different than a traditional cookie, they are gooooood in their own right. They're nutty, with a hint of coconut aroma, and their cakey texture is just as moist and delicious on days two and three as the day they're baked. I tested this, just for you guys.
And my girls' reaction to them? Not one single complaint. Well…actually, one complaint. "Why isn't the whole thing covered in chocolate??" So you can take that under advisement. But complaints about the taste? Not one. Instead I got to be the best mom ever when they asked, "Could we have another cookie?" and I said, "Sure!" Especially with Valentine's Day ahead and the abundance of sugary treats that come with it, I'm extra happy to have these around to help keep some balance. Plus, they're delicious, so there's that too.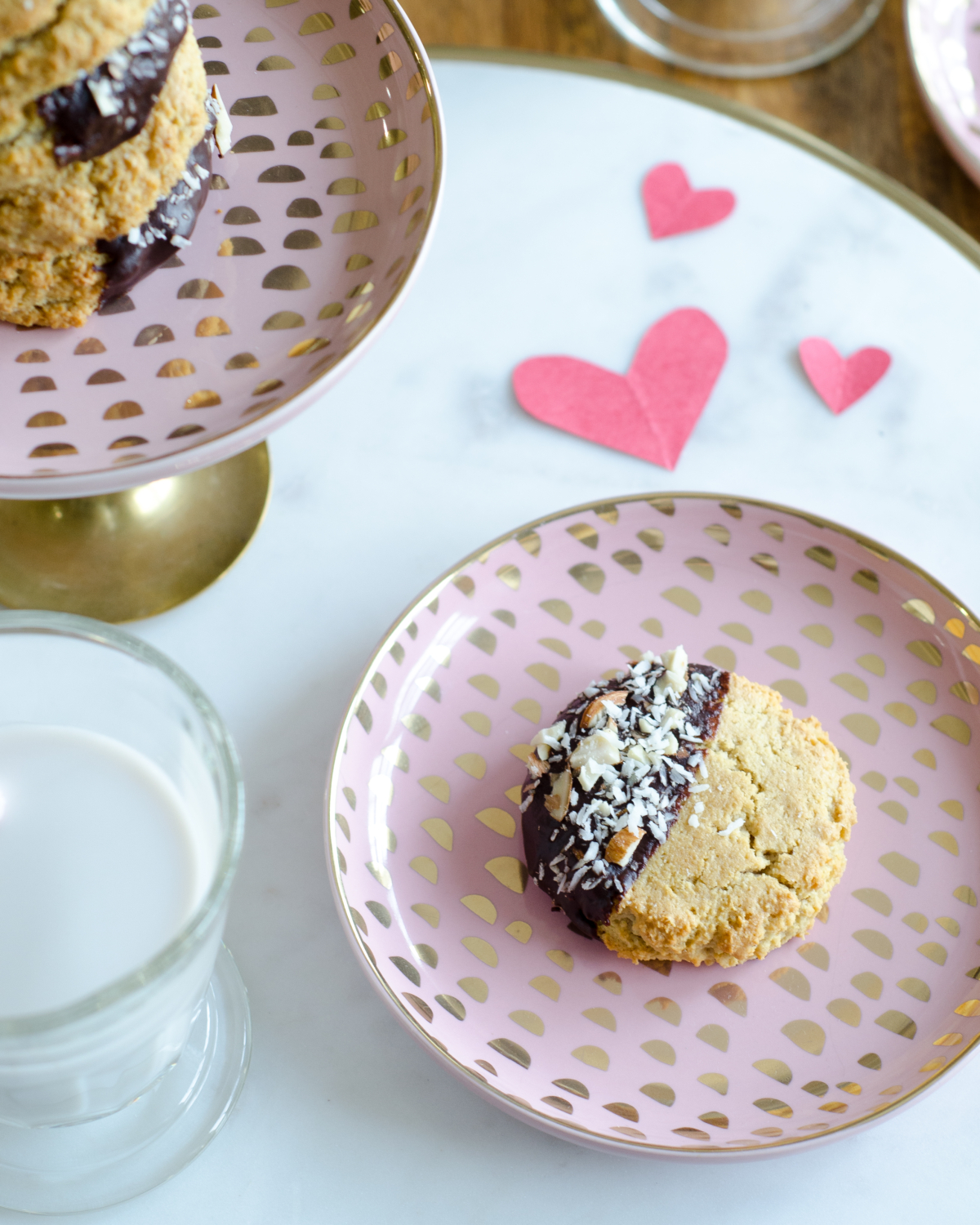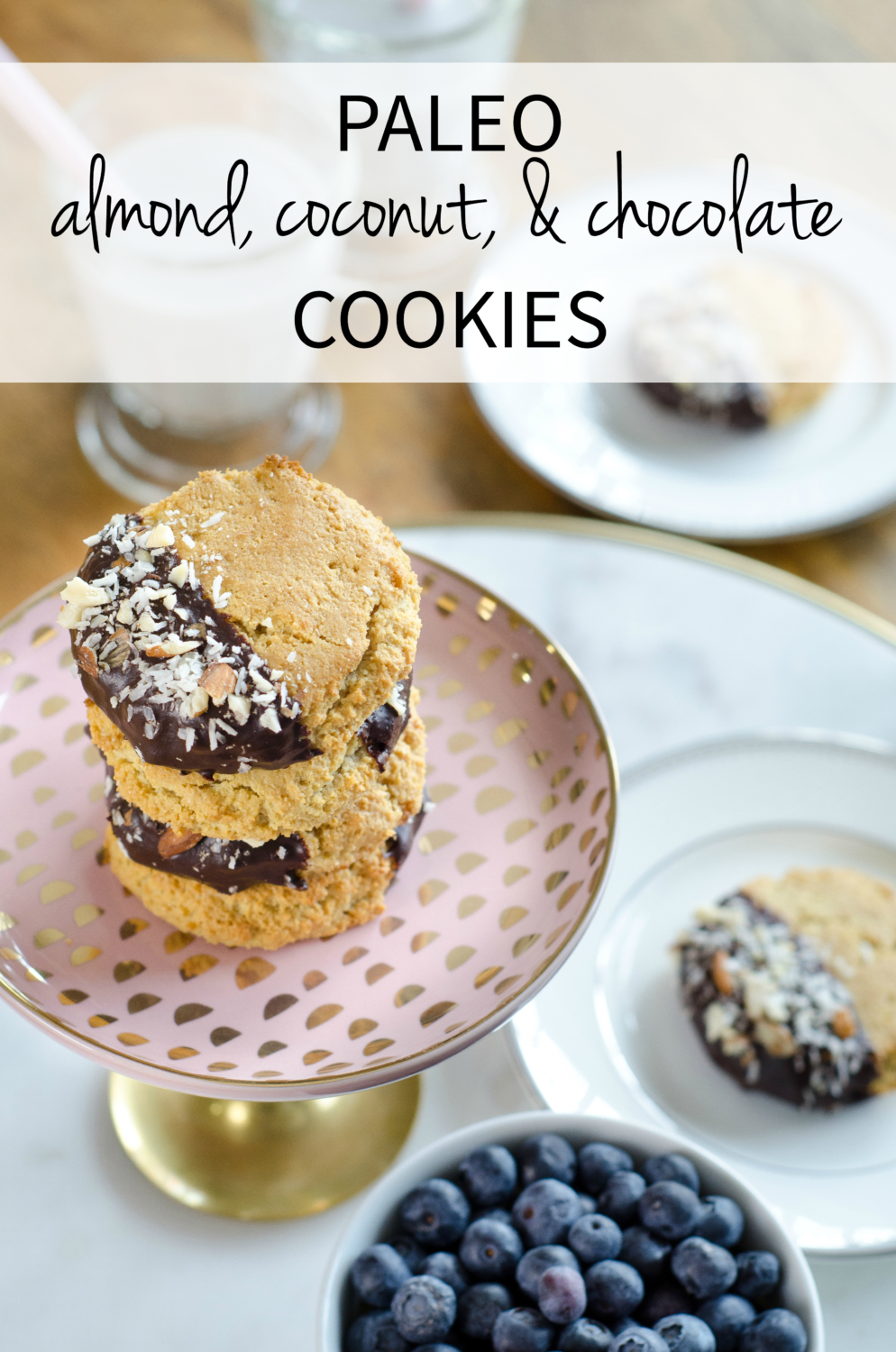 If you're more in the mood for a traditional cookie than a paleo cookie recipe, these triple chocolate chip cookie ice cream sandwiches and caramel stuffed snickerdoodles are two of my absolute favorites! And for any kind of cookie, these four kitchen tools are on my list of absolute baking essentials.
Almond, Coconut, and Chocolate Cookies (Paleo Cookie Recipe)
A paleo cookie recipe that is so delicious, you will completely forget you're eating healthy. Almond, coconut, and chocolate cookies everyone will love. (adapted from Bob's Red Mill)
Ingredients
3 c. almond flour (recommended: Bob's Red Mill)
1 tsp. baking soda
½ tsp. salt
¼ c. virgin coconut oil
¼ c. maple syrup
1 whole egg
2 egg whites
1 tsp. vanilla
4 oz. unsweetened chocolate (recommended: Guittard)
½ c. raw honey
¼ c. almonds, chopped
¼ c. coconut flakes
Instructions
Preheat the oven to 375º.
Combine the almond flour, baking soda, and salt in a medium bowl.
Mix the coconut oil and maple syrup in a stand mixer fitted with the paddle attachment for 5 minutes (the mixture will look curdled). Add the egg, egg whites, and vanilla and mix for 2 minutes. Turn the mixer on low and gradually add the dry ingredients, then mix for 1 minute.
Use a medium ice cream scoop or tablespoon to drop balls of dough onto a baking sheet (lined with parchment paper if not nonstick). Flatten with your fingers to be about ¼" thick.
Bake cookies for 9 minutes, until set and golden. Let cool on the baking sheets for a couple minutes, then transfer cookies to a wire rack.
Meanwhile, put the chocolate in a microwave-safe bowl (a porcelain ramekin works well) and microwave for one minute. Stir well then add the honey and microwave for another 20 seconds. Whisk to fully incorporate the chocolate and honey.
Dip the cooled cookies into the chocolate and immediately sprinkle with the almonds and coconut. Let the cookies sit out at room temperature for several hours to allow the chocolate to harden.
Store in an airtight container at room temperature or in the fridge or freezer.