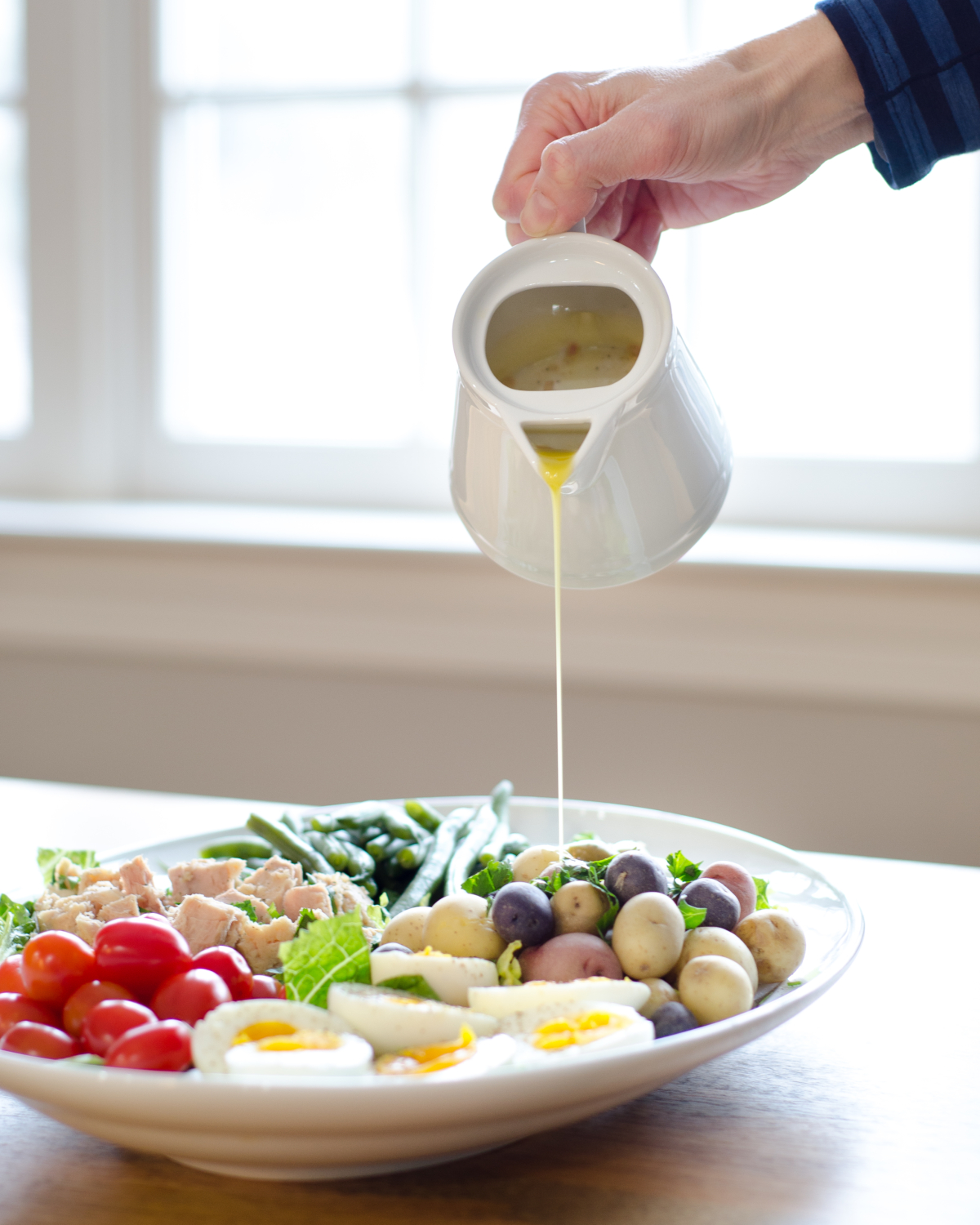 With the Whole 30 and Paleo recipes I've been sharing lately (amazing Asian Broth Bowls recipe can be found HERE) you'd think I was following one of those diets. I'm not, though I did do Whole 30 a couple years ago. What I am doing is making a conscious effort to work more vegetables and protein into my breakfasts and lunches, and this easy tuna nicoise salad has become one of my most favorite lunches. If you keep the ingredients on hand (and who doesn't have canned tuna somewhere in the pantry??) and keep some cooked potatoes and green beans in the fridge you can be eating this for lunch in less than ten minutes. And doesn't tuna nicoise salad sound a whole lot better than peanut butter eaten directly off a spoon. Ahem…speaking from experience…
To make this tuna nicoise salad doable as a quickie lunch you just need to steam the potatoes and green beans ahead of time, or make extra if you're making this for dinner. Keeping a bowl of hard boiled eggs in the fridge doesn't hurt either but you can boil those up pretty quickly if you don't have any made ahead of time. But don't get me wrong, I make this for dinner just as often as lunch, and who doesn't need another thirty minute, healthy, one-dish meal in their back pocket? Nobody, that's who.
Sometimes salad can sound a little womp womp in the depths of winter but this tuna nicoise salad has so much yummy goodness in it and is so filling and just so darn pretty with all the bright green and cheery red and vibrant yellow, it's like a little shot of spring sunshine right there on your plate to remind you that the cold will end and the spring will come again. I kind of think tuna nicoise salad is seasonless though, which is why you should add this to your go-to pile of recipes immediately so you can make a happy little plate of food sunshine for yourself over and over again in any season.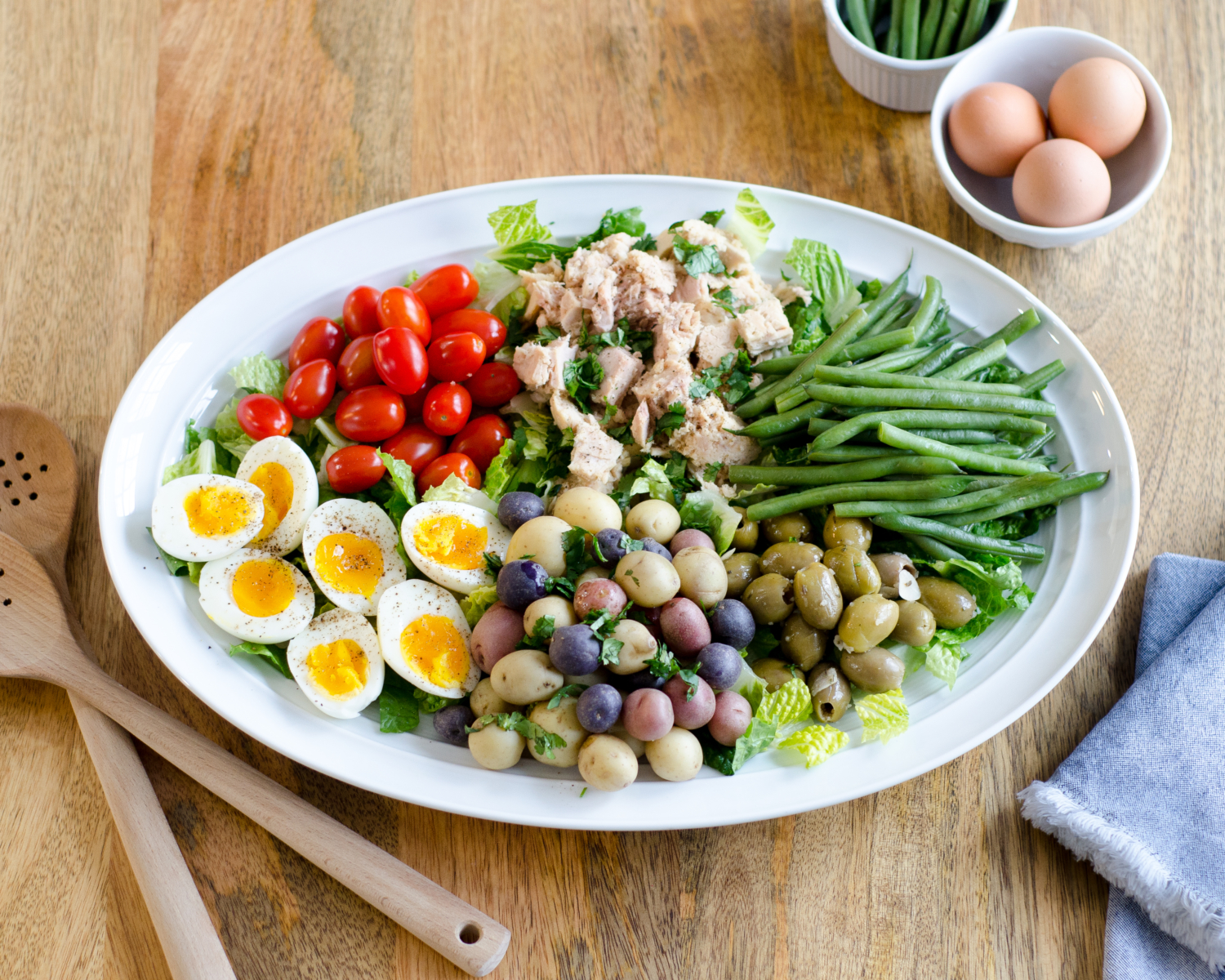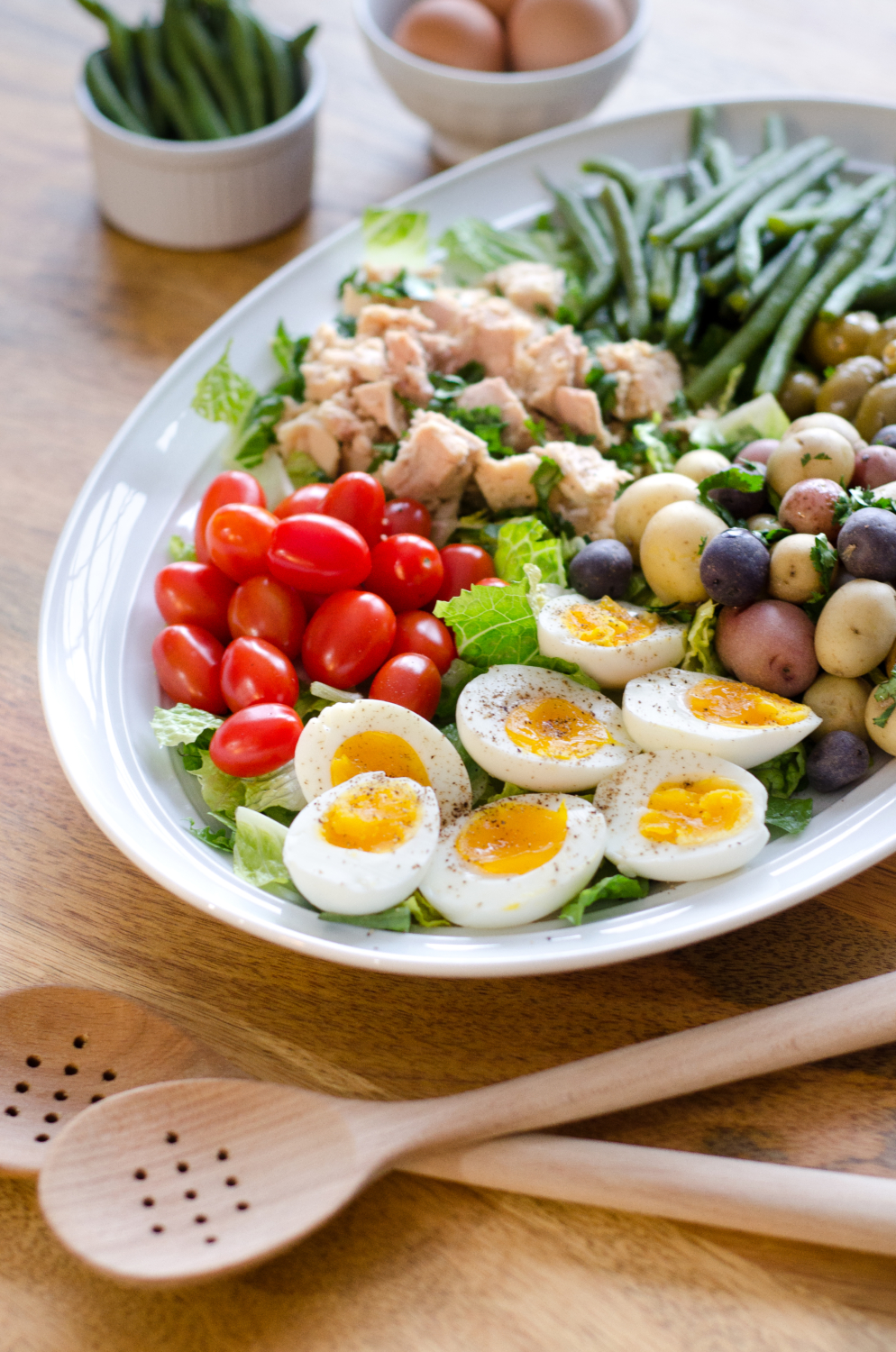 Easy Tuna Nicoise Salad (Whole 30 & Paleo)
A vibrant and delicious easy tuna nicoise salad made with pantry staples and loads of veggies!
Recipe type:
Lunch, Dinner, Salad, Whole 30, Paleo
Ingredients
1 lb. assorted tiny potatoes, washed
12 oz. haricots verts or green beans, trimmed
4 eggs
1 head romaine lettuce, washed and chopped or torn into bite-sized pieces
½ pint grape tomatoes
1 c. pitted olives (any kind you like, Whole Foods lemon garlic green olives are my favorite)
2 5 oz. cans white tuna packed in olive oil, drained
4 tbsp. olive oil
1 tbsp. lemon juice
1 tbsp. white balsamic or champagne vinegar
1 tsp. dijon mustard
small shallot, minced
½ tsp. worcestershire sauce (omit for Whole 30 or Paleo)
Instructions
Place the potatoes in a pot fitted with a steamer basket, then lay the green beans on top of the potatoes. Cover and bring to a boil, then lower the heat and simmer for 7-10 minutes, depending on how firm you like your green beans. Use tongs to remove the green beans from the pot then cover again and continue to steam the potatoes over medium-low heat for an additional ten minutes, until tender.
Meanwhile, place eggs in a small saucepan and fill with water to the top of the eggs. Cover and bring to a boil, then lower the heat and simmer 7 minutes for a slightly soft yolk or 10 minutes for a fully hard yolk. Drain the pan and fill with cold water to cool the eggs, then peel and cut in half.
For the dressing, whisk the olive oil, lemon juice, vinegar, mustard, shallot, and worcestershire sauce in a small bowl.
To assemble the salad, cover the bottom of a large bowl or platter with the romaine lettuce. Group the potatoes, green beans, hard boiled eggs, tomatoes, olives, and tuna on top of the lettuce. Drizzle with the dressing and serve.