If you follow me on Instagram and caught my stories last Thursday, I'm working on a total family room makeover. As these projects often seem to do for me, this kind of came out of left field but has now been majorly fast tracked. I can tend to draaaaag my way through projects so a little fire under my feet isn't a bad thing, even if it stresses me out just the tiniest bit. I shopped for the major pieces last week, deliveries are starting tomorrow, and I'll have everything finished and ready to share with you the first week of March.
For me, that is fast. My brain usually likes to slowly meander over ideas for a few months, do a little work, think some more about how it's going and any changes or additions I want to make, then a little more work, then evaluate how things are going…you get the idea. This was a family room makeover Olympic sprint, and while I literally lost sleep over it last week, once I started finding the pieces I loved, I had the most overwhelming feeling of euphoria. I don't know if I've ever been so excited about a room makeover, and that's saying something because I am still pretty deeply in love with how the guest room project came together.
A big part of my excitement is knowing that it will all be done, wrapped up, and ready to be lived in so soon after I conceptualized the design plan. I've had vague plans for this room in the back of my head for a couple years now but hadn't pulled the trigger on anything until now. Here's a refresher on how the room has looked the last couple times you saw it.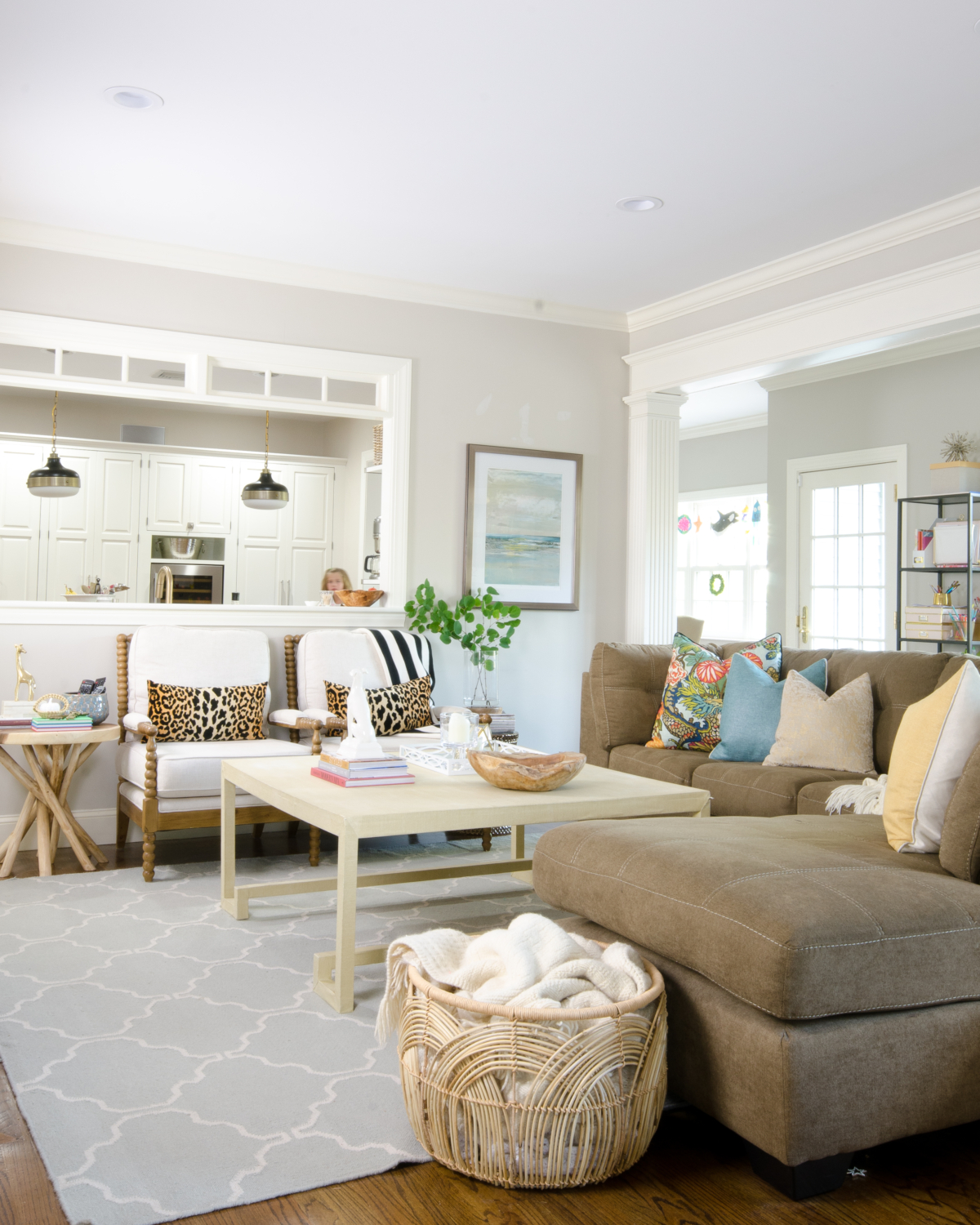 Fall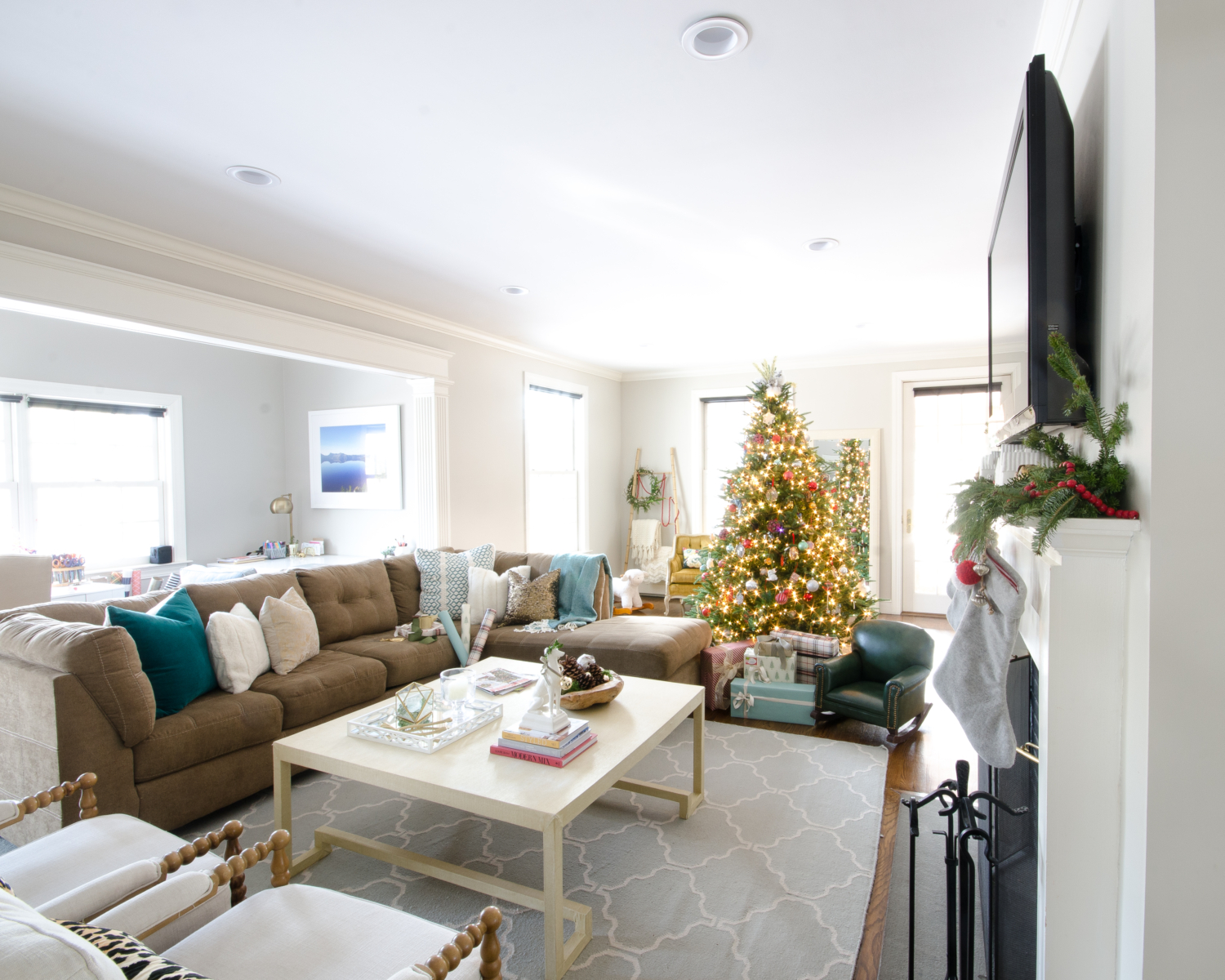 Christmas
The family room has been comfortable since we got the sectional last year and has served us well, but after living in it for awhile I came to realize a few things that informed my long term plans about how I wanted the space to look and function.
A sectional is not the best choice for this room. I reallllllly love a sectional sofa in a family room but with the shape and size of this room, a sectional cuts off the flow and just isn't right for here. So as much as I wanted to have a sectional in the family room, I know separate sofas are a better choice. This sectional sofa is super comfortable though and will be moving to the basement (my next big makeover project, stay tuned!).
Having desks in the recessed back part of the family room (behind the sectional) added too much visual clutter for my liking. I liked having my desk in the main living area of the house but I didn't love the look of it there. Instead, I've relocated to my bedroom (and am pretty darn happy working away up here so far, it's so quiet and cozy!) and one of the new sofas will be set back into that recessed part of the family room. I'll frame the windows behind the sofa with drapes and I knew the second I started thinking of doing things this way that it was the look I was going for.
The side part of the family room has confused the heck out of me since we bought this house. As in, I had no idea what I wanted to do with it. It's too far removed from the fireplace and TV to be part of that seating area and we don't own or play a piano sooooooo…that left me scratching my head. And then I hit on it. I'll use a backless sofa/daybed to separate the two sections of the family room. The two new sofas and the daybed will make up the seating area around the fireplace and TV and the daybed, two spool chairs I have, and two new leather chairs will make up a second seating area. When it's just us, the daybed will be a big, comfy spot to lie on and watch TV, and when we're entertaining and need some overflow space, the daybed can be used as seating for either part of the room.
I like having a neutral base so I'm sticking with that in the new room. The new sofas are even lighter than the current sectional, but still not stark white, which I love but am pretty sure would give me hives every time my perpetually sticky children flopped down.
I'll share more details on the pieces I chose and why I chose them in the coming posts about this room, but for today here's an overview of the direction the family room makeover is going in. You can click the list below the image for sources.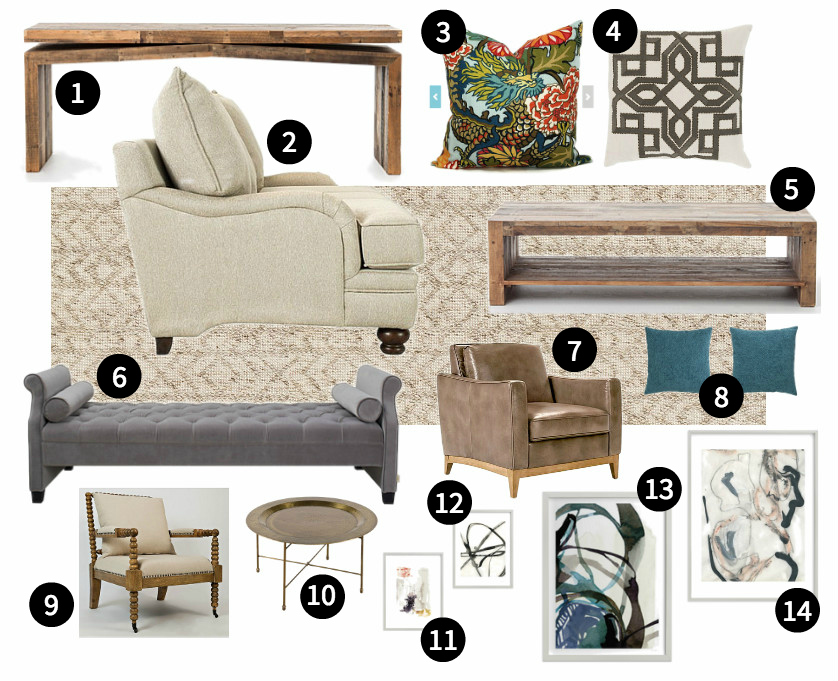 1. Console table
2. English roll arm sofa
3. Chiang Mai Dragon pillows
4. Appliqué pillows
5. Coffee table
6. Tufted velvet daybed
7. Leather chair
8. Teal pillows
9. Spool chair
10. Brass tray coffee table
11. Art print
12. Art print
13. Art print
14. Art print