If you follow me on Instagram, and specifically watch my Stories over there, you might remember a couple weeks ago I got all inspired to finally hang my new gold entryway light…and then realized it weighs almost an actual ton and since I was home alone I couldn't hold it and wire it at the same time so I basically constructed a tower out of furniture from around my house to hold the light while I wired it. Some version of this scenario seems to play out for most of my projects, I'm always having to figure out ways to finagle unwieldy things because I'm too impatient to wait for help!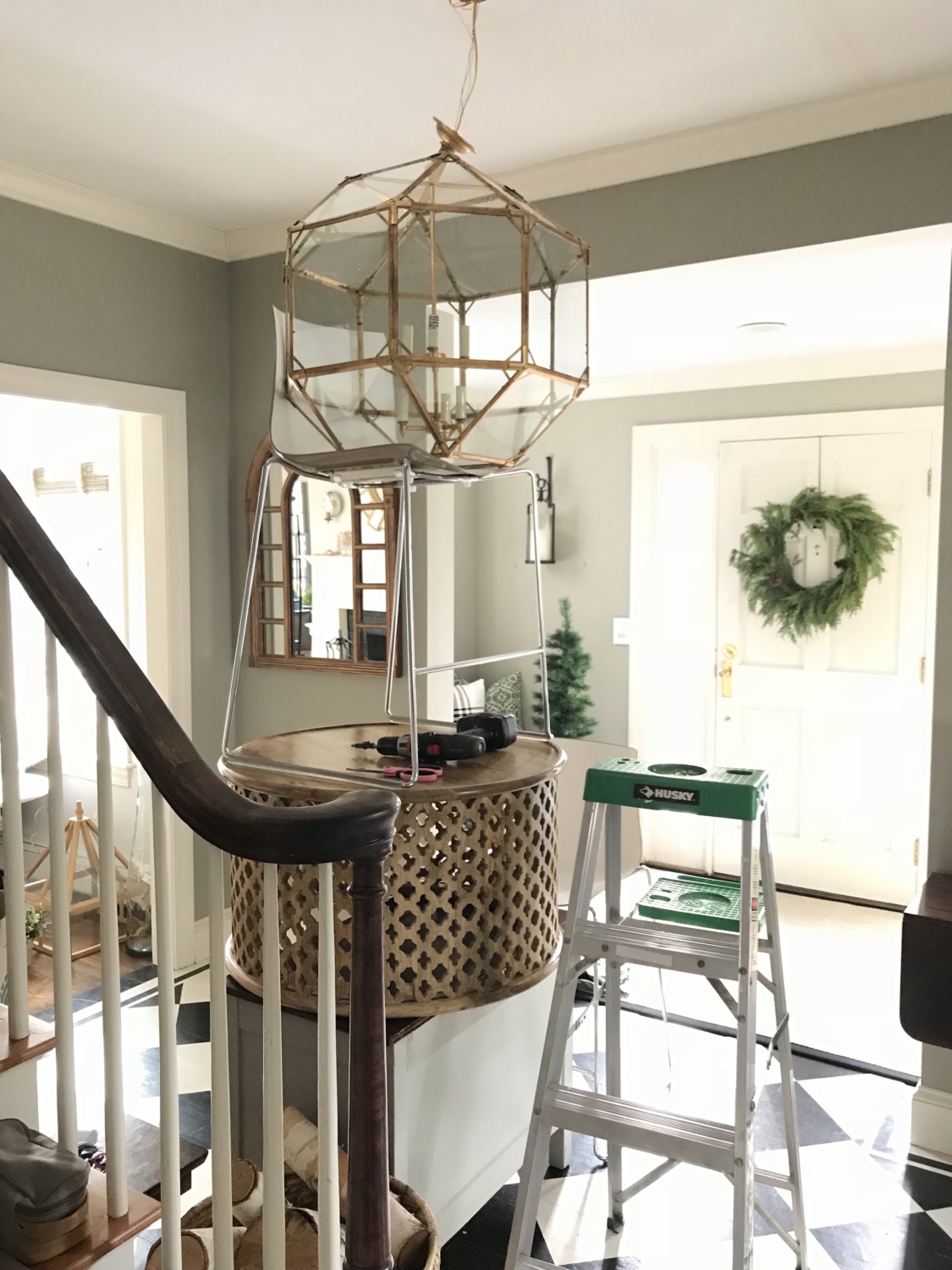 I've known for awhile that the pendant I had in the entryway wasn't quite right – not big enough and not enough of a statement for the space. I love its classic lantern shape and have moved it elsewhere in the house (I'll show you soon!) but it wasn't the right light for this spot.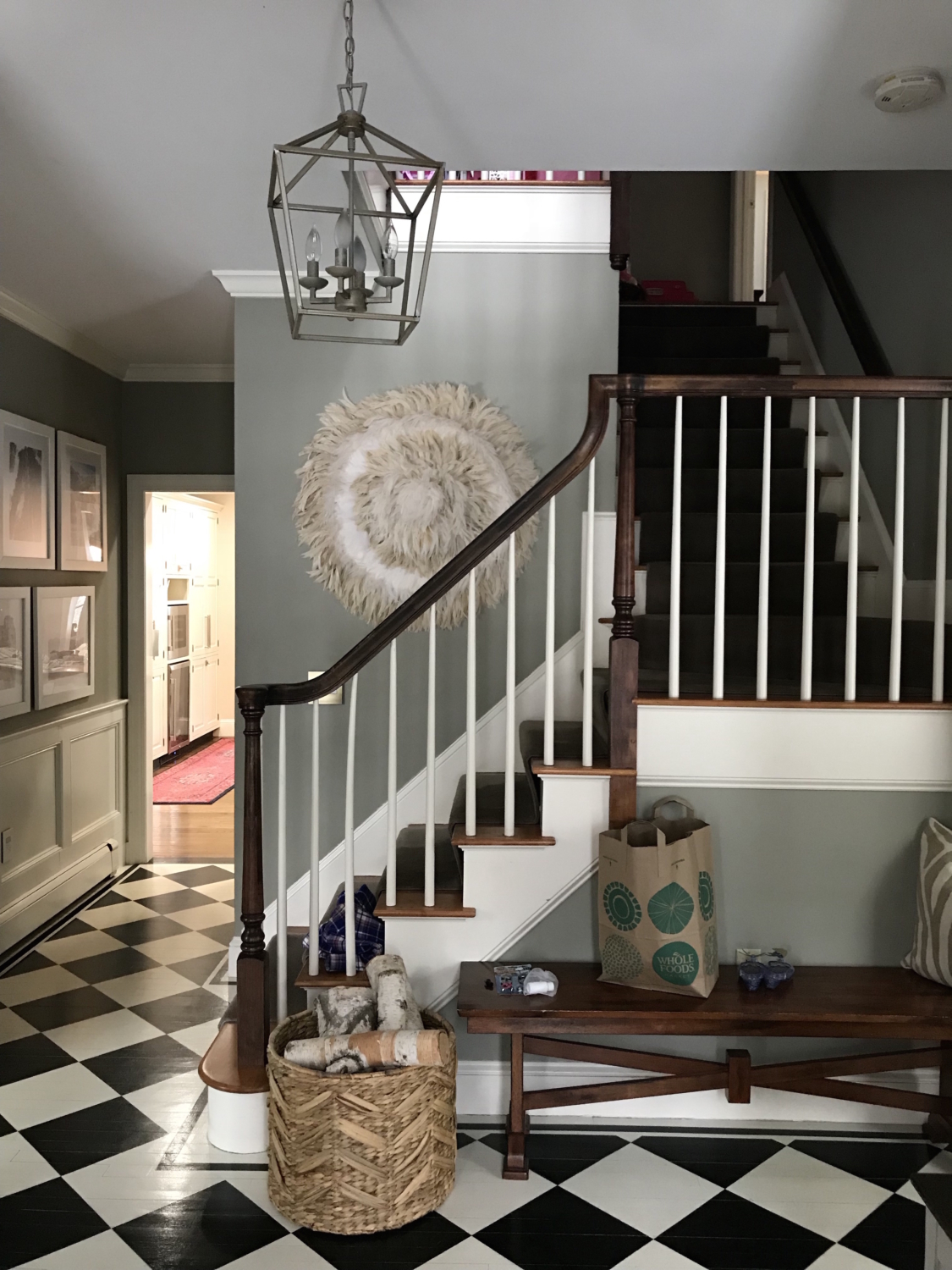 I've lusted after the Visual Comfort Morris Lantern for a long time. It manages to be both modern and classic, airy but also a statement. Every time I saw photos of it I would sort of sigh inwardly and imagine it in my entryway. But I could never get to the point where I felt okay pulling the trigger on the $1000 price tag.
Then……
I stumbled across nearly the identical light. A gold entryway light (though it can be put many places other than an entryway) with just the same shape and style. I wasn't even looking for it. And its original list price was around the same as the Morris Lantern at $1350. Except it was marked down to $339. So once I picked my jaw up off the floor I went ahead and ordered it and waited eagerly for it to be delivered. I ordered the large, 6-light version of the pendant, but it also comes in two other sizes – a medium 4-light pendant and a small 3-light pendant.
And when it arrived I hauled that massive beauty out of the box, carefully put the glass panels in place (tip: use the gloves that come with it so you don't leave fingerprints all over the glass!), and hung it in place using my makeshift tower. If you have never switched an existing hardwired light for a new one, it is very, very easy. I wrote a post a few years ago about how to swap out a hardwired light here.
I love (love, love, LOVE) how the new gold entryway light looks, it's a total showstopper and everything I'd been dreaming of for the space. And the price tag makes me even happier! Here's the view from my entry into the living room.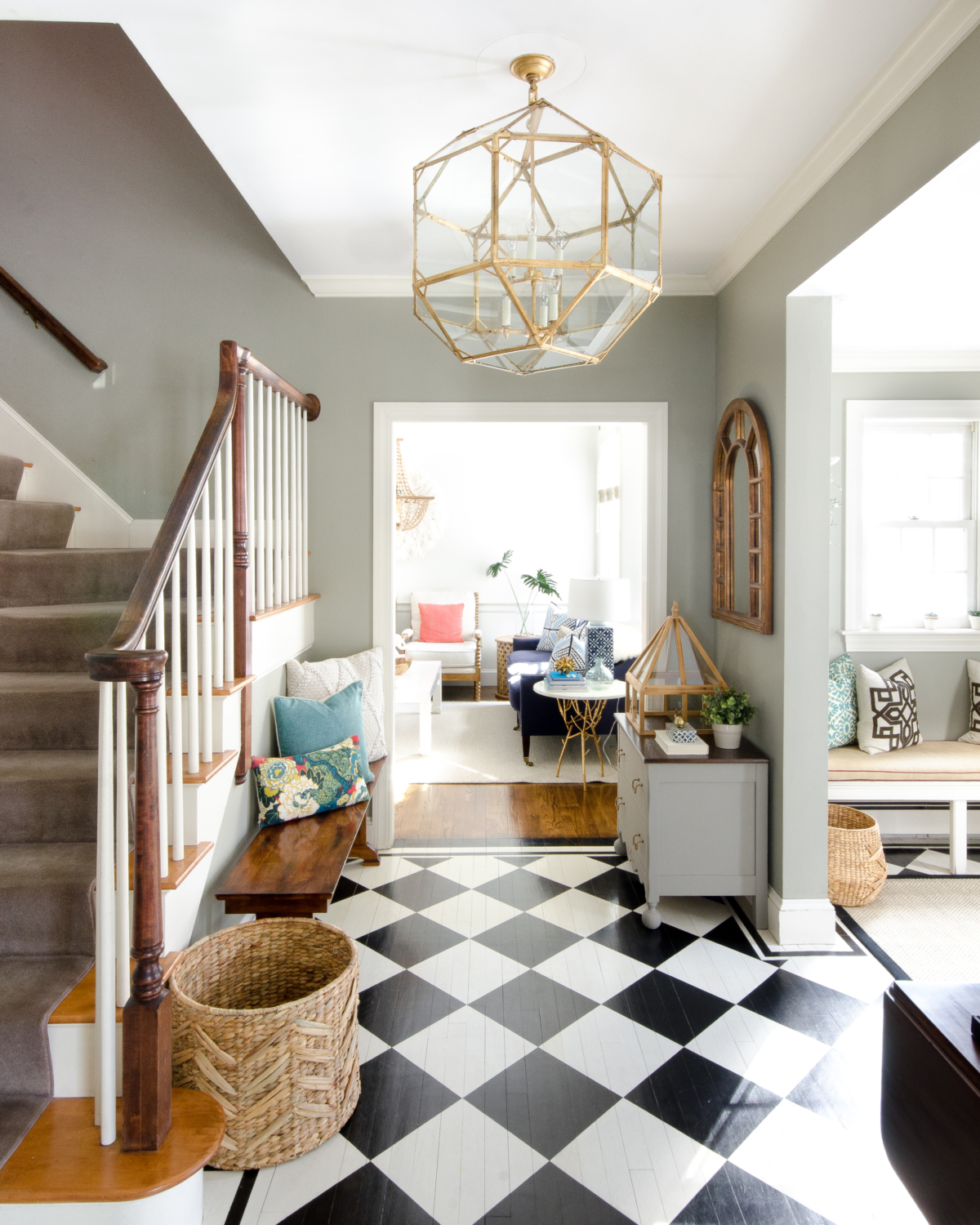 gold pendant light
arched cathedral mirror
Shanghai Peacock pillow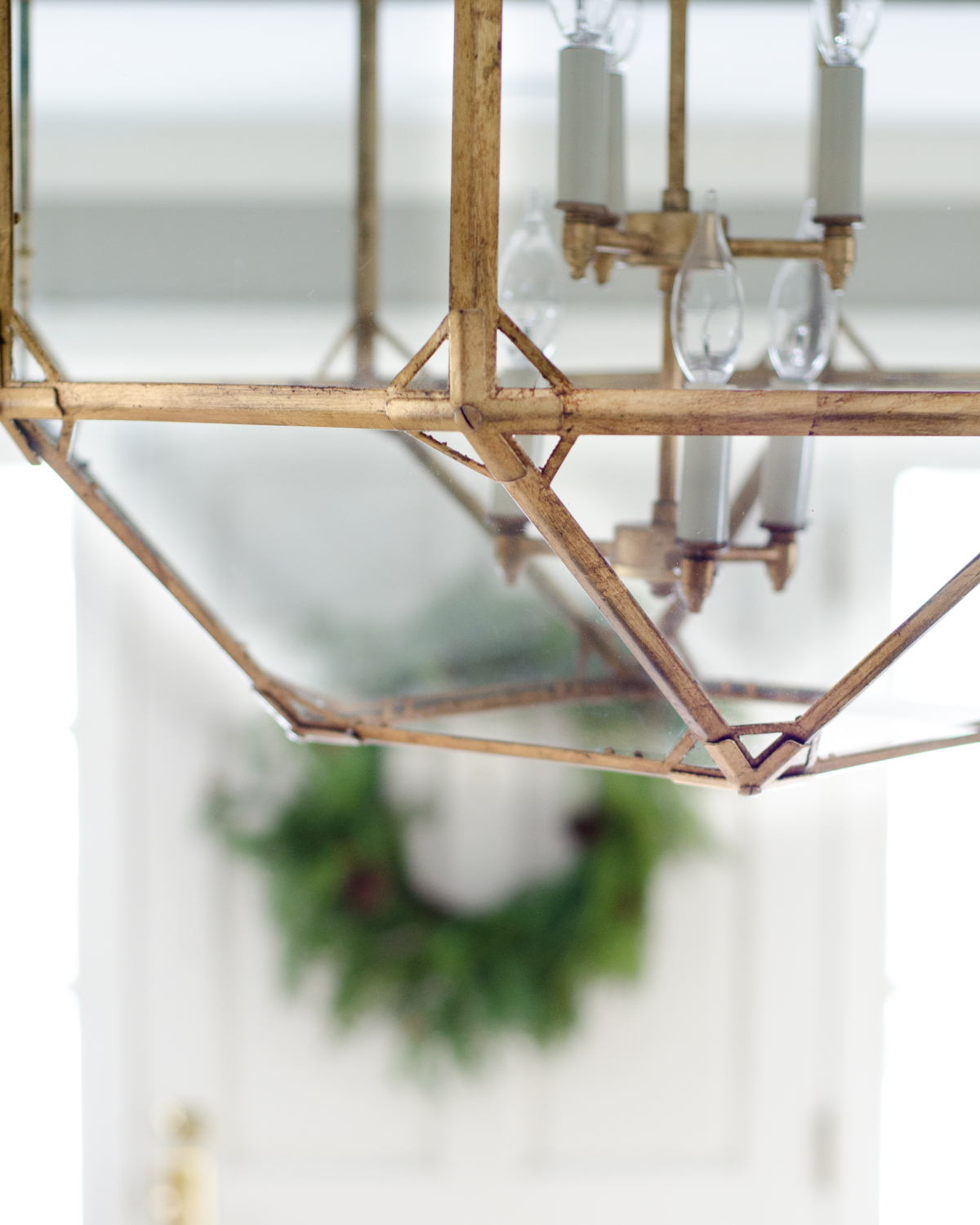 This is the view as you come in the front door.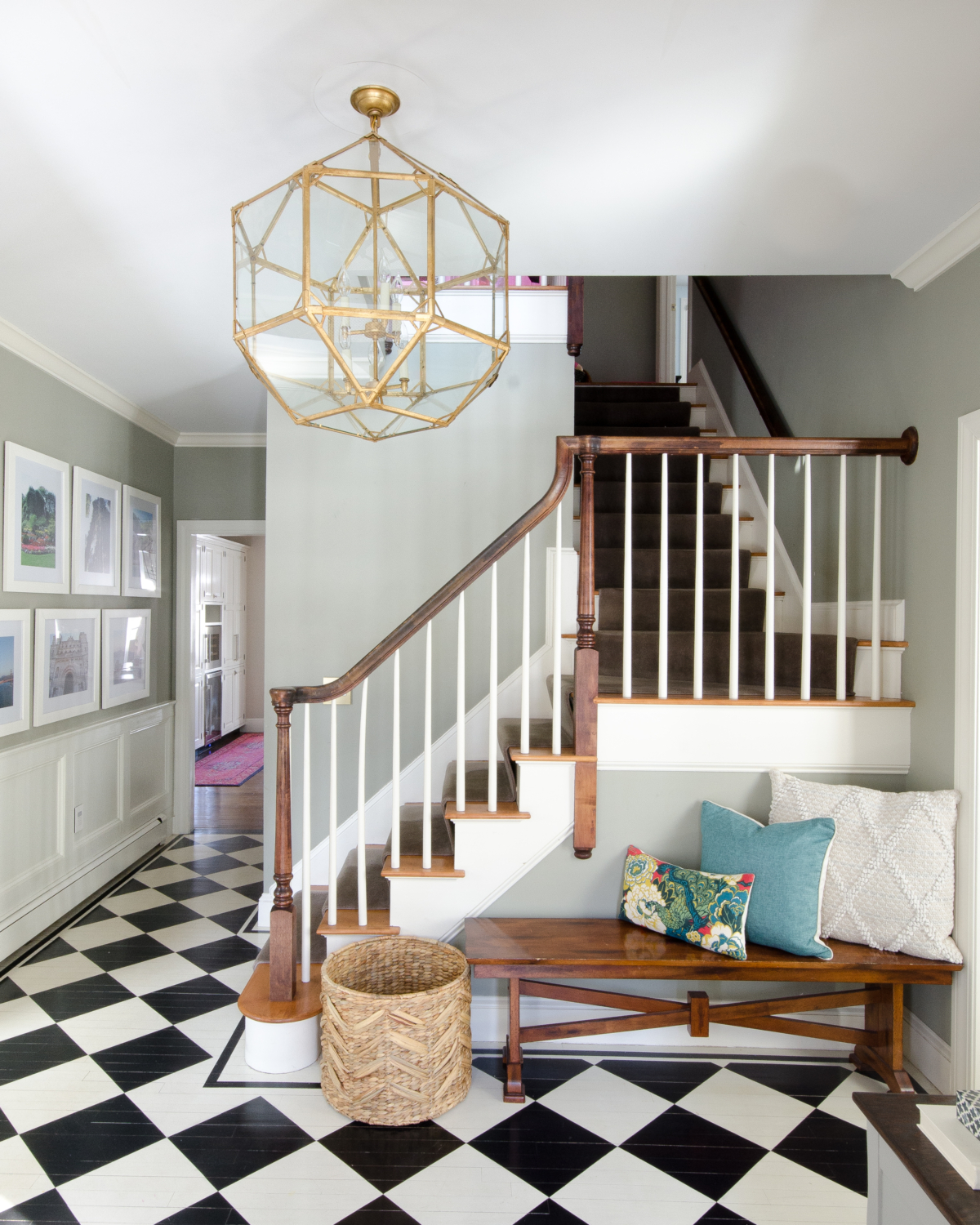 And the view from upstairs as you come down the stairs. I think it's safe to say that I love my new gold entryway light from every angle in the house.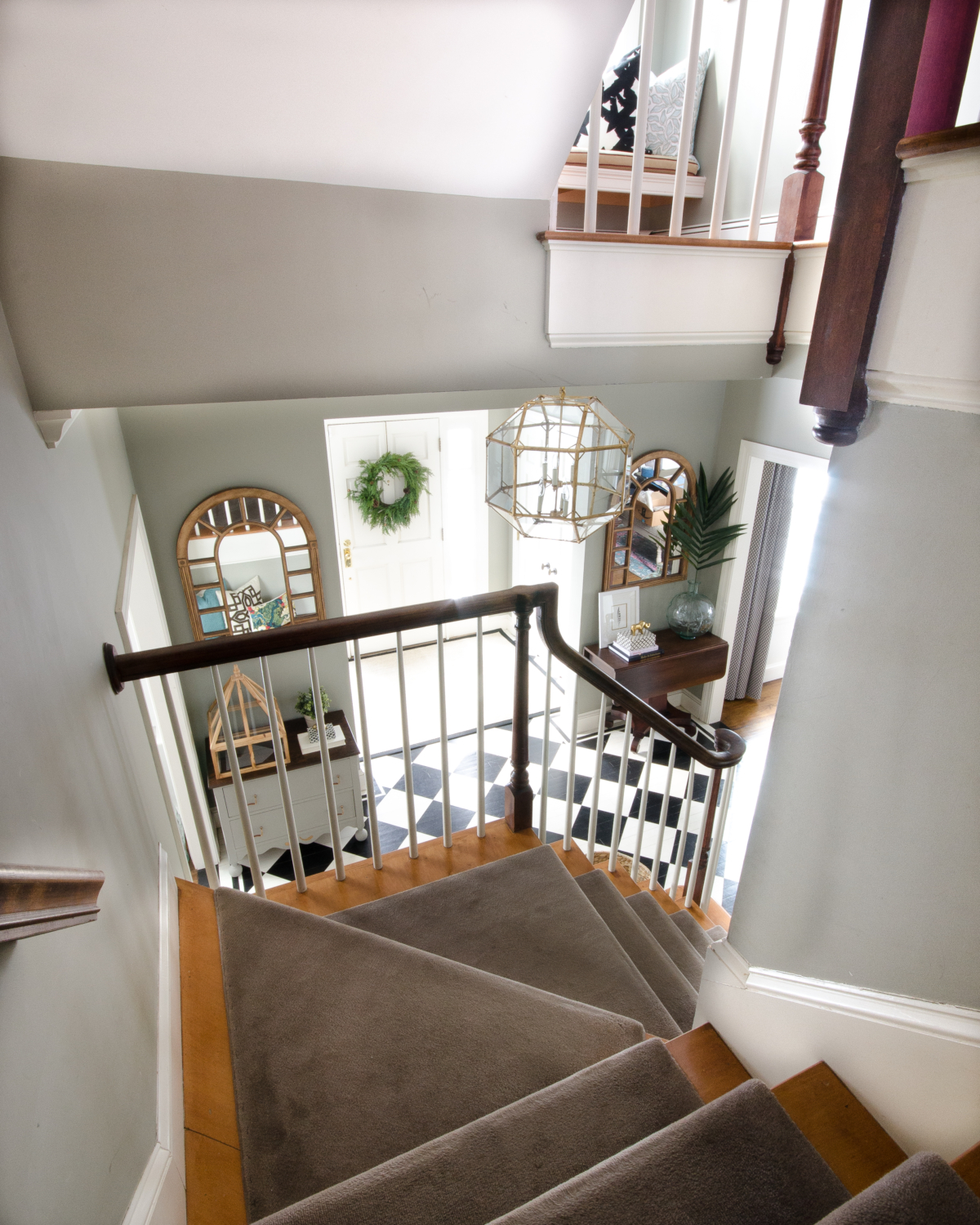 arched cathedral mirror
This little space has been such a work in progress as I've tried out different looks. The new gold entryway light is most definitely staying and I'm still liking the symmetry of the cathedral mirrors but I'm not sure I'm feeling the bench under the stairs anymore. We'll see…nothing seems to say in one place for too long around here!